This month, we're proud to feature photos from mother-daughter duo Kathleen and Gabrielle Etzel. The Etzels embarked on safari to South Africa in May 2017 and shared their gorgeous photos with consultant Kayla Torgerson upon their return, giving us permission to share with all of you! Below, Gabrielle shares two gorgeous images and describes the scene at each sighting.
Leopard at Madikwe
The game driver talked franticly over the radio in our jeep, excitedly speeding down the bumpy path, illuminating the darkness with his lantern. After several highly anticipated minutes, we could hear the sharp crack of bones, and soon we were upon her: a leopard perched in the tree with her midnight snack, a warthog. Watching her high above us half hidden by the tree was fascinating; however, our guide suggested that if we were to leave early in the morning, before sunrise and before the other adventures, we just might see her again as she finished her nightly feast, and that is just what we did. In the morning glow of the African sun, we watched this beautiful cat from six feet away saunter down her tree like a runway and strike a pose just for us. Not bad for the first full day of safari.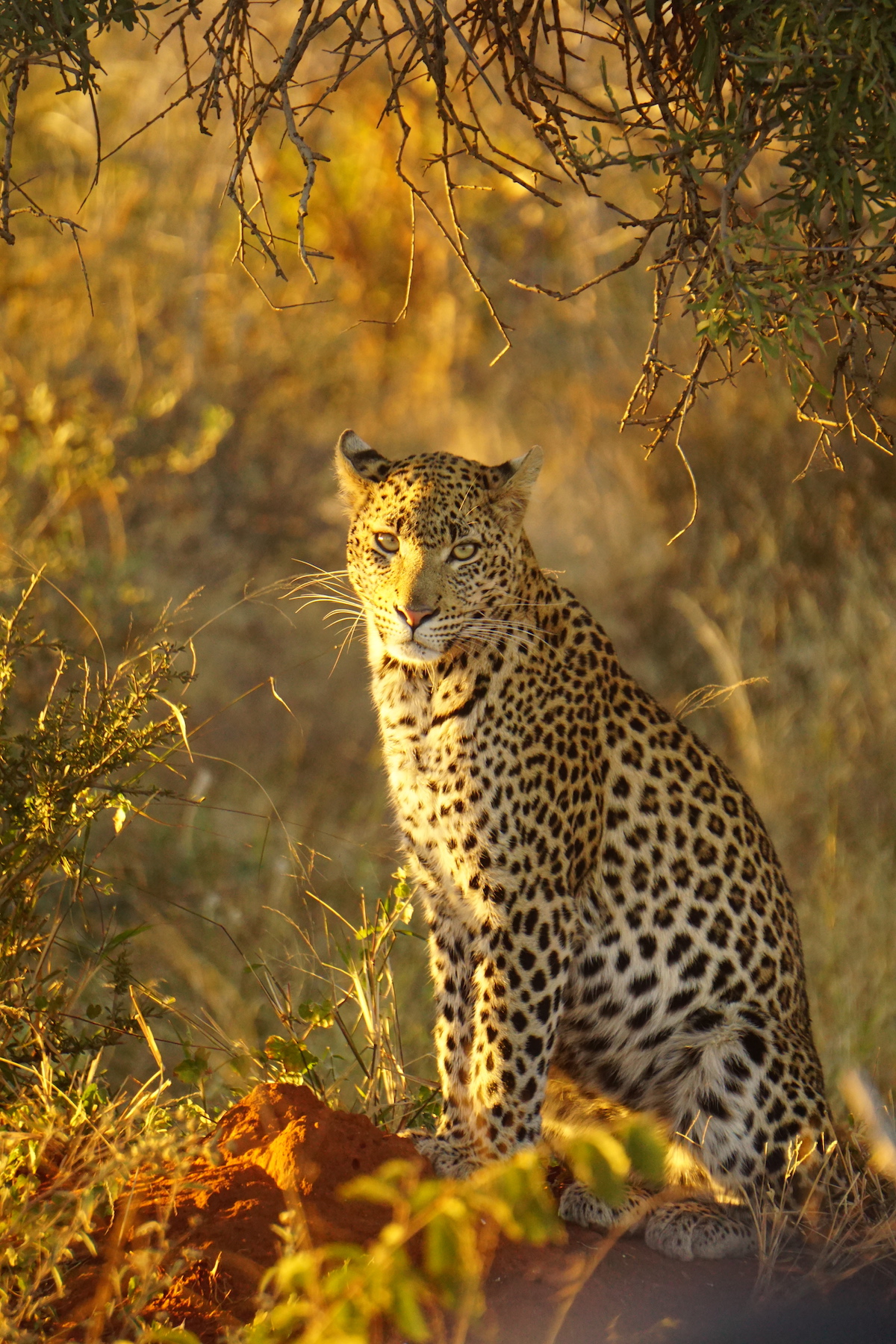 Brother Lions at Lion Sands
We reached Lion Sands late in the evening, and when our ranger met us upon arrival, he told us there was a dead giraffe in the park. That day, he explained, the hyenas had been chased away by two new young male lions, who had crossed into the reserve from Kruger National Park. The next morning, there was just as much excitement as we sat, motionless and in total awe, of the brother lions who had claimed their new territory and were ravaging the carcass. Although ripping the flesh off of another animal is normal for the king of the jungle, witnessing the circle of life in such an intimate setting was a profoundly transformational experience which I will never forget.