As some of you may know, my wife Linda and I celebrated our 25th wedding anniversary this year – time flies when you're having fun! Since we were already scheduled to visit Kenya near the date, I decided to try to make something special (although I wasn't sure quite what) happen along the way as a celebration.
THE PLAN COMES TOGETHER
As I was looking over the photos online of the camps that we would be visiting, I ran across a picture of a couple that had done a traditional Samburu wedding celebration while they stayed at Sabuk, in the Laikipia region of Kenya. I was immediately intrigued. The couple was dressed in traditional clothing and jewelry, they were covered in red ochre, and had huge smiles on their faces. I thought to myself, what an amazing way to renew vows in a unique way, in a way that we would always remember and in a location that we love.
I contacted the co-owner and manager of Sabuk, and the plan was hatched.
Fast forward a couple of months later, and although I had spoken with the manager several times, I still didn't know quite what to expect until we arrived at camp, as I had only seen the single photo online.
I had decided to keep it a surprise, knowing that Linda is a good sport, and dropped little hints to her as we moved through Kenya on our itinerary.  "We have a big anniversary coming up, maybe we should think about renewing our vows one day, I would say.  "I'd love that", she would say.  By the time we reached Sabuk, I was both excited, and quite frankly a little nervous.  In hindsight, I shouldn't have been, as it was an amazing and memorable experience for both of us that we will never forget.
THE BIG DAY
The day of the wedding, Linda asked me what we were doing for the afternoon activity…and I stalled, telling her that is was going to be announced at 4:00 pm, and that I thought they may have had something planned for us (she assumed massages).  When the knock on our door came, I opened it and there stood Verity, the owner of Sabuk with several of the male and female members of the staff.  They all were carrying traditional tribal clothing and jewelry.  Verity asked if I had told Linda yet, and I said I hadn't.  She responded "I'll tell her; go with the men so they can get you dressed".  I heard from Linda later that Verity walked in to our room, introduced Maria (acting as Linda's Mother for the ceremony) and said "You're getting married today, were here to get you ready"!
I was led over to another room where three of the male staff dressed me and applied the red ocher, over my face and hair, which is the tradition.  They also put intricate designs around my eyes and dressed me in a number of beaded bracelets and anklets that were made by themselves or their wives (both Linda and I were honored to be able to purchase some of these as mementos).
This is how we looked when we first had the chance to see each other: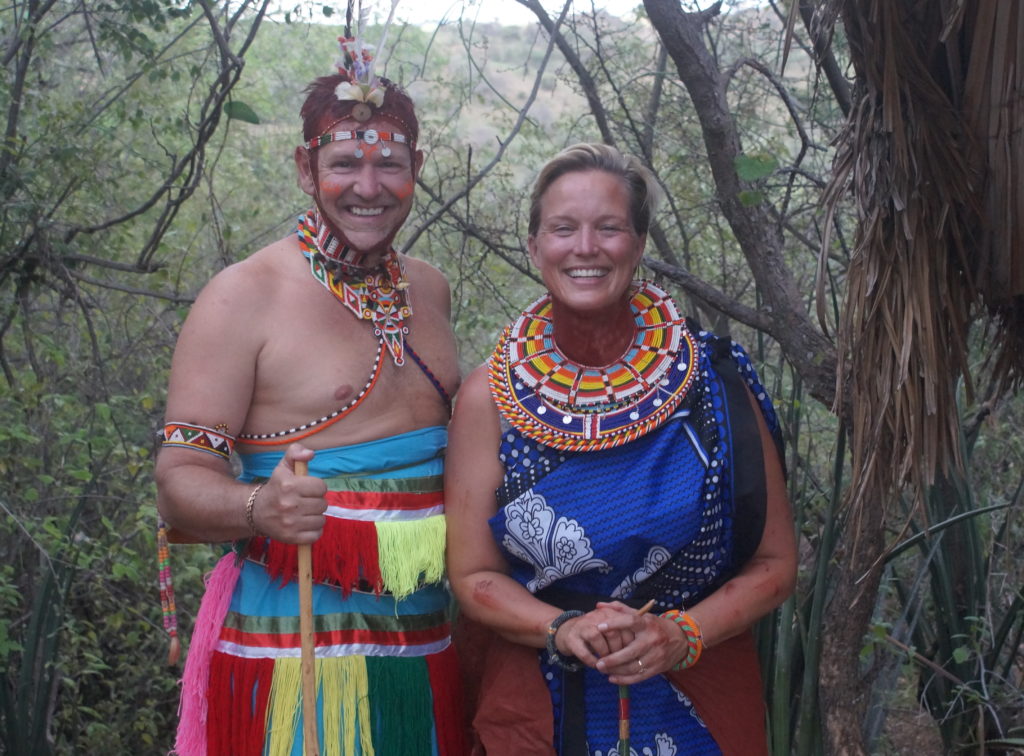 Once we were dressed for the occasion, the staff all followed us out of the camp where we were introduced to our transportation for the afternoon, we were to be taken to the top of one of the highest hills in the area for our wedding ceremony.  Again, I was still not sure exactly what was going to take place, which was ideal in that I was every bit as surprised at how much planning and thought had already gone into this.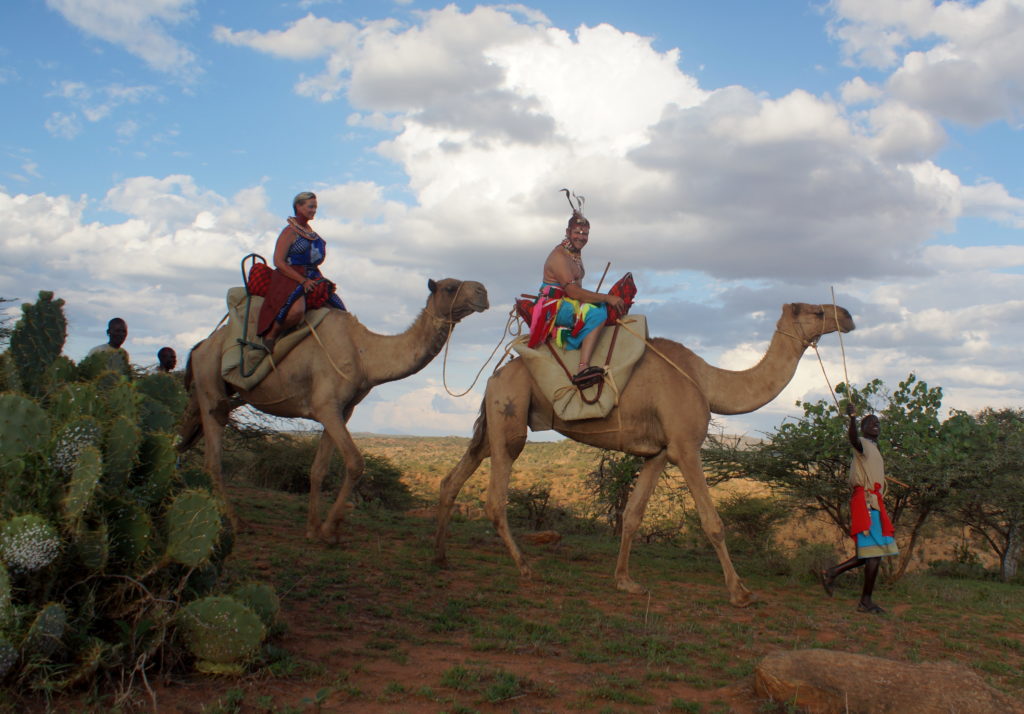 Once at the top of the hill, we were told to stand to the side and wait, not knowing what to expect, we soon heard chanting and shouting.  As we looked around, we noticed that from around a hillside came a HUGE group of the local Samburu tribe.  Both warriors and maids, all dressed in traditional attire and singing and dancing their way to where we were standing.  To say that we were both "blown away" would be an understatement!  They took our hands as they passed, and led us to a spot where the men and women separated….and then the dancing began.
Now, let me just say that the traditional dance for the men is centered on jumping, HIGH jumping.  Each warrior takes his turn leaping straight up in the air, as high as he can, to impress the ladies and show up his fellow warriors.  I did my best, but considering these fellows were in their teens, and I was entering my 5th decade, there were moments I thought I would die before the song and the jumping ended.  However, I did my best to impress my bride!
Linda, with the group of ladies had it a bit easier…the ladies dancing consists of shrugging their shoulders to make the heavy beaded necklaces they wear bounce.  She caught on pretty quickly and the ladies laughed and smiled while they watched the men jump and chant…amazing.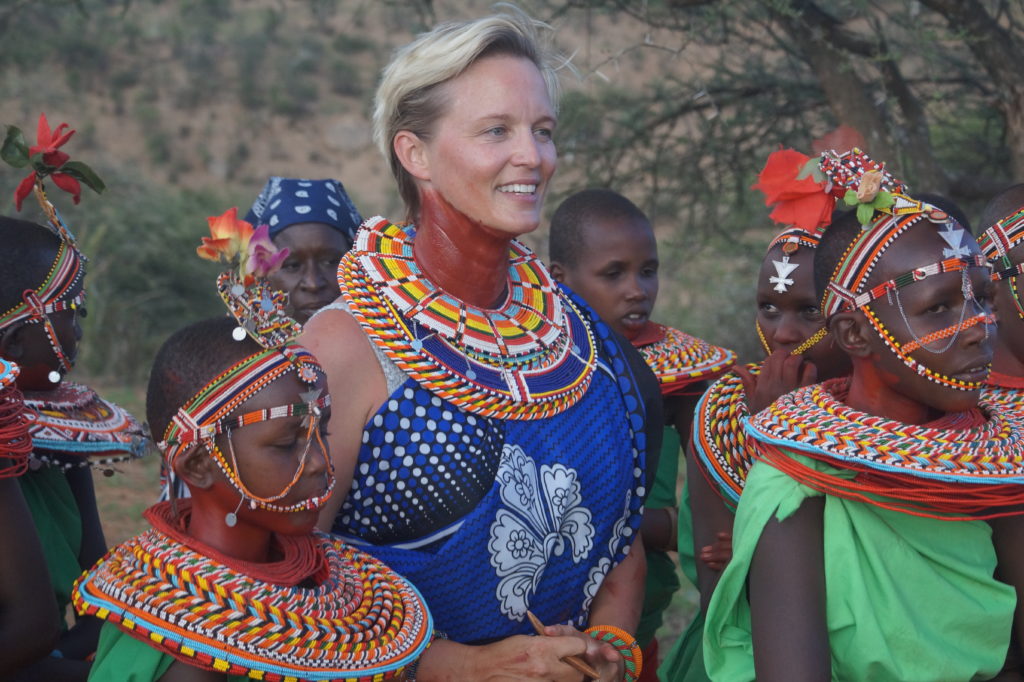 As the sun set, the dancing and singing came to a stop (perhaps because they thought the groom might pass out)…and the ceremony began.  Linda's Mother Maria, Linda, me and sponsor stood before the local elder and he blessed us with a traditional wedding blessing.
The entire experience exceeded all expectations, and I could not imagine a better way for us to celebrate our anniversary.
Kenya is an amazing destination, the game viewing, the culture, the landscapes and especially the people there who are proud to show it off to visitors. I hope to go back one day, and if there is ever a time you would like to know more about the country, or our experiences there, please just let me know.