In December 2017, a travel dream came true. After being with Travel Beyond for 22 years, I was asked to travel to Rwanda to experience tracking the highland mountain gorillas. A gorilla trek has been high on my bucket list for the last 15 years, about as long as I had been offering it to my clients, but the opportunity finally presented itself!
I was asked in May to travel in November, and waiting so many months for the trip was a challenge, as I wanted to be there immediately! In retrospect it was good I had to wait, and it paid off for a few reasons. First, it allowed me some time to "train," as you need to be in decent shape for this trip. The trek to the gorillas at times is uphill, and the altitudes are often over 8000′. To prepare, I used the treadmill at an incline or walked hilly areas near my home. Living in Minnesota, I didn't have access to training at altitude, but I knew if I was in shape and hiked slowly, the altitude would be manageable.
In addition, the wait allowed me to be the first at Travel Beyond (and even in the safari business) to see some amazing new properties that have opened in Rwanda, as well as a massive upgrade to an existing property. In Kigali, we stayed at the brand new The Retreat, a five-star boutique hotel with eleven rooms and very personalized service. Near Volcanoes National Park, we stayed at Bisate, the newest Wilderness Safaris property. Bisate has six gorgeous rooms with breathtaking views of the surrounding mountains.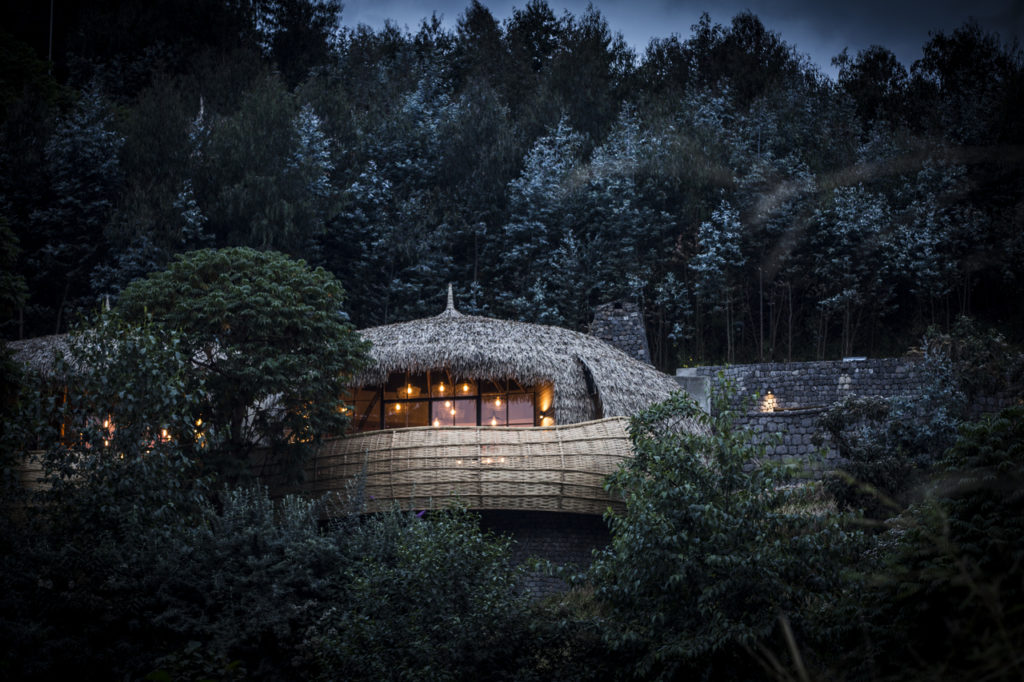 Bisate Lodge – a Wilderness Safaris property in Rwanda, just outside of Volcanoes National Park
While it's not the newest kid on the block, Sabyinyo Silverback Lodge (under the Governors portfolio) has been a staple in the Volcanoes region for more than 10 years. They recently started a massive overhaul of the property and will continue the refurbishment in 2019. It is looking great!
Five Volcanoes is the new 3.5 to 4-star property close to park headquarters. I did not stay here; however, I have been hearing wonderful comments about this property from past travelers and people that I met while in Rwanda.
The Gorilla Trekking Experience
Now, onto the reason for my trip: gorilla trekking! On the day of our trek, we woke early to get to park headquarters and be assigned to the family group that we'd be hiking to find. We were presented with three options: an easy hike, an intermediate hike and a hard hike. The levels indicate how high in the mountains the gorilla family is, so a hard hike could take 3-5 hours to reach the gorillas. On day one, we opted for the intermediate hike and on day two, we chose the easier hike. We were then briefed by the head guides and taken to the beginning point, where we started the trek and hired our porters. (The porters made the trek much easier.)
We hiked for about 2.5 hours, at a slow and steady pace, and when we finally reached the gorilla family and saw them for the first time, we all had goosebumps. It was one of the best wildlife experiences I've had to date. We were allowed to be with them for only one hour, and the hour went incredibly fast. We watched as a 9-month-old learned to swing from trees and as the blackbacks (male juveniles and next to be silverbacks) sized us up. Each blackback tried to show us that they will soon be king, all the while knowing whether the real silverback boss was watching. One of the females laid on her side as if posing for the camera and then gave us a big smile. As our hour ran out, the silverback sat completely relaxed for the last five minutes for us to take photos and at minute 60, he and the rest of his troop walked away. As our guide said, "See? They know when 60 minutes is up!" The only way I can explain what had happened was like watching a theatrical play: as the silverback walked away, the curtain went down.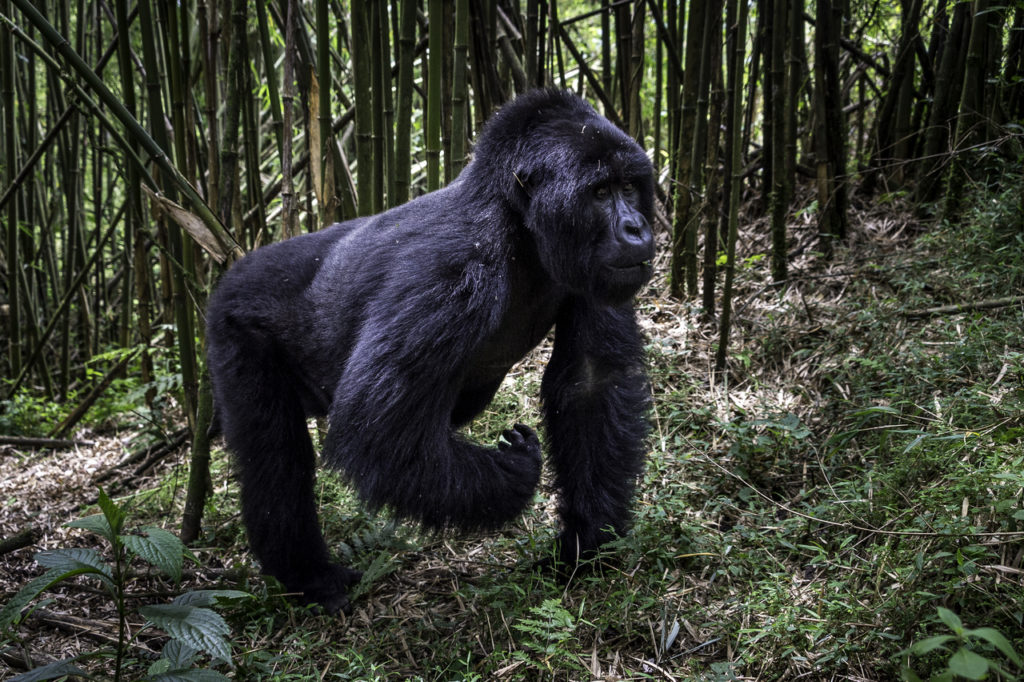 During our next trek on the following day, we had an easier walk and saw the Sabyinyo family within 20 minutes of entering the park. This family was lively, with a lot more young and curious males that would swing over our heads in the trees above. This family also had two silverbacks (not typical), but the oldest one is currently 45. Because the maximum age gorillas reach is around 45, his son is still in the group as a silverback. Since this family seemed to have so many young ones, it was fun to watch them wrestle and beat their chests, practicing for when they are adults!
On the third day, we embarked on another type of primate trek, spending an hour with a very fun group of around 150 golden monkeys. This group of golden monkeys was also habituated to humans, so it was fun to be able to get close enough to them to hear them eat and dig around for ants and termites in dead wood. Seeing the golden monkeys was a nice contrast from the gorillas as they were more lively – jumping and playing.
Other Activities in Rwanda
The properties mentioned above primarily focus on the gorilla and golden monkey experience, as that is most people's objectives for traveling to Rwanda. However, each property has much more to offer. Many of the properties sponsor the local villages, and from Bistate and Sabyinyo, you can go out with a guide to meet local people, entering their homes and learning how tourism dollars is helping make a huge difference. You can visit the Musanze Caves or hike to Dian Fossey's gravesite.
I started with the most exciting part of my trip, the gorillas, as I thought that was about all there was to do in Rwanda. I'm happy to admit how wrong I was. First and foremost, I have always recommended two nights in Kigali (if first stop in Africa) as not only does it allow for a "cushion day" for flight delays/cancellations, but also a great spot to get acclimated, as the city is at 4000′. However, I was very surprised at all that you can do in Kigali.
The Genocide Memorial, is powerful and very tastefully done. As I walked through the memorial, I was surprised to find I was not only reading about the genocide in Rwanda, but also about all of the other genocides around the world. The outdoor memorial is a sobering experience, with more than 250,000 people buried there. In my humble experience, I recommend the memorial as a first stop before seeing the rest of Rwanda today. Even though the genocide was only 24 years ago, the fact that Rwandans are all able to live together in peace and full of hope was amazing to see.
In addition to the memorial, I'd recommend a culinary experience. In this activity, you'll visit the local market with your chef in order to buy items to cook for your afternoon lunch. Or visit a milk bar, where people come to have beer glasses full of milk as they belly up to the bar! Visit local shops where women sew bags, clothes and more. Do yoga in the gardens or get a massage. All of this can be done in Kigali!
If you want to get off of the beaten track before or after gorilla trekking, head to Lake Kivu . Relax on the sandy shores, take a boat out for the day, visit a local organic coffee farm, see the Congolese border and watch as over 40,000 people pass between the Congo and Rwanda each day. Most of the Congolese come in on market day to purchase the gorgeous vegetables that Rwanda is able to grow.
Most travelers don't make Rwanda their only destination, but add a safari to their trip. Currently this can be done in Rwanda, as they do have the Big 5 (lion, leopard, buffalo, elephant and rhino.) However, Rwanda can also easily be paired with the Serengeti ecosystem in Tanzania or safaris in Kenya, as daily flights operate to both locations (minimum number of passengers may apply.) Depending on your destination, you can often be on safari on the same day. In addition to flight connections within East Africa, there are direct flights from Kigali to Johannesburg, South Africa, where you can connect to Cape Town or a safari in South Africa.
I went to Rwanda for the gorillas, but I left with so much more. The countryside is lush and green, supporting an abundance of agriculture for delicious and fresh cuisine. New and refreshed properties offer unique activities, stunning views and comfortable bases for exploring the "Land of a Thousand Hills." Most importantly, the people of Rwanda are some of the friendliest I've met, with the warmest smiles to welcome all visitors.