There is nothing we like more than a surprise happy ending, especially when it comes to animals and our environment. And in recent weeks, we have received just that with the announcement that not one, but two species previously thought to be locally extinct are, in fact, alive. Their reappearances, in Argentina and the Galapagos respectively, not only excite locals but also give conservationists hope for the future.
The first encounter occurred May 16, when Sebastian Di Martino spotted a giant otter in the Bermejo River within Argentina's remote Impenetrable National Park. Measuring up to six feet in length and weighing roughly 75 pounds, it had been over 40 years since this species of otter had last been sighted in this region, leading the animal to be declared locally extinct. While it is impossible to determine whether the giant otter came from the Paraguayan Pantanal, hundreds of miles away, or had been living in the park unbeknownst to conservationists, its resurfacing is encouraging.
As one of the top predators in the aquatic ecosystem, the return of the giant otter into the region will help regulate plants and other animals. What's more, its arrival serves as proof that a larger reintroduction program would work. As fate would have it, Di Martino made his discovery the very same week that two other otter were set to be re-released into Ibera National Park. The birth of their three pups has delayed the process, but all signs indicate an otter-ly positive trajectory!
A mere nine days later, it was reported that the lone female tortoise found on Galapagos' Fernandina Island back in 2019 was indeed a Fernandina Giant Tortoise. Last seen 112 years ago,  the species was believed to have been extinct due to centuries of volcanic eruption. But when a sample of her blood was recently sent to Yale University, the lab was able to confirm what the scientists had expected upon her discovery—that this female has genetic similarities to the Island's long-lost reptile.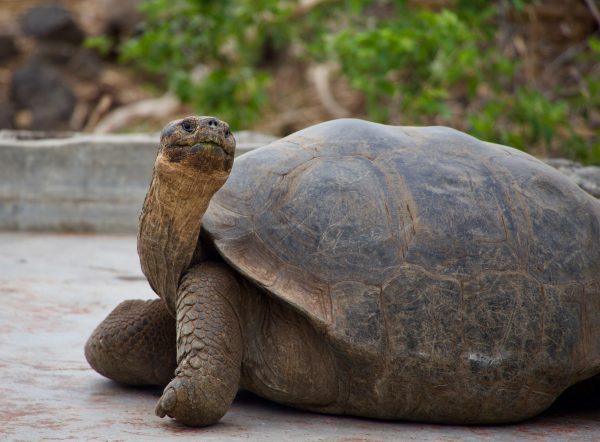 To avoid a similar fate as Lonesome George—the last Pinta Giant Tortoise who died in 2012—the team is putting together an imperative expedition to find her a mate and save the species. Having spotted signs (both tracks and scat) of two other tortoises on Fernandina, they will scour the island for a male counterpart and, if successful, bring both to the breeding center on Santa Cruz. It is here that the world-famous Diego sired 900 tortoise offspring, so let's hope the same!
The continued existence of these two species is a heartwarming reminder of animal resilience and also of the need for continued conservation efforts. It is only through protecting the land and the wildlife that call it home that we can ensure these, and other species survive.