Hygge is a Danish word used to describe a special feeling or moment. Hygge can be alone or with friends, at home or out and about, ordinary or extraordinary; but is always cozy, charming or special. And hygge is precisely what I felt while at the Hacienda La Danesa in Ecuador, one of the quaintest places I have ever visited.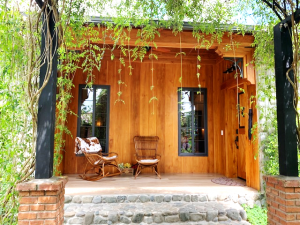 The owners are Danish and really tapped into their roots while simultaneously infusing a bit of Ecuador into the property. They truly thought of every possible detail, including adorable hats to help with the sun. The Hacienda sits on 500 acres in Naranjito Bucay, about 2 hours from Guayaquil, and offers a myriad actives to keep you busy, yet relaxed.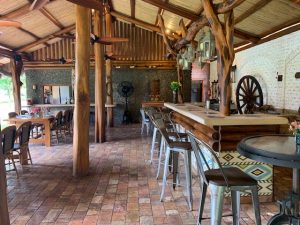 My colleague Kayla Parrack and I started off the morning with a post-breakfast horseback ride. I hadn't ridden a horse in 13 years, so it definitely took some getting used to. Luckily, we had a lovely property employee named Lucy who was able to translate what the cowboy said. Lucy grew up riding so she was also able to give us some tips. We explored several acres on the property, riding two hours to the creek where the horses were able to drink and then through the cow pasture. All the while, we were given an informative history of the property.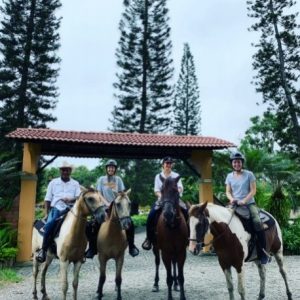 Growing up in Wisconsin I, surprising to most, never had any interest in cows, and I wasn't very excited about the prospect of milking one. And yet, following a lovely lunch, they brought a cow out to the grounds for us to milk. The cowboy showed us the proper technique and made it look very easy. So, I was not expecting it to be as hard as it was! I quickly realized I don't have the forearm strength to be a good milker. Despite this, I must admit it was kind of fun. We were also able to taste the warm milk. It wasn't really my jam, but it gave me a newfound respect for my grandparents and my dad who grew up on a farm.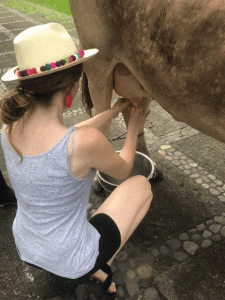 As a chocolate lover, I found the Cacao Experience fascinating. To start, we rode bikes about a mile from the main lodge to the Theobroma, home to the cacao trees. Upon arrival, Yvonne, one of the resort's English-speaking workers, picked a piece of fruit from the cacao tree and cut into it. We got to taste the seed, which had a flavor far fruitier than I imagined (only making my argument that chocolate is a fruit stronger). It actually had a similar texture to mangosteen. We watched as they toasted the bean, and then we ground it up, a process that also took a lot of forearm strength. We were told to try it first without sugar, which gave it more of dark chocolate taste (it would have gone well with a red wine). After adding some in, the color turned a lot lighter, the flavor a bit more like milk chocolate.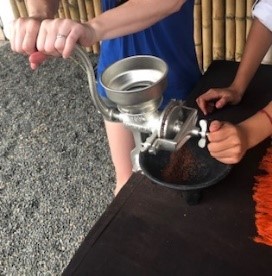 We then had the opportunity to make our own candy bars.  Kayla and I met with a chocolatier who melted the chocolate in a microwave and showed us the proper way to spread the chocolate. Once in the mold, we got to choose three toppings; for mine I selected coffee beans, almonds and sea salt. We left the candy bars to harden, after which they were labeled, wrapped and left in our rooms. Muy deliciosa!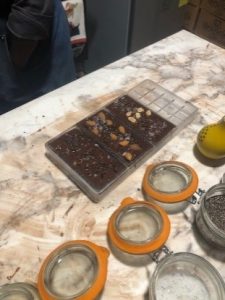 The lazy river was one of the hacienda's more unique activities and isn't for everyone.  We biked for about 15 minutes with our guide to a shed in which we left our belongings. The three of us then took a short walk through the woods to the banks of a river.  Our guide grabbed two tubes, informing us that he would swim alongside. He proceeded to put on his life jacket and hop in the water. Helping us into our tubes, he held on to us the entire way, navigating us through some branches and some cobwebs. He didn't speak a lot of English, and we were a little rusty on our Spanish; but we shared lots of laughs, learned a little bit more about each other's languages, and had a memorable time.
When we got back from the lazy river, we enjoyed massages in our rooms. Since there was a language barrier, we had to fill out a questionnaire on areas we would like to focus on and the pressure we would like.  The massage lasted about an hour and was one of the better massages I've had. It was the perfect way to end an activity-filled day and our stay at the Hacienda La Danesa.