In fall 2015, Travel Beyond consultants Kayla Torgerson and Katie Blackstone traveled to Vietnam, Cambodia and Myanmar. The trip was Katie's first experience in Asia and Kayla's first time back in Asia since living in India. Below is Kayla's account of their time in Myanmar.
After our adventures in Vietnam and Cambodia, we wrapped up our three-week journey in Myanmar. On arrival in Myanmar we were greeted by our guide Shen. He usually travels with Travel Beyond guests from start to finish on their trip and we can see why! We really loved our time with him. He's very intelligent and super candid – a great match for just about any traveler to Myanmar.
Yangon
Our first day of touring in Yangon with Shen began with a visit to the local food market. This was a really great experience. It was quite raw – meat, animal heads, and other body parts were hanging or lying on the ground. Though we loved the rawness of it, this type of experience isn't for everyone. Hidden underground was another portion of the market where a lot of fish and more meat were being sold. The power went out when we were down there so then we just walked through in candlelight. It was definitely adventurous!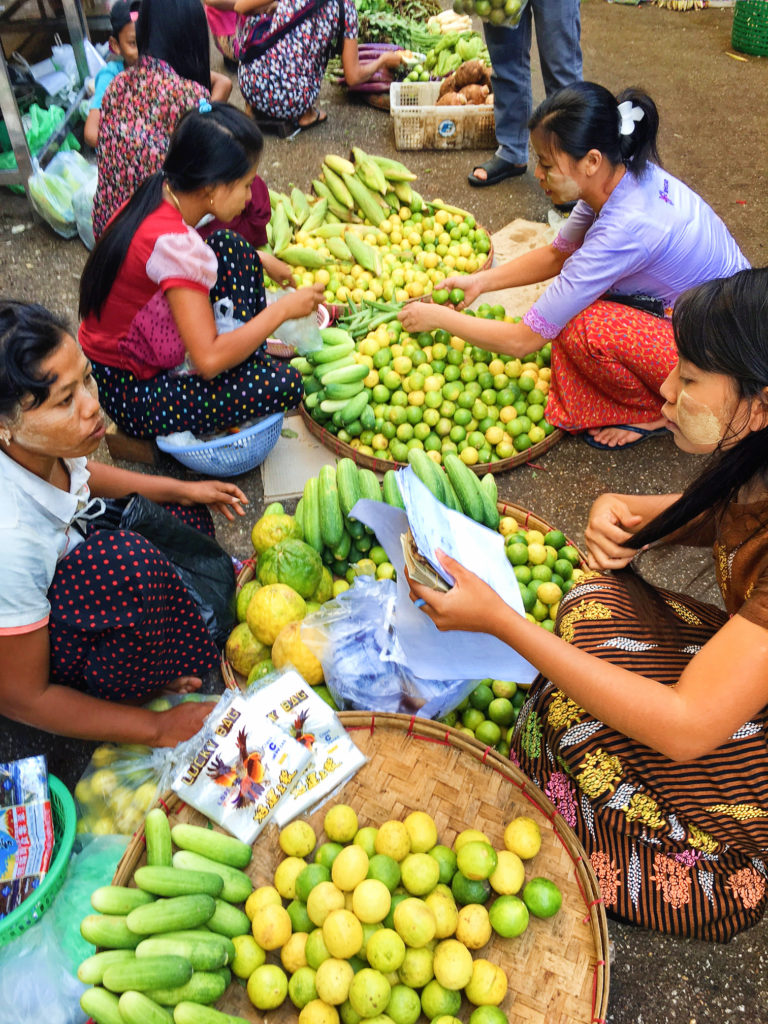 Shen then gave us a choice of visiting a monastery or to a village across the river by ferryboat. We chose the village option, and it was such a fun afternoon! We took a local ferry across the river and then a tri-shaw ride (a bicycle with an additional seat on the side that holds two people facing back to back) to explore the village. The ferry is just a local boat with street vendors and local people – there were no other tourists on the boat or in the village that we saw. When we arrived at the village, Shen arranged two tri-shaws for the four of us – we had invited our sweet driver to join us, because he had never been across the river in his entire life – even though it's adjacent to his home city of Yangon. It was amazing to experience it with him! We then toured the village for about an hour and observed very authentic local life. This was a highlight of our time in Yangon.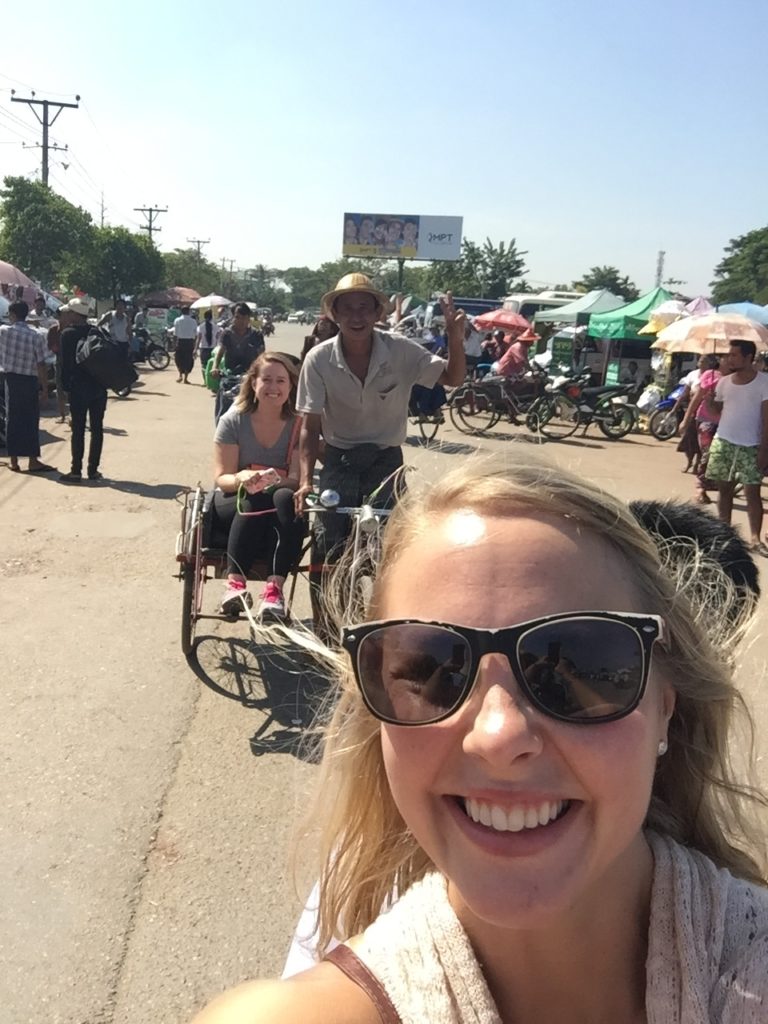 After returning to Yangon by ferry and enjoying an afternoon tea break, we went to the Shwedagon Pagoda, a massive temple complex. We avoided visiting too early, as it would be too hot to walk around in bare feet! This area is packed with beautiful pagodas and Buddha statues to photograph. While Katie and our guide headed back, I stayed until after sunset to enjoy the views from there – the main pagoda glows at night and they light candles all around it at sundown while chanting Buddhist prayers – it was magical!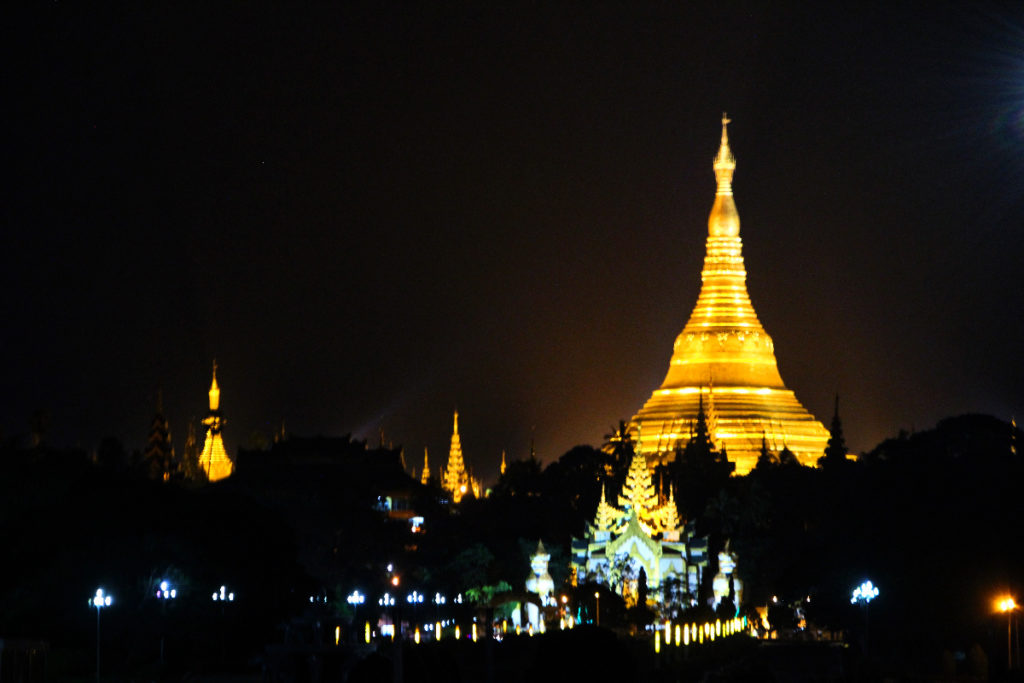 Inle Lake
Our next destination was Inle Lake, which is this amazing "city" (no skyscrapers here!) built across a massive lake. There are many different villages built not only along the shores of the lake, but also made up of stilted homes hovering above the water in the middle of the lake. The lake is estimated at some 45 square miles – it's HUGE!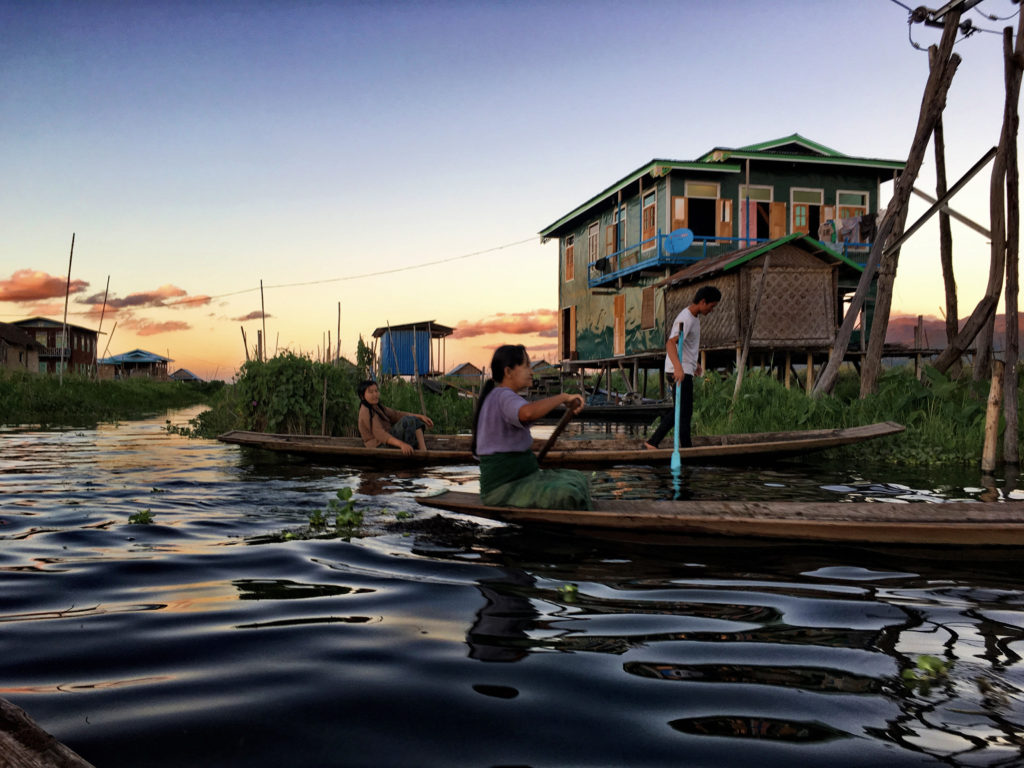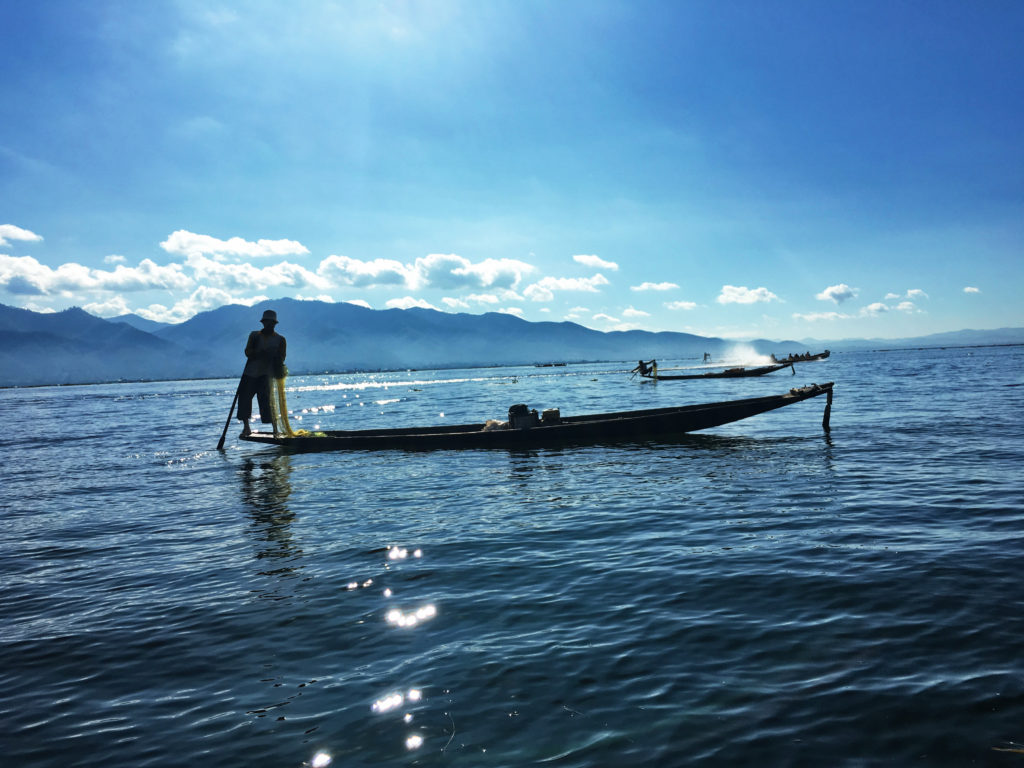 We were met by our guide, Tee, on arrival in Inle Lake. She was sweet, knowledgeable and attentive. We really enjoyed our time with her. On the drive to our waterfront hotel, we made a pit stop at a papermaking factory and a historic monastery. The drive took us to a boat launch where we boarded a traditional long boat and cruised on a quick ride to the hotel!
Continuing our sightseeing, we made an afternoon visit to a weaving factory, one of our favorite parts of our tour in Inle Lake. After seeing how the products were intricately handwoven, we browsed an impressive selection in the shop and each purchased a couple of scarves. We then hopped back on the boat for a short transfer to our sunset canoe ride through a floating village. It was quite peaceful without the constant sound of motors, and we enjoyed seeing daily life in this less intrusive way. I was also pretty excited about encountering a floating village, named "Kayla", during our afternoon adventure – what are the chances!
We stayed at the Pristine Lotus Resort & Spa on the western edge of the lake. This resort has gorgeous sunrise views! Of all the properties, we visited throughout this adventure, this was the most reminiscent of an African lodge – perfect for any seasoned safari-goer!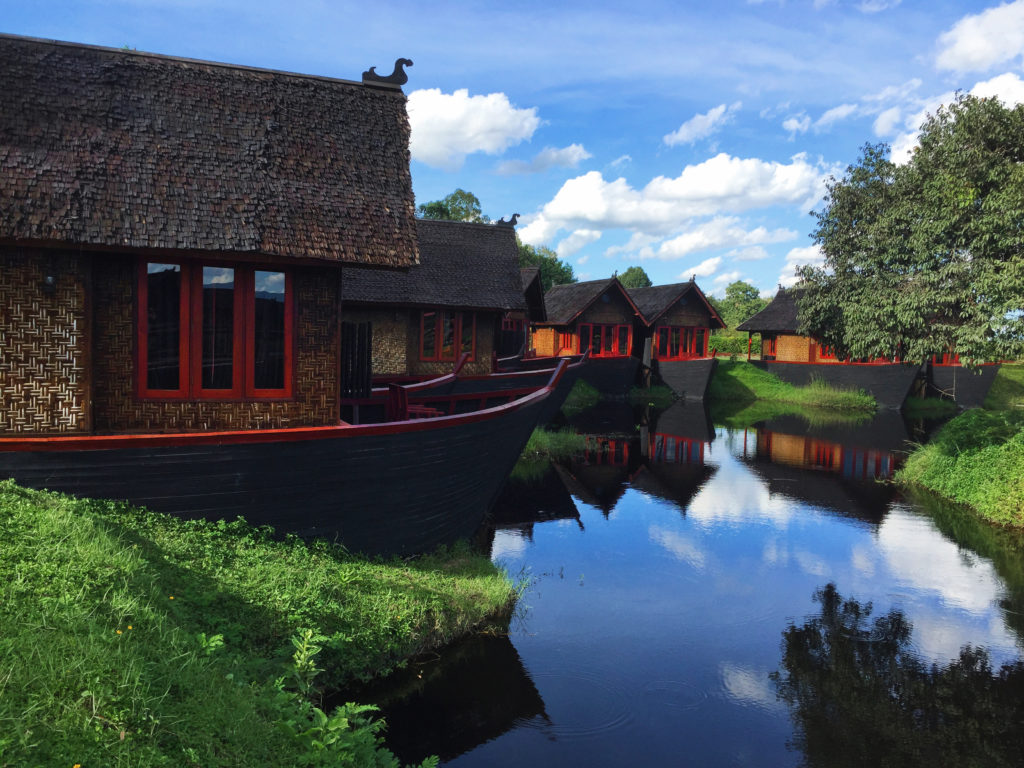 The next day, we shopped at the 5-day rotating market, located in a different village throughout the lake each day. Locals from surrounding villages come to the market when it's closest to them to purchase food and other supplies to last them the next 5 days. Interesting handicrafts are sold here as well, and the colorful experience is great for photographers! We then walked to the nearby Shwe Inn Den Pagoda, a complex comprised of over a thousand pagodas, varying in color and size, all right next to each other.
Bagan
Katie and I ended our trip with a "bang" in Bagan! After seeing so many temples here, they started to blend together a bit. Many offer amazing panoramic views – if you are willing to climb some steep stairs. We then continued to the Shwezigon Pagoda, which is very similar architecturally to the Shwedagon Pagoda in Yangon. We visited many large Buddha statues, including seated Buddhas that filled the entire room. From there we continued to a lacquer factory, where we observed the complex process of crafting lacquerware. A simple piece takes about a month to make. Complicated, high quality ones could take years!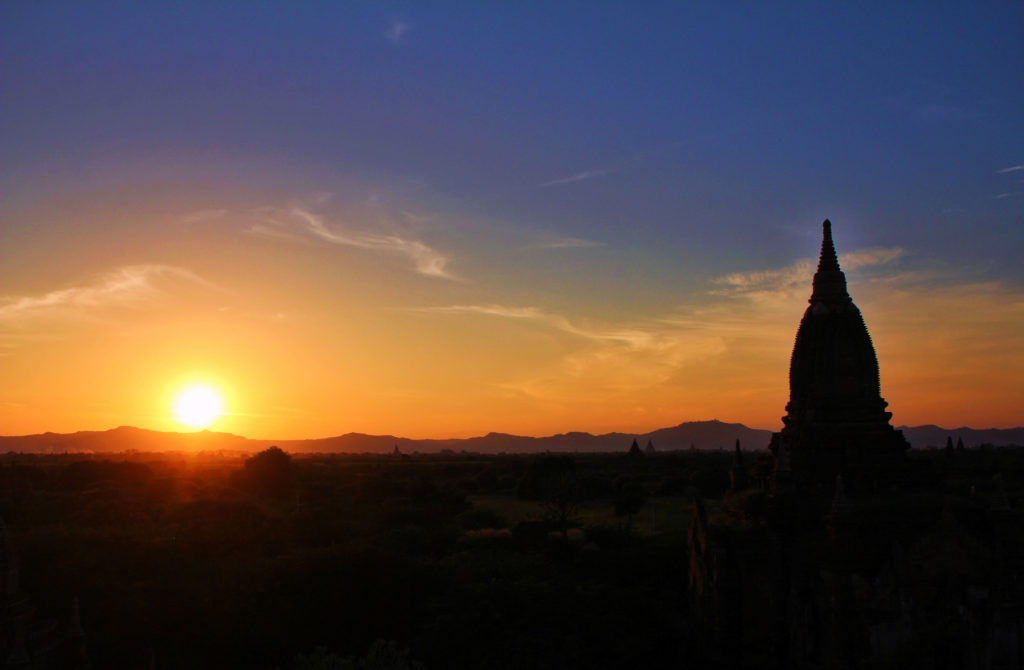 Very early the next morning, we were met for our hot air balloon ride with Oriental Ballooning. This was our second experience in a hot air balloon together – the first was in Turkey. We opted for the premium experience. Each balloon held 8 people in 4 compartments, which is quite nice! We flew over temples and could see mountains, fields, a river, and more. The views were stunning! Once everyone landed, our company had put together a refreshing champagne toast with fresh fruit and juice.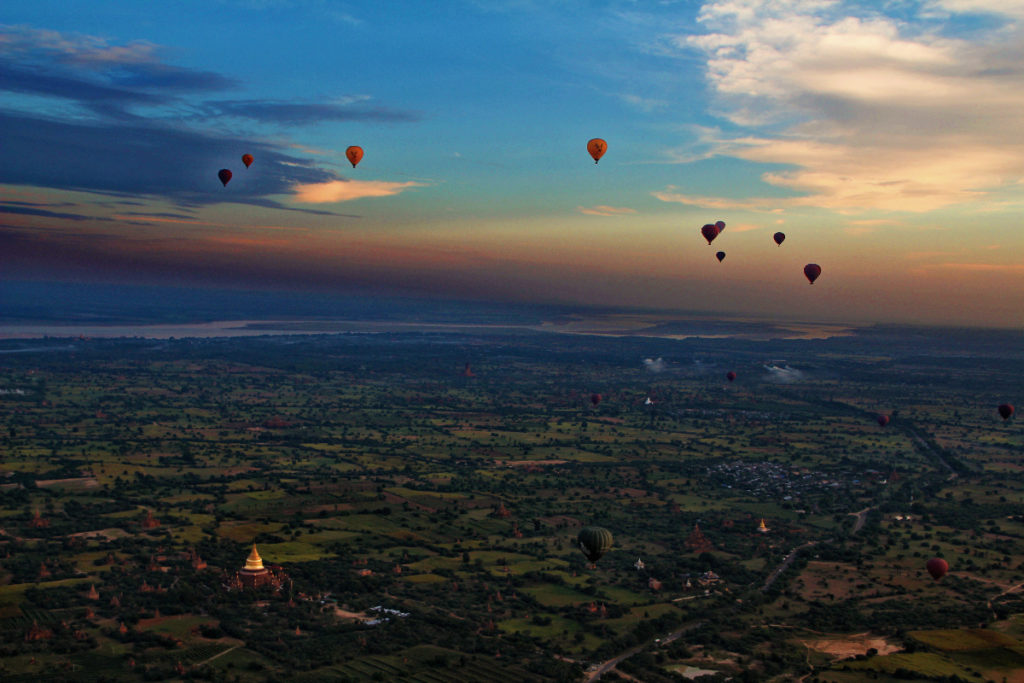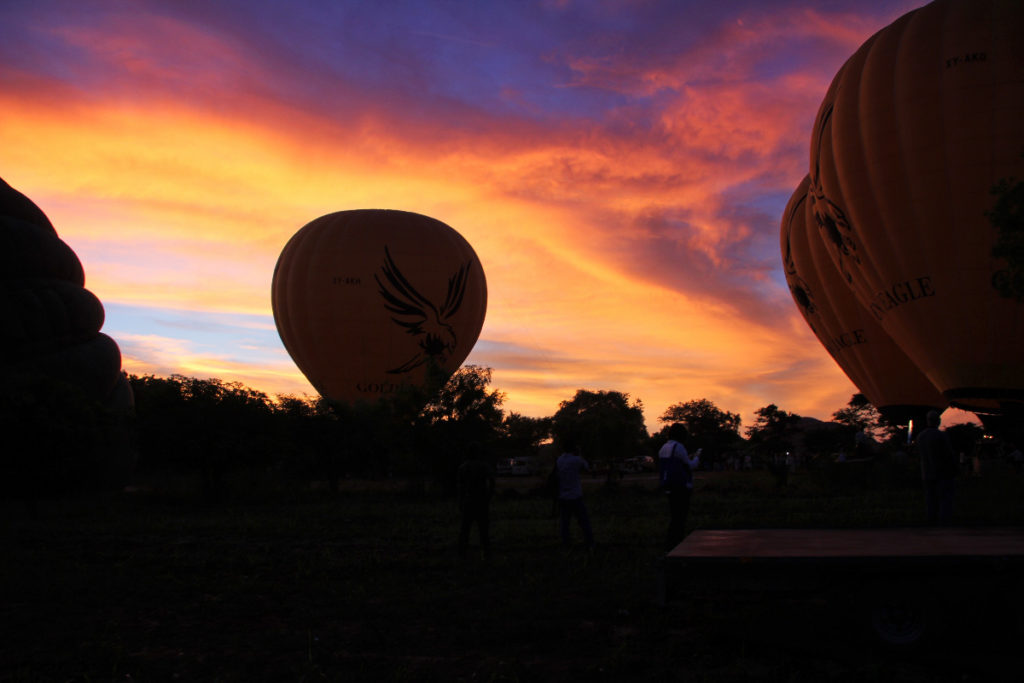 We then had the rest of the day to explore Bagan on our own. Our guide helped us set up E-bike (electronic motorbike) rentals for the day. They were delivered to our hotel at 9am and we used the remainder of the day to drive around both New Bagan and Old Bagan. It was an exciting way to see more of the area on our own, and quickly became a highlight of our entire trip! The E-bikes can be a bit tough to maneuver, especially on sandy side streets, but if you are adventurous, it's a lot of fun! Be sure to watch your battery gauge, because Katie's bike ran out of battery just as we pulled into the hotel!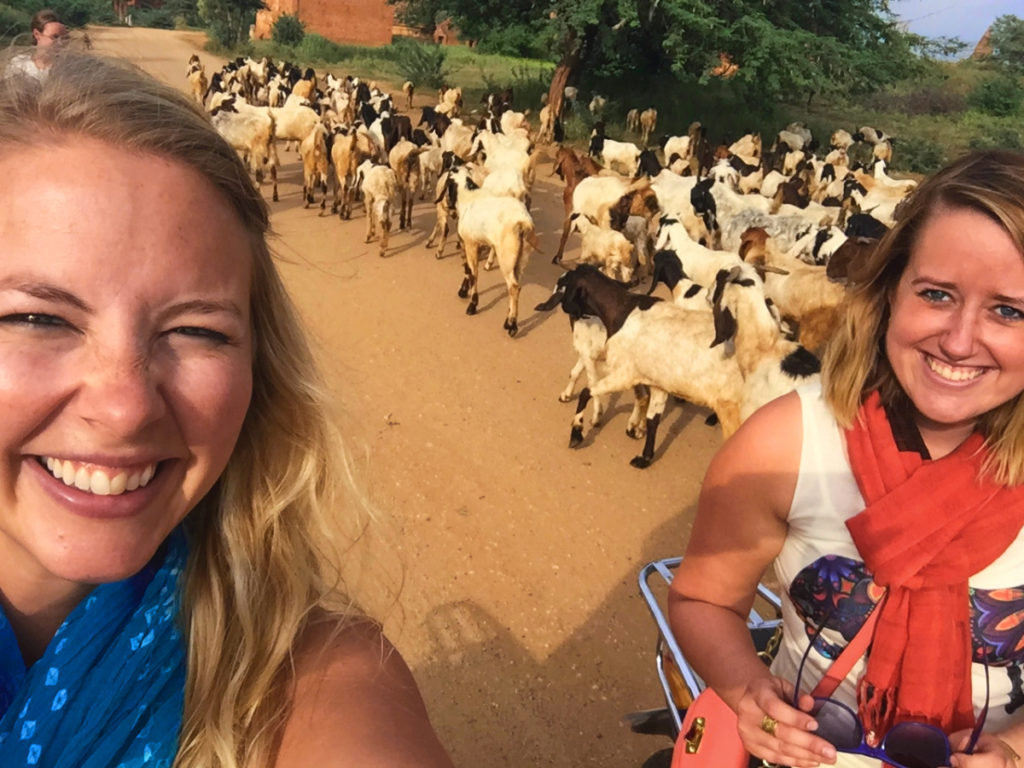 We had so many laughs on this three-week adventure and are so grateful to have shared this time together in such amazing places.
If Southeast Asia isn't on your list, we'd love to talk with you about why it should be! If it already is, let's start planning your next adventure!