VIBRANT. SPIRITUAL. RAW. Three words that describe the beauty and intrigue of India, one of the world's oldest and most captivating civilizations.
While India may be best known for its bustling cities and diverse culture, it is also home to one of most secluded and elusive animals on the planet: the Bengal tiger. India is one of only two destinations in the world where visitors have an opportunity to see this magnificent (and endangered) animal in the wild.
Tigers have long been champions of popular culture. In fact, the tiger was even voted "World's Favorite Animal" in an Animal Planet poll. But unlike playful Hollywood depictions such as Winnie the Pooh's Tigger and Kellogg's Tony the Tiger, the Bengal tiger is anything but outgoing or social. Rather, the world's favorite animal prefers to live a solitary life out of the spotlight, making sightings rare and special.
"The reality of spotting a tiger on safari is important to discuss up front with interested travelers prior to committing to the journey, especially if they have traveled to Africa on a safari where the experience is very different," says Jenny Mikkelson, vice president at Travel Beyond. "In Africa, while we can't guarantee a particular sighting, it is more unusual for guests to return without seeing, for example, some of the Big Five if they are in an area known for their sightings. In India, you may not see a single tiger, and it's important to know that going in."
So what is all the fuss about if a sighting cannot be guaranteed? Travel Beyond employee Kayla Torgerson has embarked on safari in both India and Africa and while she describes the experiences as being "completely different" there is some common ground.
"While on safari in Africa, seeing wild dog, for example, is uncommon, so when you get the opportunity it's really incredible," explains Torgerson. "With tigers, it's similar. The experience of searching for a tiger is exciting and if you see one it's special because you know it is quite rare. If you don't, which is more common, there are plenty of other things to see: birds, Barasingha (swamp deer), buffalo, monkeys and other smaller species. The natural beauty of India is stunning and within the parks—away from the cities—is one of the only places where that beauty is truly untouched and preserved."

Timing is everything when planning a tiger safari to India. India's national parks close during monsoon season, which means they are only open from October 15th to June 30th. The heat from April through the closing of the parks at the end of June is intense, with sweltering temperatures above 100 degrees Farenheit.
"When speaking to a client about a tiger safari, I always ask, "Can you take the heat?" says Mikkelson.
As Mikkelson explains, travelers who can endure the stifling seasonal temperatures are often more likely to be rewarded with a tiger sighting. This is because the shrubs and plant life of the forest shrivel in the heat, aiding in the search. In addition, creeks and smaller bodies of water also cease to exist, causing more predator and prey drama at the larger permanent water sources within the national parks.
As the temperatures rise and the natural environment adapts, tiger behavior changes in these hot months as well. Like animals in Africa, once a tiger finds a spot next to a body of water, it is likely to stick around and rest in response to the heat. As a reward for the willingness to sweat, safari guests are more likely (though not guaranteed) to locate and photograph a tiger in the wild during these months.
Like the tigers, safari guests can be assured of a break from the heat of the day as well. Cooler nights and a number of air-conditioned luxury properties in the parks offer a refreshing break after a day on a photographic hunt.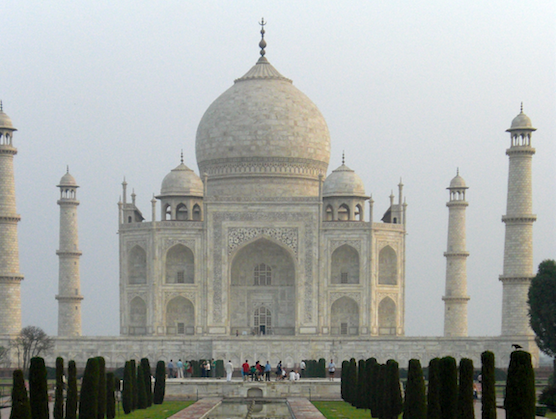 Visiting India
Tiger safari itineraries often include three to four nights on safari, giving travelers a chance to easily add on other experiences in India, from the classic Golden Triangle circuit to holy sites and relaxing beaches. Interested in learning more? Contact us.
Golden Triangle
India's "Golden Triangle" of Delhi, Agra and Jaipur offers the chance to see the iconic Taj Mahal, fascinating mosques and temples, colorful bazaars and other must-see destinations.
Varanasi
Those who have already experienced the Golden Triangle often enjoy visiting the loud and colorful Varanasi on a second trip. A holy site for Hindus, Varanasi features the incredible Ganga Aarti daily ritualistic candlelit ceremony viewed from a boat upon the Ganges.
Indian Ocean Beaches
While few travelers immediately think of India as a beach destination, a relaxing escape to southern India can include word-class Indian Ocean beaches, unique house boat journeys, famous Ayurvedic spas and plenty of relaxation at luxury properties.