Following her recent return from southern Africa, we chatted with Katie Gomer, Travel Beyond's Product Manager for Africa. From discussing her international flights to the protocols at each camp, she shed light on mask wearing, test administration, and the overall experience of traveling during COVID-19. While everyone's trip will look and feel different, her answers give a bit of insight into what one could encounter when setting off on their next adventure.
What was it like to travel internationally during COVID-19? What are the long-haul flights and airports like?
This trip was my first since the pandemic, so I wasn't quite sure what to expect. After a year of staying put, it definitely felt "weird" to be flying again. But with that said, I found the experience to be quite smooth. On the whole, there were far fewer people on each flight than in "normal" times. The only exception to this was one of our domestic flights which ended up being completely full. Flight attendants were great about ensuring passengers wore their masks and a bonus of fewer planes and passengers was having quicker customs and immigration lines upon arrival.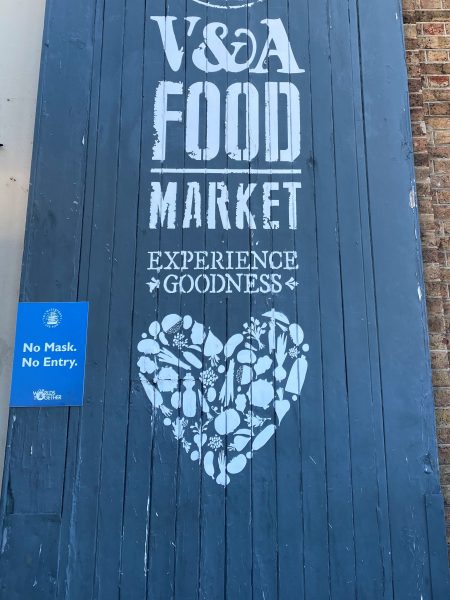 When it came to logistics, the airports had signs for social distancing, masks were required, and there were a lot of hand sanitizer stations throughout. Some individuals, of course, were not wearing their masks perfectly or correctly but we had the space to distance ourselves from them. We had to fill out additional paperwork when entering and departing South Africa asking typical COVID-related questions. We also downloaded a contact tracing app for our time in South Africa. Using GPS, it could notify us if we encountered someone with a confirmed COVID case, but we were never alerted to an exposure, which was reassuring.
How have camps responded to the pandemic? What health and safety protocols do they have in place? 
Each camp had its own rules, and some were stricter than others. All properties had hand sanitizer readily available and did daily temperature checks. Masks were worn in all main areas. Most camps also offered a private dining option or got creative with their seating charts to allow for guest comfort. One camp, because of its one large, shared table, left a spot open between each party to allow for distancing. I thought it was a nice way to keep people "together" while feeling safe in doing so. Of course, if we had been uncomfortable with that setup, we certainly could have requested to dine alone while there. On our final evening there, they did surprise us with a private dinner on our tent's deck, which was an absolute treat. As is true in the US, some staff and properties were better at adhering to safety guidelines than others. But a major benefit of staying at safari properties is that you're almost always in an open-air environment, which helped my own comfort level.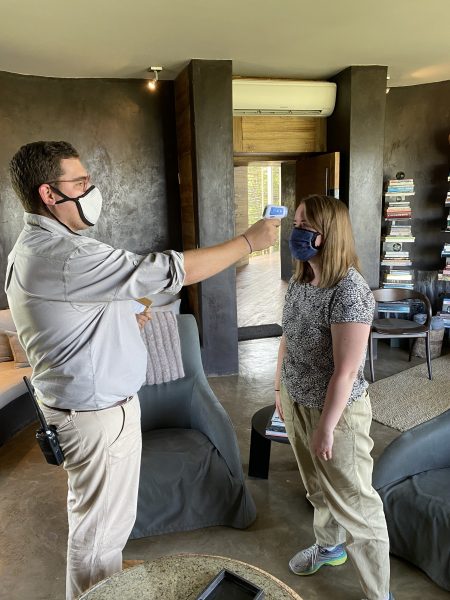 What happens when/if you cross a border within Africa? How can travelers prepare for entry/departure?
Each country has its own COVID requirements which initially felt overwhelming. But Travel Beyond and the wonderful local staff organized every necessary step to allow for smooth border crossings. Both South Africa and Botswana, the two destinations we visited, required a negative PCR test to enter the country and a health screening on arrival. When we arrived in Botswana, we were required to take a rapid COVID antigen test at the airport (which we didn't have to pre-book or pay for). I felt that we were well-prepared after reading through our Travel Beyond documents.
How easy was it to travel from place to place during the pandemic? How are the safari vehicles and/or bush planes operating differently?
It was really easy to get around, as planned. There were fewer people flying so many of our shared light aircraft flights ended up being private. When it came to road transfers, like those we had in Cape Town and the Winelands, everyone within the vehicle wore masks, guests and guides included.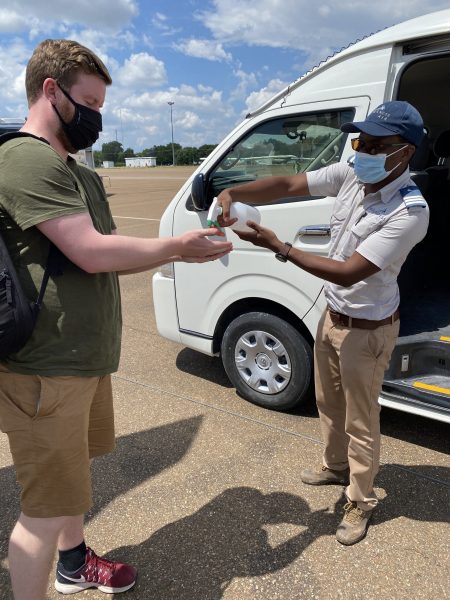 How often did you have to wear a mask? Did that impact your enjoyment of the trip?
We wore our masks in all "public" spaces – at the airports, arriving at restaurants, in the main areas of hotels/safari lodges, etc. While on safari, the guides left it to us to decide if we wanted to wear masks. We chose not to since the safari vehicles were open and in them, we were relatively distanced from one another. Many of our guides kept their masks on and, had we opted to wear ours, all would have happily done so. I am fairly used to wearing a mask at this point, so I didn't think wearing one impacted our trip at all.
How often did you need a COVID test? Which types? How did you schedule and pay for those? Did you have to miss out on any drives or experiences in order to get your tests?
We scheduled our own tests in the US, both before and after travel. First, we needed a PCR test within 72 hours of our arrival into Botswana. With too short a stopover in Johannesburg to test there, I made an appointment with a local clinic that I really loved using. We had to pay for the test, but it guaranteed a same day turnaround. I did not want to rely on community testing sites just in case it ended up taking longer than expected. We also chose to get tested 5 days after our return into the United States. We set up an appointment at a local community clinic and got our results the next day. We did not pay for this one.
Almost all our in-country tests were pre-paid and organized by Travel Beyond in advance. The first was required for arrival into South Africa from Botswana and administered while we were on safari. As we were heading out on our evening game drive, we made a quick stop at the property's helipad. The test administrator had flown in on helicopter and had a chair set up for our "bush clinic." He quickly collected some information from each of us, swabbed us, and sent us on our way within about 5 minutes. It was a super slick process. They then had the results printed for us before we departed Botswana.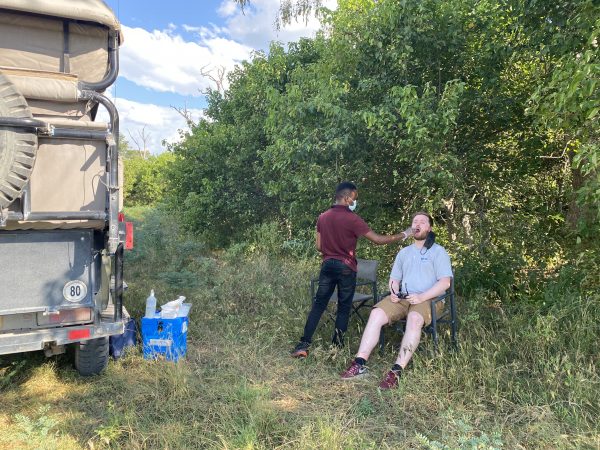 The second test occurred at our last hotel in Cape Town, South Africa. While our airline and the country through which we transited did not ask for a specific test, the United States requires either a PCR or an antigen test conducted within 72 hours of re-entry. We had the date pre-arranged but could schedule the exact time when we got to the hotel, based on our touring schedule and preference. We had the option of being tested in our room or the hotel lobby. We chose the lobby and when we left breakfast that morning, the nurse was already waiting. Since it was a rapid antigen test, my husband's results were ready as she was doing my swab and my results were ready as we finished up paying. It was so quick, and I can't recommend it highly enough.
The only test that was not pre-scheduled was an antigen test that Botswana recently began requiring. After landing, we were directed to a tented area that they had set up to protect us from the sun. One by one, we walked to another tented space where they administered the rapid antigen test. Waiting to be the next called took a bit of time but once tested, we got the results in about 10-15 minutes. We then immediately proceeded to the immigrations & customs lines (which had about 2 people in front of us!). There was no cost to this test, but it was a good reminder to always be flexible and patient while traveling during COVID.
All tests were negative, and we absolutely didn't miss out on any experiences because of their administration.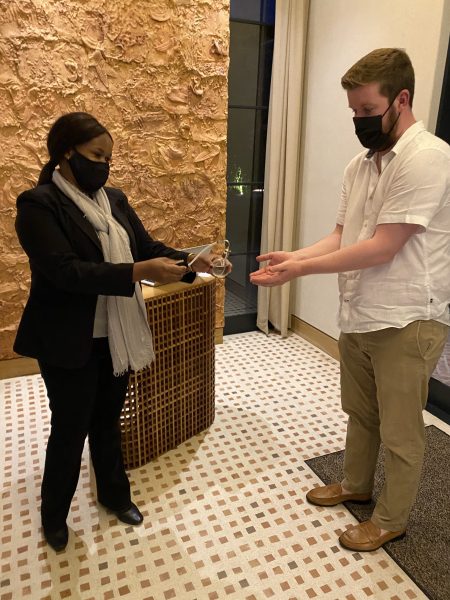 What recommendations would you offer to people considering travel right now?
Do what is right for you. If you want to travel, do it! But be sure to follow safety guidelines and precautions while you're traveling, to protect yourself and others. Protocol and requirements change regularly, so be prepared to be flexible, as well. I would also encourage working with a travel professional so you can be assured all testing requirements are scheduled with the appropriate timing.
Everyone we met along the way in Southern Africa was so appreciative of us traveling over there as it allowed them to regain a bit of a sense of normalcy with their jobs. I felt that we all benefited from the experience and I cannot speak highly enough of exploring this beautiful continent and getting back into the bush again!