Vietnam's increasing popularity as a travel destination is not without merit, as anyone who has sailed past the limestone karst cliffs of Halong Bay, zoomed through Saigon on a Vespa, or wandered through the lantern-lit Old Town of Hoi An can attest. However, what many do not know is that within Vietnam is hidden one of the world's best kept travel secrets: the awe-inspiring caves of Phong Nha-Ke Bang National Park.
Upon arriving at the Dong Hoi Airport in central Vietnam, my colleague and I were driven through quaint countryside into Phong Nha. Greeted by a Hollywood-esque sign emerging from one of Vietnam's famous karst cliffs, it was hard to imagine the town was once a poor logger's village, a mere blip on the Vietnam map. With the discovery of some of the world's largest caves during the last century, the surrounding area was quickly declared a National Park. Now unable to log, villagers began a small tourism industry, and today Phong Nha's main road is marked by backpacker hostels and souvenir shops.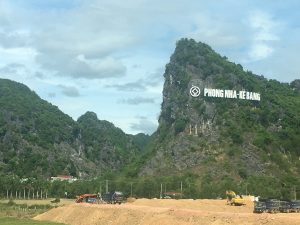 We began our day with a visit to the first cave discovered in the region, the eponymous Phong Nha. Boarding a narrow wooden motor boat steered by a local mom and her teenage daughter, we cruised down the river until an opening appeared in the cliff ahead. Phong Nha Cave's river is one of the longest underground bodies of water in the world, and it delivered us to a sandy bank in an enormous cavern; looking up, the ceiling was decorated with the most fantastic stalactite and stalagmite formations.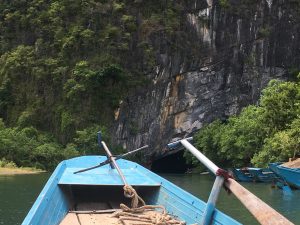 While I was stunned at the beauty of Phong Nha, our guide assured me the next cave was even better – Paradise Cave. We were loaded into a small, buggy-like vehicle that deposited us near the bottom of a large hill. Here, it was a staggering 10min walk up the cliff face that led us to small hole on the mountain, where we were immediately met with a welcome burst of cold air. The story of Paradise Cave is that it was discovered by a logger trying to find a place to relieve himself! Whatever the case, it is the most astounding thing I have seen in my life, and I would declare it the 8th World Wonder if I had the authority.
Wooden stairs lead to the bottom of a cavern as tall as a 30-story building and which extends for 30mi into the dark. The formations in this cave are often referred to as the world's most beautiful, transporting you to what feels like another planet (or, in my opinion, what I imagine the inside of an anthill to look like). Created over millions of years, the glittering stalactite walls of Paradise Cave remind one of the powers of nature and time, and how it can be found in the most unexpected of places.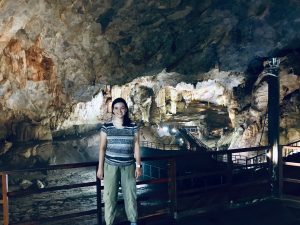 Phong Nha and Paradise Caves are a treat themselves and a must on any Vietnam itinerary. But seeking even more adventure, we set off on a 2-day/1-night hike through forests to Hang En, the world's third largest cave. The experience gave me a taste of what more this national park has to offer.
At a small adventure outfitter in town, I met up with my group of 16 travelers and the local guides who would be leading us on this of a lifetime. Made up of bright young men all born and raised in the village, this team's love for the land and the caves soon proved undeniable and unsurpassed.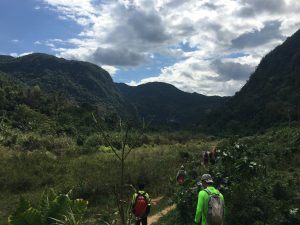 We began our trek downhill through minimal forest cover on a summer day pushing 90 degrees (during cooler parts of the year the caves are inaccessible due to flooding). After a few hours of wading through river streams and amongst a cascade of butterflies, we arrived at a local minority village in the valley. Here, locals fed us some traditional Vietnamese fare as dogs and chickens played at our feet.
The remainder of the 5mi trek was out in the beating sunshine. We were all struggling, be it from the heat or our packs; and yet the team porters trudged ahead even quicker, carrying tents, cooking supplies and a surprisingly sunny attitude. Rolling grassland and limestone cliffs met us in every direction; passing herds of cows, we were soon greeted by the opening of Hang En. Standing before it, like a portal to another world, thunder started to roll in, along with the first drops of rain, which we gladly embraced.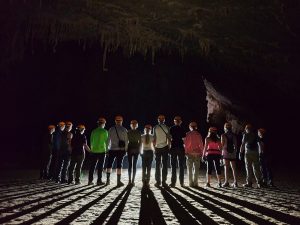 Once inside, we put on our helmets, secured our headlamps and scrambled up the rock face to a stunning view below. Just past a natural pool and sandy bank, Hang En emerged at over 330ft tall, with the sounds of thousands of swallows echoing in the dark. A makeshift raft brought us across the water to our camp, where the porter team was already preparing dinner and cracking jokes. That night we swam in the cool water, ate our fill of wonderful, home-cooked dishes, and played games in the fading light of the cave.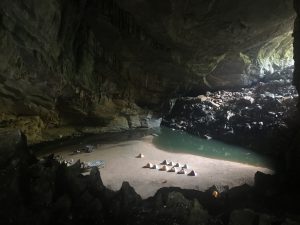 The next morning, we ventured further into the cave to see the truly famous opening on the other end, the one used in the newest Peter Pan film, Pan. After traversing over a rock wall, we stood in front of the expanse, met by trickling water, towering trees, and even more colorful butterflies (Vietnam has over 2,000 kinds)! We then packed up and hiked back the way we came, only this time straight up the cliff. For one straight hour we climbed, a truly athletic feat that is not for the unprepared (such as me).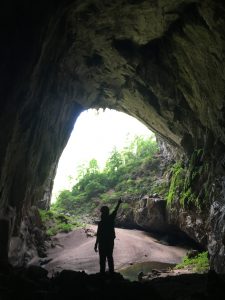 While the formations of Phong Nha and Paradise are unbeatable, the sheer enormity of Hang En is something that strikes you to the core. Visits here can only be made by those willing and able to undertake a 1-night hike. For the truly adventurous, the world's largest cave, Hang Son Doong, can be reached on a separate, 4-night hike that is a bucket list adventure like none other.
For anyone heading to Vietnam, I would encourage you all to make time for a stop at Phong Nha-Ke Bang National Park. The landscape is remarkable, the locals are kind and welcoming, and the cool breeze of another hidden cave is just waiting to be discovered.