On a map, it looks fairly easy to combine countries in Southern Africa and East Africa into one comprehensive trip, checking off all the safari highlights at once. However, Africa is a vast continent—larger than North America and almost all of Europe combined—and what looks like a simple transfer on a map can take a day or two to accomplish due to long distances, varying flight patterns and complicated transfer logistics. In fact, we rarely recommend combining both regions into one trip unless travelers have more than two weeks of on-the-ground travel time available.
However, within each region, it's often possible to visit multiple countries within a single trip. For example, since most international flights to Southern Africa connect in Johannesburg, South Africa, it's easy to combine time there with countries like Botswana, Zambia, Zimbabwe, Namibia or Mozambique in one visit. For trips less than two weeks, we often recommend limiting the itinerary to two countries, with the potential of an easy stop on either the Zambian or Zimbabwean side of Victoria Falls as a third choice.
Within East Africa, it's easy to combine Kenya and Tanzania into a single trip or tack on a safari in one of those countries after experiences like primate trekking in Rwanda and Uganda or climbing Mt. Kilimanjaro. 
With countless safari reserves, natural wonders and exciting cities within Africa, there's always a new destination to discover on your next trip!
Southern Africa At A Glance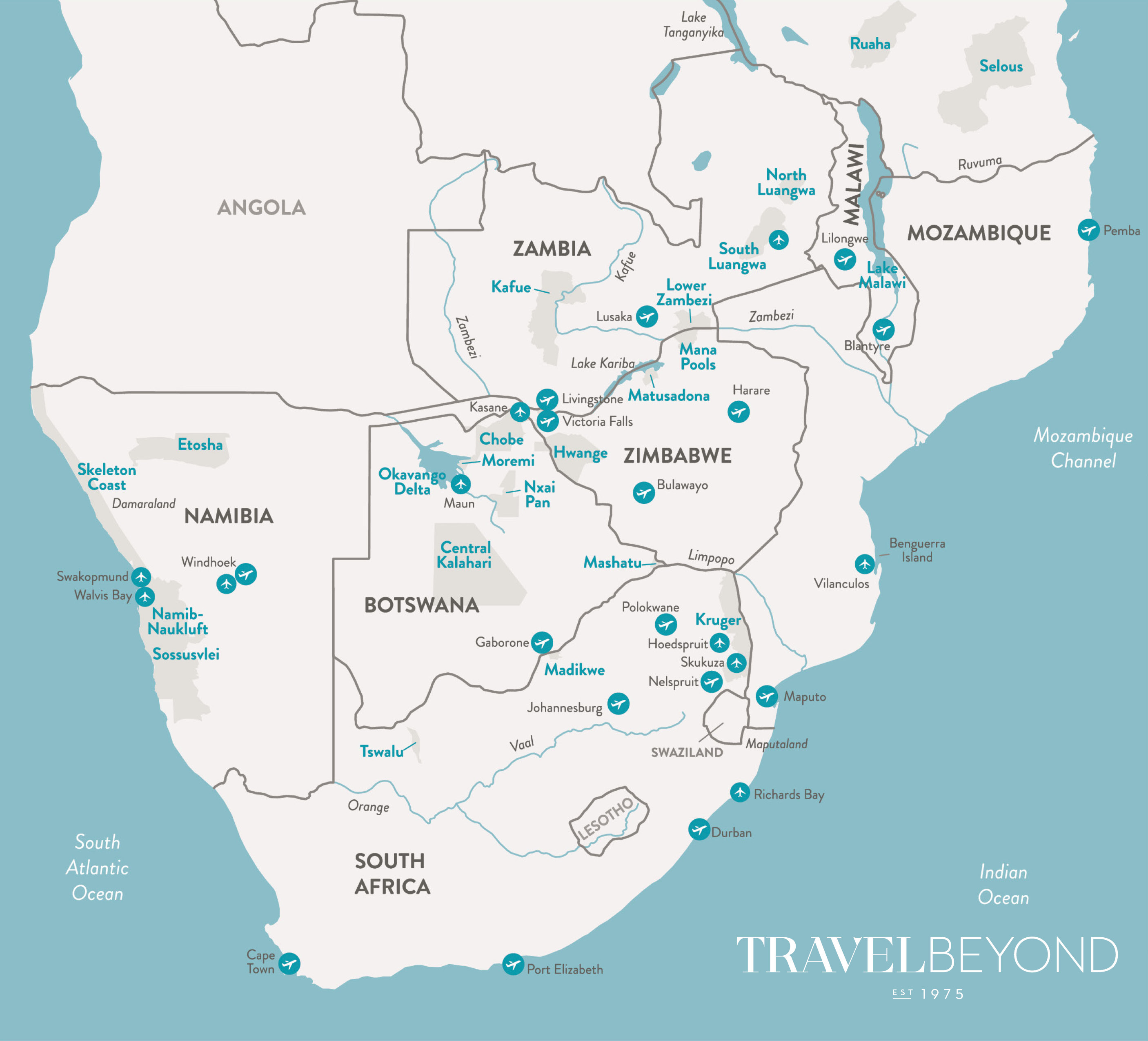 Changing landscapes
From Mozambique's white beaches to Botswana's lush Okavango Delta to the stunning red sand dunes of Namibia's Sossusvlei, Southern Africa landscapes are beautifully diverse.
Multi-Country Safaris
It's relatively easy to combine multiple countries into a single itinerary in Southern Africa, allowing travelers to experience a host of different safari scenes.
Conservation Focus
Our partners in Southern Africa are heavily investing in solar power, community development and wildlife conservation. In Botswana alone, 40% of the land is set aside for conservation!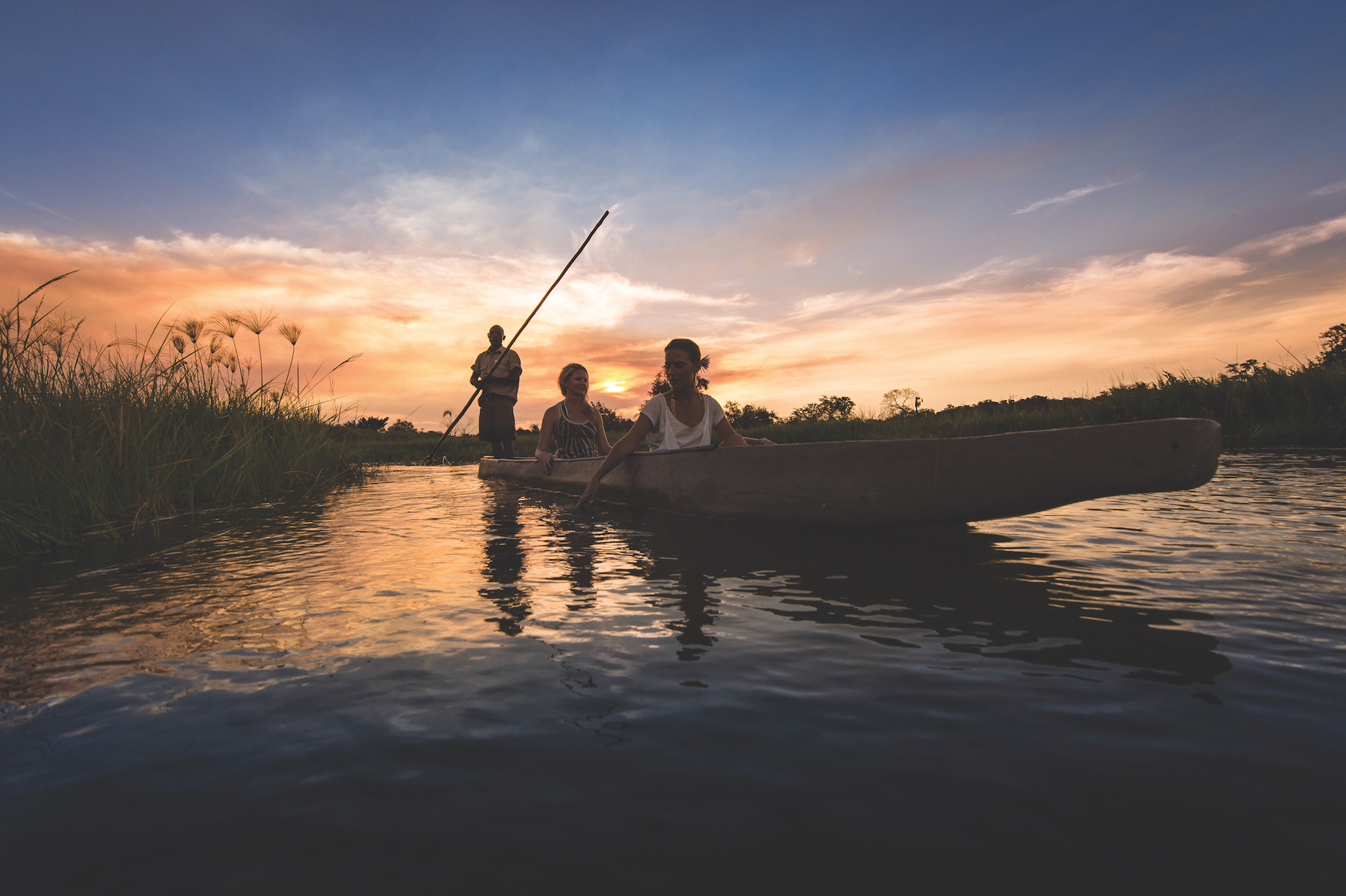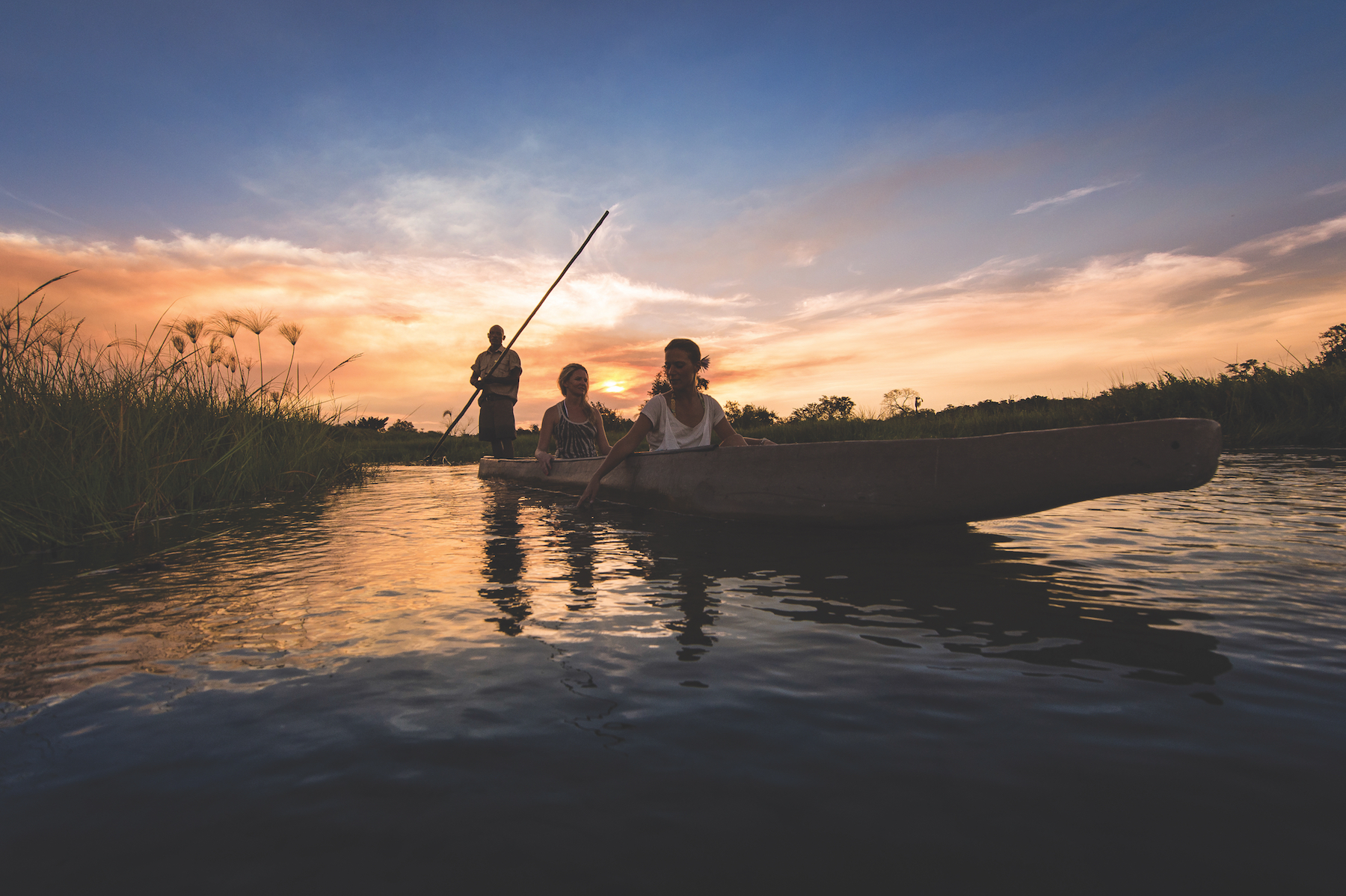 Southern Africa Experiences
The life-giving waters of the Okavango Delta
Bursting with wildlife, the vast Okavango Delta in Botswana offers a true connection with nature and a sense of remoteness. For the full Delta experience, visit when the annual floods transform the land into a massive floodplain.
Big Five Spotting
Wildlife sighting in South Africa's Kruger National Park and the surrounding private game reserves is plentiful and abundant, giving guests great opportunities to see the Big Five: lion, leopard, elephant, buffalo and rhino!
Massive Herds, Rustic Charm
In Zambia and Zimbabwe, the annual dry season causes large herds of animals to converge on the few remaining water sources. Coupled with intimate camps and walking safaris, these countries are full of authentic charm.
Beyond the Classic Safari
Pair time on safari with the romance, bustle and flavors of Cape Town, South Africa. Relax in style on the white sand beaches of Mozambique. Photograph the massive sand dunes at Namibia's Sossusvlei. Visit the thundering Victoria Falls at the border of Zimbabwe and Zambia. Raise a toast with a glass of local wine in the Cape Winelands and more.
East Africa At A Glance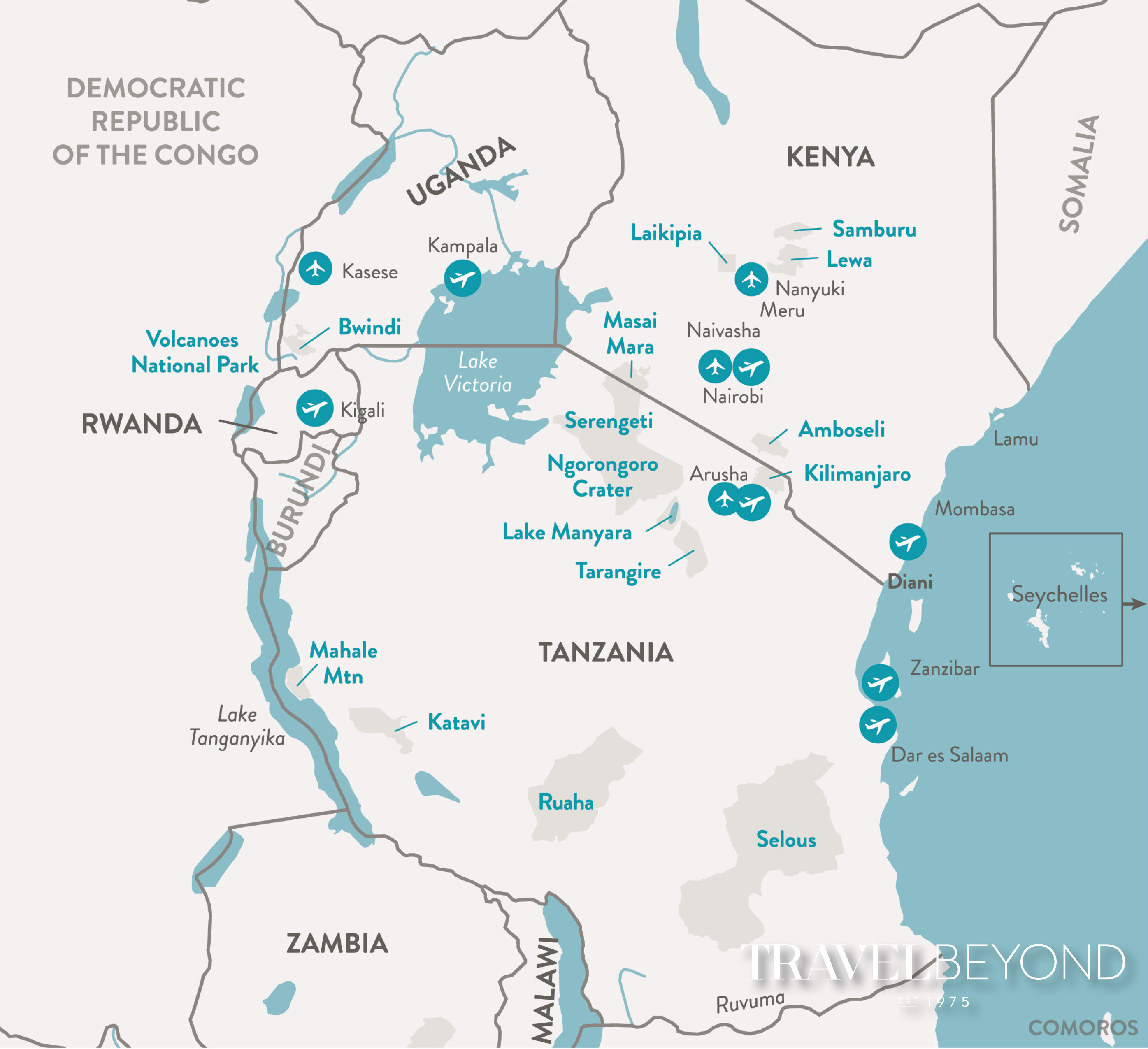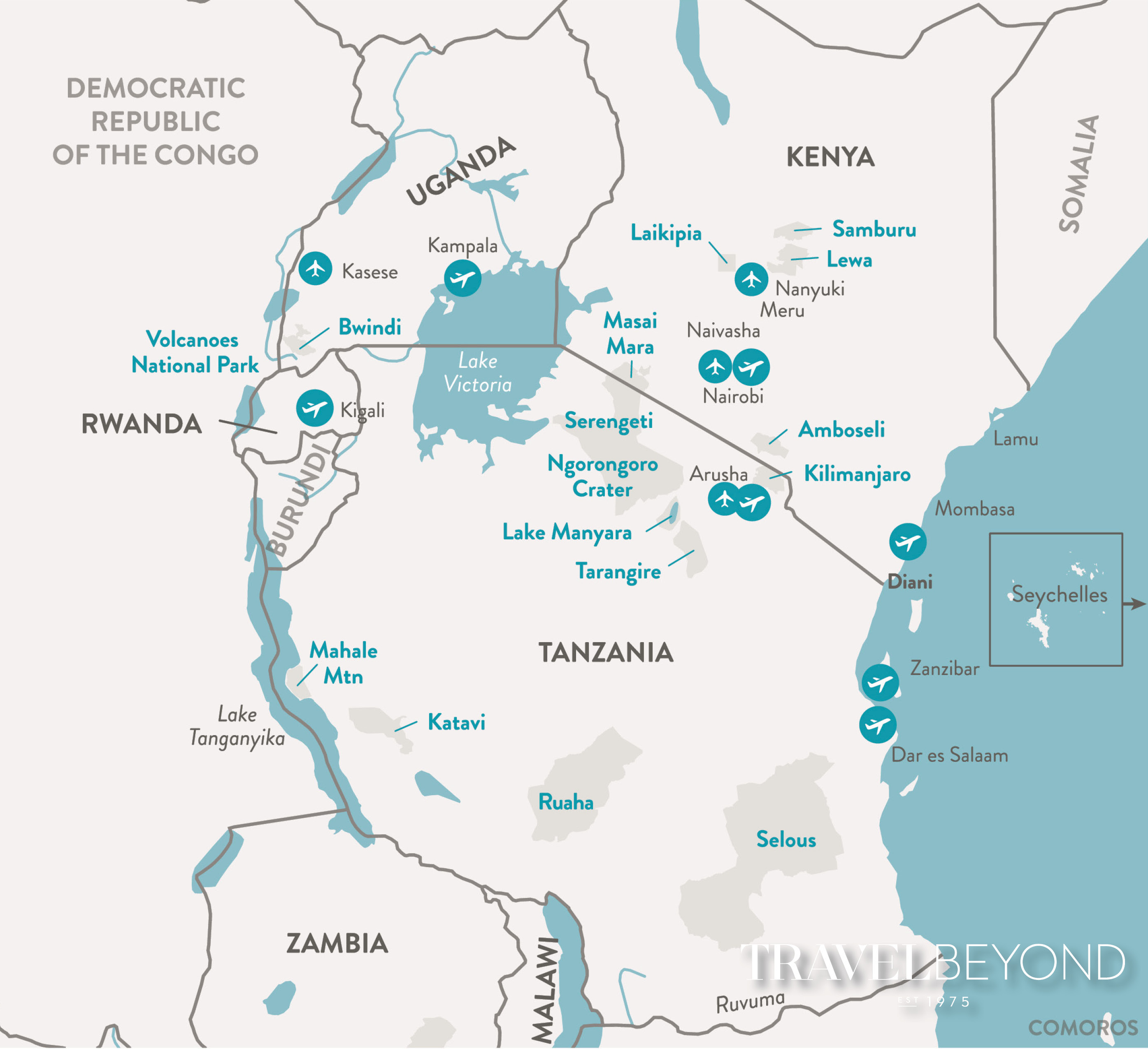 Historic Charm
The classic "Out of Africa" safari charm is alive and well in East Africa, providing guests a chance to join in the spirit of authentic and historic safari life.
Mountains and Savannas
Iconic mountains like Mt. Kilimanjaro in Tanzania and Mt. Kenya in Kenya provide stunning backdrops for tents nestled amid the East African savannas.
Wildlife Encounters
Whether bottle-feeding orphaned elephants at Daphne Sheldrick's elephant orphanage in Nairobi or on a camelback safari in central Kenya, East Africa offers unique wildlife encounters.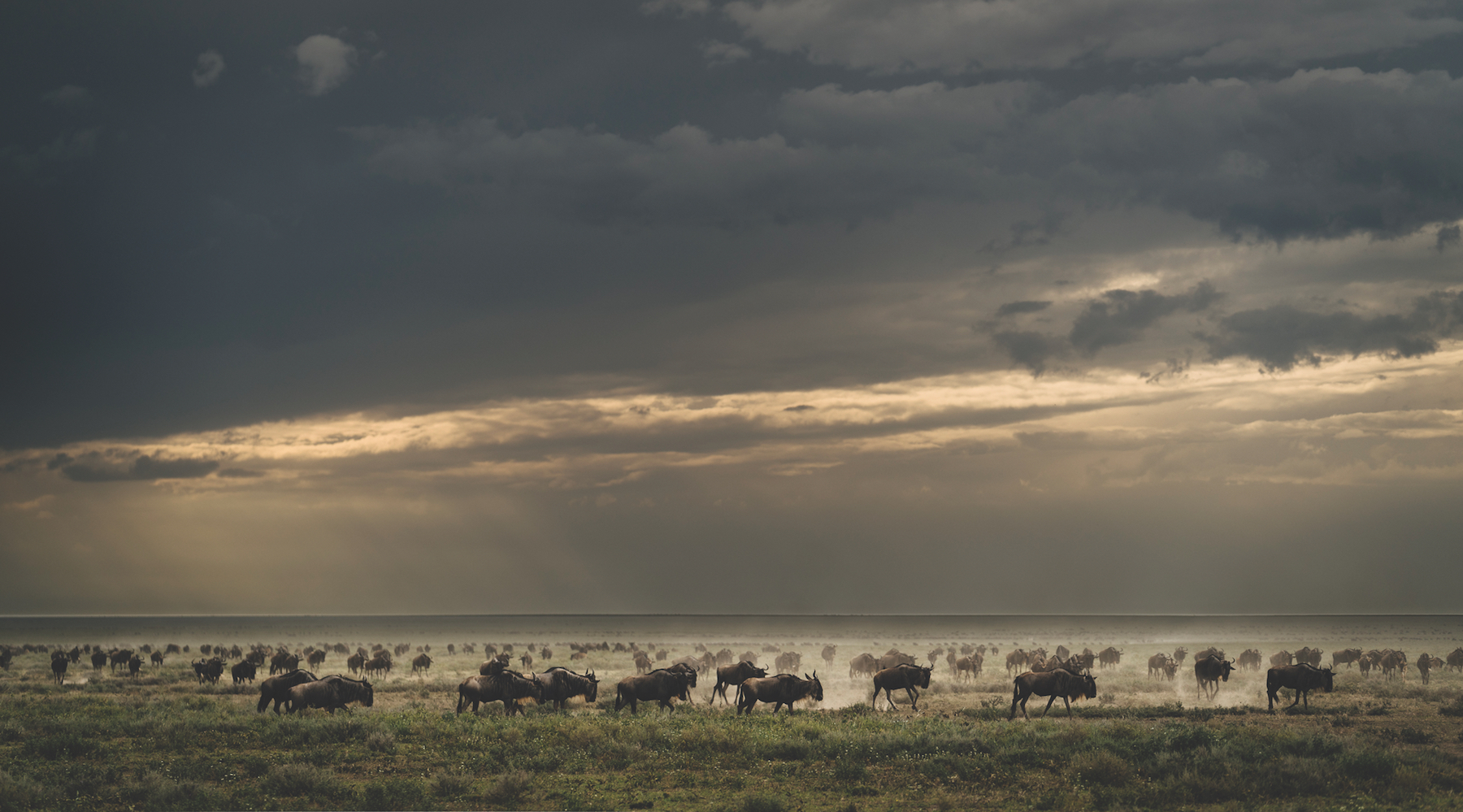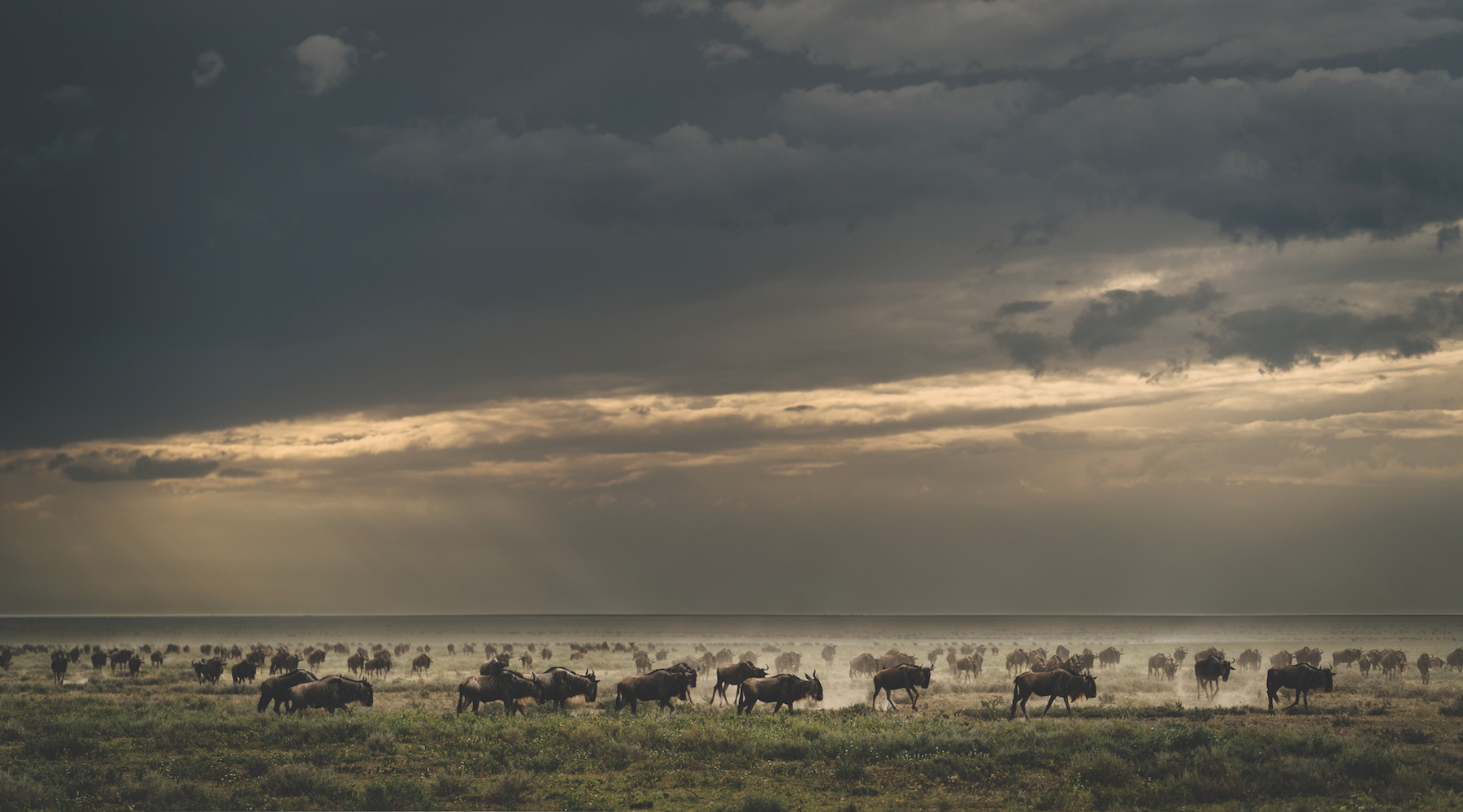 East Africa Experiences
The Great Migration
The well-known Great Migration of millions of wildebeest and zebra follows an annual pattern throughout Tanzania's Serengeti and Kenya's Masai Mara, leaving guests lucky enough to view the magical movement with unforgettable memories.
Primate Safaris
For a wildlife encounter that reverberates deep into your heart, embark on a primate trek to witness mountain gorillas, chimpanzees or golden monkeys in Rwanda, Uganda or Tanzania.
Family Safaris
Throughout East and Southern Africa, children are welcome at many luxury properties. For wildlife and cultural experiences beyond kids' wildest imaginations, parents and grandparents should consider a destination like Kenya.
Cultural Safaris
East Africa is home to the Samburu and Maasai people, two ethnic groups who still practice their longstanding cultural traditions and are eager to teach travelers about their ways of life.
For More Information
These are only a few of the countless safari experiences found within Africa. Learn more about each country in Africa, browse a few sample safari itineraries we've created for past clients or contact us to start planning your trip!