In the fall of December 2016 I visited Southern Africa. So, when I learned I was returning to this great continent earlier this year, I was elated to hear I would be visiting East Africa and the country of Kenya. Of course, it was a fabulous trip – how could any visit to Africa not be fabulous? What made this trip unique, however, was how much I experienced, outside of the "typical" or "traditional" safari activities.
Nairobi
Our first few days were spent in Nairobi and, for me, one of the highlights of the entire trip was our visit to the David Sheldrick Wildlife Trust. Founded in 1977 by Dr. Dame Daphne Sheldrick, in memory of her late husband David, this elephant orphanage has become the most successful orphan-elephant rescue and rehabilitation program in the world. Today it is one of the pioneering conservation organizations for wildlife and habitat protection in East Africa. We did the evening foster visit which allowed us an hour to be with the elephants as they made their way back from Nairobi National Park for the night and retired in their stalls with their keepers. It was not only an opportunity to see the orphaned elephants, but also to learn a little bit about them and their stories directly from their keepers. I cherished this experience that was beyond what I've ever experienced before and I was happy that our foster visit helped support the efforts of the Trust. I now follow DSWT on both Instagram and Facebook and I absolutely love when I see updates on Mbegu, the elephant I fostered. I also receive monthly email updates from the Trust as well.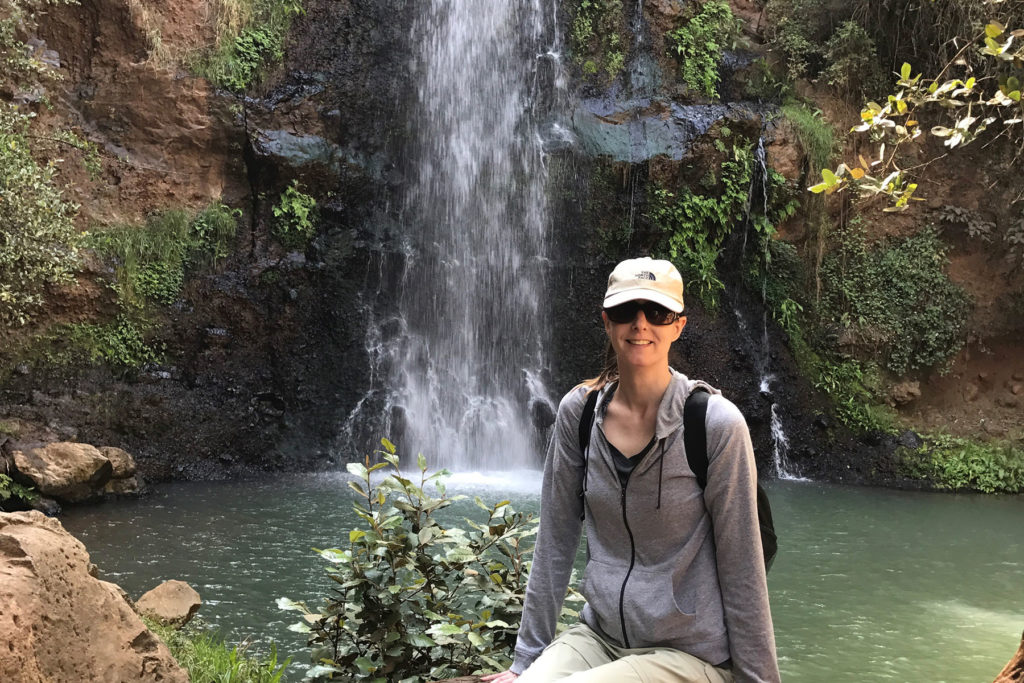 Lewa Wildlife Conservancy and the Masai Mara
After Nairobi, I traveled to the Lewa Wildlife Conservancy. While there I of course loved going on game drives but I also visited the Ngare Ndare Forest. I did a short hike with my guide to the tranquil waterfall, and along the way he pointed out some of the different types of plants. I ended my visit with a canopy walk over the forest which allowed me to experience my surroundings from a different vantage point. With an abundant amount of activities to do in the area such as horseback riding, camel riding, guided bush walks, scenic flights over Mt. Kenya, cultural visits, and conservancy activities – in addition to traditional game drives – the conservancy offers ample opportunities to explore the area in unique ways.
From Lewa Wildlife Conservancy, we headed down to the Masai Mara. While there, we participated in something that I would encourage any visitor to do: a hot air balloon safari over the Masai Mara! This truly was one of the best experiences of my life! Where else can you have this type of hot air balloon experience, in this kind of setting (except for maybe the Serengeti)? After lift-off in the early hours of the morning, we were taken on an aerial journey over the Masai Mara National Park. As we traversed across the open land, we saw hippos and hyenas crossing the Mara River. In addition, we also scaled across the dense forest area and open plains where elephants roamed, and, during all of this we were able to witness the gorgeous Kenyan sunrise. It was just a completely 'over the top' way to experience wildlife. After we landed, we traveled by vehicle to a different area of the bush where we topped off our balloon safari with a champagne toast and breakfast in the bush.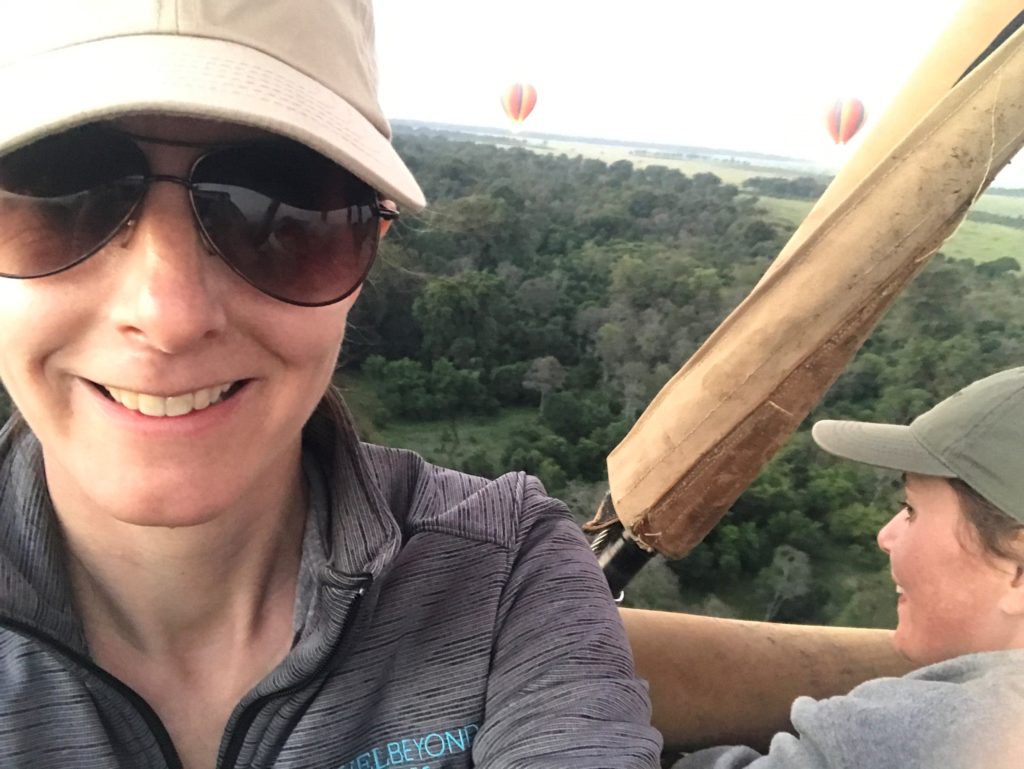 Back to Nairobi
On our final day in Kenya we returned to Nairobi where we spent the day at Giraffe Manor and the Giraffe Center before our late evening flight. During high tea, the giraffes made their way from the Giraffe Center over to the Manor for their "happy hour." It was a unique chance to interact with these towering creatures by feeding them and, for some, an opportunity to show a little affection through a hug or a kiss. Like the experience at David Sheldrick Wildlife Trust, our time at Giraffe Manor rendered another option for a more intimate interaction with wildlife.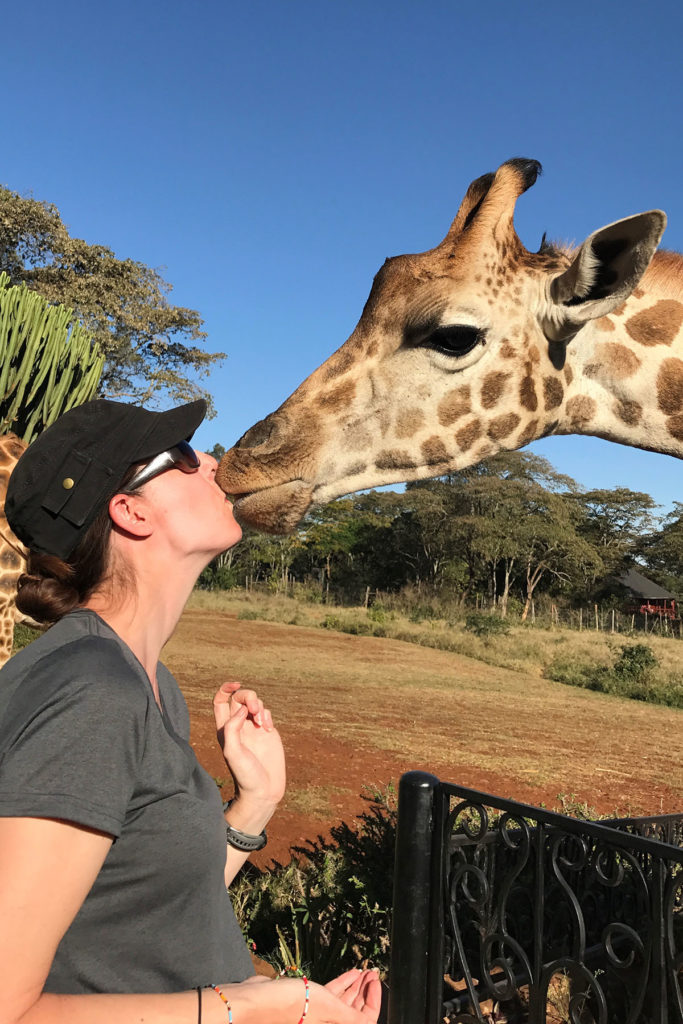 Maisha Marefu!
As a traveler who loves to go on a game drives, this trip opened my eyes to the opportunities to experience wildlife and game in a new way. While I participated in water activities in my previous travels to Botswana (mokoro, motorboat) as well as walking safaris, my travels to Kenya offered other activities that allowed me to explore Africa in a new way.
In all my travels, I've never been to a destination where I've cried tears of pure joy like I have after my trips to Africa.  I hope to return one day but until then I will lift my glass and toast "Maisha Marefu" which in Swahili translates "to long life" or simply, "cheers!"