The Cape Winelands hold a special place in my heart. First, for its natural beauty. This area of South Africa is scenically stunning with towns nestled into lush valleys surrounded by large mountainous nature reserves. Second, for its vineyards. In my humble opinion, the Cape Winelands is one of the best wine regions in the world! With traditions spanning more than 300 years, it's a wine lovers paradise. Both Stellenbosch and Franschhoek, two of the most well-known towns, offer guests a truly unforgettable experience and deserve a visit when planning a trip to South Africa.
Franschhoek
The word Franschhoek translates to "French corner," its name commemorating the Huguenot refugees who were granted land here when fleeing from 17th century persecution in France. It has a small-town feel, with most of the shops, restaurants, and accommodations residing within minutes of the main street. It boasts some world class restaurants and of course, world class wine.
Boschendal
One of the oldest wine farms in the country, Boschendal has been producing farm-to-table food and award-winning vintages since 1685. It's a beautiful winery whose buildings showcase Cape Dutch architecture and with stunning grounds home to over 200,000 deciduous fruit trees. Here, they specialize in Chardonnay, Shiraz & Méthode Cap Classique Sparkling Wines. Order a picnic lunch and a bottle of wine from their restaurant and take both into the gardens to enjoy the beautiful surroundings.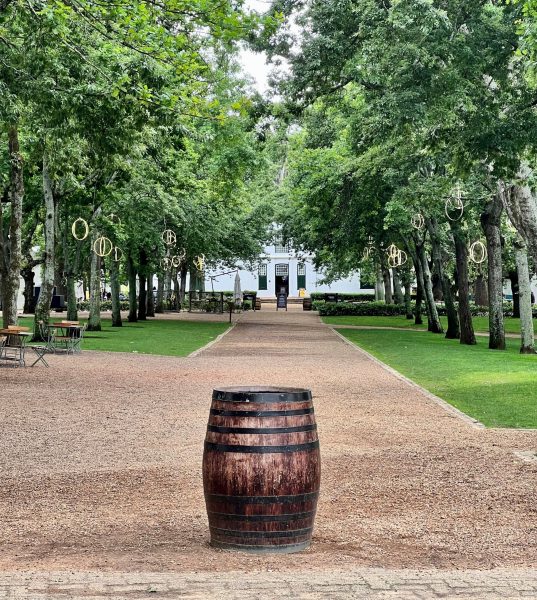 Boekenhoutskloof
Established in 1776 and located in the furthest corner of the Franschhoek wine valley, the farm's name means "ravine of the Boekenhout," an indigenous Cape Beech tree greatly prized for furniture making and which surrounds the wine farm.  Their tasting room is unique, warm, and intimate with only 12 spots, so it's perfect for those looking for an exclusive experience. They specialize in Syrah, Cabernet Sauvignon, Cabernet Franc, Grenache, Semillon, and Viognier and each tasting is usually hosted by Bockenhoutskloof's head-wine maker. You can also get a sneak peek into their wine cellar and wine making process.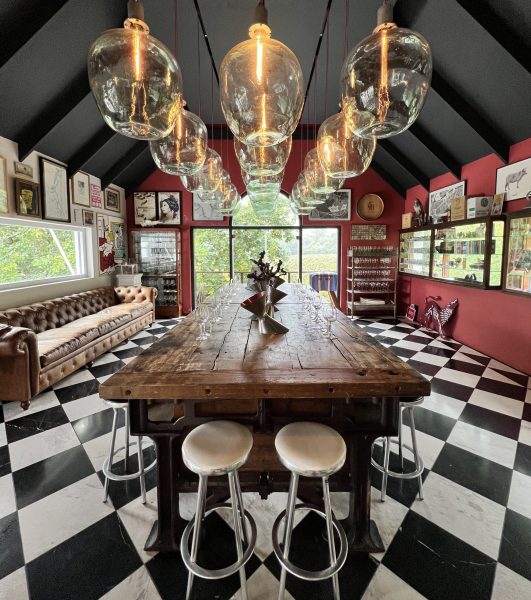 Mullineux & Leeu
Although not an old winery, having opened in 2007, Mullineux & Leeu has proven that it can produce exceptional wines. In fact, the property has received thirty 5-star ratings from Platter's South African Wine Guide and won Platter's Winery of the Year Award an unprecedented four times, in 2014, 2016, 2019 and 2020. The Mullineux range consists of a Chenin blend, a Syrah, and a Chenin sweet wine. The exceptional vintages that they produce are terroir-specific wines based on Chenin and Syrah. (Terroir is how a particular region's climate, soils and terrain affect the taste of wine.) To further the wine experience here, have dinner at La Petite Colombe, located on the property, and enjoy a wine pairing with your meal.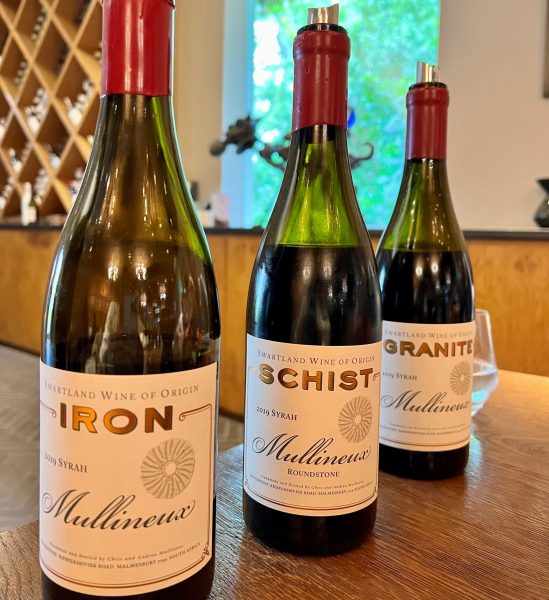 La Motte
Despite its modern appearance, La Motte is one of the region's oldest farms, having been founded in the late 17th century. Today it's run by Hanneli Rupert-Koegelenberg, a world-renowned mezzo-soprano singer after whom their Hanneli R; 60% Syrah, 30% Grenache and 10% Petit Syrah is named. This winery specializes in Methode Cap Classique, Syrah, Chardonnay, and Cabernet Sauvignon. While here, visitors can also enjoy a walk through their stunning grounds and cute shop filled with local items.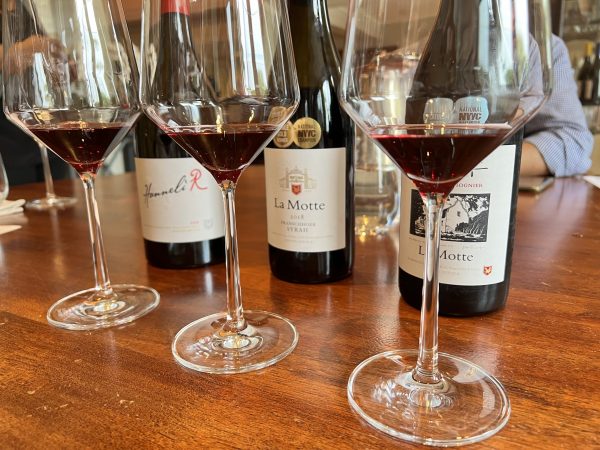 Babylonstoren
Located at the foot of the Simonsberg mountains, Babylonstoren is another one of the oldest wine farms in South Africa. The winery has eight-acres of gorgeous gardens through which you can meander before or after a wine tasting. Guests can book lunch or dinner at Babel, the highly acclaimed onsite restaurant, or enjoy one of their beautiful platters to pair with wine in their tasting room. They produce Viognier, Chenin Blanc, Candide, Mourvèdre Rosé, Babel Red, Cabernet Sauvignon, Shiraz, and Chardonnay's.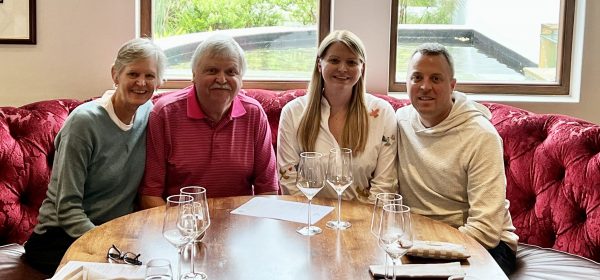 Stellenbosch
About 20 miles west of Franschhoek sits Stellenbosch, a vibrant university town.  Its oak-shaded streets are lined with cafes, boutiques, and art galleries, all of which deserve exploring. It is home to beautiful Cape Colonial architecture and an abundance of wine farms, making it the perfect escape from Cape Town and a great place from where to get a glimpse into the larger Cape Winelands.
Delaire Graff
Delaire Graff Estate is the epitome of luxury and one of the most well-known wine estates in Stellenbosch. Besides being ranked one of the best wineries in Africa, it boasts an incredible African art collection, world class restaurants, and stunning gardens. Delaire Graff offers visitors a variety of wines including Chardonnay and Chenin Blanc, not to mention their award-winning Semillon/Sauvignon Blanc blend. Lunch or dinner at one of their dining establishments is a must!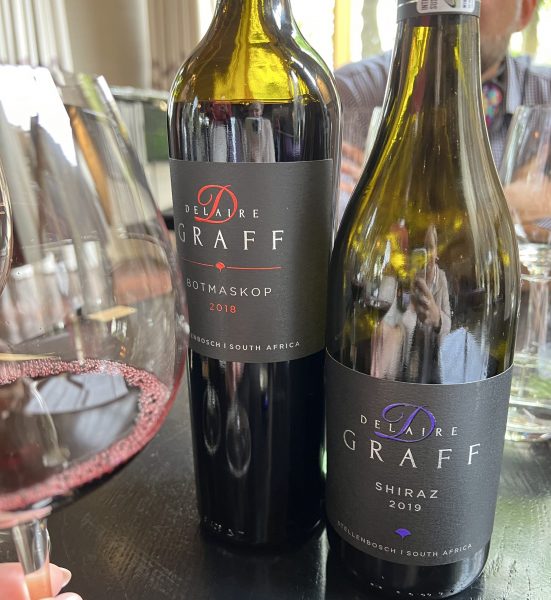 Waterford Estate
The grounds of the Waterford Estate are second-to-none, with old citrus groves, rolling lawns, water features and fragrant lavender and rosemary beds. At first glance, as you take in this enchanting realm, you may think yourself in the heart of Provence or the Spanish countryside. The winery offers different ranges from Cabernet Sauvignon, Shiraz, Merlot, Mourvèdre, Cabernet Franc, Petit Verdot, Barbera, Sangiovese, and the Kevin Arnold Shiraz. A highlight here is the wine and chocolate pairing, a treat you, and your taste buds, simply cannot miss.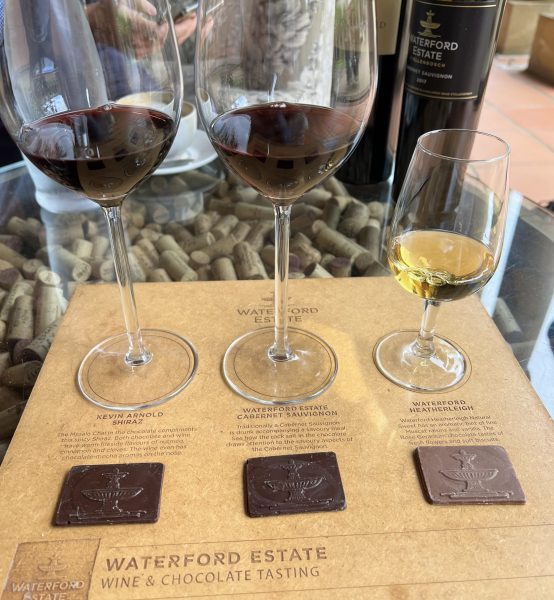 Jordan Wine Estate
From this hillside vineyard, one has spectacular panoramic views of Table Mountain, False Bay, and Stellenbosch. The outdoor tasting deck also has incredible views of the surrounding gardens and dam. The Estate makes a range of modern wines from a variety of classic South African grapes, including Cabernet Sauvignon, Merlot, and Chardonnay. Lunch at Jordan Restaurant is incredible, with the steamed Saldanha mussels, Chalmar sirloin, and honey and poppyseed soufflé being the signature dishes.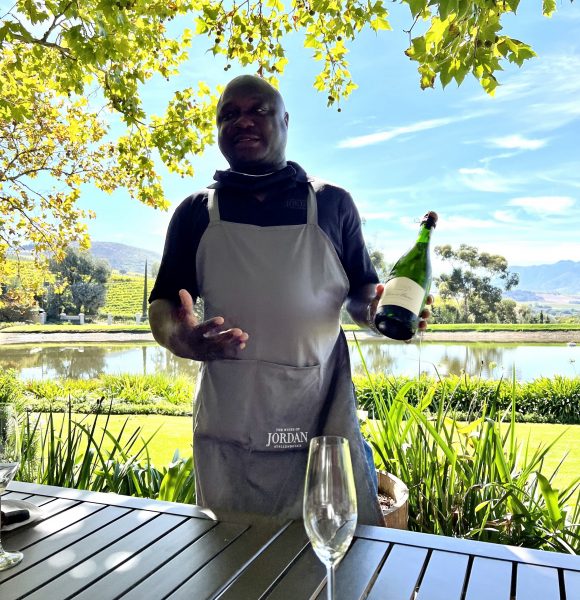 Tokara
It's a picture-perfect winery that offers a unique combination of award-winning wines, brandy, and olive oils. The property also has a gallery of fine art, a restaurant featuring one of South Africa's leading chefs, as well as a delicatessen. Guests can take in the unrivaled views of False Bay and Table Mountain from the winery, all while tasting some incredible wines. They focus on two of the greatest grape varieties in the world, Cabernet Sauvignon and Sauvignon Blanc.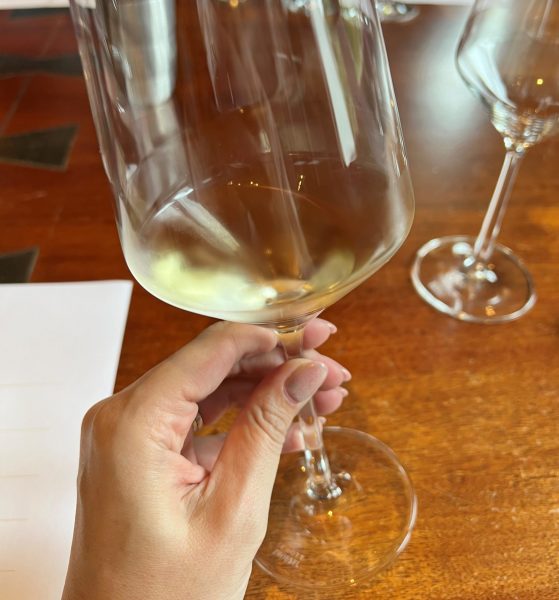 Warwick
Situated in the foothills of Stellenbosch's iconic Simonsberg Mountain, Warwick offers a truly authentic and friendly experience. Enjoy a wine tasting while relaxing on the lawns or shaded beneath the trees of their forest courtyard. Here, the focus is on the classic Bordeaux varieties: Cabernet Franc and Cabernet Sauvignon. Although, they also produce highly rated white wines like their premium estate Chardonnay. It's a very family friendly winery with something for everyone.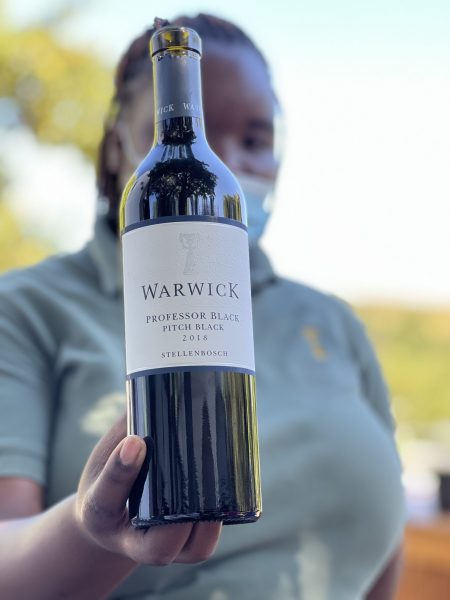 There's no doubt that Stellenbosch and Franschhoek are the most well-known wine regions around Cape Town, and well worth a visit. But you might also consider time in Constantia, Paarl, and Durbanville. They all, combined or individually, are ideal places to unwind following a safari or city exploration.