When you think of safari, what comes to mind? For most it is riding in a 4×4 land cruiser across a vast landscape. This is certainly a common way to view the wildlife of Africa, but it is by no means the only. I recently returned from a two-week trip to the Okavango Delta, located in the northwestern corner of Botswana, where I was able to experience the many different safari options. In addition to a traditional vehicle-based game drive, I saw wildlife from both a mokoro (dug-out canoe) and a motor-boat, while walking throughout the area, during a scenic helicopter flight, and while visiting a photographic hide! With such a diverse menu of activities, there was never a dull moment and we had plenty of different opportunities to view Botswana's wildlife!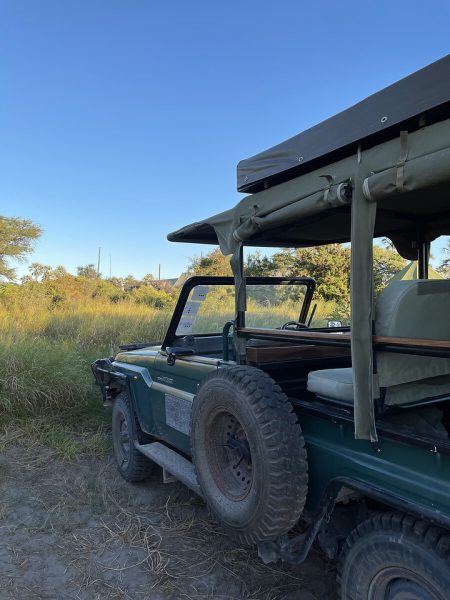 Game Drives
The most common way travelers explore the various terrains across Africa while on safari is the traditional game drive. Usually sitting in an open-sided, modified  4WD vehicle, you have the opportunity to get very close to the wildlife. The animals are typically acclimated to the vehicles and are not skittish. But in order to get through thick brush, rocky landscapes or the water of the Delta, you need a heavy-duty vehicle that can navigate the terrain.
Mokoro
Africa's traditional dugout canoe, known as a mokoro, is one of the most quiet an relaxing ways to be on safari. You must keep your distance from the animals, but as you glide through the water you can focus on the sheer beauty of the landscape. Sitting low in the water, you'll learn about the various bird species that migrate to Botswana and you will feel truly immersed in your surroundings.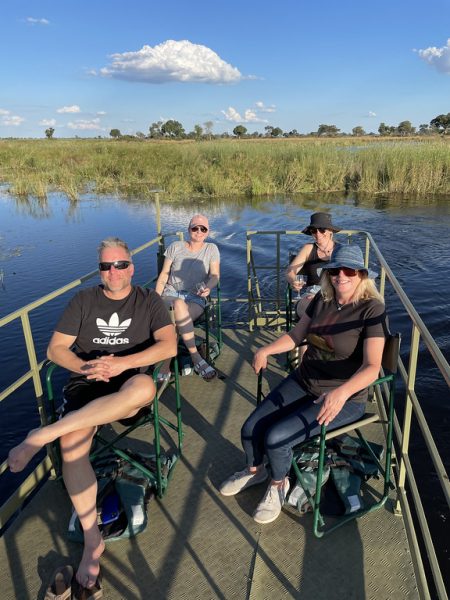 Boating
Because the Okavango Delta is flooded for approximately six months out of the year, humans, along with hippos and other aquatic wildlife, are able to use the channels to move around.  Motor boating can be a unique and fun way to not only get from one place to another but also to view the wildlife. Similar to a safari vehicle on land, on board a boat, you have the opportunity to get closer to the animals in and around the water.
Walking
Embarking on a walking safari might sound intimidating at first. But setting out on foot allows you to get the blood flowing somewhat while also learning about the land's flora and fauna. You have to, understandably, keep your distance from the wildlife but it is such a privilege to be at eye's level with some of these animals. It affords you an entirely new perspective and allows you to see the world from their vantage point. Plus, getting some exercise feels good after spending time in a 4WD vehicle or while in transit.
Helicopter
This activity is a must! While the most efficient way to travel long distances is to fly via light aircraft, you typically cruise at 10,000 feet, which is much too high to view the wildlife properly. A helicopter permits you to fly lower to the ground, bringing the animals into view and providing riders with an exhilarating ride! Not to mention, you get an incredible view of the patchworked landscape of the Okavango Delta.
Photographic Hide
While visiting the Khwai Concession in the northern Delta, I climbed into a photographic "hide" for another totally unique perspective of Botswana's wildlife. Typically made from a storage container sunk into the ground near a waterhole, hides give you a ground-level view of the animals visiting the water for a drink. This allows for some amazing photographic opportunities and up-close wildlife encounters!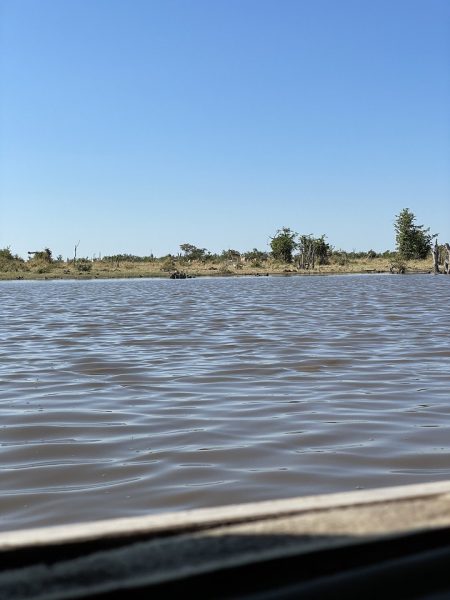 Botswana provides visitors with exceptional wildlife, but the country, and the Delta in particular, also offers unique and different ways in which to view these animals. From mokoro to vehicle, on foot or in the sky, you are guaranteed an unforgettable safari experience!