My alarm woke me at 4:30am and I thought it had to be a mistake. But when I remembered I was in the middle of Tanzania, about to go on a hot air balloon ride, I was instantly ready to go.
We left camp around 5:20am and drove to the launch site. Since it was still quite dark outside, we got a bonus night game drive along the way! We were able to see a hippo on land and many other animals just waking up and preparing to start their day. After about 45 minutes, we reached our starting place, where two balloons were ready to take off for a sunrise flight.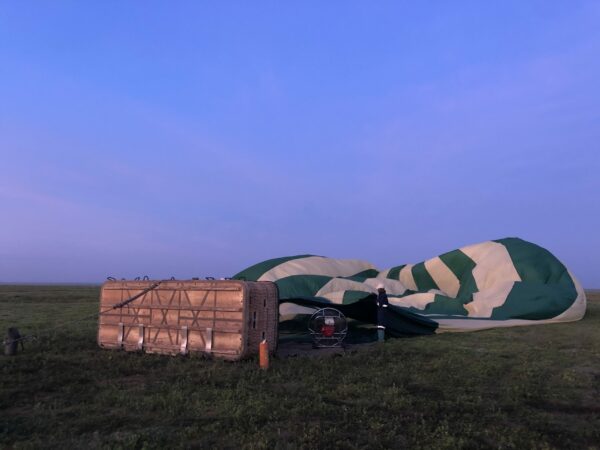 Our pilot, Ferrel, gave us a safety overview and an idea of what we were going to experience for the next hour or so. Each balloon could carry up to 16 passengers, with four different compartments, each holding four people. Once our balloon was almost ready for takeoff, he had us strap into our individual harnesses. These would be clipped into the balloon, once we were settled into position. We then climbed into the basket, which was tipped on its side, and it felt like we were getting ready for a NASA launch. The staff helped clip our carabiners above our heads and made sure we were safely strapped in. Looking to both sides of me, we were all laughing with excitement and nervousness and wondering what we had gotten ourselves into.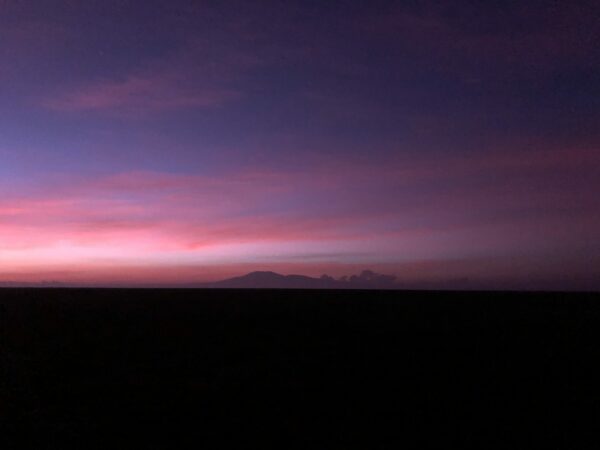 Once the proper amount of heat (generated from the periodic burst of flames) was in the balloon, we were ready for takeoff! It all happened so quickly and before I knew it, our basket was standing upright, and we were rising up from the ground.
Over the course of the flight, I remained in utter shock and disbelief of the Serengeti's pure beauty. As we flew higher and higher, I could see the paths that the animals were making. I spotted a hyena and started to predict where it was going based on the path. Impala could be seen in the distance. When I looked behind, the sun was starting to rise over the horizon and colors in the sky brightening up. At one point in our ride, we flew above a group of wildebeests, who started running away from our balloon shadow in zig zags.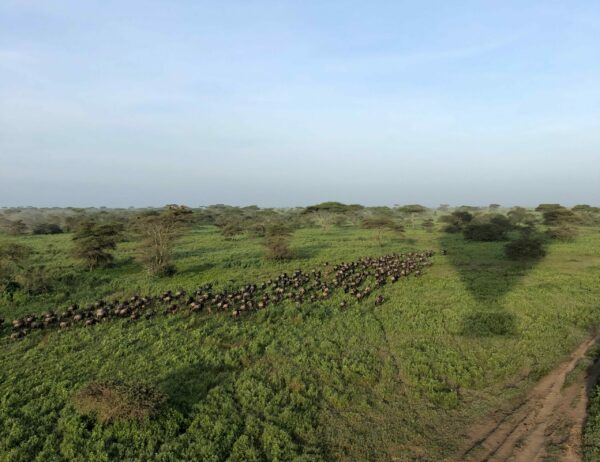 The typical ride lasts anywhere from 50- to 75- minutes, depending on the way the wind and pilot take you. We traveled around 650 feet above the ground and appreciated seeing over 20 miles worth of the Serengeti.
Following a smooth landing, we were met by our safari vehicle and the belongings we'd left behind and headed to our champagne and bush breakfast. We arrived to find a communal table, with spots for the passengers from both balloons. It was a pleasure to meet people from around the world and rave about the wonderful experience we just experienced together. The delicious food was an added bonus! Following breakfast, we had a game drive en route back to camp, arriving there around the same time we would have with a normal morning game activity.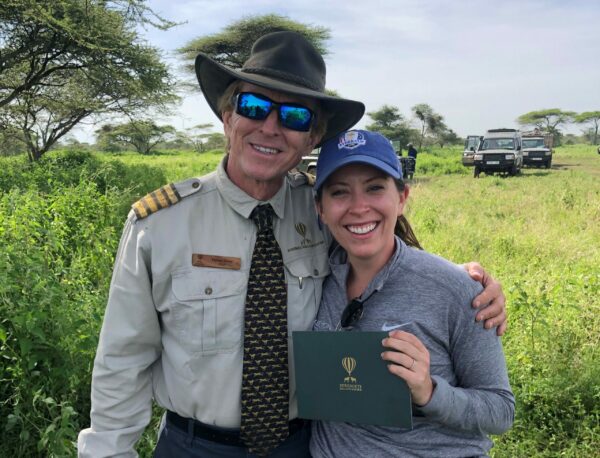 After spending most of the previous seven days in a vehicle, it was great to experience safari from a different angle! This is a must do, as a way to get out of the jeep, stretch your legs and expand your horizons.