Botswana boasts some truly spectacular ecosystems, including the Okavango Delta and Kalahari Desert. These two landscapes offer varying terrains and a wide variety of wildlife, transporting visitors from lush waterways and channels to dry sands and basins, the most well-known of which are the Makgadikgadi Salt Pans. These two locations – and their uniqueness—are not only what make Botswana so beautiful, but also an incredible country for scenic helicopter flights and transfers. On my recent, and first, trip to Botswana I did just that and the views of the country from above are visuals I will keep with me forever.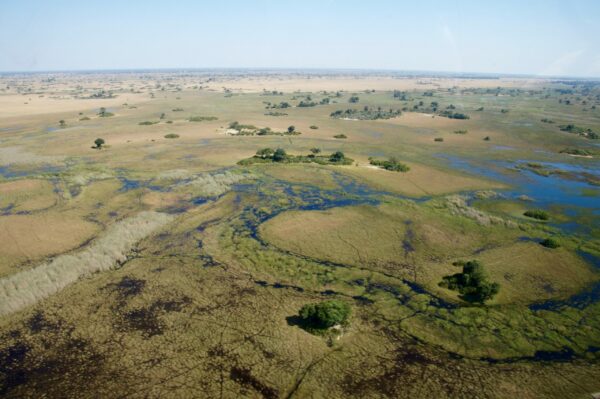 Makgadikgadi Salt Pans
Roughly the size of Switzerland, The Makgadikgadi Salt Pans are considered one of the largest pans in the world. They are home to the second-best zebra and wildebeest migrations on Earth (during the green season), unique desert animals, and a vast landscape, all of which can be appreciated from a helicopter.  The camps in the area offer scenic flights (helicopter doors on or off) for an additional cost and the ride allows you to not only see the salty scenery from a bird's eye view but also visit an island of magnificent baobab trees.  Watching the pans extend to the horizon certainly makes  you appreciate the expansiveness of the natural world.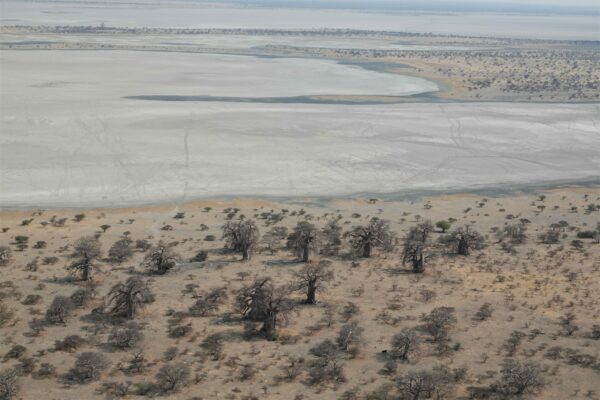 Okavango Delta
One of my favorite flights was over the Okavango Delta. It is hard to fathom how much water is in this ecosystem until you see just a fraction of it from above. Stretching for many, many miles, you pass over dozens of little islands, one after another, surrounded by water and some of which have red lechwe (antelope) living on them. Flying over the grassy floodplains and the complex network of water channels, you will frequently spot pods of hippo. With one of the highest populations of elephants, there's also a good chance of spotting these majestic animals either feeding on the vegetation or going for a swim. We also had the chance to fly over a cape buffalo kill being enjoyed by a pride of lions. Just like a safari drive, you never know what you might come across.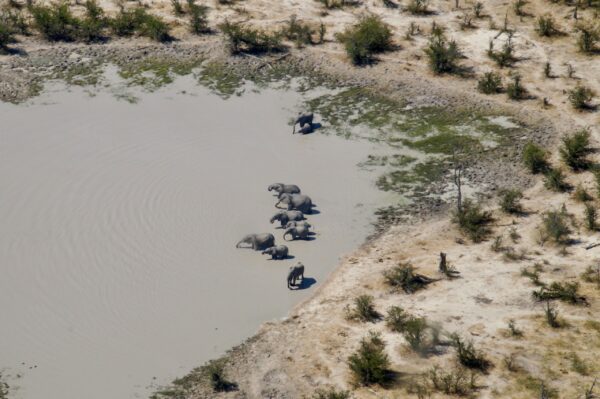 Helicopter Transfers
In addition to scenic flights, there is sometimes the option of transferring to/from your camp or lodge via helicopter. I enjoyed having another opportunity to look down onto the beautiful landscape and was also amazed at its efficiency, that in just a matter of seconds, you are onward to your next destination. No checking bags, airport security, or waiting around at the airport to board your flight. You just hop in, put on your headset so you can hear and speak to the pilot, have a quick safety briefing, and then you're off! It is a great transportation option when you have a limited amount of time  (or you are just excited to get back on safari like me!).
One thing to keep in mind, as is also the case when flying in a light aircraft, is that helicopter transfers have specific luggage requirements you must follow. These can vary as the restrictions also depend on each passenger's weight, which is factored into the total weight capacity of the helicopter. This information will be provided to you well in advance of your trip.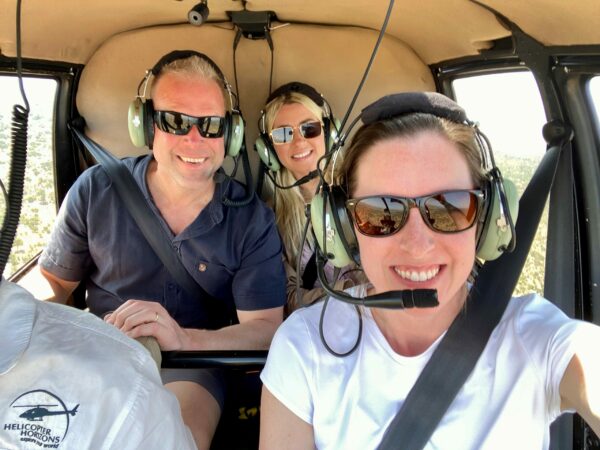 When planning your next trip to Botswana (or really any other African country), consider chatting with your consultant about adding at least one helicopter transfer or scenic flight. It is an experience that allows you to truly take in the vast beauty of the continent from above. And you never know what animals or sights you might encounter. It is such a memorable experience to add to your safari adventure!