Whether you're a foodie, cultural junkie, wine lover, shopper, or adventure traveler, there is one city in the world that must definitely be on your bucket list – Cape Town, South Africa. Known as one of the most multicultural cities in the world, Cape Town's charm resides in the diversity of its activities, restaurants and environment.
Nestled between the Atlantic Ocean and striking land formations on the southwestern point of the African continent, Cape Town lies in the shadow of Table Mountain, towering 3,563 feet above the city and harbor. The central part of the city faces north, toward Table Bay, and is cradled by the iconic Table Mountain (to the south), Lion's Head and Signal Hill (to the west) and Devil's Peak (to the east).
Visiting the stunning plateau of Table Mountain is essential for any traveler, but be sure to plan ahead. Clouds frequently roll in, and it's off limits in cloudy weather. Take advantage of clear skies early in your trip so you don't miss this amazing site. The easiest way to get to the top of the mountain is to ride the Table Mountain Cable Car. Once at the top, you'll be able to soak up amazing vistas and hike some of the many trails that meander across the peak.
One of the most visible sites from high atop Table Mountain is Robben Island. This popular tourist attraction is where Nelson Mandela spent almost 20 years as a political prisoner. Now classified as a UNESCO World Heritage Site, the island is open to group tours by boat.
On the slopes of Table Mountain is Kirstenbosch National Botanical Gardens, home to 4,500 species of indigenous flora, including several types of protea and prehistoric cycads. In addition to the unique trees, plants and flowers, Kirstenbosch is a great spot for bird watching. Visit on a Sunday for seasonal sunset concerts and craft markets highlighting the local styles and cultures that make Cape Town distinct.
The Glorious Victoria and Alfred Waterfront
One of Cape Town's most lively areas is located just north of City Centre, along the harbor – Victoria and Alfred Waterfront. Named after Queen Victoria and her son Alfred, this shopping and entertainment district is similar to those found in many U.S. cities but with flair all Cape Town's own. The renovated warehouses have a range of shopping options and several activities (Two Oceans Aquarium, the boats to Robben Island, the Telkom Exploratorium, an IMAX cinema and more). It's also a great place to go for some nightlife fun – many glamorous bars, world-famous restaurants and luxurious hotels sprinkle the area.
Those who love to shop may want to take advantage of the treasures found at the waterfront and in other parts of Cape Town. The value of the South African Rand makes the area one of the more affordable places to pick up African souvenirs and artwork. Semiprecious stones, gold and diamonds are reasonably priced and beadwork, woodcarvings, baskets and woven runs are some of the most popular hand-made crafts available.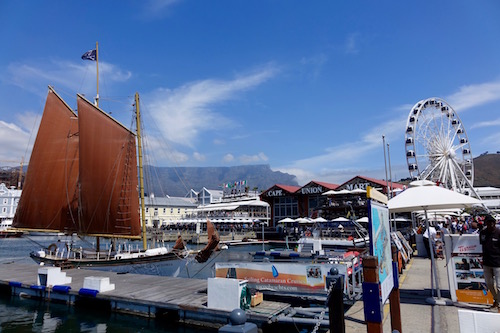 Exploring the Cape
After you've shopped, explored and eaten your way through the city, plan to spend some extended time in the surrounding areas. At the top of the "must see" list is a driving tour of the Cape itself.
The Cape of Good Hope Nature Reserve is a sprawling 17,300 acres, home to wild antelope, ostriches and baboons, easily viewable from your car. Once you reach Cape Point, be sure to take the funicular (cable railway) from the parking area up to the viewing platform. The vantage point from this majestic spot is breathtaking.
Many visitors to the Cape Town area are aware of one of the region's most popular residents – the penguins. As you continue your drive around the Cape, plan a stop at Boulders Beach to photograph these birds wandering freely in a protected natural environment.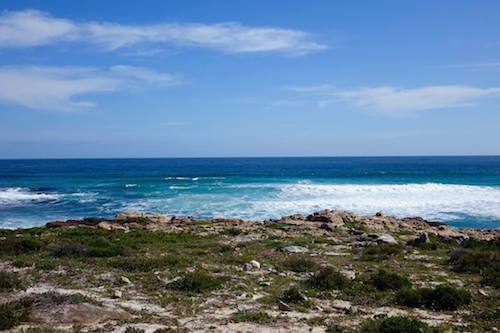 A City Worth Meeting
Table Mountain, The Victoria and Alfred Waterfront and the famous penguins of Boulders Beach barely scratch the surface of Cape Town's splendor. Alive with storied African history, prominent European influences and thriving modern development, Cape Town's future is full of promise. Whether you're a city lover who craves the shopping, dining and cultural experiences or a nature lover who longs for the flora, wildlife and awe-inspiring vistas, be sure Cape Town is on your travel wish list.
Excursions from Cape Town
If possible, allow time on your itinerary to soak up other amazing draws of this region of South Africa. Here are a couple of our favorites:
The Winelands
South Africa is home to some of the world's best wines – many of which are produced within a 2-hour inland drive from Cape Town. One of the most popular driving tours follows the Stellenbosch Wine Route, a beautiful 45-minute drive from the city.
If time allows, continuing on to Franschhoek is well worth the trip. These quaint towns offer amazing dining options, a wide range of wine tasting opportunities and local shopping experiences – all set within the stunning hills and valleys of wine country.
The Garden Route
This stretch of beautiful coastline winds its way for 125 miles via George, Wilderness, Sedgefield and Knysna on to Plettenberg Bay. The journey culminates at the Tstisikamma Forest – a fairyland of giant trees, ferns and bird life.
There are many side trips and activities you can take advantage of along the route. Scuba diving, bungy jumping, golfing, whale watching, fishing and hiking are just a few activities that are easily available. If a little side adventure is what you're looking for, try the Monkeyland Primate Sanctuary, surfing at Jeffries Bay or a safari in Shamwari Reserve.
For more information on Cape Town or other international destinations, contact us.