For travelers headed to Costa Rica in search of adventurous activities, a visit to the town of La Fortuna, located near Arenal Volcano, is an absolute must. The area was transformed following volcanic activity in 1968 and tourists soon began coming to visit the beautiful volcano and its hot springs. As a result of this influx of tourists, a whole industry of activities arose at the base of the volcano, including, horseback riding, ziplining, tubing, hiking, coffee tours, chocolate tours, and sloth tours, to name a few.
In May, I had the chance to visit La Fortuna with my colleague Nicole Cooper. And with only two days in the area, we tried to experience as many activities as possible! Below are the excursions in which we took part.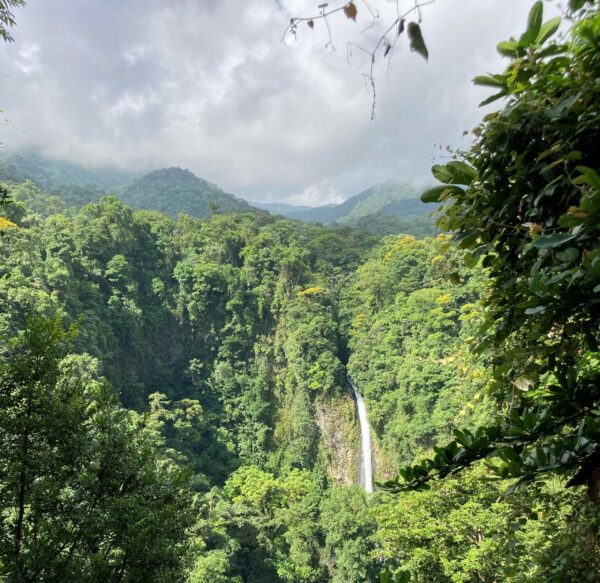 Waterfall Rappelling and Canyoning
On our first morning in La Fortuna, Nicole and I headed off to go waterfall rappelling and canyoning. If you are unfamiliar with this activity, it is where you descend a rock wall or waterfall by harness. After an open-air bus ride alongside other guests, we reached the starting point and were given harnesses, helmets, gloves, and a demonstration on how to safely rappel. We then headed out on onto the trail which consisted of five different points: three waterfall rappels, one non-waterfall rappel (canyoning), and a monkey drop. The monkey drop was by far the most exhilarating part. You zipline out a short distance and then are dropped 80-ft. The guides help you slow down at the end and then drop you into the water.
To get to each of these five points, we walked a few minutes in the forest. This really added to the fun of the experience, allowing us to see the beauty of the area both from high up and from down low.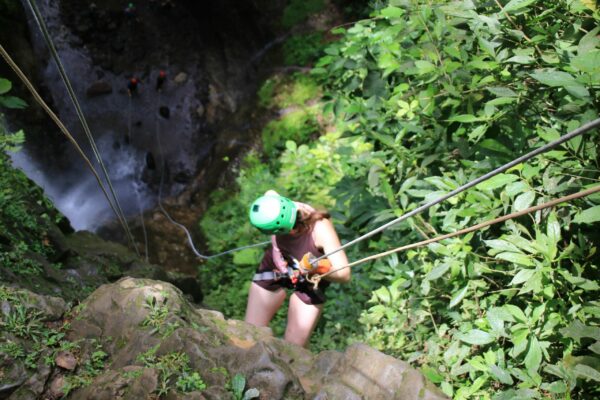 Although I was dreading this excursion (I am terrified of heights and have been known to chicken out of these types of activities), waterfall rappelling and canyoning turned out to be a highlight for me. This excursion lasted 3-4 hours but felt like only 20 minutes. I was ready to go again as we were handing back our gear!
Arenal Hanging Bridges
Next up was the Arenal Hanging Bridges, a family-owned attraction. The land, originally purchased for its lumber, was converted into a two-mile walking trail for tourists and locals to enjoy the flora and fauna of this tropical forest. The trail can be self-led or explored with a guide. Nicole and I opted for a guide, which was a huge value add as he could point out things we might have otherwise missed. We found a bird's nest and were able to watch the mother bird come and go, bringing food to her young ones. We also saw blue jean dart frogs, sack bats, whip tail lizards, and more. Throughout the excursion, our guide also taught us about the beautiful and unique plant life in the tropical forest. My favorite was the broccoli tree: when you look up at it, it looks just like a head of broccoli.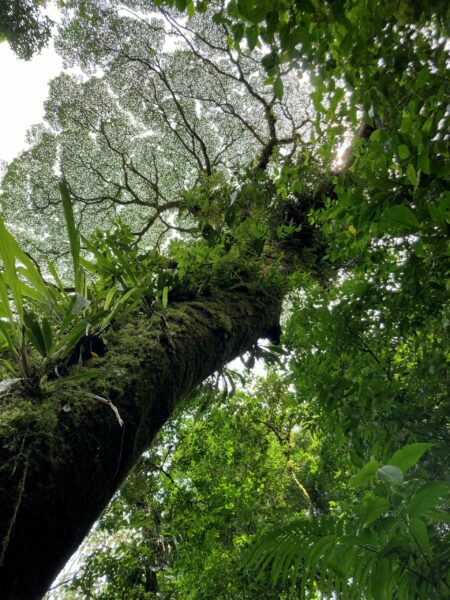 Along the trail, there are also six hanging bridges. Each offers beautiful vistas of the area, some of them even provide views of the Arenal Volcano. It was incredibly breathtaking to walk through and above the trees.
La Fortuna Waterfall
The La Fortuna Waterfall is also  a beautiful and worthwhile stop! The attraction is actually owned by the town of La Fortuna and, as such, all proceeds go to maintaining and improving the town. To date, the income has been used to construct a community center and to address ongoing town maintenance. This includes the trail to and from the waterfall itself, which requires walking down and then back up 502 steps. The walk up is not as terrible as one may expect, and the town of La Fortuna continues to invest in making the trail as accessible as possible to keep visitors coming.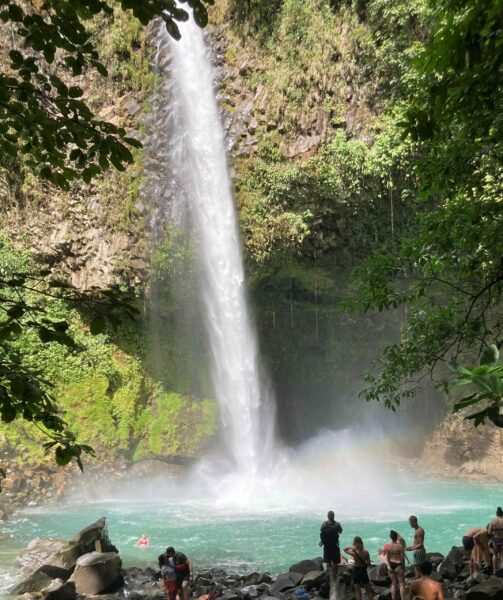 At the bottom, there is a stunning 137-foot waterfall that can be viewed from a lookout deck. If visiting during the rainy season, when water levels are especially high, there may even be a second waterfall. You can swim next to the main waterfall for a photo, but there are guards around to stop people from getting too close to cascading water. There is also a safer swimming area farther downstream where guests can swim more freely. This quieter swimming area is a perfect spot to have a picnic and enjoy the sounds of the waterfall!
White Water Rafting
Our Arenal highlight was white water rafting on the Balsa River. The six-mile stretch on which we rafted was the perfect spot for beginners like me and Nicole, with class II-III whitewater. For the more seasoned rafters, more advanced white-water is also available in the area.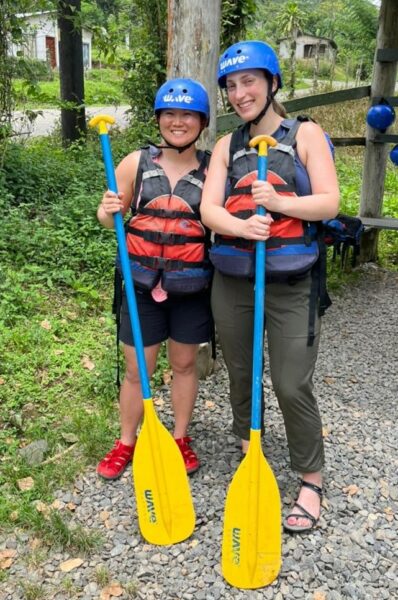 At the starting point, we were given lifejackets, helmets, paddles, and rafts. Four and six person rafts were available, and the guides decided who was grouped together and who sat where on the boat based on size and personality. We were then off on a fantastic two-hour excursion!
Both Nicole and I were a bit anxious for this experience, worried that we might flip; but we did not. Instead, we got both a full-body workout paddling through exhilarating rapids and quiet moments to appreciate the rainforest wildlife from a different vantage point.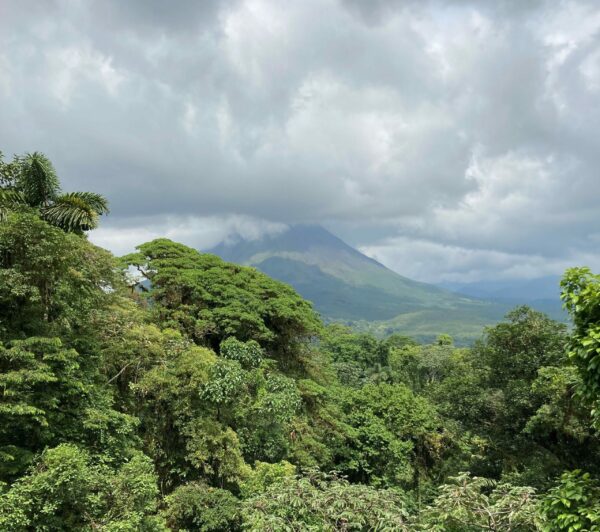 Visiting La Fortuna and the Arenal Volcano was a true highlight of my trip to Costa Rica. It was fun and rewarding to experience the beauty of the area from so many different perspectives. My time in La Fortuna also taught me to not be afraid of trying something new and adventurous as it may just be the best part of your trip!