As a history major in college, I'd always been fascinated by Panama: The arrival of the Spaniards. The creation of (and multiple failed attempts at constructing) the Canal. The United States' subsequent presence. I'd heard so much about the country and was eager to see the sights of which I'd learned and the ways in which the different time periods had come to define the country today.
I knew I could get my parents on board for a warm weather vacation mid-Minnesota winter, so I reached out to them. Sure enough, they took little convincing and within weeks, Dianna Upton, Travel Beyond consultant and former resident of Panama City, had put together an epic week-long itinerary. Looking over it, I thought I knew what was in store, having read loads of books over the years. But what I found, particularly on the northern coast of Panama, was an experience and a culture entirely unexpected.
The first surprising discovery was just how narrow the country is. I'd known it was small, but it took less than two hours to drive from Panama City, situated on the southern side of Panama, to Portobelo, located on the Caribbean. The trip was incredibly quick and a reminder of how easy it is to get from place to place in country.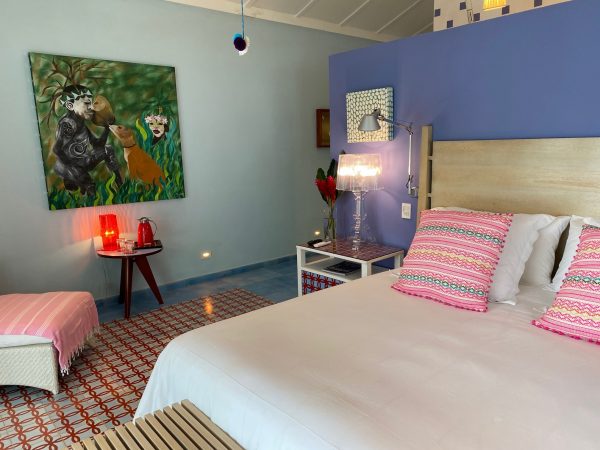 Upon arrival into this small seaside town, I was also instantly aware of a new cultural influence. Whereas, due in large part to the Canal, Panama City had felt like a mixture of Latin and Western, here it was, without a doubt, Afro-Caribbean, also referred to as Congo culture. Our hotel, El Otro Lado (translated to mean The Other Side) was painted with the brightest colors and filled with African inspired artwork, from masks to photographs, many of which were of locals whose families are descendants of slaves.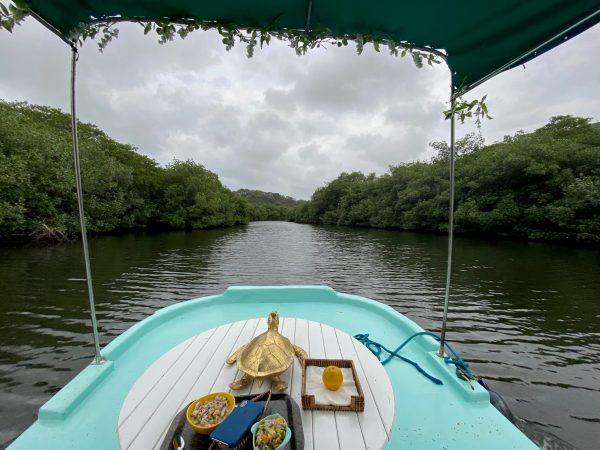 The activities available included the standard beach excursions—paddle boarding, snorkeling, boating, nature walks, lounging in nearby hammocks. All of these were outstanding and helped us feel refreshed and rejuvenated. But the property also offered classes and historical tours, which highlighted various aspects of the Congo culture.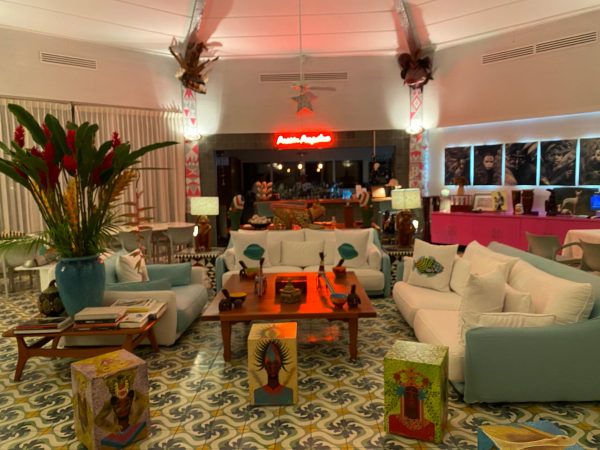 One evening my parents and I signed up for a drumming session at the hotel. Little Victor, our instructor, brought out four colorful boxes that served both as our seats and our instruments. Having grown up in a family of musicians, he taught us two basic Congo rhythms, each of which involved striking different parts and sides of the drum. Despite our novice abilities, we could soon hear the beat and feel the Caribbean flare.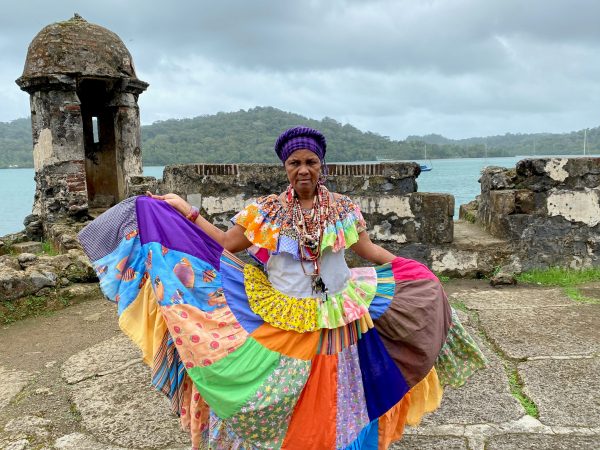 The following day, we ventured out on a Portobelo tour, during which we got an even greater taste of the Congo culture. Mama Ari, our local guide, began the morning with a traditional song, one that offered us a seat at her table (in her hometown) and gave thanks for the bounties we receive. As she sang, she also danced, her patchwork skirt flowing with the movement of her body. Lifting the colorful material into the air, Mama Ari informed us that these skirts were like wings, a symbol of the freedom that Congo dancing provides. With no rules and no set structure, every woman could embrace the music as she desired.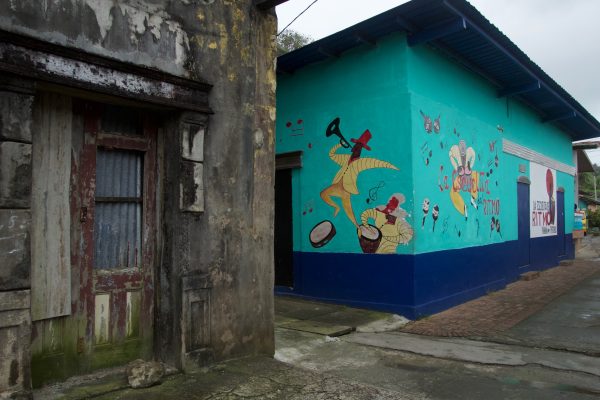 We then headed toward the center of town, passing multiple music and dance schools where children could, free of charge, enroll to learn and master these two aspects of the Congo culture. Detailed artwork welcomed visitors and students into each, painting the walls with the same Caribbean energy that is undoubtedly channeled into the daily instruction. Our group stopped at one particular mural of a Pajarito, or little bird. The image was of an individual considered to be messenger during the Spanish rule, someone who would whistle to alert fellow slaves when it was safe to meet. This sound would carry through town and to the Spaniards, thought to be nothing more than a bird chirping in the trees. The elaborate headdress and make up depicted garnered images of Carnaval, which is celebrated annually in this region of Panama.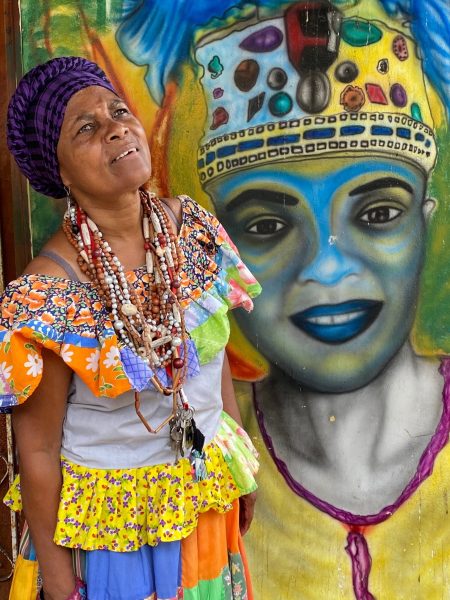 In fact, we even passed two Carnaval performers on the street. Dressed in full costume, face paint included, they danced with one another and pranked locals as they passed. We also visited two of the town's forts, hearing about the ways in which the Spaniards attempted to defend themselves against roving pirates (including Sir Francis Drake, who is buried in the bay). Each stop and every story told by Mama Ari provided additional insight into the northern coast of Panama and served to stimulate our minds and our curiosity.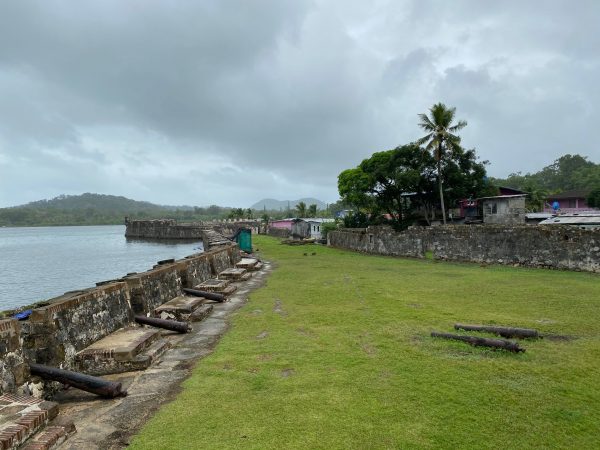 While I loved every element of my Panamanian adventure, our time in Portobelo, learning about the Congo culture continues to stand out. The three days were a perfect combination of beach and culture, of learning and relaxing. It is a region unique in its influences and one that is incredible accessible to travelers. It can be enjoyed as a day trip from Panama City or across multiple days, for those who want to spend more time exploring this incredible area. Either way, it is certainly worth the visit!