Before my September expedition cruise voyage to Ecuador's Galapagos Islands, my knowledge of Galapagos wildlife amounted to a few nuggets gleaned from a late 1990s science class. Nevertheless, I peppered pre-departure conversations with friends with buzzwords like Darwin, sea lions, The Origin of the Species, giant tortoises and, of course, blue-footed boobies, hoping I'd sound like I knew more than I did. I was curious and excited to learn more, but the adaptations of finches had faded from my memory along with the ability to recite all 72 prepositions or solve for x.
Luckily, I quickly learned that scientific knowledge wasn't required to embark on the trip. Lindblad's expert naturalists skillfully wove together stories about the formation and history of the islands that kept my attention in a way that junior high textbooks had failed.

I didn't realize how much I was learning while hiking, snorkeling, kayaking or even lounging on the beach, because most of my education came from fascinating firsthand encounters during each day's numerous activities. The Galapagos penguin's hollowed individual strands of fur were just a scientific fun fact about adaptation until a black and white blur torpedoed by me as I snorkeled.  Watching a sea lion give birth on the beach as the sun began to set was a profound travel experience and lesson in biology I won't soon forget. Daily voyages to neighboring islands—featuring everything from pure white sand beaches to rugged coasts of black boulders—cemented my understanding of how wind, ocean currents, soil composition and other elements are constantly shaping the breathtaking scenery which made up my 3200 trip photos.
The trip did much more than feed me biological and geological fun facts, though. I'm an active traveler, and I crave adventure in all shapes and sizes. The Galapagos Islands did not disappoint. We kayaked along shorelines and around islets, pointing out manta rays and gorgeous sea turtles. On a day in Santa Cruz, I opted into the bike ride up to the highlands, flying down some hills and pumping my legs to climb others, passing unimpressed cows and farms in the refreshing ocean air. While snorkeling one afternoon, I locked eyes with a sea lion and experienced a powerful moment of natural connection. The moment itself was fleeting, but it was one of many daily magical encounters in the Enchanted Islands.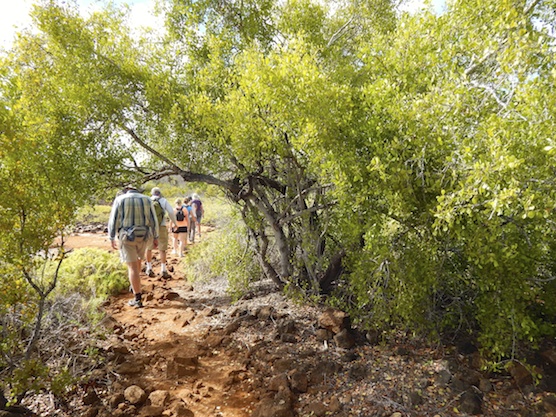 The expedition cruise seamlessly blended education with entertainment, activities with relaxation time, luxury with adventure. In any given day, I could witness the distinct mating rituals of a giant albatross on a refreshing morning hike, sunbathe on a pristine white sand beach in the afternoon and enjoy a champagne toast on the ship at sunset, happily photographing a school of dolphins jumping in the ship's wake. The itinerary fulfilled my adventurous spirit and engaged my mind as well.
Most importantly, the smiles and friendly greetings of the staff were genuine. The chocolate on my pillow at the end of each night was always welcome, and the travelers around our dinner table each night were engaging and enchanting. The naturalist guides not only led us around islands throughout the day but also pointed out star constellations on the deck at night. We traded stories and shared laughter, and each guest on the ship felt taken care of and valued.
Endemic species, rare animals, exotic birds, welcoming people, stunning views, engaging activities: the Galapagos showcased the best parts of any travel adventure, easily living up to its ambitious moniker "The Enchanted Islands."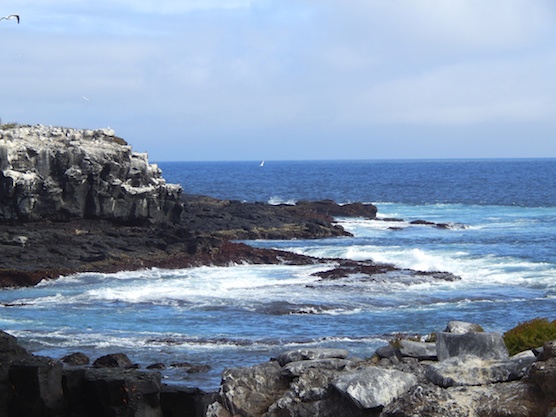 How to Visit the Galapagos Islands
Our South America specialist, Jennifer Gillmore has visited the Galapagos Islands a remarkable ten times, including five times in the past five years. She's cruised aboard four ships, personally inspected a dozen additional vessels and stayed at several top lodges on Santa Cruz, Floreana and Isabela islands. If anyone knows the ins and outs of the Galapagos Islands, it's Jennifer. Interested in planning a trip with Jennifer? Let us know.