From the vibrant streets of Lima to the splendor of the Sacred Valley and the wonder of Machu Picchu, Peru has plenty to offer any kind of traveler. This past March, my colleague Alexis Noack and I were fortunate enough to experience all of these marvels and more. The destination that stood out most?
The Peruvian Amazon! Home to the iconic pink river dolphin, this area was my favorite to explore. From the first sight of our ship, the Delfin I, in the small riverside town of Nauta to the many on-board activities and off-board excursions, every moment was spent with amazing staff and surrounded by the sights and sounds of the Amazon.  Our guide, Denis, continually amazed us with his expertise, and his ability to identify and interact with all the flora and fauna.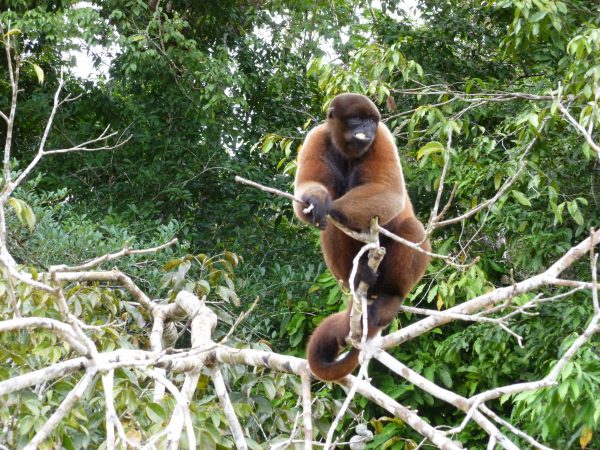 For animal lovers like me, the Peruvian Amazon is a perfect destination as it is one of the most biologically diverse areas on Earth. Aboard the Delfin's skiff boat we frequently used to traverse the waters of the region, we were able to spot a juvenile giant river otter, pink and grey dolphins, several species of monkeys, and quite a few sloths! While many of these were visible from the Delfin I itself (making for exciting mealtimes accompanied by playful dolphins), the smaller skiff boats allowed us to interact more closely with the wildlife. We even had the opportunity to feed wooly monkeys! At Denis' instructions, we placed bananas at the end of an oar and then extended it  into the branches where they were not-so-patiently waiting. The monkeys loved the treat and this experience is one of my favorite wildlife encounters ever.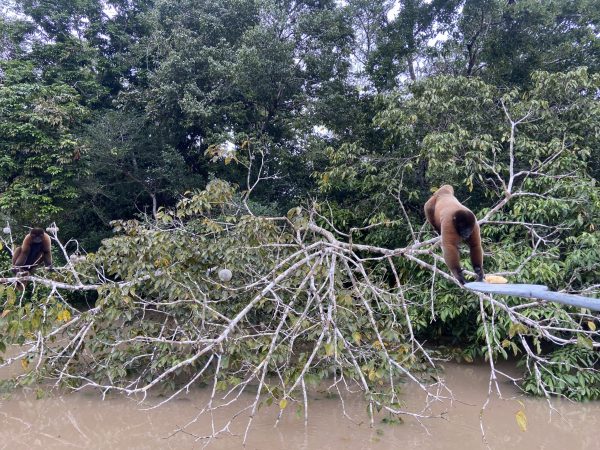 The Amazon is also ideal for anyone who loves traveling to Africa for the bird life. While out exploring, we were constantly spotting hawks, kingfishers, herons, toucans, and parakeets galore. On our final boat excursion, we even visited Parakeet Island located in an area where multiple rivers merge into the Amazon River. After a champagne toast at the confluence, we arrived at Parakeet Island by 6pm. At this time every evening, swarms of parakeets all gather here, making for quite the spectacle!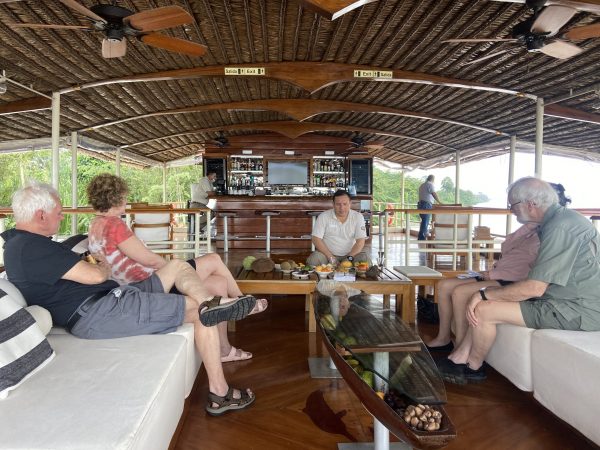 When we weren't exploring the Amazon by skiff boat, we enjoyed activities on board that taught us even more about the region. As an artist, I really loved learning about the unique and colorful fruits that grow in the Amazon, most of which I had never heard of before. Denis allowed each of us to sample these fruits, and I drew pictures of each to commemorate the experience. Our lovely bartender, Mario, later told me I misspelled most of them and helped me re-label my fruit and wildlife drawings in Spanish.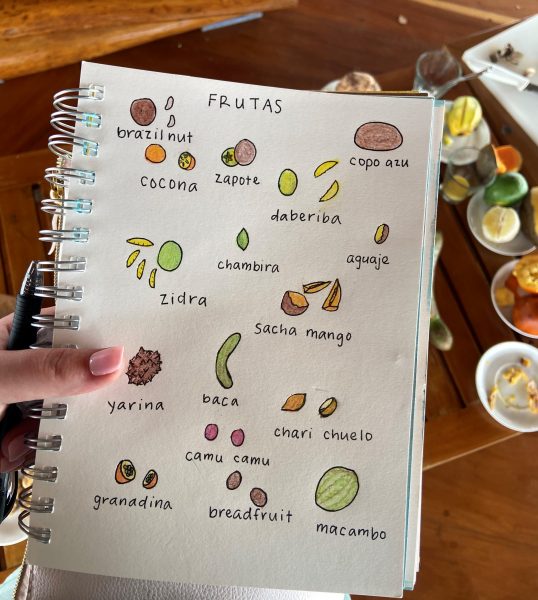 A typical day aboard the Delfin I generally entailed an optional morning excursion, a time when the animals were quite active, followed by a return to the boat for breakfast. After our meal, we would gear up and head right back out on the skiff boats for further exploration. Sometimes these excursions had us navigating the waterways and others brought us on land for various jungle walks. On shore and equipped with rubber boots provided by Delfin, we crossed one of the world's longest canopy walkways suspended in the treetops and I even got to hold a millipede, tarantula, and poison dart frog!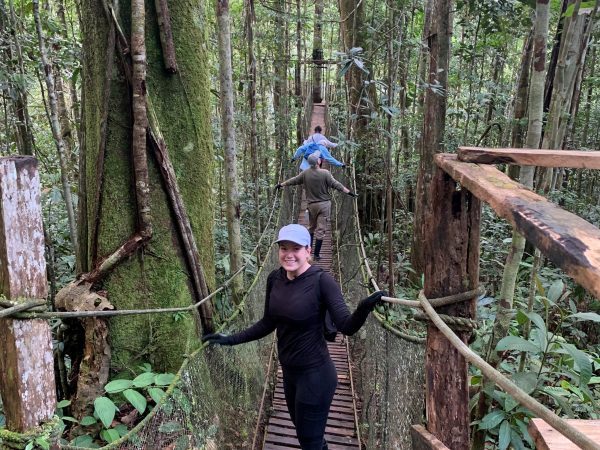 Following our morning adventure, we returned to the boat for lunch and an on-board activity. My personal favorite was making our own pisco sours with the help of our bartender, Mario. Given a traditional recipe, we added the ingredients to a shaker and then took turns passing it around while singing and dancing along to a playlist that featured La Bamba and Twist and Shout on repeat.
We would then have another outdoor excursion, bringing us back into the Amazonian landscape. One afternoon activity included kayaking, paddleboarding, and swimming! It was an entirely new way to experience the river. After returning to the ship and enjoying dinner, we usually stayed aboard. There was only one night when we ventured out in search of nocturnal critters. Denis was able to capture (and shortly release) a caiman for us, which looked like a tiny baby alligator.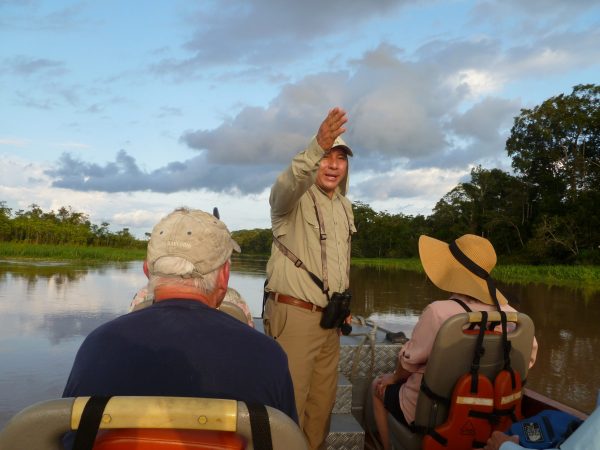 What made our trip so special is that only four cabins are available on the Delfin I, and one was unoccupied, meaning there were only six passengers including Alexis and myself. Each cabin was equipped with a private panoramic terrace and floor-to-ceiling windows, allowing us to soak in the natural beauty of the area from the comfort of our cabin. For an added unique bonus, the two Deluxe Suites include individual outdoor cool water Jacuzzis on the deck! A cozy lounge area and bar are located on the ship's top deck, where we spent our time spotting wildlife and enjoying pisco sours. There are also two other options when traveling with Delfin Amazon Cruises, including the Delfin II, featuring 14 guest cabins, and the Delfin III, which has 22.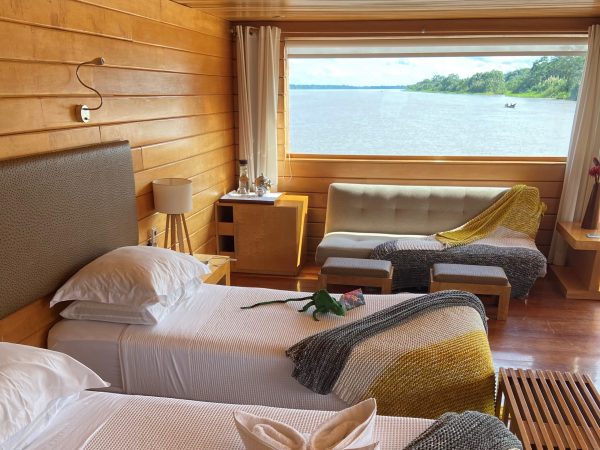 The entire Amazon experience reminded of exploring the Zambezi River in Zimbabwe and being surrounded by crocodiles and hippos on a river boat. Being on the water gives a unique vantage point and perspective that I have really come to appreciate and enjoy. It was truly spectacular to join such an amazing crew and friendly fellow travelers as we made our way towards and down the Amazon River. I can't think of a better way to experience the Peruvian Amazon than by ship, skiff boat, kayak, paddleboard, and of course, rubber boots for navigating the jungle.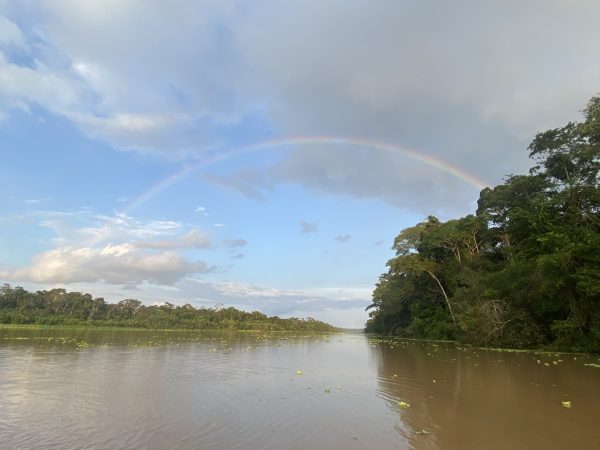 Even after all these adventures, I still must say my favorite sighting was the remarkable rainbow that welcomed us on our very first excursion.