When most travelers think of safari, wildlife takes center stage. Whether you are on a mission to witness the Great Migration, see the Big 5, or spot a species you've never seen before, you are excited for the animals that await.  But there is much more to a safari than wildlife and it is these experiences that make the journey truly unforgettable.
One particular component that is often overlooked but greatly contributes to one's overall experience is the cuisine. Initial assumptions are that food on safari is very basic when in fact it's the complete opposite and for most, some of the best food they've ever eaten. Even in the remote wilderness, there are classically trained chefs serving meals that could be on the menu at a 3-star Michelin rated restaurant.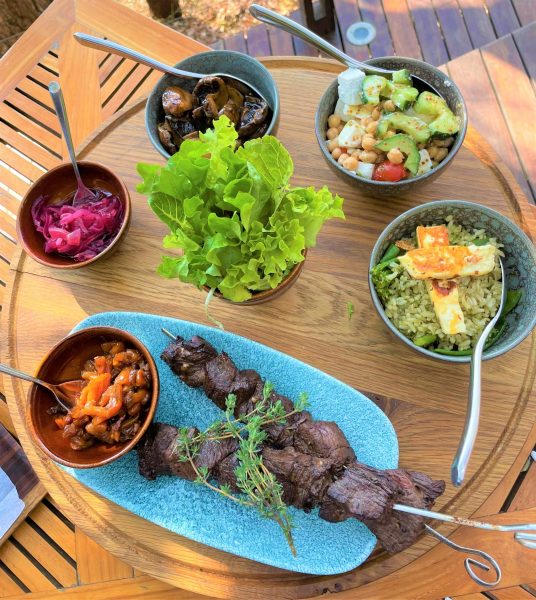 While the food is different from camp to camp, there are generally similar mealtimes and styles. For example, a typical day on safari would include the following:
Coffee and/or tea with biscuits or cookies brought to your tent as part of your wakeup call.
A continental breakfast (cereals, granola, fresh fruit, yogurt, and baked goods) offered before leaving camp for the morning.
A coffee/tea stop during your morning activity, also accompanied with biscuits or cookies.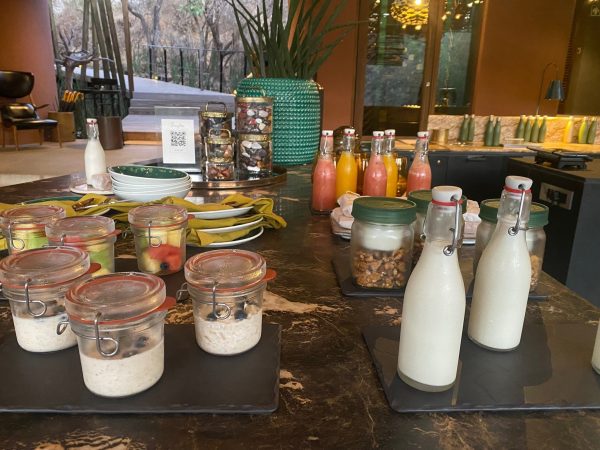 Hot breakfast/brunch served upon returning to camp, which usually includes a choice of eggs, sausage, bacon, pancakes, and toast.
High tea, complete with iced tea & coffee and both sweet & savory baked items, offered before your afternoon activity.
A sundowner stop for drinks and a few small appetizers.
Dinner, back at camp, which is generally a three-course meal including dessert.
Needless to say, you will never go hungry on safari!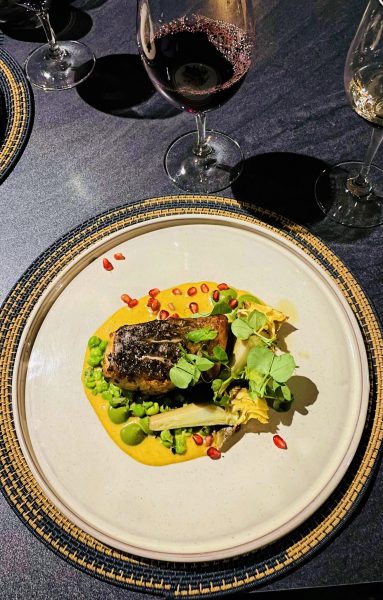 It may be surprising due to the camps' remote locations,  but I'm consistently impressed by the food's freshness, along with the quality and care that goes into its preparation. Not only is everything, even down to the bread served, homemade, but much of the produce comes directly from camp gardens, where a wide variety of vegetables and herbs are grown. Some properties even have their own chickens and cows to provide fresh eggs and milk. For those items that cannot be harvested on site, camps try to buy local products as much as possible.
These decisions and the effort put into creating every meal is so thorough and can truly be tasted in the finished product. Similar attention and thoughtfulness are paid to those guests with food restrictions & allergies, and safari camps can accommodate many different dietary needs.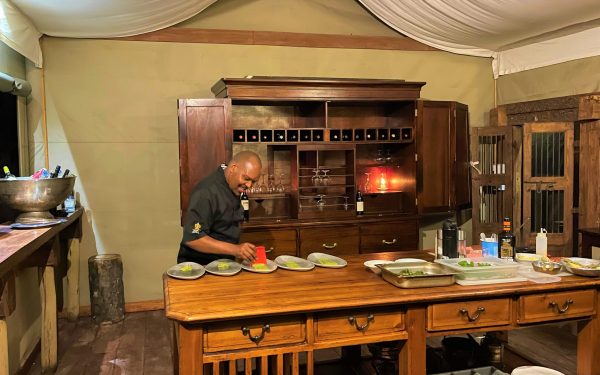 What makes the cuisine on safari so interesting is that even though there is a basic outline for meals, every camp puts their own spin on it and some even offer special dining experiences. One I would highly recommend is an interactive chef's table. I was able to enjoy this for dinner one evening on my most recent trip to Africa and it was truly a highlight. The meal was served in an outdoor kitchen where the chef stood front and center preparing a six-course tasting menu, with wine pairings for each course. Even if you don't consider yourself a foodie, being able to interact with the chefs (who you normally don't even get the chance to meet) and learn more about them, as well as the food, is a memorable experience (not to mention the six-course meal I enjoyed was hands down the best I've ever had on safari!).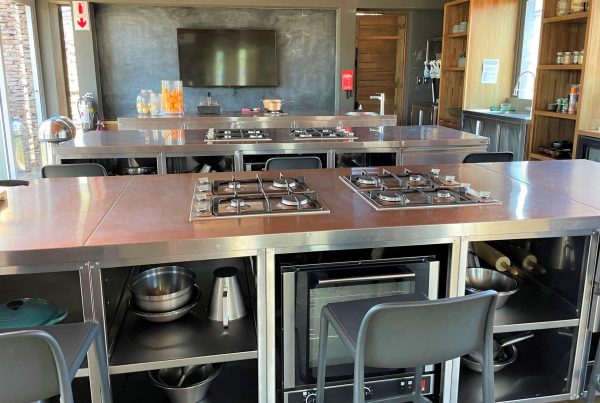 Another special dining encounter available at some camps is cooking a meal with culinary students at an on-site cooking school. Locals between the ages of 17 -27 in the nearby community can apply for the training program, which is funded by the camp. Those who are accepted then attend classes at the test kitchen. Following graduation, the camps work with the students to find them job placements, ideally as employees in their own kitchens. While participants are still going through the program, guests have the chance to cook a meal and learn from these chefs in training. Afterwards, you sit down and enjoy the meal you prepared together. This is a great way to experience the culinary side of safari while also learning about the neighboring communities and local people.
Most of these interactive dining experiences are limited to certain properties, so if any are of interest to you, I recommend speaking to your consultant about which camps offer them.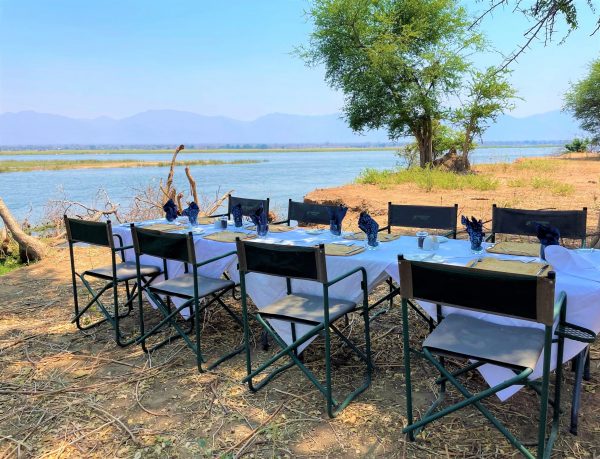 Finally, there are even options to dine out in the bush, appreciating the breathtaking views and sights with each bite. Whether it's a champagne brunch after an exhilarating sunrise hot air balloon flight, or a peaceful starlit dinner under the canopy of a baobab tree with the sounds of Africa in the background, bush meals are a must during your stay. There are also some lodges that offer a similar dining experience right in camp, from within a boma, or large outdoor dining area where guests gather to enjoy a meal together. This is usually set up for dinner with tables surrounding a roaring campfire and more traditional African dishes are prepared. It's the quintessential safari dining experience.
Food on safari really is anything but basic and no matter which dining experiences you have, I promise you are in for a treat!