Every time I travel to a new destination, one of my guides inevitably exclaims that their country's natural beauties are "one of the 7 Natural Wonders of the World." And it proved no different on my recent trip to Argentina. Our guide, Rodolfo, proudly named Iguazu Falls as another of these wonders, bringing my total to TEN of the seven wonders!?!
All kidding aside, Iguazu Falls is a remarkable and breathtaking sight to see. I have been to both the Zimbabwe and Zambia sides of Victoria Falls on numerous occasions, and I had always been told that Iguazu was even more grand. I was excited to finally see it in person and to have the opportunity to compare the two incredible waterfalls.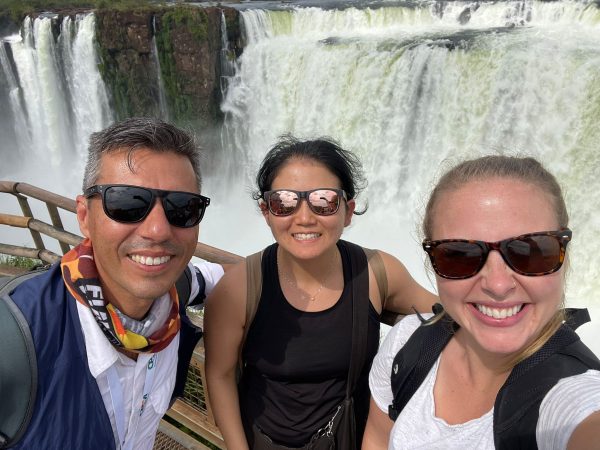 Both are no doubt world famous and huge tourist attractions for the countries they occupy. Iguazu Falls is known for being the wider of the two, spanning a staggering 8,850 feet. That's over a mile and a half! Victoria Falls on the other hand claims the largest curtain of falling water in the world, with over 500 million liters of water per minute flowing over the edge.
Split between countries
Victoria Falls can be viewed from two different countries – Zambia and Zimbabwe. About 70% of the Falls can be seen from Zimbabwe, and the remaining portion is in Zambia. Iguazu Falls can similarly be seen from both Brazil and Argentina and there is strong debate about which side offers the best views. I think the vistas from Argentina are spectacular, but I've yet to see the Falls from Brazil.  My colleagues do say that Brazil's views of the main cataract are next to none! I'll have to report back after my next adventure.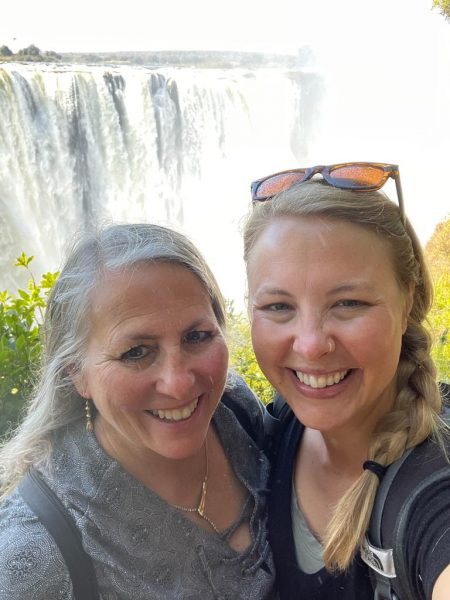 In my opinion, I think visiting either of these falls from just one country is sufficient, but that also depends on how much time you want to spend there. Seeing Victoria Falls from either Zimbabwe or Zambia will take only a couple of hours, while exploring both requires at least a half day, in large part due to the border formalities you will encounter when moving between the two countries. Most people also opt to pair a visit to the falls with a cruise along the Zambezi River looking for wildlife and time spent exploring Victoria Falls town in search of the perfect souvenirs. Most of our guests spend two nights in Victoria Falls.
By comparison, the Argentinian side of Iguazu Falls alone offers enough activities to fill at least one full day. If you wanted to see both the Brazil and Argentina sides, you'd need two days/three nights to really experience all there is to offer.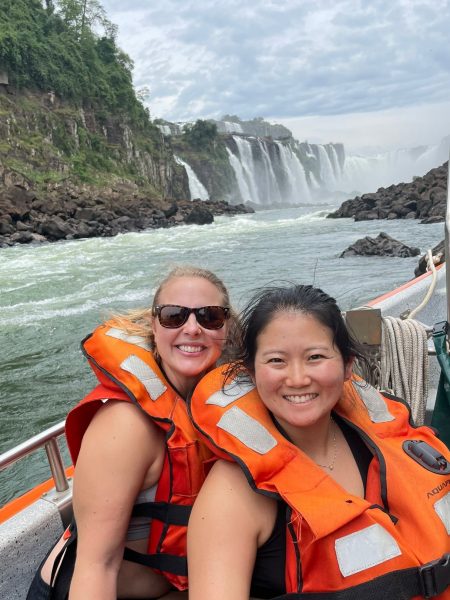 Your day in Argentina can be spent wandering the upper and lower walkways, which each take a couple of hours depending on your pace and how much time you spend taking in the views and snapping photos. You can also take a train to the Devil's Throat, the main cataract. From here, you feel like you are standing directly on top of the falls, an experience that cannot be missed! On clear nights, you can also participate in a moonlight tour of the Devil's Throat. These moonlight tours are conducted in groups and private night tours are not available at this time.
Jungle Environment
Because of the spray created as water plummets hundreds of feet, you will find a very unique rainforest environment surrounding both Victoria Falls and Iguazu Falls. The landscape is lush and green — beautiful to photograph! — and temperatures can be hot and humid. Both locations are also deemed protected areas and surrounded by National Parks, which preserves the region's flora and fauna. Some unique species can only be found in these ecosystems.
During peak flow times, you are more likely to get sprayed while walking around Victoria Falls due to the paths' proximity to rushing water. We always recommend bringing a rain poncho for your visit! In Argentina, we were able to stay pretty dry while on foot (except for the sweat); although if a gust of wind blows towards the lower walkway you might feel a little shower.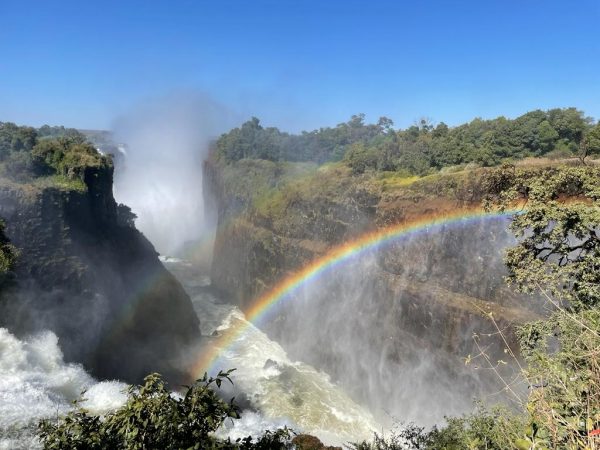 If you want to get soaked while at Iguazu, you can take a boat ride along the river and the captain will douse you with the full force of the fall's water. In the heat of the day the shower felt great, but this activity is a bit like an amusement ride, so it's not for everyone. It is not offered privately, so you are in a relatively large group and the hike back up the stairs after the boat ride is not for the faint of heart either.
Wildlife also abounds in both destinations. At Victoria Falls it's possible to see hippos, elephants, and crocodiles crossing the river in Victoria Falls National Park. The Misiones Rainforest in Iguazu is also home to a host of animals like tapir, caiman, anteaters, and jaguars, but it is far harder to find them! You will, however, encounter an abundance of colorful bird species in both regions. You might even get lucky like I did and spot a toucan in Argentina. That was a very special sighting!
Viewpoints
While both Falls afford visitors spectacular vistas, the views of Iguazu from Argentina are more vast than what can be seen at Victoria Falls. That is to say, you can see more of the falls all at once in Argentina while in Victoria Falls the mist can be so thick that it can be hard to really grasp its magnitude, unless you take a helicopter. Helicopter rides are also available over Iguazu, but only from the Brazil side.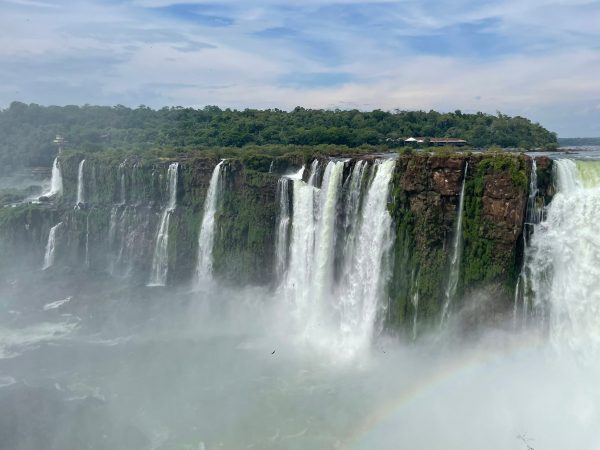 When it comes to accommodations, the Gran Melia Hotel in Argentina offers direct views of Iguazu Falls. Brazil's Belmond Hotel also provides great views, but only from some places on the property. By staying in either of these, you will gain early access to the falls each day! In Victoria Falls the famous Victoria Falls Hotel gives visitors a glimpse of the famous mist from the falls, known locally in the Tonga language as Mosi-oa-Tunya, "the smoke that thunders." Similarly, Iguazu translates to "big water" in the local Guarani language.
Activities at the Falls
Both regions offer a wide variety of activities such as nature walks, birding, walking the trails to see the falls from different angles, and helicopter rides. Boating is also available in both destinations but looks quite different with Iguazu Falls offering the more adventurous and wet version while Victoria Falls provides more leisurely sunrise or sunset river cruises.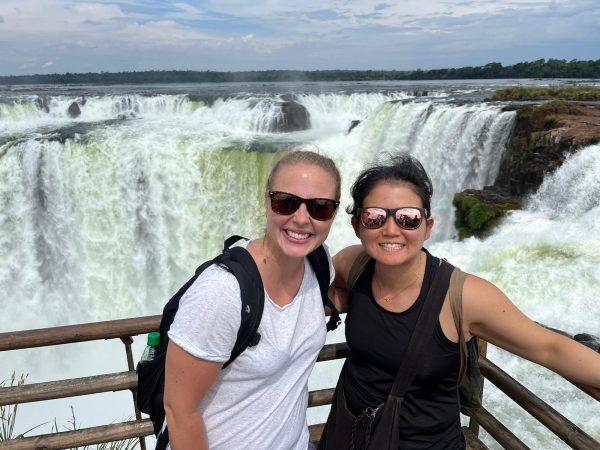 Logistics
When traveling to Argentina, I definitely recommend including Iguazu into your itinerary if you have an extra 2-3 days and want to add some variety to your trip. You do have to consider logistics however, as they can be tricky sometimes! (Don't worry – your Travel Beyond consultant will help with this!) Victoria Falls is a great addition to any safari in Botswana, Zambia, or Zimbabwe. I often tell clients to save the Falls for a future visit if they won't be in one of these three countries, as it can otherwise be a costly extension and a long way to travel for a two-night stay.
Both Falls are well worth a visit if you have the time and are in the area of these amazing destinations! It's impossible to choose a favorite as they offer quite a different experience. I'm very glad I've seen both, actually visiting them within the same year, and recommend doing the same so you can choose a favorite for yourself!