When I was planning my most recent familiarization trip, or FAM as we call them in the travel industry, I was offered the option of traveling to either Southeast Asia or South America, both of which are regions I had never explored before. However, as enticing as these incredible locations were, I knew in my heart I wanted to return to Africa; and I wanted the opportunity to bring my mother Chereen, if I was granted the chance.
First and foremost, I thought a mother-daughter trip to Africa would be a great way to celebrate her milestone 70th birthday and to say thank you for all the help she so unselfishly provided to me and my husband the past seven years as we raised our twin boys. My mom is also a total elephant lover and a big fan of the movie "Out of Africa," a film based on the life of Karen Blixen. So, I knew if the stars aligned, I wanted her to join me. And with the help of Katie Gomer and Callie Robinson that's just what happened—the two of us set off to Kenya and on the trip of a lifetime.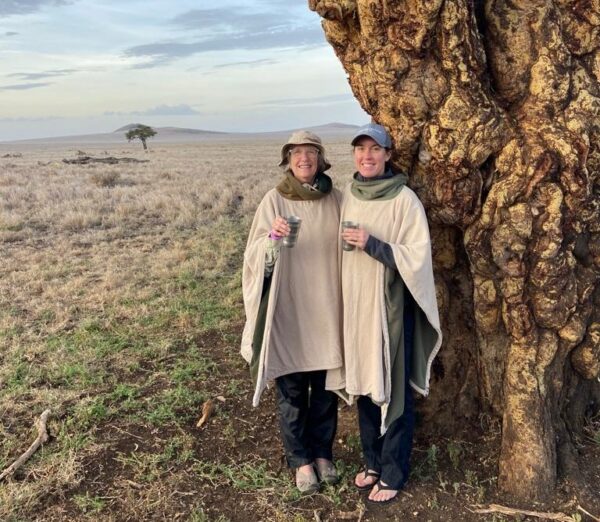 Our journey began in Nairobi, where we spent two nights at the House of Waine and one full day sightseeing throughout the city. We started at the Giraffe Centre where we were able to see and feed the Rothschild giraffes, an animal being protected in order to increase the population of the species and help remove them from the endangered list. Next, we enjoyed an hour-long public visit at the Daphne Sheldrick Elephant Orphanage. Here, my mom and I were able to view and take pictures of the young elephant orphans, learn their names, how they found themselves at the facility, and hear about the history of the orphanage. We both agreed this was a must-see while in Nairobi.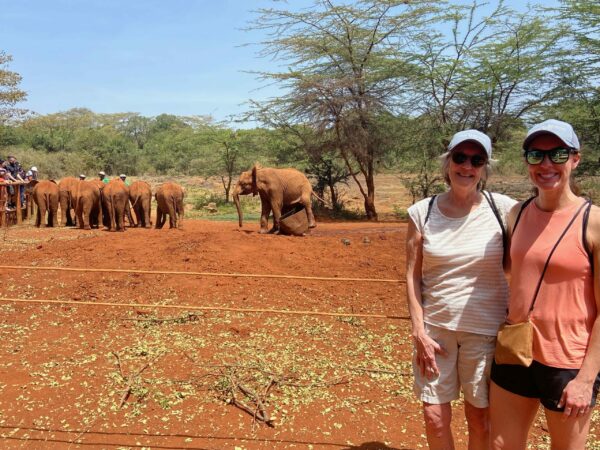 From there, we made a stop at the women-run Kobe Strong Beads & Leather to learn the ceramic and bead jewelry making process from start to finish. Following lunch at the delicious Talisman restaurant, we ended our day of touring at the Karen Blixen Museum, a place dedicated to the life story and history of the famous author. As a huge fan, my mother thoroughly enjoyed the museum, along with the tour of the home and property. It was a great way to wrap up the day and to get us excited for the safari that awaited.
Our first of four conservancies in Kenya was Chyulu Hills. While here, we stayed at Ol Donyo and – Wow! What a place to begin our safari experience. It is the only lodge in the area, which made our stay feel extra special right from the beginning. Beyond the friendly staff and delicious food, this property also boasts an amazing photographic hide situated right alongside a watering hole. Inside, you are literally feet away from wildlife, which makes it an ideal place to spend your time between game drives. Watching the Big Tusker elephants during the day and waking up to the lions roaring there in the middle of the night are moments we will never forget!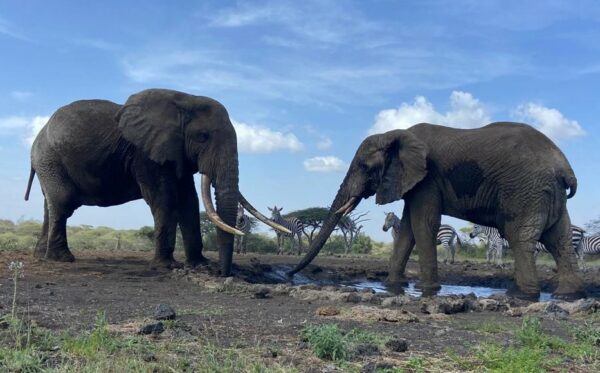 Next, we flew to the Lewa Wildlife Conservancy which is known for both their white and black rhino populations. We spent two nights at Lewa House and one night at Kifaru House. We enjoyed special sundowners with views of Mount Kenya in the distance, a late afternoon walking safari, and a surprise breakfast in the bush on our last morning there.
The next conservancy on our itinerary was Laikipia, and getting there proved quite adventurous, as we had the light aircraft to ourselves – and mom sat as the co-pilot! Upon landing, we made our way to Loisaba Star Beds where we were lucky enough to experience a night under the stars and our first and only leopard sighting. We were then off to enjoy lunch at the impeccable Lodo Springs and ended our stay at Loisaba Tented Camp. The staff surprised us at dinner with a birthday song and cake to celebrate mom's 70th. In fact, my mom was blessed with many of these surprise birthday desserts and songs along our journey and every time it happened, it was as if it was the first. She loved to be serenaded with the "Jambo Bwana" by the staff and was overwhelmingly appreciative of the thought and attention to her milestone birthday. It was such a joy for me to witness.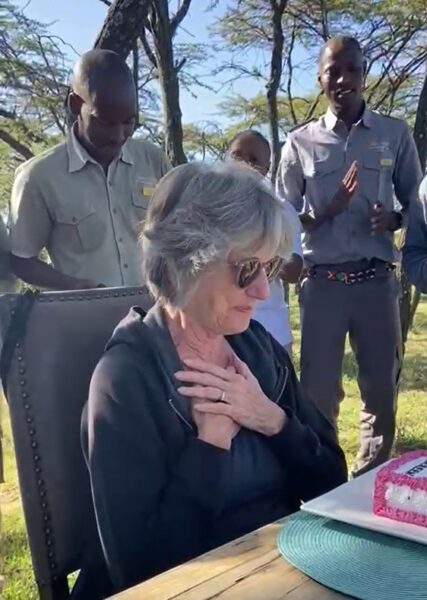 Our final conservancy was none other than the world famous Masai Mara. In addition to our stay at Ol Donyo, these final three days on safari provided the most unique experiences of our entire trip. In the Mara, we were greeted by our first and only female guide and spent the night at Mara Expedition Camp. We happened to be the only guests and the incredible staff pulled out all the stops to make sure we felt extra special. They offered us the chance to enjoy dinner at the kitchen bar alongside the chefs and cooks, which was a nice change of pace from the usual more formal candle-lit dinners. It proved to be such a relaxed and fun experience. We planted a tree onsite as well, an activity offered to guests as part of their carbon reduction initiative and one that really made us feel like we were leaving our mark on Africa.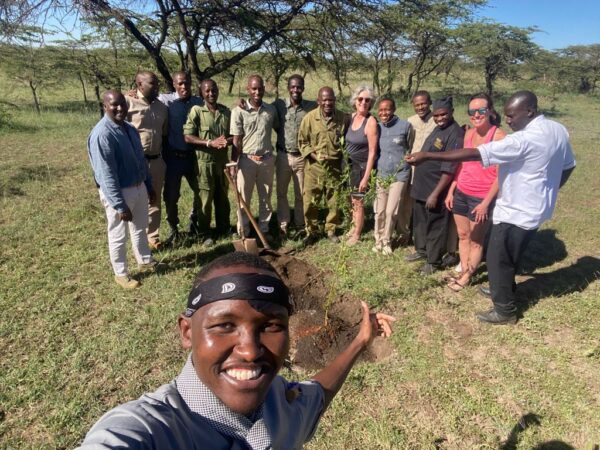 The next day on our drive to the stunning Mara Plains, I asked to visit a local village. This is something I regretted not doing on my last visit to Kenya in 2014, so I really wanted to make it a priority this time around. Upon arrival, we were greeted with a welcome song and dance by some adults from the village (60 people live in this community). Then a separate song was performed by the women and another by the men. These were followed by a fire making demonstration, a tour of a home, and an opportunity to buy jewelry that had been handmade by the women in the village. I felt so lucky to meet these villagers and learn about their traditions.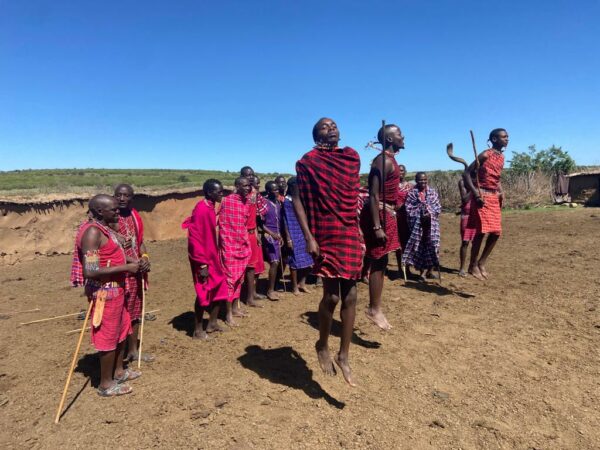 Reaching Mara Plains, we were once again greeted by friendly staff, enjoyed wonderful meals, and the tented rooms at this property were nothing less than spacious and impressive. Lucky for us, our tent was just steps away from the steep riverbank so we could hear some nearby hippos and ventured off with our guide to find them once we were settled into our tent. That evening we enjoyed sundowners with a pride of 11 lions before returning to camp for a lovely dinner on the deck, complete with a lit firepit in the distance.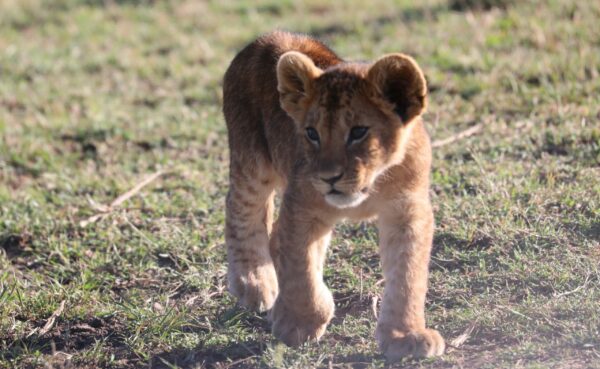 The next morning, we found the hippos we had heard at the riverbank. We watched them make their way back to the water for the day and spent some more time with the pride of lions we had enjoyed viewing the previous evening. We then met our last guide of the trip and were transferred to Kicheche Bush Camp.
This camp was the perfect place to wrap up our two-week mother/daughter adventure in Kenya. We enjoyed a communal lunch and dinner with a few repeat guests of this camp, wandered around the massive open yard, and sat by the bonfire after returning from our final game drive. This camp had a very authentic vibe about it which was the exact atmosphere that my mom most enjoyed on our trip.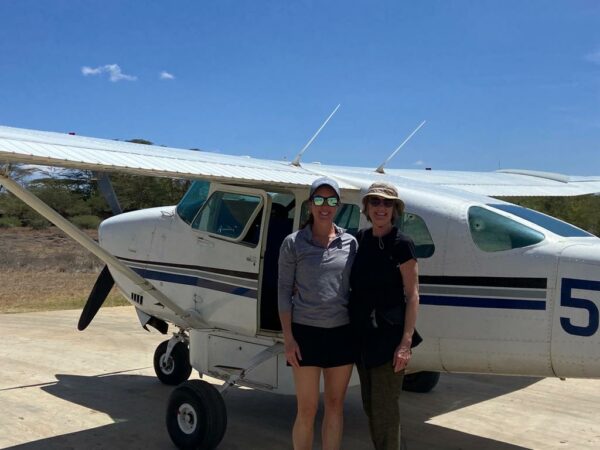 Our last day in Kenya was spent at Hemingways in Nairobi. We ate lunch on the patio and lounged by the pool before ordering room service and beginning our journey home. What a gorgeous property—the perfect place to take in the views of the gardens and simply enjoy the lush atmosphere around you.
Traveling to Africa with my mom was one of the most special experiences of my life. To have her truly understand the dreams we make come true at Travel Beyond and to share the love of the remarkable country of Kenya was a once in a lifetime opportunity. I knew she would be awed by the vastness of the atmosphere, culture, people, wildlife and culinary experiences along the way and that this trip would hold not only a special place in her heart but in mine as well.