"You must respect all the ruins you meet—these mysterious visitors of ancient times—because they are still with us with wisdom-loaded messages from the past." – Mehmet Murat ildan
Egypt is one of Africa's most fascinating countries. From visiting the Pyramids to cruising down the Nile, it is a destination filled with incredible antiquities, fascinating culture, and delicious cuisine. Many embark eager to explore its ancient civilizations and to dive deeply into the region's storied past.
It is certainly an epic stand-alone journey. And yet, there is also a perfect option available for those who want an additional adventure, to experience even more culture, or simply extend their travels: it is the country of Jordan, an ideal supplement to any Egyptian itinerary.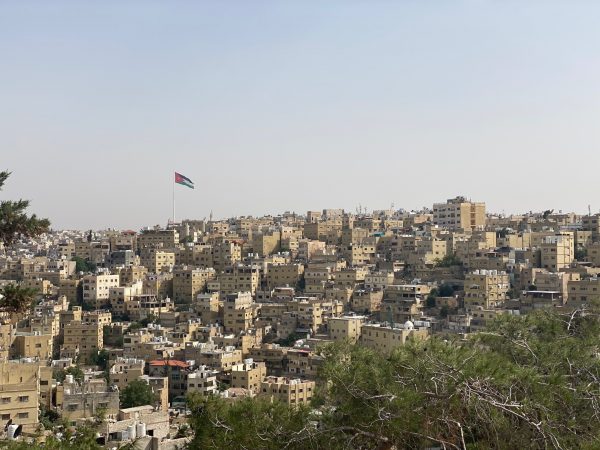 Amman
As the country's capital, Amman is a hub of Jordanian history, folklore, and food. Here you can spend a morning exploring the Citadel, a historic site dating back to the Bronze Age. Sitting atop Jebel Al Qala'a hill, you have spectacular views of the city while wandering through ancient ruins which span Roman, Greek, and Byzantine eras. The Citadel also has a small museum which houses various artifacts found throughout the region and the Roman Theater, sitting just below, is worth a visit. You might also request a stop at the King Abdullah Mosque (the only mosque in Jordan that offers tours) or the Automobile Museum to see some of the cars driven by the royal family over the years.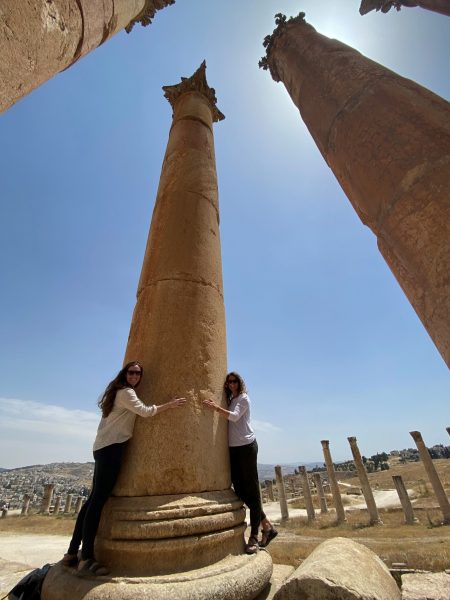 Time in Amman is often supplemented with a half-day excursion out to Jerash, an ancient city located about an hour and a half from the capital.  Here, you can again see the influences of multiple empires and test out the acoustics in the amphitheater. Trips to the Baptism Site, Mount Nebo and Madaba are also possible, either from Amman or en route to Petra or the Dead Sea. At all three, you have an incredible opportunity to learn some of the biblical history which makes Jordan such an intriguing destination.
When it comes to food, stopping at Habiba Sweets is a must. Famous for its traditional Kanafeh, a delicious cheese-based dessert, you can sample a few varieties as well as the tasty cream warbat and the more well-known baklava. Fakhr el-Din serves some of, if not the best, Lebanese food in the city and Levant offers a great mixture of Levantine food. Finding falafel is also highly encouraged!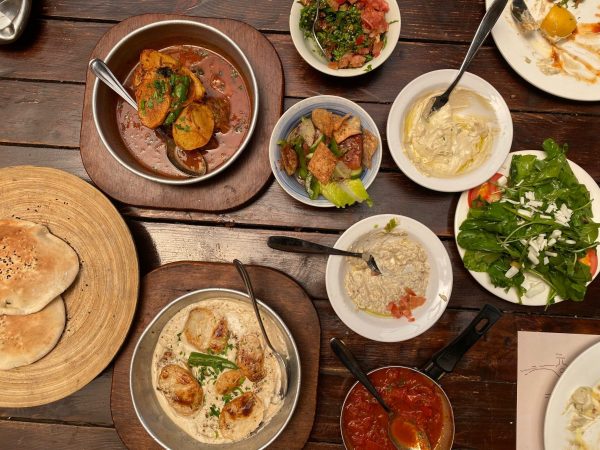 Petra
Arguably the most famous destination within Jordan, a visit to the ancient city of Petra is essential. Start with a tour of what is referred to as Little Petra, an area considered to be a suburb of its more famous neighbor. Then dedicate a day or two to exploring the main complex, which is massive. Reaching the city first requires a near mile walk through the Siq, or canyon, whose walls reach upwards of 300 feet, and eventually open onto the Treasury. Crowds congregate here to capture the perfect photo of this impressive structure, carved into the mountainside. You can pose with camels (getting on one, if so inclined) or pay roughly $15 USD to have a local guide take you up to a viewpoint, just a few hundred yards above. The hype is undoubtedly deserved.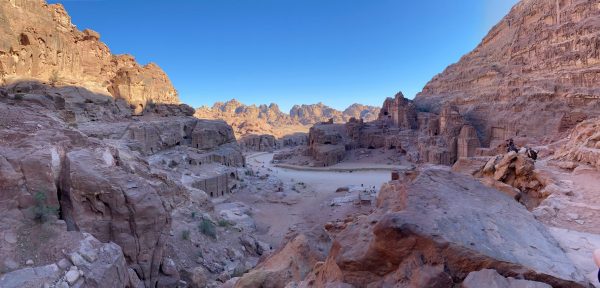 Beyond the Treasury, you can wander along the Royal Tombs and past the Roman Theater. Toward the end of the main road, you can find the ruins of a church and a few additional temples. The more adventurous guests might consider a hike up to the Monastery or the High Place of Sacrifice. Both require a roughly 40-minute ascent up stone stairs, but the views are well worth the exertion and there are small shops selling tea and other refreshments along the way. It is highly encouraged that if visiting the High Place, you walk up the main trail and return down the other side, as this path brings you to more hidden temples and through stunning landscape.
Petra by Night, while not included in the standard entrance ticket, is worth the additional expense of 17 Jordanian Dollars (roughly $25 USD). The gates open around 8:15pm and the experience begins with a candle-lit walk through the canyon, as though you are a Nabatean living in the 1st century BC. As you reach the Treasury there are hundreds of candles covering the ground, casting a reddish light onto the structure. Here, you sit and revel in the magic, listening to traditional music and sipping Bedouin tea.  The event takes place only Monday, Wednesday, and Thursday nights, so if you are interested in attending, it is important to plan the rest of your itinerary around being in Petra one of these evenings. Note: For those who have difficulty walking or wish to save their strength, donkeys are available to take you up to certain viewpoints and a golf cart service can shuttle people from Petra's entrance to the Treasury, and vice versa.
Wadi Rum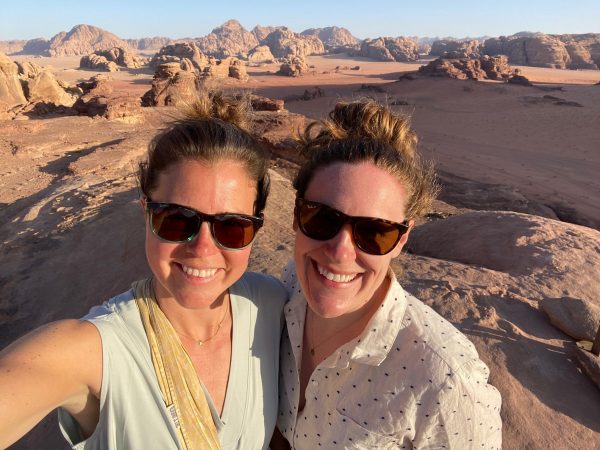 Jordan's otherworldly experiences continue in Wadi Rum, the country's most well-known, and largest, desert. The roughly 450 square mile reserve is full of spectacular landscapes—think sandstone and granite rock formations jutting up amidst valleys of incredibly fine sand whose color changes as suddenly as the temperatures. You can't help but feel instantly transported to another planet (there's no question as to why The Martian was filmed here!).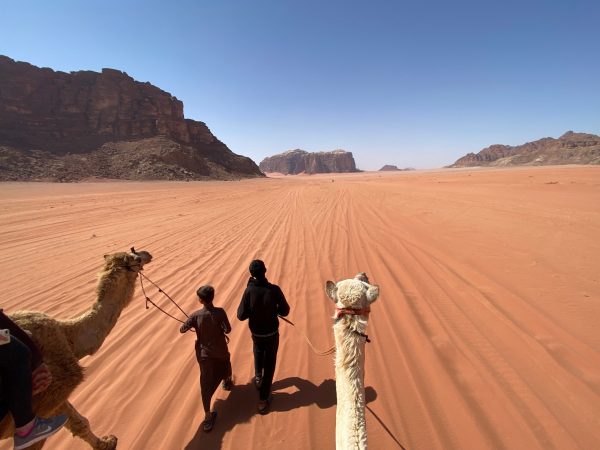 Activities range from camel rides to quad biking, each of which provides entirely new insight into and perspective of the region. Horseback riding, hot air ballooning, and guided walks are also available. Plus, to reach any excursion or camp, you must take a 4X4 vehicle, which is an adventure unto itself, as you sit in the bed of the truck on padded benches. There's no better way to appreciate Wadi Rum's vastness than while bouncing along the makeshift roads listening to traditional Jordanian music. Catching the sunrise or sunset is also a must, as is spending time stargazing, which can usually be done from your camp!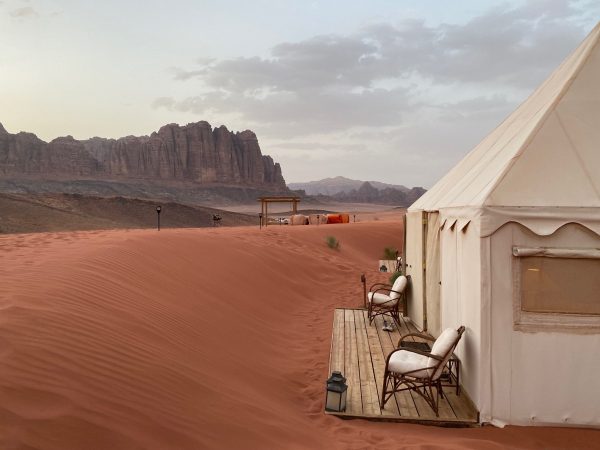 Dead Sea
Often (and highly recommended to be) the last stop, the Dead Sea is the perfect place to cap off your trip to Jordan. Here, the combination of salt, mud, and being situated at the lowest place on earth (nearly 1400 feet below sea level), the main activities center on health and wellness. A spa treatment is essential, as the products all incorporate minerals from the sea itself. And most hotels reside along the shore, so you can easily walk down to the water to see just how well you float (spoiler—it is very well due to the sea's 33% salinity).
There are also urns of Dead Sea mud ready and waiting to be applied to your skin. The recommended sequence of events, to maximize rejuvenation, is to start with a 10-minute float, then cover yourself with mud and let it dry for 15 minutes, after which you return to the water to rinse. Be sure to bring some water shoes (the shoreline is rocky) and a dark colored swimsuit, as anything white or light will be stained by the mud!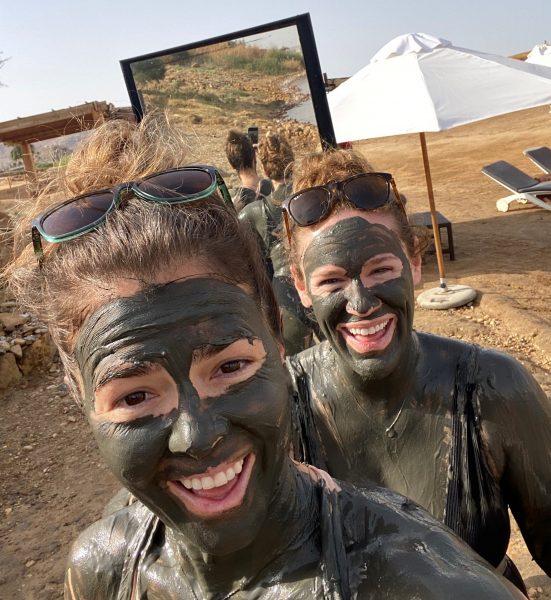 Tips
Clothing and Attire: While Jordan is accustomed to tourists, it is a predominantly Muslim country in which locals dress fairly conservatively. Pants and long-sleeve shirts are not only encouraged in order to observe Jordan's religious practices but also to protect visitors from the intense sun. Lightweight and quick dry material are best, and scarves are an easy way to ensure shoulders are covered when needed!
Sockets: Jordanian hotels often do not have USB outlets. So, it is crucial to bring an adaptor (no converter needed as most products now allow for a range of voltage). The country uses types C & F (interchangeable) and type G (three pronged). Bring both to be extra cautious.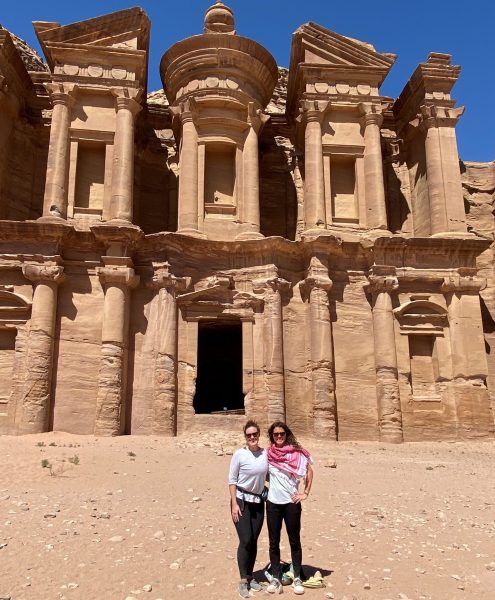 Currency: The Jordanian dollar is actually stronger than the US dollar, with roughly $1.5 USD to one JD. It is important to keep this in mind when making purchases throughout the trip. Most establishments accept both US and Jordanian currency but be sure the bills are 2008 or newer. It is also recommended that you bring small denominations, as there are occasionally bathroom attendants to tip, and it is easier to purchase water and souvenirs without needing significant change.
4-day Jordanian Extension
Day One: Amman, half day city tour and half day Jerash
Day Two: Drive to Petra with stops at Mount Nebo and Madaba, evening Petra by Night
Day Three: Full Day in Petra and drive to Dead Sea
Day Four: Morning at the Dead Sea then back to the Amman Airport
7-day Jordanian Extension
Day One: Amman, half day city tour and half day Jerash
Day Two: Drive to Petra with stops at Mount Nebo and Madaba, evening Petra by Night
Day Three: Full Day in Petra
Day Four: Morning drive to Wadi Rum for an overnight in the desert
Day Five: Full Day in Wadi Rum
Day Six: Morning drive to the Dead Sea and afternoon at hotel
Day Seven: Dead Sea to Amman Airport