Last year, I took the trip of a lifetime to the Mahale Mountains in Tanzania. In my blog post about this experience, I described how lucky I felt to experience this up-close encounter with the area's chimpanzees. This year, I experienced another unique and unforgettable primate encounter – trekking with the mountain gorillas in Rwanda.
Mountain gorillas are only found in the mountains of Rwanda, Uganda and the Democratic Republic of Congo. Unlike other gorilla species, mountain gorillas have never historically survived in zoos, which means the only place to see them is within their natural and wild habitat. Like a chimpanzee trek in Tanzania, gorilla trackers head into the forest bright and early to locate the gorillas. This is extremely important, as it makes your trek to the gorillas as seamless as possible. In Rwanda, the trek can be tough due to the altitude, so be sure that you're up for the adventure!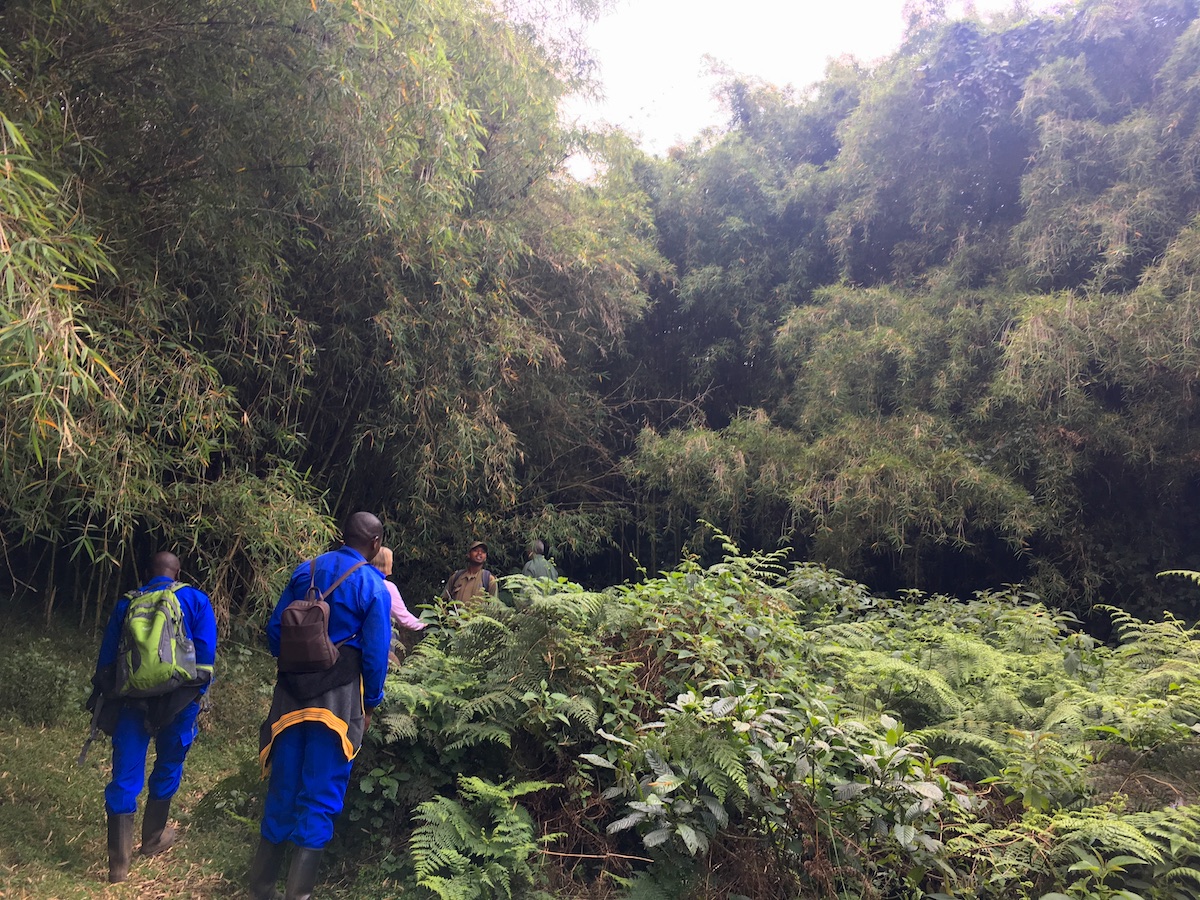 My trek took about two hours to get to the gorillas; however we hiked at a very comfortable pace, and we were sure that the slowest in our group was never feeling rushed. The anticipation of finding the gorillas was so high during the hike, that I honestly found the trek to be easier than I expected. (Luckily, I was also visiting a gorilla family that is on the easier end of the spectrum to get to.)
Once we reached the gorillas, it truly took my breath away. The silverback was massive and majestic, immediately reminding me of my place in the animal kingdom. Our group sat quietly as we watched them eat, play and interact with each other.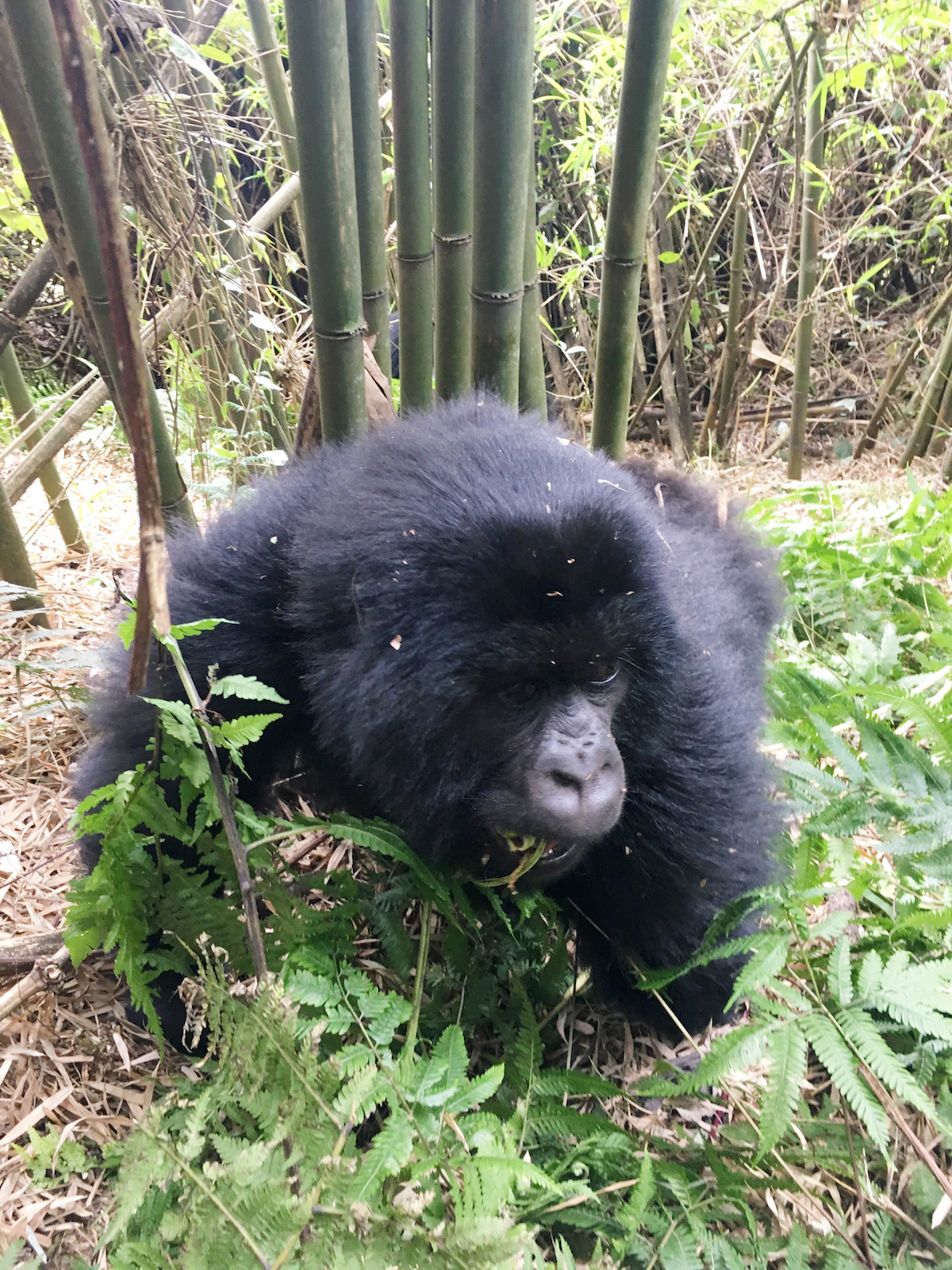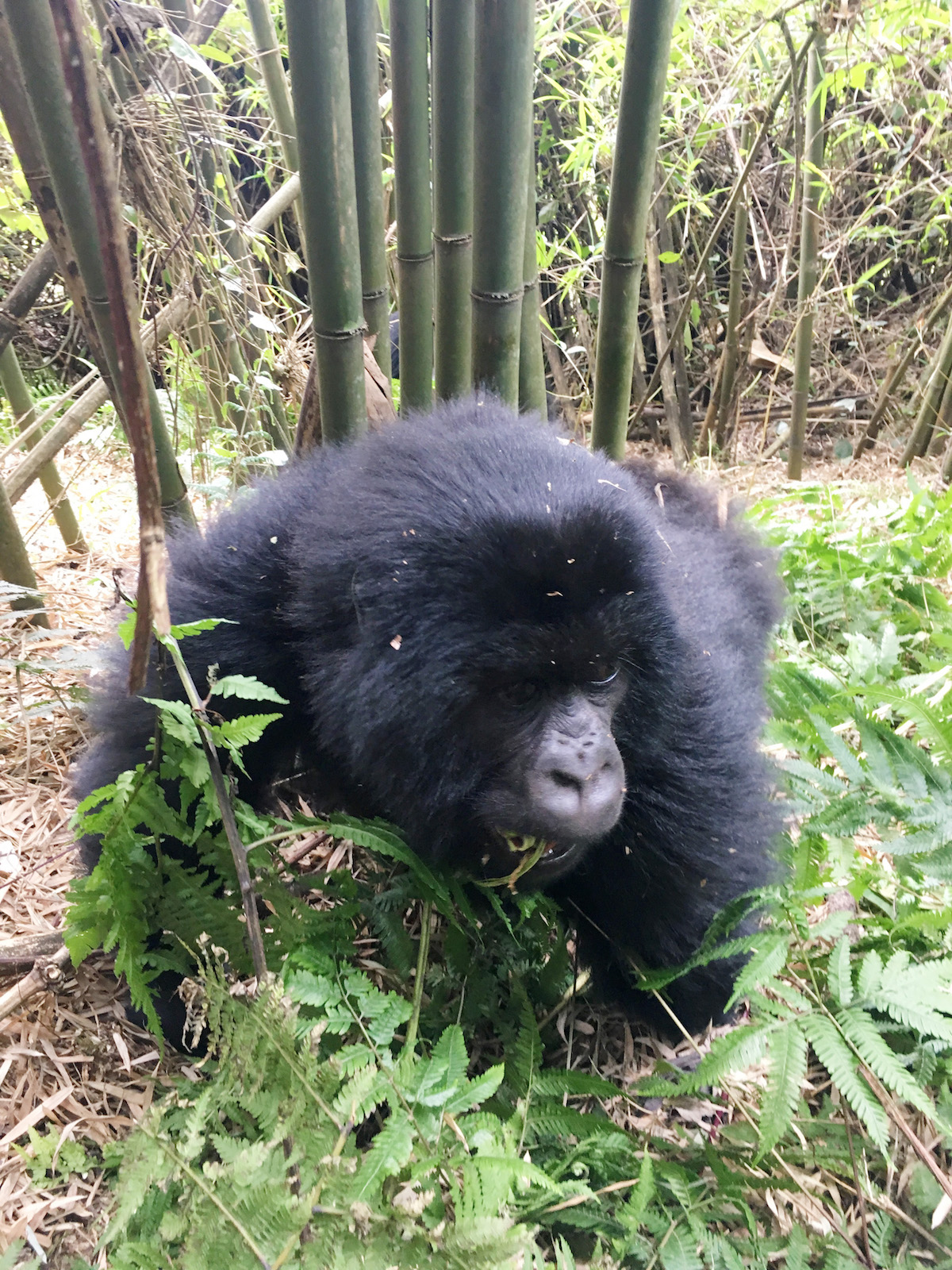 Out of nowhere, the single best moment of my life occurred! The silverback decided it was time to head further up hill, so he walked in between our group. The rest of the gorillas began to follow, and a younger gorilla (around 4-5 years old) passed within feet of me. Although we have strict rules of how close we can be to the gorillas, the gorillas don't always abide by those rules! Just as I was turning my camera into "selfie-mode," I felt this gorilla grab my shoulder as he gave me a light squeeze. I froze, but somehow managed to snap a few pictures. While the pictures are so fun to look back on, I honestly didn't need them. This moment will forever be etched in my mind. In those few seconds, my heart was stolen by these beautiful creatures. Was it scary? Sure, but then it became clear that he wanted nothing more than to say hello.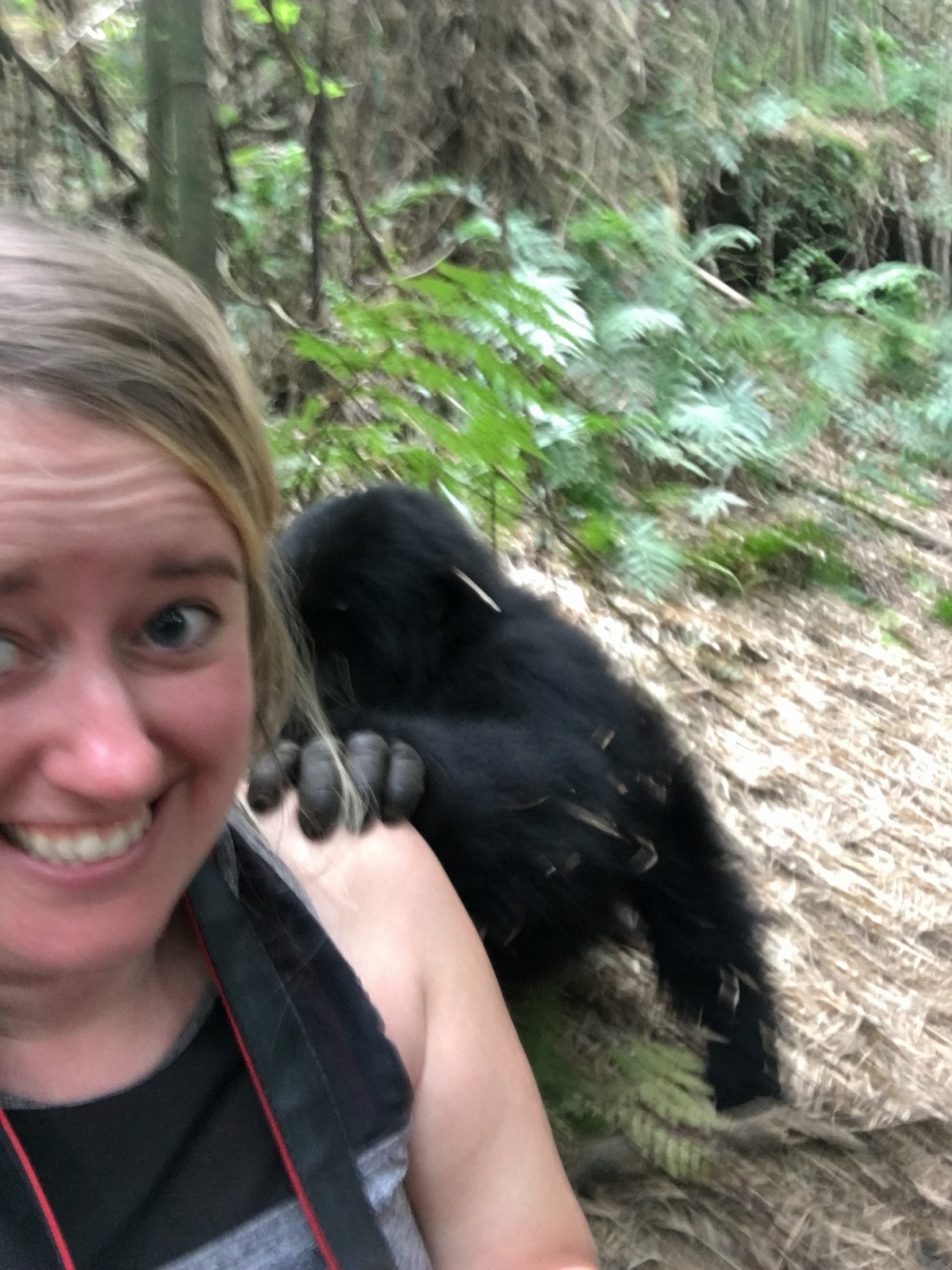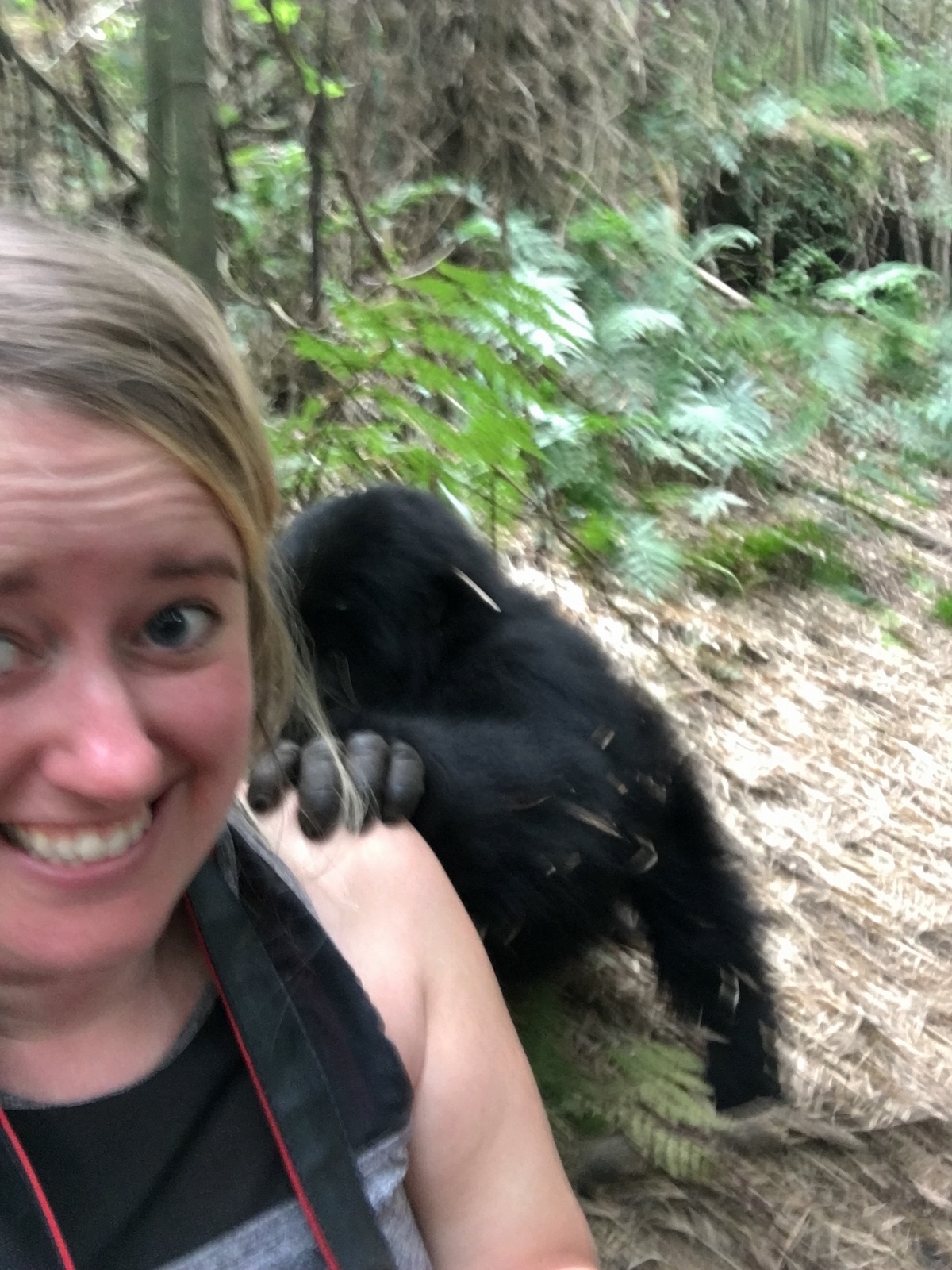 We continued to watch them until our hour was up. My group was really lucky, in that we had an active group that really kept us guessing about what would happen next. Some groups might not be as active, so I always recommend planning two days of treks. With a second day, trekkers can visit two different families and truly get a wide variety of experiences with the gorillas.
If you can't tell already, this was an experience of a lifetime and something that everyone should add to the top of their bucket list!