I went on vacation to Africa in 2020. A few months ago, I wasn't sure I'd get to write those words.
Since I joined Travel Beyond almost 9 years ago, I've traveled internationally every year, some years, I went on multiple international trips, and I believe my record was 8 different countries in one year. Before 2020, I never thought there would be a year without any international travel, but as the months passed this year, that seemed increasingly possible.
Before borders were even officially open, I started planning tentative safaris to both Kenya and Zambia, hoping that one of the two would allow U.S. citizens by September and that I could travel. As luck would have it, both countries opened their borders, so my mom and I confirmed our trip to Kenya and packed our bags.
Surprisingly, the trip actually felt like a vacation—not just from the hustle and bustle of life in Minneapolis, but a vacation from the pandemic and from the challenging year we've all endured. It was blissful. Relaxing, refreshing and rejuvenating. My mom and I laughed often, learned a lot, met amazing people, enjoyed wide-open spaces, and saw some incredible wildlife.
Nairobi
Our trip started in Nairobi where we spent 3 nights. I don't think I've ever proposed a trip for a client with 3 nights in Nairobi and if I had, they'd likely think I was crazy, but I absolutely loved it! We enjoyed a full day in Nairobi National Park at The Emakoko, where we saw lions, zebra, giraffe, a white rhino, and tons of other plains game. It was fun to see wildlife the morning after arriving in Kenya, and the game viewing got us immediately excited about what was to come. One of our favorite sightings was a pair of huge ostriches with their tiny, tiny chicks! I never imagined baby ostrich to be that small, since they grow to be such enormous birds. Our guide thought the chicks we saw were probably only a day or two old.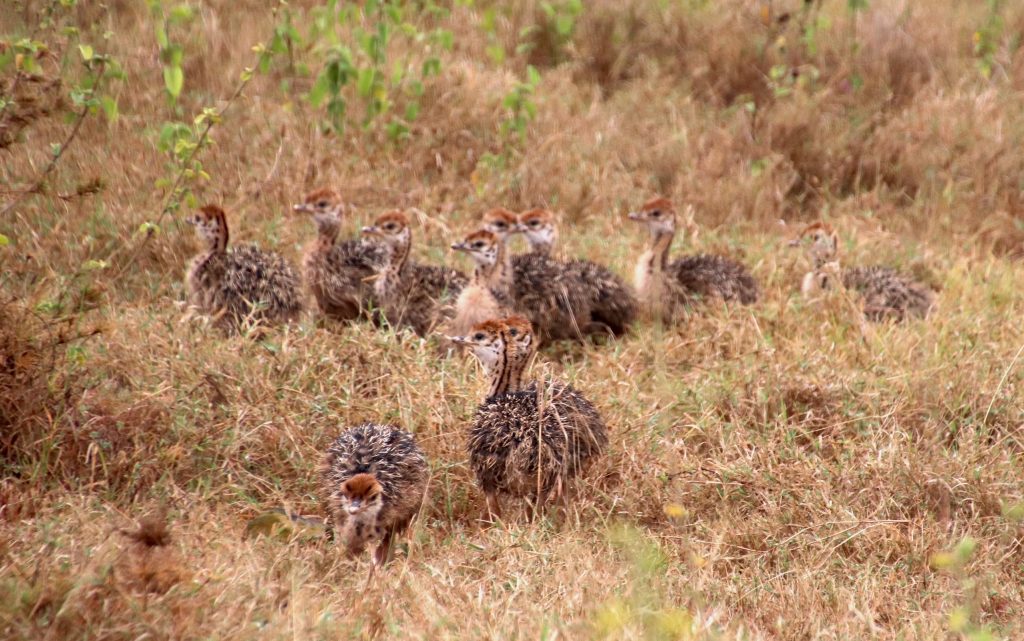 While in Nairobi, we also spent two nights at Giraffe Manor. For me this was a dream come true. For as long as I've been in the industry, a stay at Giraffe Manor has always been on my bucket list. The manor is almost always booked about 12-18 months in advance, so it's extremely hard to get space there. However, traveling this year offered the unique opportunity to confirm my trip just 2 weeks before departure, inclusive of 2 nights at Giraffe Manor. Needless to say, I was ecstatic!
We stayed in the Karen Blixen Suite and I was fortunate to see almost every room at the hotel due to the very low occupancy. For families of 3+ or friends traveling together who want extra space, the Karen Blixen Suite is amazing. We spent lots of time cozied up by the fireplace in the sitting room because of the unseasonal rains in Nairobi, and we had more space than a mother and daughter traveling together could ever need. Around 5:30am, before the sun was even up, Edd, the dominant male of the manor's herd, was poking his head over our balcony, ready for some breakfast. We gleefully hand fed him before heading down to join other guests in the breakfast room for "breakfast with the giraffes". We got to feed many of the different resident Rothschild's giraffe and take loads of photos. It was a blast.
After having stayed at Giraffe Manor, I suggest going for the giraffes (obviously), but I recommend staying the extra night for the luxury and relaxation of the experience. The staff was incredible and completely spoiled us. The food was amazing and we have countless memories and photos with the giraffes. Edd, Betty and Jock were a few of my favorite giraffes, but I loved them all. We wore masks indoors outside of mealtime and photos with the giraffes, but it didn't detract from our experience in the least. Masks weren't necessary while we were outside.
The most amazing part about our stay at Giraffe Manor was learning about their conservation efforts and the number of Rothchild giraffe the manor has released into the wild. They have released more than 60 giraffes to date. Tony, the manager, shared dozens of stories with me and was a wealth of knowledge. It was easy to tell everyone who worked there truly loved their job. My mom and I each sponsored a giraffe at the end of our stay and now will be receiving monthly updates about our tall friends. It's so fun to follow their conservation story and continue to learn about the manor's growing giraffe family.
Northern Kenya
Our next stop was Sarara Camp in the Namunyak Wildlife Conservancy, an enormous 850,000 acre conservation area in northern Kenya on the southern part of the Mathews Range. Many of the people living in this region are from the Samburu tribe and some of them even live in small grass huts within the conservancy. The local Samburu people own this camp, while Jeremy and Katie Bastard enthusiastically manage it and many of the conservation projects in the area. While the conservancy has a huge wildlife focus, there are also amazing community efforts in the area in order to minimize human-wildlife conflict and ensure the local pastoralist people, have plenty of undeveloped land to use for grazing their many cows, goats and sheep.
The Samburu are often recognized for their extremely vibrant and colorful clothing and accessories. Our guide James wore customary daily attire in shades of bright blue, yellow and red, as well as tons of beaded jewelry and a headdress. Samburu jewelry is used to depict a person's marital status, age, social status and more. We had a fantastic time learning about Samburu culture, and he answered our many questions patiently and happily.
Beyond Samburu culture, there so much to do at Sarara. We did some beadwork with local women, went fly camping, enjoyed their amazing pool with a stunning view, went on game drives and nature walks, visited their new Giraffe Tower where they've placed a salt-lick that the resident reticulated giraffe particularly like. We also stopped off at the elephant orphanage – Reteti, to see their amazing efforts in rescuing orphans in need. We ran out of time to partake in some of the epic hikes they have on offer and to visit a local village. The opportunities in this area are endless.
In the past, it was almost guaranteed that you'd see a leopard during a 3-night stay at Sarara. However, for the first time in 25 years, a small pride of lions has moved onto the conservancy and taken residence on an escarpment directly in front of the camp. While we only glimpsed one of the lionesses for a few moments, this new development is extremely exciting for the conservancy. They've been able to raise research funds to collar one of the females and intend to follow her movements to see where she goes. These lions could have come from as far as Somalia, our guide surmised. It's going to be incredible to follow their journey and see what happens next. For now, the leopards might be a bit shy with the lions moving in, however, being on the forefront of this new development in conservation is truly amazing. We were some of the first guests to ever see this new pride on the conservancy.
Lewa Wildlife Conservancy
Kenya is full of starkly different landscapes. We left the dramatic vistas of the Mathews Range at Sarara for the rolling hills and grassy plains in the Lewa Wildlife Conservancy—a 62,000-acre conservation area in the foothills of the Eastern Rift Mountains. On a clear day, if you look south from Lewa, you can view Mount Kenya in the distance.
My mom and I stayed with Sophie and Calum Macfarlane and their two kiddos, Sieya and Archie, at Lewa House. This was our home away from home during the trip. It didn't feel like staying at a lodge; we truly felt like house guests of the Macfarlane family and learned so much about their family history of conservation during our stay. Sophie's great-grandfather played a huge role in wildlife conservation during his lifetime and passed on his legacy to his children and his children's children, who have continued his work of protecting wildlife areas.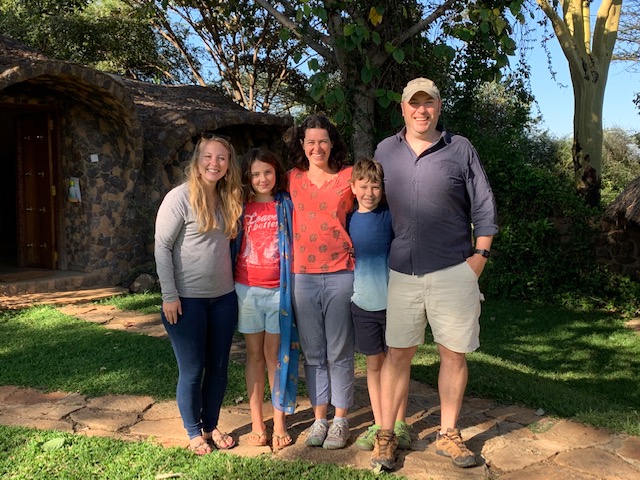 Today Lewa is home to the Big Five (leopard, rhino, lion, buffalo, and elephant) as well as the special Northern Five (Grevy's zebra, reticulated giraffe, Somali ostrich, Beisa oryx, and Gerenuk antelope). It's also home to 14% of Kenya's black rhino and 12% of the global Grevy's zebra population. It's such an amazing place, and Lewa House is one of just five lodges in the entire conservancy. During our stay we saw all of the northern species (except Gerenuk, which we had already seen at Sarara), lots of black and white rhino, lion, and tons of elephant, reticulated giraffe, huge herds of buffalo and more. I love this conservancy because you can see so many different animals and landscapes during your stay – from open plains and rolling hills to thriving swampy areas and dense forest.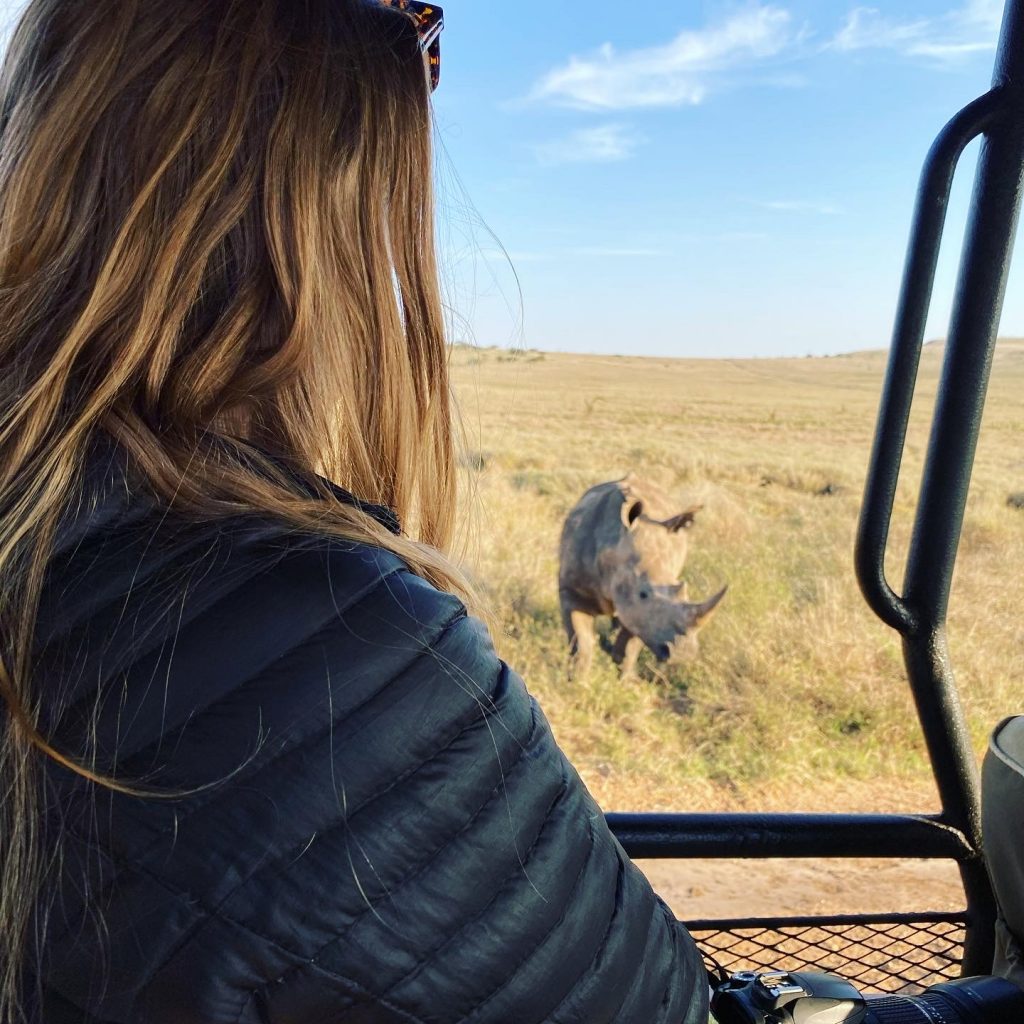 A highlight of my stay, aside from the amazing animal viewing and our awesome room, was jumping into the freezing cold water at a waterfall in the Ngare Ndare Forest. The hike down to the waterfall was steep but relatively easy, and the view once we arrived was stunning. I didn't plan on jumping into the cold pools because I'm not a fan of being cold, but once we arrived at the beautiful setting my sense of adventure kicked in, and I just couldn't help myself. I'm so glad I didn't skip it. Life is too short to skip a fun opportunity like that, especially not knowing when I'll have the chance to go back and knowing the forest can only really be visited during the dry months, as the roads are otherwise impassable.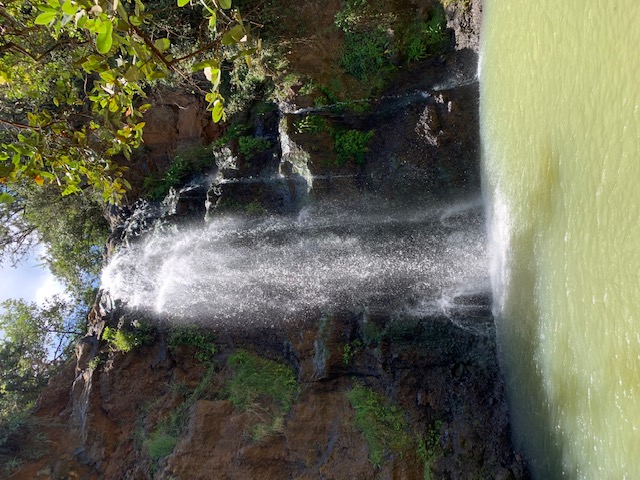 It was super easy to social distance while at Lewa (or any of the other safari camps we visited) because everything is outdoors. All of our servers graciously wore masks and our guides at most camps. Generally, they followed our lead. If we had masks on, they wore them too and vice versa. They always checked in with us to see what we were comfortable with, and we did the same.
The Masai Mara
In the Masai Mara we visited three different properties starting in the south in the Olderikesi Wildlife Conservancy and working our way north to the Mara Triangle in the Masai Mara National Reserve. At all three lodges we mostly spent our time within the National Reserve. Like all of the other places we visited, it was a ghost town. There was almost no one around except us. At all but two of the properties we stayed at, my mom and I were the only two guests, so naturally we were pampered and had an incredibly private and exclusive experience. In September, during one of the best months to travel to Kenya because of the idyllic weather and game viewing conditions, this is unheard of. For most of our time in Kenya, we felt like we had the country to ourselves, and aside from the 7 other Travel Beyond guests, one Portuguese couple, and a few locals from Nairobi, we didn't see anyone else on our trip.
The Masai Mara never disappoints. It's such an incredible ecosystem. The first camp we visited was Cottar's 1920's Camp in the Olderikesi Willdlife Conservancy. Here we were able to game drive on their private land, in the National Reserve and even along the border road between Kenya and Tanzania. The camp vehicles are allowed to enter the Serengeti National Park in Tanzania for sightings up to a couple of miles. I've always talked to clients about the "imaginary political border between the Serengeti and the Masai Mara." This camp showed us the perfect example. There was just a small concrete pillar along the border road designating what was Kenya and what was Tanzania. Without an explanation from our guide, Leturra, I would have had absolutely no idea that we had even entered the Serengeti. We saw tons of animals at Cottar's, but especially enjoyed our epic lion sightings of cubs with their mom, as well as lions surrounding our vehicle and roaring to call other members of their pride in the distance. The sound was deafening and definitely got my heart pumping.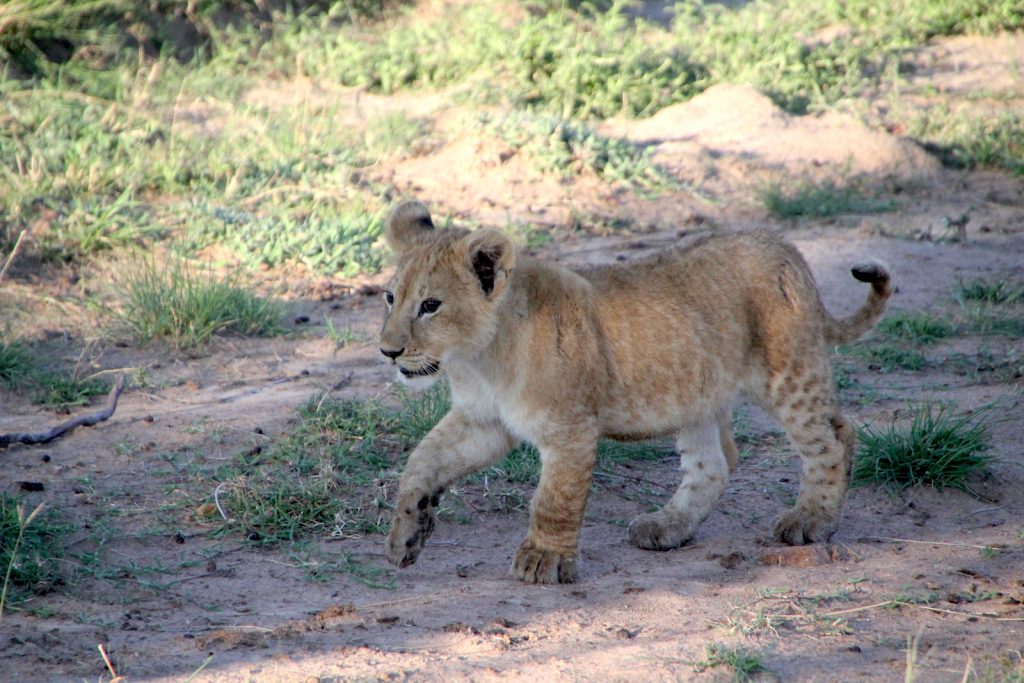 From there we traveled to central part of the Masai Mara National Reserve, where we stayed at Rekero Camp. This stay was epic! We saw 20+ lions, 4 cheetahs and a leopard during our stay. Not to mention hyenas, jackals, and tons of other plains game. We spent hours in the vehicle on adventures with our guide Francis and had a fantastic time. On our last evening with him, our one wish was to try to see a leopard, and he searched up and down for us. Finally, we heard word from the camp staff that a leopard was sighted across the river from camp. We dashed in our vehicle to where she was sighted, but she was on the move. Eventually we found her and the sighting was one of the best leopard sightings I've ever had.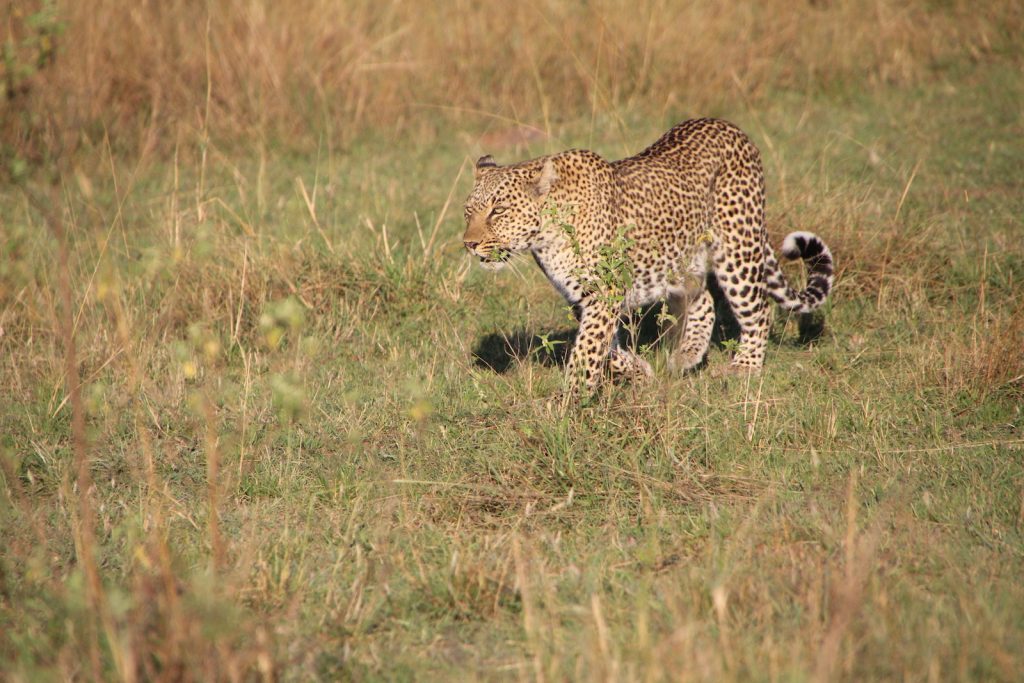 Our last stop was at Olonana, situated on the Mara River on private land just outside the Masai Mara National Reserve. All of our game drives were within the Mara Triangle. The amazing sightings continued here with jackal pups, tiny lion cubs, and a male lion with a buffalo kill. To top it all off, for our last game drive of the trip we made it to the riverside just in time to watch a river crossing of the Great Migration. The crossing was fascinating to watch, but the magnitude of the herds of wildebeest and zebra on either side of the river was unbelievable. We had to have seen 100,000 plus wildebeest that day. It was impossible to capture the magnitude of the sighting. I'll always be grateful that I got to share that moment with my mom, who happens to be my best friend.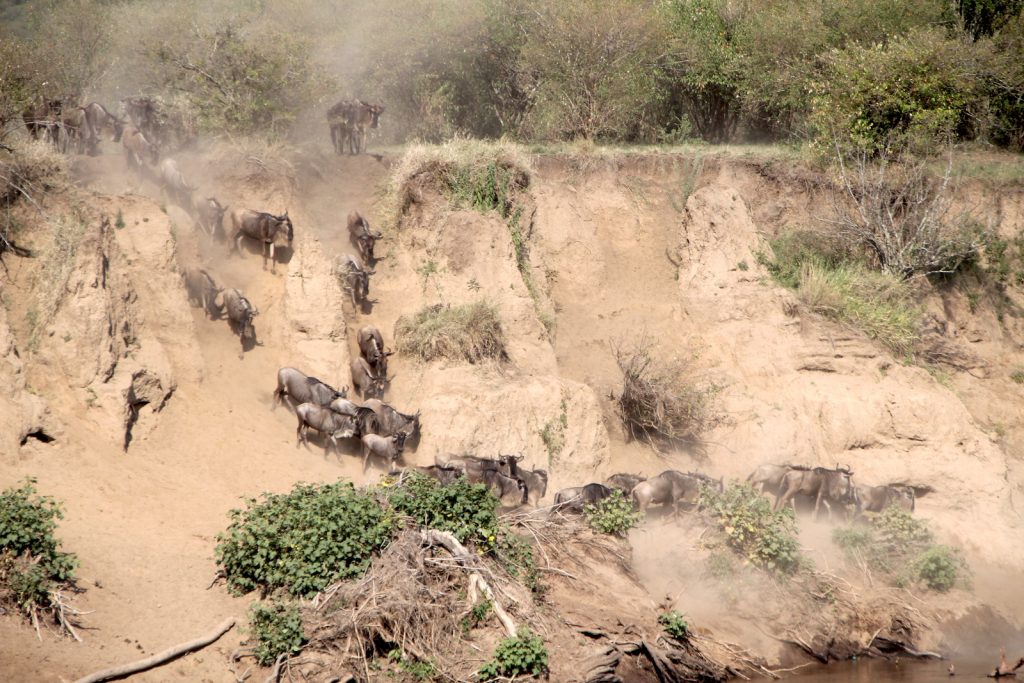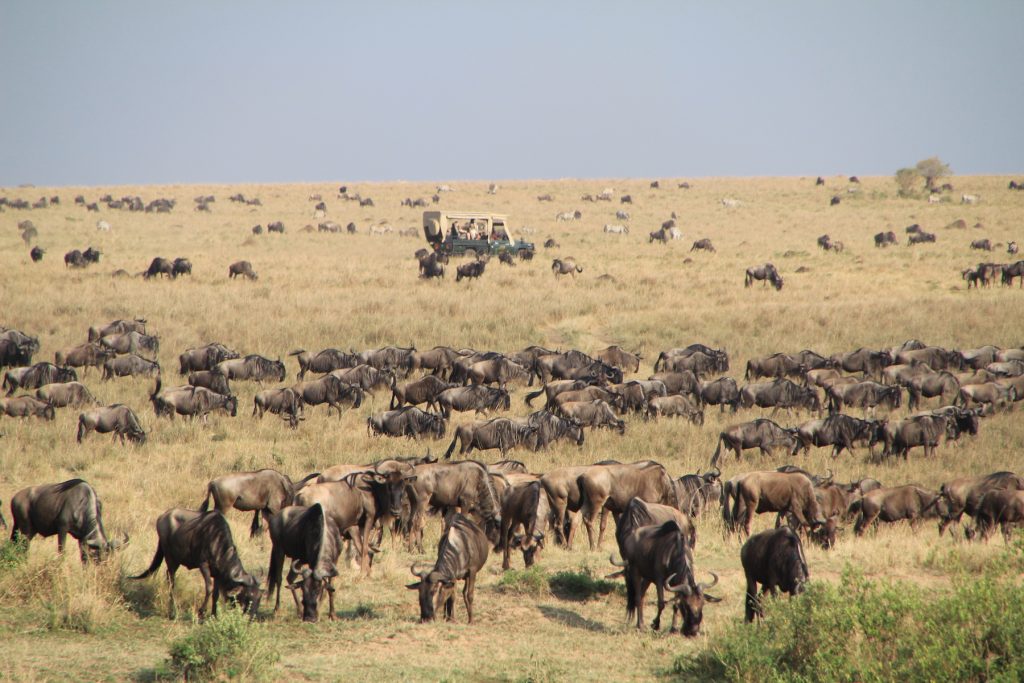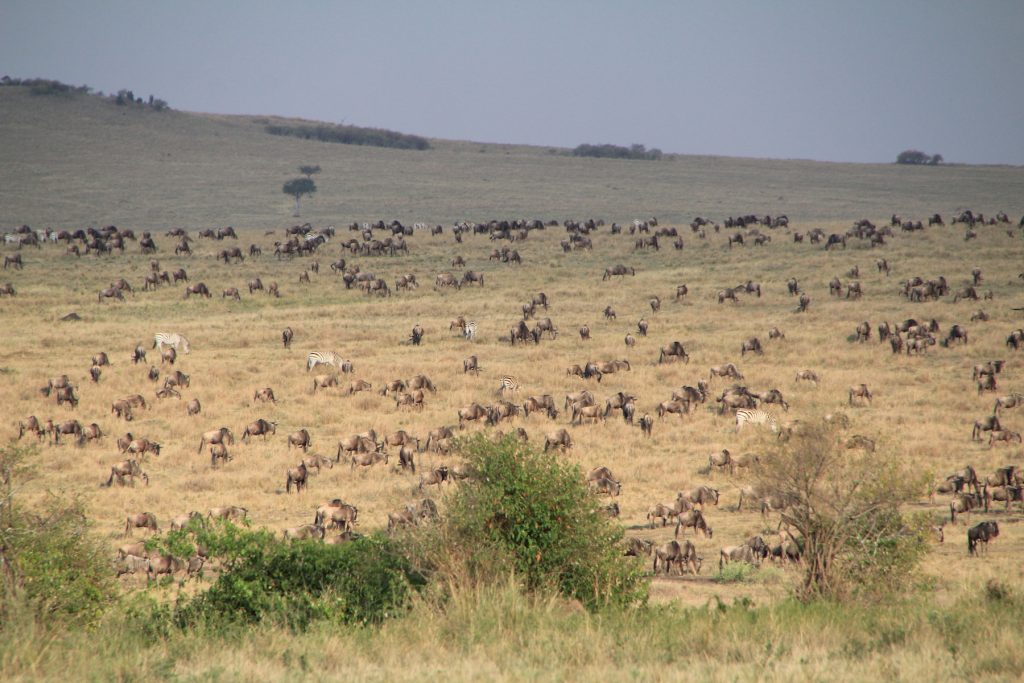 Travel during this time is not for everyone, but my mom and I felt very comfortable going to Kenya despite the pandemic. We took the vacation of a lifetime and experienced some things that will likely never be replicated in my lifetime. It was so special and a trip I will never forget.