Vaccines have always been something to consider while traveling. From yellow fever to tetanus, each country has its own entry requirements. And now with the addition of COVID-19, it can feel overwhelming to keep tabs on what is needed where. While a  medical travel clinic is the best source for all vaccine related questions, we wanted to provide a bit of information to help you manage your personal records, so that each and every trip goes off without a hitch.
Taking Care of Your COVID Card
It is likely that as more individuals receive their shots, some employers or establishments might ask for proof of vaccination. In fact, many destinations are opening to vaccinated travelers. While their exact protocols are still undetermined in most places, there's no doubt your card will play a pivotal role. It is therefore crucial to protect it as best as possible. Travel Beyond will certainly advise every client of requirements but below are a few easy steps you can take to ensure your card's safety:
Scan or take a photo of your card, both front and back. Having a digital version on your smart phone will allow you to easily provide vaccination proof should you be asked unexpectedly.
Make a few copies of your card and store them in different locations. Keep the original in a safe spot, perhaps alongside your social security card.
Avoid sharing your card details on social media. It contains your first and last names, along with your date of birth. This can be used by others to scam or take advantage of you. If you do add a picture of your card, cover up the personal information or blur it, as Craig has done on his picture here.
Alert your primary care physician of your vaccination so they have up-to-date immunization records.
Hold off on laminating, as a booster shot may be needed. There is also the potential for the laminate material to smudge the card's writing. Instead, purchase a plastic wallet or page protector to protect your card.
If, despite your best efforts, the card is lost, reach out to the location that administered your vaccine. With your name and an ID, they can issue a new vaccination card. Otherwise, contact your state's department of health. It records all vaccines administered and can assist in obtaining another.
Other Important Vaccine Information
In addition to your COVID card, it is important to also travel with your "International Certificate of Vaccination" record, otherwise known as your Yellow Card. This document lists all the vaccinations you have received and the dates they were administered. It is particularly important to have this when traveling to a country that requires certain vaccines, such as yellow fever or typhoid. But regardless of need, having this card on hand is crucial in case of accident or emergency.
Because doctors recommend you avoid additional vaccines within at least 14 days of receiving your COVID shot, it is also crucial to map out a vaccine timeline, should you need additional inoculations for an upcoming trip. Be sure to meet with a travel clinic nurse well in advance of your departure to ensure you have enough time to acquire the necessary vaccines safely and effectively.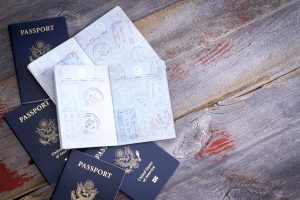 Oh, and don't forget about your passport! It needs to have plenty of blank pages (amendment and endorsement pages at the back of your passport do not count) and must be valid for at least six months after your return to the United States. Should you need to renew, please note that processing time now runs 2-3 months. So, apply early and make sure Travel Beyond has a colored copy!
Staying on top of  your vaccines and protecting their documentation might seem tedious. But doing both is the best way to ensure you're ready to set off on your next adventure. Memorable travel awaits!