At first glance, Namibia might seem like one of Earth's most desolate places and may appear to offer little to interest the average traveler. Yet within its borders there are treasures and startling beauty not found anywhere else on the planet, such as the largest subterranean lake in the world; the largest meteorite ever found (Hoba); the oldest desert (Namib Desert), which is also the only desert with elephant, lion, giraffe and rhino; the highest sand dunes in the world; the oldest living fossil plants (Welwitschia mirabilis); and the largest free-roaming cheetah population. Namibia was the first to include protection of the environment in its constitution. Namibia is an intriguing destination with universal appeal.
Sossusvlei: A photographers dream
Roughly 230 miles from Namibia's capital city of Windhoek is Sossusvlei, a destination located in the southern portion of the Namib Desert and made famous by its massive red dunes that rise dramatically from its flat valley floors. The dunes of Sossusvlei can reach heights of up to 1,000 feet (roughly 20 feet taller than the Eiffel Tower). In addition to the dramatic dunes, visitors to Sossusvlei will likely see many of Namibia's desert-adapted animal species, including oryx, springbok, ostrich, hyena, bat-eared fox and jackal. Combine the country's 300 days of sunshine with mammoth red dunes and unique wildlife, and you're in for a photo treat.
Swakopmund: multicultural influences and coastal cruises
Swakopmund, a misty and cool coastal city northwest of Sossusvlei, is a popular retreat from the heat of Namibia's inland deserts. It is here where Namibia's unique history shines. Until its independence in 1990, Namibia had been governed at various times by Germany, Great Britain and South Africa. Today, customs, art, architecture and food reflect these African and European influences. The waters off the coast of Swakopmund prove that Namibia's allure extends beyond the land alone. Visitors here can enjoy a boat cruise to view Cape fur seals, rare Heaviside's dolphins and unique birdlife that call Namibia's Atlantic shores home.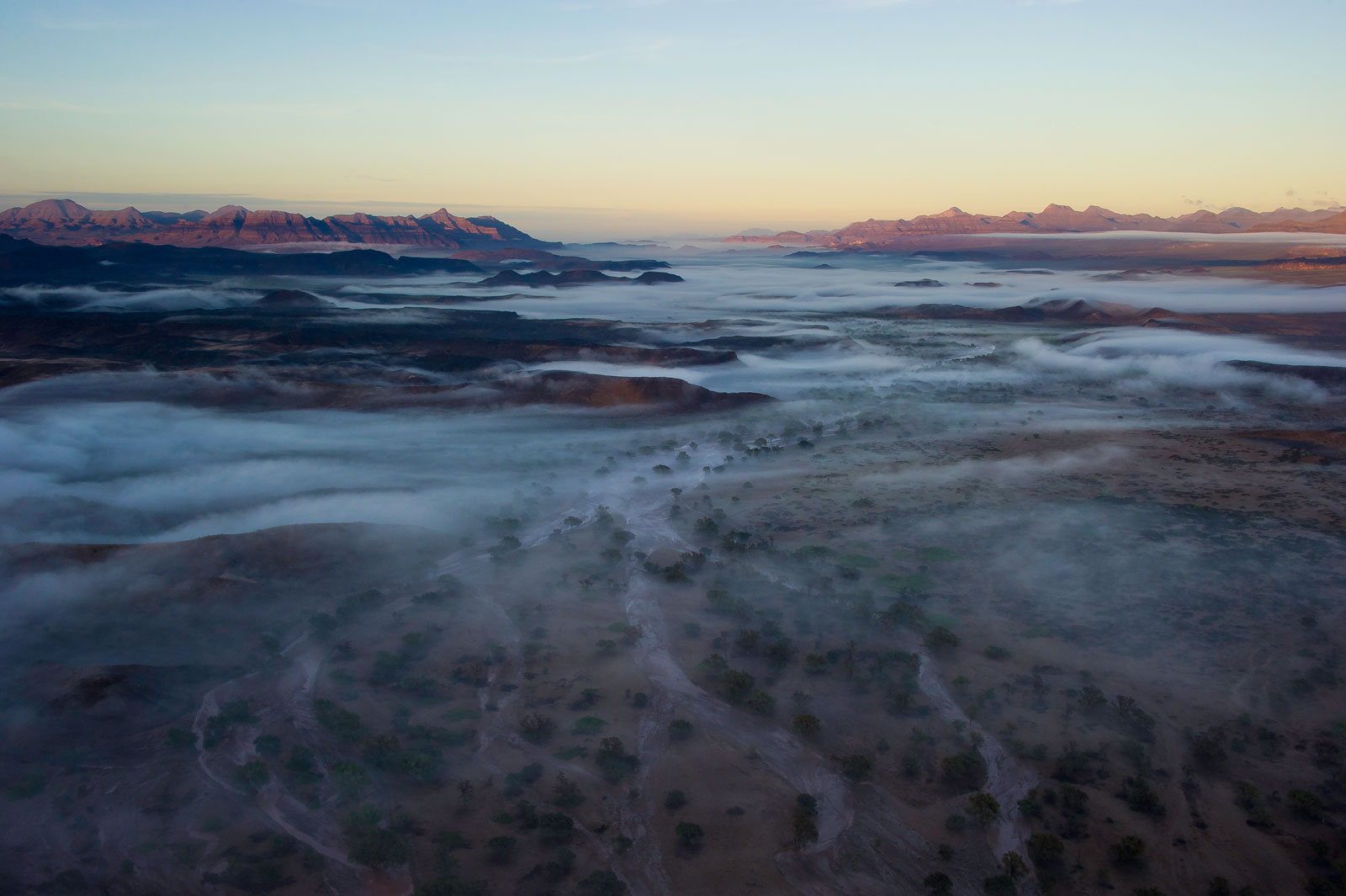 Damaraland: stark desert beauty
Travel up the coast, away from Swakopmund and you'll be introduced to yet another landscape: the rocky and rugged desert region of Damaraland. Despite its aridity, Damaraland hosts a surprising variety of flora and fauna that are sustained by the morning mists that drift inland from the coast. The dramatic hills of Damaraland interspersed with sweeping valleys are also home to one of Africa's few populations of desert-adapted elephants, as well as the desert-dwelling black rhino that some authorities regard to be a distinct race. Visitors to Damaraland have a rare and special opportunity to take an active role in protecting these rhinos by participating in rhino tracking on foot or by vehicle. These tracking activities provide useful data, including movement patterns and health information to Save the Rhino Trust, an NGO actively seeking to save the rhino population from poaching and other threats.

Etosha: Where animals and imaginations run wild
East of Damaraland is Etosha National Park, Namibia's best-known tourist attraction and one of the most interesting game reserves in the world because of its unusual terrain. Etosha is a combination of dried lake (salt pan) in the north and grasslands, dense brush and open plains in the south. When the sun glints off the 6,500 square mile blindingly-white salt pan it provides an eerie backdrop for animals moving through the shimmering haze. Dust in the air adds to the mystery by making everything slightly indistinct; and since mirages are common, visitors may occasionally question what they've really seen. Etosha is widely regarded to be a photographer's paradise, especially during the dry winter months (May – September) when wildlife congregates around waterholes that line the pan. It is here where herds of springbok, impala, zebra, giraffe and elephant gather and thus attracting their known predators—lion, leopard and cheetah.

Skeleton Coast: shipwrecks, seals and nomads
Located in the northwest corner of Namibia, the Skeleton Coast is one of the Earth's most remote, starkly surreal and peaceful places. It is home to misty shores, rolling dunes, rare fossils, rugged mountains, ancient valleys, unique wildlife and endless space. One trip here and you'll understand the strength of the Atlantic currents, which have washed up the skeletons of historic shipwrecks and bleached whale bones. The combination of ocean fog, shipwrecks and enormous scattered bones give the deserted beaches a haunting façade. However, the beaches of the Skeleton Coast are brought to life by Cape fur seals that draw the attention of many predators like brown hyenas and jackals, creating a truly unique coastal experience.
A visit to the Skeleton Coast also brings a remarkable opportunity to visit the Himba people of northwestern Namibia. As one of the last semi-nomadic groups in the world, the Himba have adapted to Namibia's often harsh environment while still keeping true to their longstanding traditional customs and attire. The Himba live in small dwellings with extended families, which surround their livestock enclosure and an ancestral fire, an important element of ancestral worship. Their customary skirts, shelled jewelry and unusual reddish skin tone (created by a special applied cream called otjize) are only part of their unique lifestyle. It's their conversations about keeping traditions alive in an ever-changing world that visitors will never forget