I am not a great packer. While the process might be effortless for some, it does not come naturally to me. I write (and then rewrite) my lists. I check (and then recheck) my piles. I organize (and then reorganize) my suitcase. And when I finally get to where I am going, I realize that while I always have the basic essentials, I am often missing the "extras" – little things that don't take up much room but would have added to my comfort on the trip.
On a recent adventure to Ecuador and the Galapagos Islands, I was (for once!) quite pleased with my preparation and packing. At several different times, I realized I was really happy I had packed a few little things that made a big difference – and vowed to make a list of these items to share when I got back.
Note: Travel Beyond provides Galapagos travelers with a full packing list prior to their trip. This list has been well-curated by our team members who have collectively visited the islands more than 25 times and you can absolutely trust this comprehensive summary of the most essential items to bring!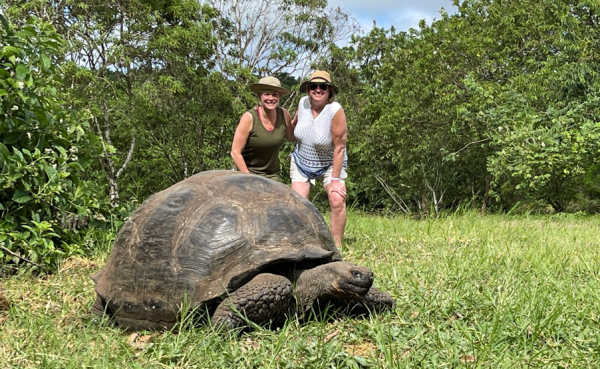 MY GALAPAGOS MUST-HAVES
Packing Cubes: I had never considered using packing cubes before this trip, but given the logistics, I decided to give them a try. I had to pack for differing weather conditions: we had two days in Quito (expected temps in the 60s), a week in the Galapagos (expected upper 70s and swimwear required) and two days in the highlands (expected 50s-60s, with possible rain). Separating my clothes into different cubes helped me avoid suitcase overwhelm and kept me organized. They were so handy for managing my clothes through different activities and climates! Packing Pro-Tip: No matter where you are, dress like an onion! Layers will help manage temperature changes and any rain/moisture you may experience. Even in the Galapagos, a long-sleeved shirt can be so helpful to protect sensitive or sunburned skin.
Waterproof Bags: My waterproof bags were life savers in the Galapagos. Safety is a priority on your panga (small rubber boat) rides but having an extra layer of protection for items such as a camera, phone, or other electronic devices can never hurt! And if you choose to snorkel, swim, or walk in your water shoes on the day you depart the islands, you can then place them into the waterproof bags to keep the rest of your clothes away from any lingering moisture. Eco-Friendly Pro-Tip: While plastic kitchen storage bags work well, avoid the waste by purchasing an inexpensive set of reusable bags.
Sunglasses Strap: We were on a boat with sixteen total passengers and by the end of the week, three of them had dropped a pair of sunglasses into the ocean. This can be a costly accident, but also an unfriendly eco-issue in these pristine islands. You are likely to spend a fair amount of time looking down into the water to see fish, sea turtles and more, so use the strap! Remember to check the strap occasionally, to make sure it fits tightly and continues to protect your sunglasses. Sunglasses Pro-Tip: A nice pair of polarized sunglasses can offer better eye protection and reduced glare. They can also make colors appear more vibrant by increasing contrast. Your most memorable moments will take place outside, so you will be happy you have the polarized lenses!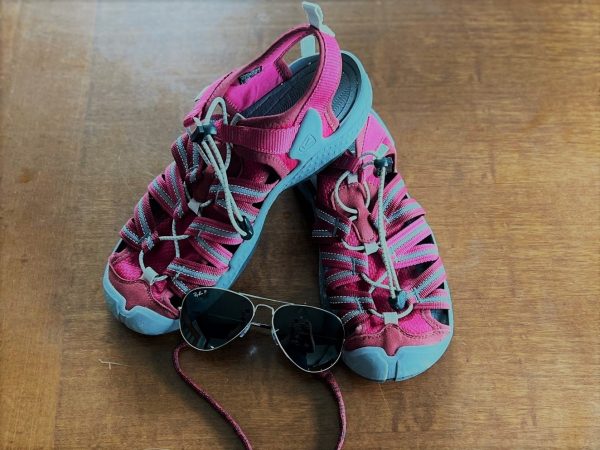 The Right Shoes: I didn't own any type of water shoe, but once I began researching, I decided to purchase a pair of Keens for the trip, and they were perfect! They were great water shoes (for wet landings) but also grippy enough to walk around on land without slipping. Having one pair of shoes for both hiking and water activities was super convenient and helped with packing! Shoe Shopper Pro-Tip: Before I left for Ecuador, I wore my new shoes around the house to get used to them and make sure I didn't get blisters or sore feet.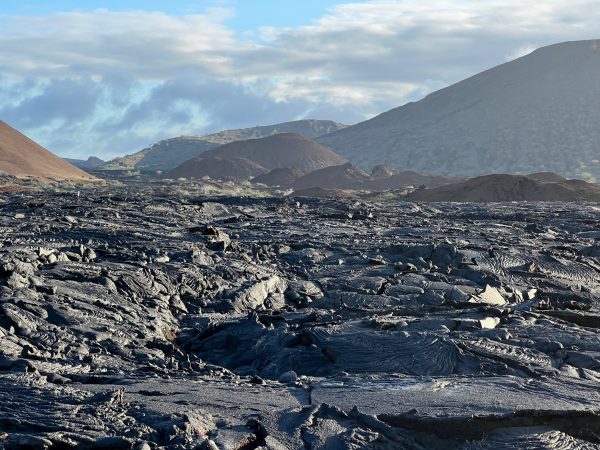 Bi-Focal Sunglasses: If you need your reading glasses to see up-close images, consider bringing a pair of bi-focal sunglasses when you travel. I use "cheaters" to help me read or see things up close and there were days I forgot to bring my reading glasses on the panga with me. I joked that it was like I got to go on the excursion twice: once when I was really there and once when I got back to the boat and could actually see the pictures I took! You can usually purchase these in pharmacies or online and many times, I wished I had a pair with me.
TWO Swimsuits: Swimsuits don't take up much space and you will be really glad you have a second dry suit if you participate in two water activities in a day. Nothing worse that getting into wet swim clothes!
Camera Stabilizer: Shortly before my trip, my kids surprised me with a really cool cell phone stabilizer. I needed practice to use it correctly, but I loved having it with me in the islands! Videos taken from panga rides turned out smooth and "bump-free." Even video taken as I was walking on uneven terrain turned out beautifully! Additionally, I was able to create wonderful panoramic photos and using the time lapse setting allowed me to great videos of the incredible sunsets.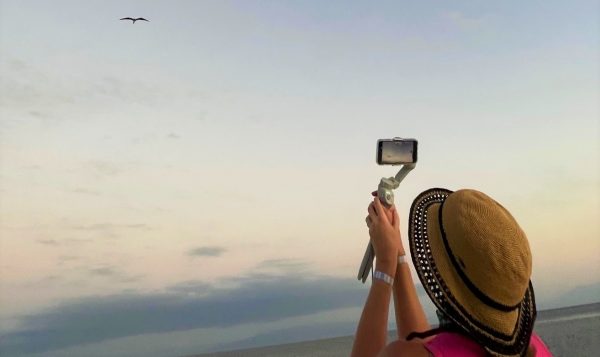 Boat Shoes: Boats in the Galapagos are barefoot-friendly, but if you are like me and like to have something covering your feet, consider bringing an inexpensive pair of flip flops that are for indoor (on-the-boat) use only. Flip flops are not helpful when you are on your excursions but having something clean to slide on your feet while onboard may make the trip a little more comfortable. Cold-Feet Pro-Tip: My feet are always cold! I was glad I brought my favorite pair of slippers to wear on the boat and keep my toes warm.
So there it is: A traveler's guide to the items that make a Galapagos trip even more perfect. Your list may be slightly different, depending on the things that may make your trip a little more comfortable for you.
When it comes to packing, the best "Pro-Tip" is to think carefully about what you really need and balance this with any luggage weight restrictions you will have. Smart packing takes time at first, but the overall benefit of your planning may just mean that you will have room for a few of YOUR favorite comfort items, too!
Happy Travels!