After planning my most recent African adventure, I realized that my necessary preparation was quite different than previous trips. Instead of a typical safari experience where I could relax in a vehicle and watch wildlife, I would be climbing Mt. Kilimanjaro! Having never climbed a mountain before (or even been to much of an elevation), I knew this journey was going to test me both mentally and physically.
For this adventure, I decided to add a fundraising factor into my plans. I focused on raising money for the Maasai Olympics, a great organization that focuses on enriching the Maasai communities as well as lion conservation.
I booked my trip about seven months before the climb, which allowed me a good amount of time to work out, buy the necessary gear and think many positive thoughts about getting to the top!
The Workouts
I was in a minor car accident six months before my training began and was dealing with back issues because of it. This made it even more critical to focus on strengthening my back and core. In addition, since the climb requires some long days of hiking, strong legs and a lot of cardio are necessary. While preparing for Mt. Kilimanjaro, I recommend focusing on these four major factors:
Cardio / Aerobic Fitness
The more "fit" you are, the more red-blood cells you will carry in your system. Red blood cells carry oxygen that will greatly help with your acclimatization in an oxygen-starved environment. Once you're on the mountain, the guide carries a Pulse Ox monitor and will check your O2 saturation level frequently (typically in the morning and evening). I increased the intensity and frequency of my cardio as I got closer to the trip to keep my heart pumping. I started with 2-3 cardio sessions per week and increased to 3-4 times per week. There are a lot of different cardio activities to consider, including running, stair climbing, biking, swimming. Find something that works for you and switch it up. Since much of my prep time was during the winter, I rotated frequently between running on the treadmill and the Stairmaster at the gym. Once it got a little nicer out, I went hiking as well.
Strength
You will be hiking uphill and downhill for 5-10 miles/day for hours at a time at a slow pace. For this reason, it is important to have strong legs, as well as a strong core. Focus your leg strength training on squats, lunges, step aerobics and even biking. For your core, sit ups, plank push ups, and other core-focused exercises are key. The gym I go to offers a wide range of classes, and I found these to be especially helpful, as they offered new core exercise ideas and pushed me to work out even harder than I would on my own.
Hike
Mt. Kilimanjaro is one long hike. Hike as much as you can on longer routes while carrying your pack and wearing the boots you intend to use on the mountain. It is really important to get used to your gear and to break in your boots. I wore my boots hiking, but I also wore them around the house as well to make sure they were as comfortable as possible.
Mental Grit
Kili is a mental game more than anything else. The weather conditions can be tough at times. The summit can seem so far away. Between now and when you climb, do something that makes you uncomfortable for prolonged periods. Some options to consider are running a half marathon, swimming in cold water, etc. I've also heard that meditation can be quite helpful in pushing away negative thoughts and refocusing on the goal ahead: the summit!
I was happy to have an extended period of time to prep for Mt. Kilimanjaro so that by the time I arrived in Tanzania, I truly felt like my body and mind were ready to handle the journey ahead.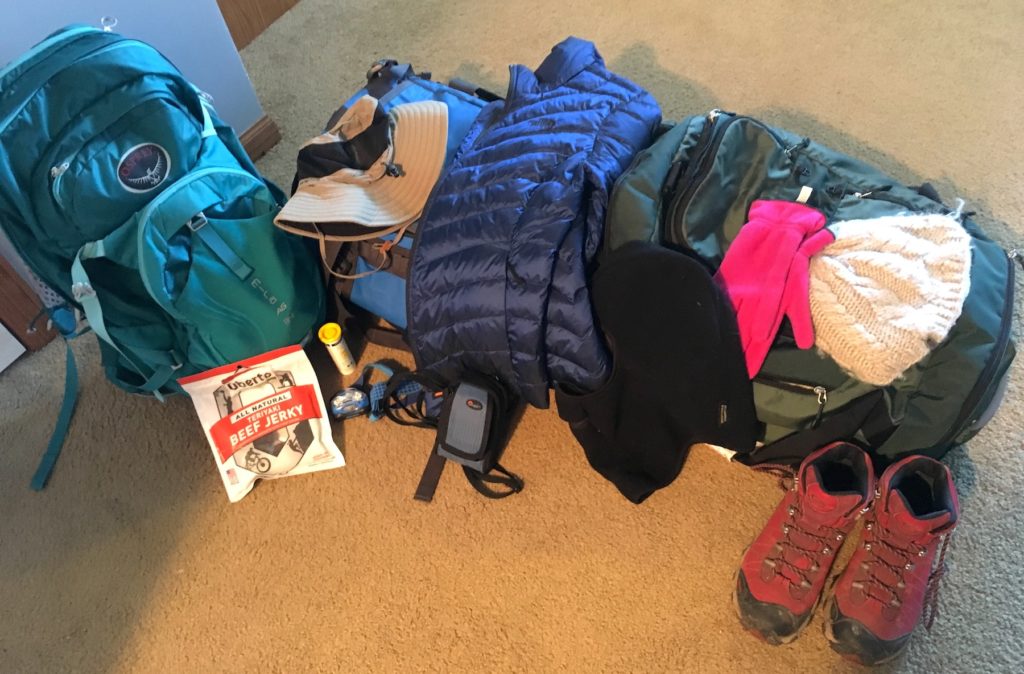 The Gear
There is a lot of gear that goes into your preparation for Mt. Kilimanjaro as well. We provide our clients with a guidebook containing specific details on gear, so I just wanted to mention a few pieces of gear that I am happy I got with plenty of time before my trek.
Hiking boots
I cannot stress just how important it is to get your hiking boots far in advance of your journey. It's also key to go into a store instead of buying them online. One pair of boots might be perfect for someone and just not work for you. I tried on about five different pairs of boots and spent time walking around the store and on the simulated "hills" that they had in store. Try to purchase them from a store that allows you to wear them for a bit and still return them if they end up not fitting properly. Once you buy them, wear them a lot to guarantee they fit well and don't cause blisters or leg pain.
Hiking socks/liners
I initially bought a few pairs of hiking socks without realizing the importance of sock liners. These were great if/when I had any issues where it felt like blisters might start to form. Once I put the sock liner on, it made it much easier to hike for longer distances.
Backpack
While a porter will carry the majority of your gear on the mountain, you will need a daypack to carry the items you need during the day. This is another really important item to try on in-store instead of buying online. You have to be sure it fits you properly and the staff can help you understand how to get the best fit for you. My daypack was 30L and came with a Camelback hydration pack in it, which was really nice during the long days of hiking. This will freeze at the colder temps/higher altitudes, but is nice to use when you can.
Snacks
Your guide will give you snacks throughout your hike, but at higher altitudes, it can become more difficult to eat. With that said, it's helpful to bring some additional snacks with that you know you really enjoy eating. I brought some of my favorite trail mix, beef jerky, and some candy.
Warm layers
There are many different types of warm layers you'll want for your hike, so I recommend really taking the time to think about what and how much you'll want. Certain times of year are known to be colder than others, so the exact recommendations will vary on season. It is important to keep warm on the trail – since it's a tough experience mentally, you'll want to be sure you've done everything you can to be as prepared as possible.
This is just a small glimpse into what I did to prepare for Mt. Kilimanjaro. There are a lot of details, both big and small that you have to think about leading into this trip of a lifetime. We're here to help along the way to get as prepared as possible for this adventure!