My journey to Rwanda in September was an incredible learning experience for me in many ways. While I was in the country for only a week-long educational trip, I still was able to explore various regions in that short amount of time. Admittedly I was shocked to realize how small the country was. You can drive from one end of the country to the other in about 6 hours, as it is roughly the size of Massachusetts. I was also pleasantly surprised to see just how clean it was and how safe I felt every step of the way. The Rwandan people are dedicated to keeping trash off the streets and their residents safe from harm.
Kigali and Gorilla Trekking
We began the trip by spending a couple days in Kigali, staying at the Kigali Serena Hotel and The Retreat by Heaven and visiting the Genocide Memorial Museum. The museum and gardens are very tough to go through and be reminded of the tragedy that struck this country unfortunately not so long ago. However, it is an important stop to make while in Kigali.
Next, we embarked on a gorilla trek in Volcanoes National Park. I visited the Hirwa family, who were enjoying a tasty treat of Eucalyptus trees just outside the forest and in the farmers' fields during the visit. Following our trek, we spent one night at Lake Kivu Serena Hotel. Finally, we rounded out our travels by attending Kwita Izina, the annual gorilla-naming ceremony. This ceremony is attended by esteemed visitors from around the world and many locals, who are able to attend for free. This year 23 visitors were pre-selected and given the honor of choosing names of 23 gorillas who had been born between Sept 2017 and Sept 2018.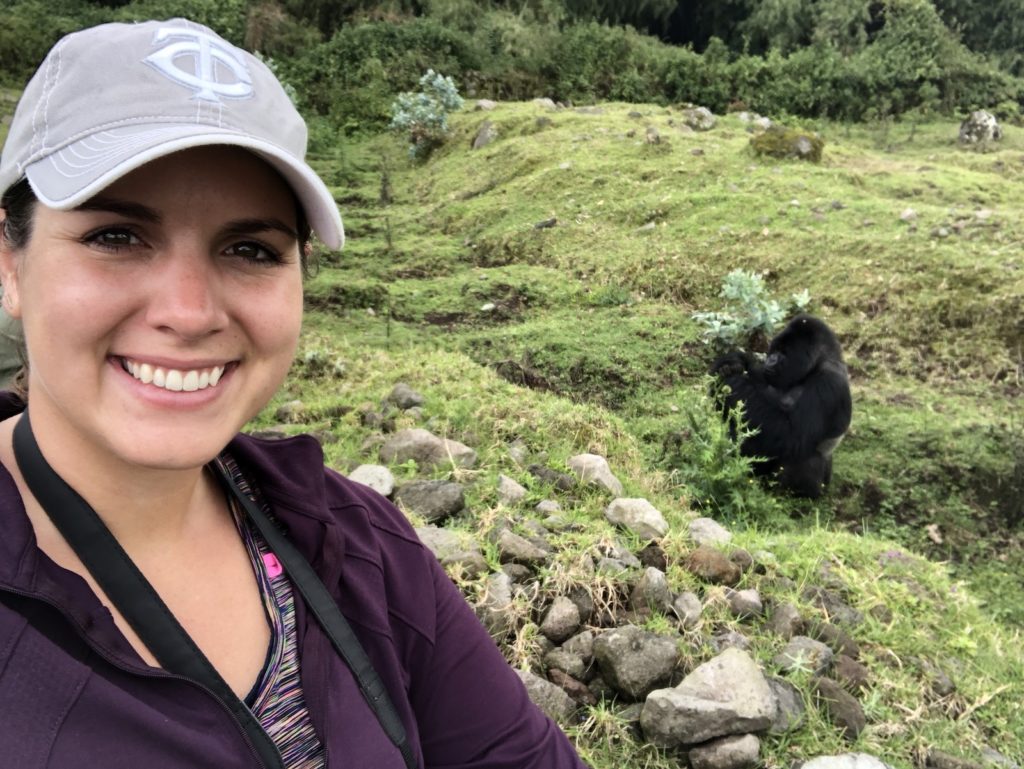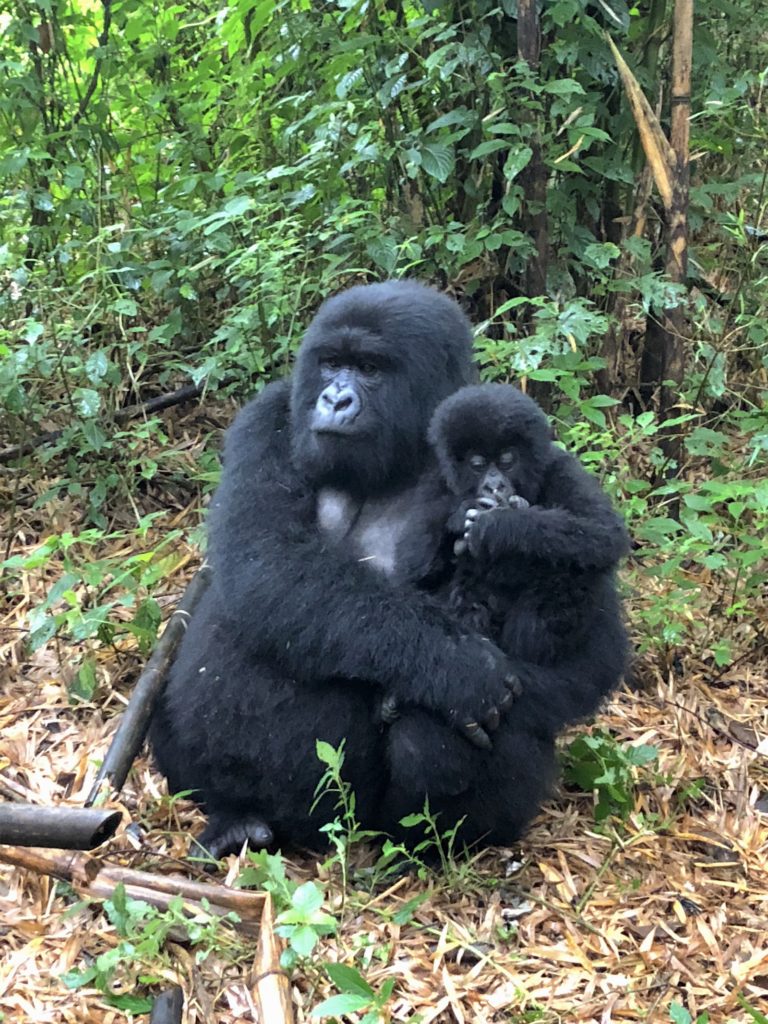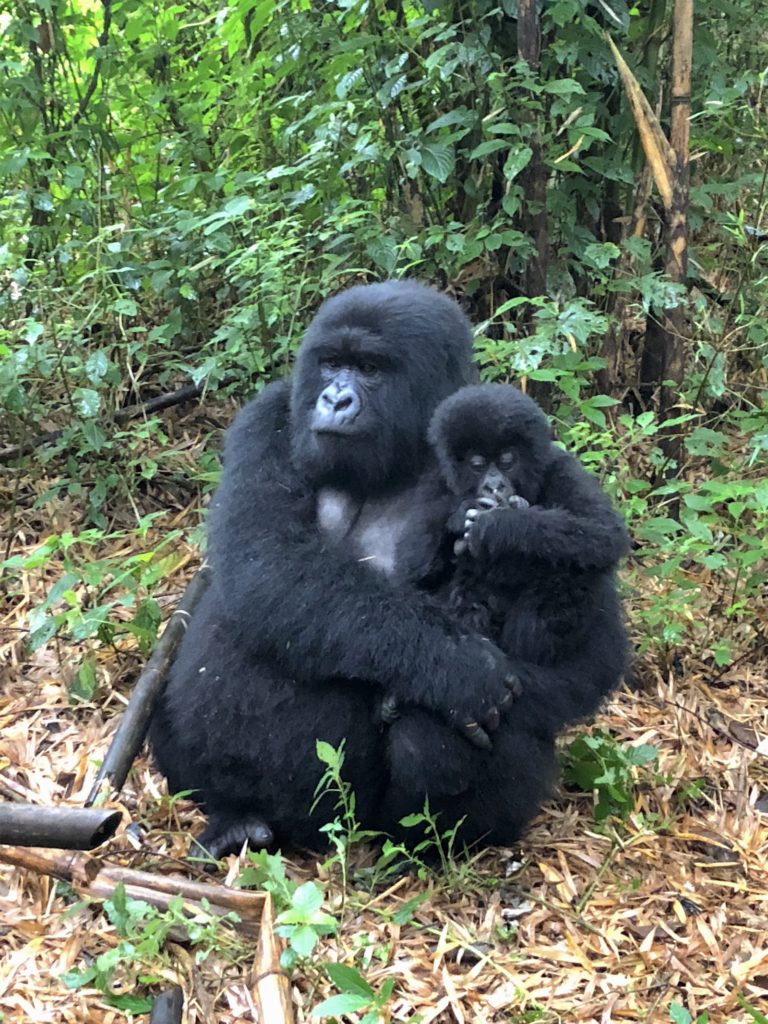 Akagera National Park
Aside from the gorilla trekking, which is one of the most incredible experiences I've been through in my life, I joined six other travel consultants to explore some of the 1,200 square km of Akagera National Park for a one-day excursion. I want to share with you the details of our excursion in the park as this will be somewhat of a new area of exploration for future travelers to Rwanda! While there is one camp currently situated in the park called Karenge Bush Camp, another camp is currently being built as well called Magashi Camp, owned by Wilderness Safaris.
We made our way to the Kigali International Airport to board our helicopters for the 25-minute journey to the park, which is located in east Rwanda. To see the thousand rolling hills along the way was a beautiful sight from above! We were greeted by some locals and met Chris Roche of Wilderness Safaris, who helped us make our way into the park in the Land Rover vehicle.
We spent the next hour or so on a game drive excursion through the park to see its wildlife. Along the way we saw giraffe, wildebeest, topi, warthog, hippo, crocodile, zebra, antelope of different types and various birds. In the park you can also see hyena, leopard, lions, elephant, rhino, sitatunga, the elusive Shoebill stork (which is just one of 500+ different species of birds in the park) and much more! There are lakes and plenty of vast open areas where various animals can be seen in all different corners. We were then surprised with a delicious bush picnic from the Wilderness Safaris team with the view of Lake Rwanyakazinga.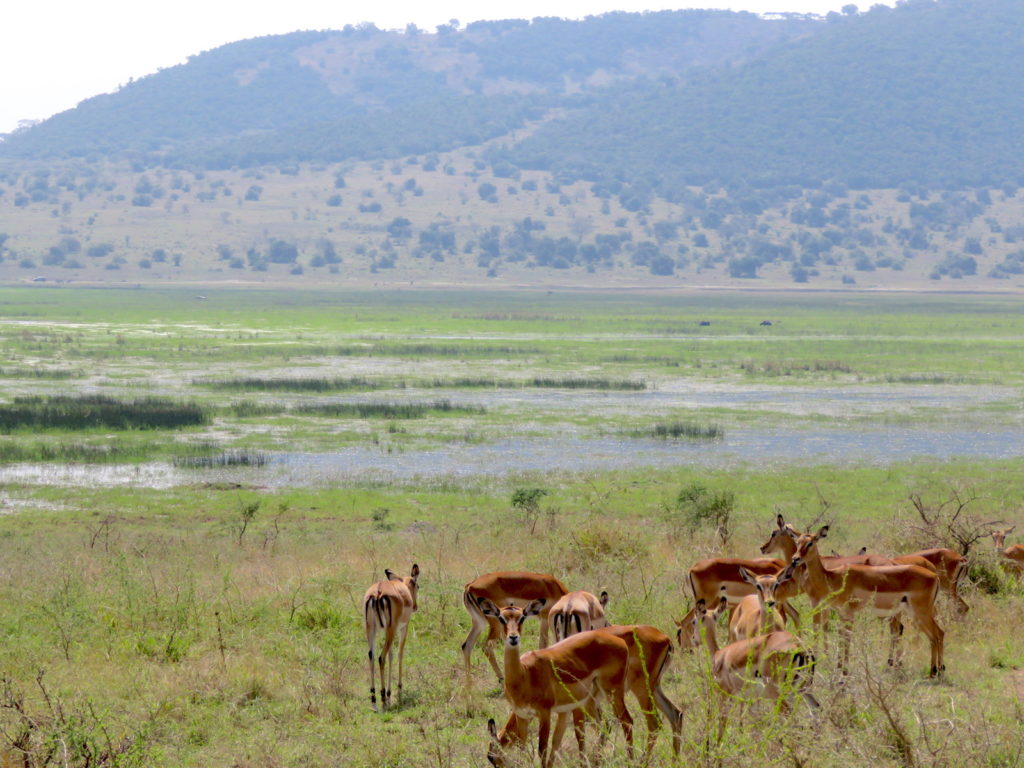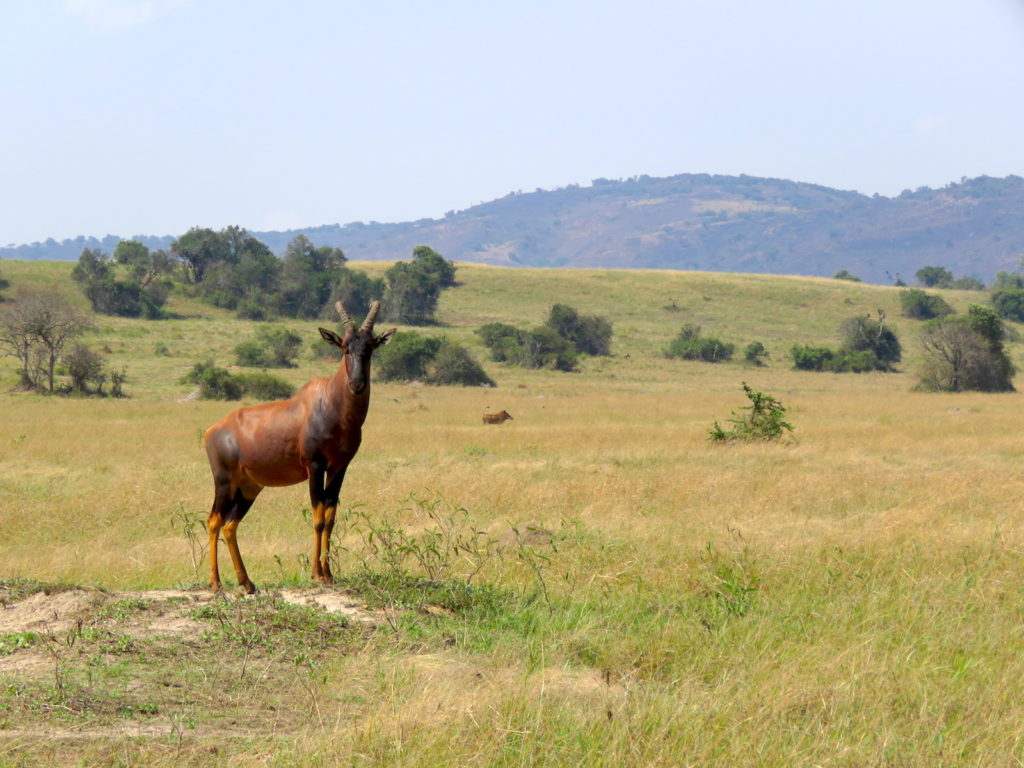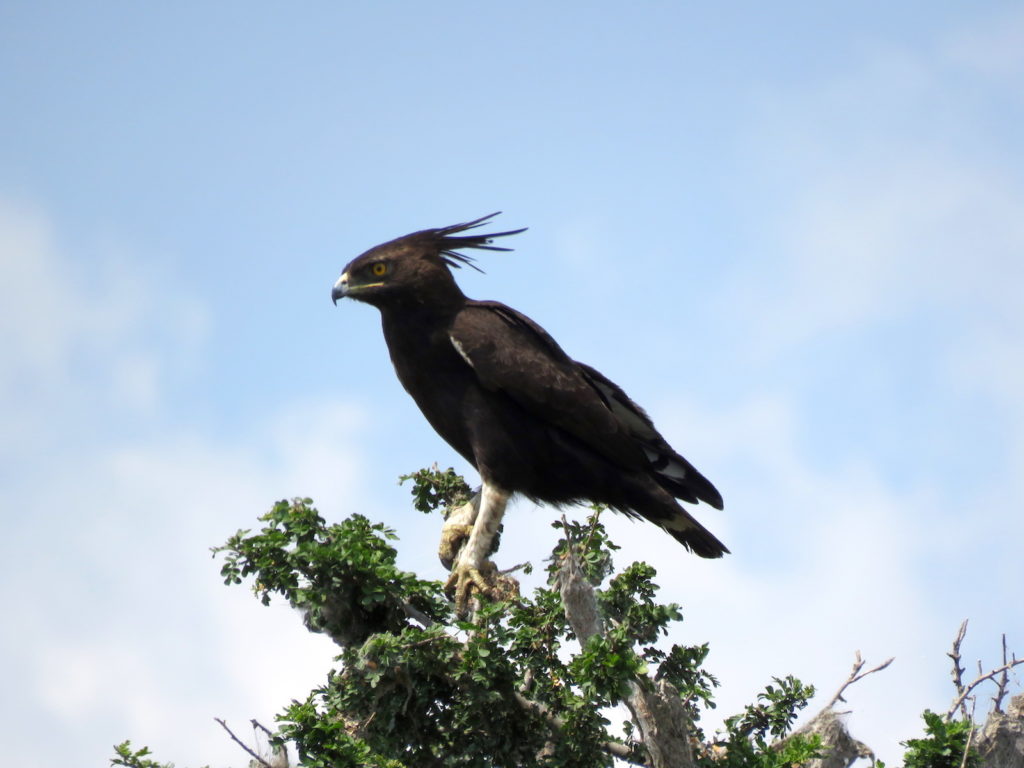 After lunch, we boarded a boat to further explore the lake, where the other agents and I came to realize that we were staring at some of the largest crocodiles and biggest pods of hippos we've ever seen. We also saw the site where the new Magashi Camp is currently being built. At the time, only the water tanks were set up, but once complete, the camp will consist of 6 tents. The activities on offer will include boating, fishing, game drives and bush walks. It is scheduled to open for their first visitors in March 2019, and I can't wait to hear what some of our first clients will see when they go!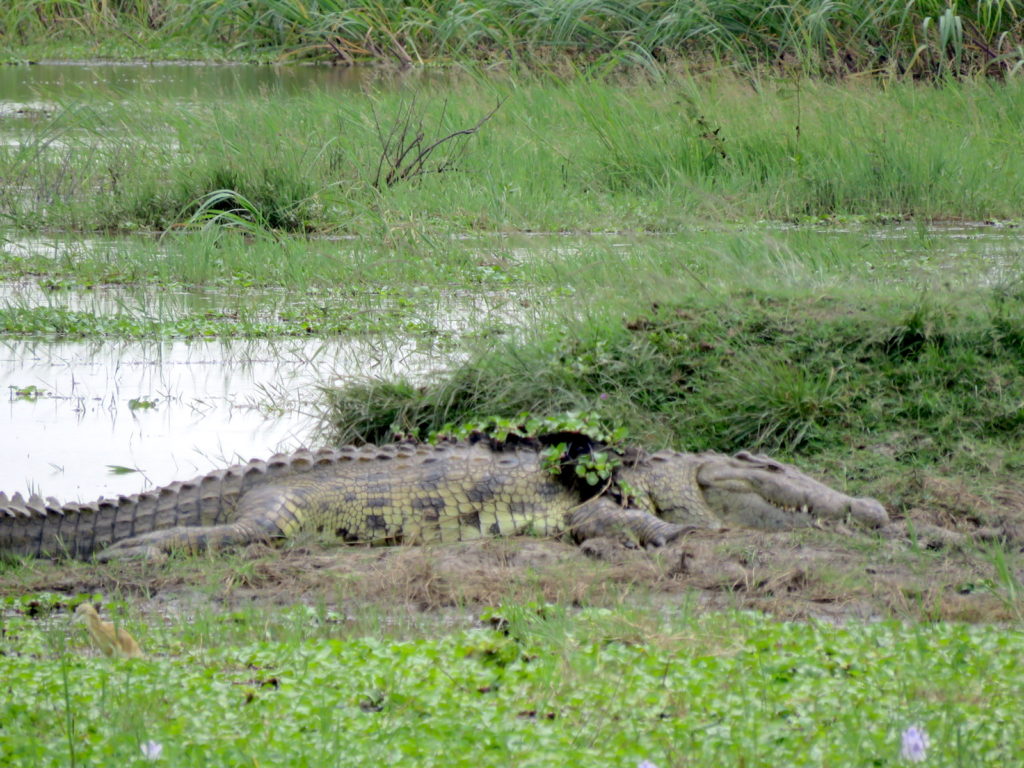 On our way back to Kigali, the sun was peeking through the clouds to create majestic rays sprawling along the country-side. A perfect "see you later" and send off to educate our clients, coworkers, friends and family about the treasures of Rwanda. Future visitors will now be able to experience city explorations in Kigali, gorilla trekking in Volcanoes National Park, chimp trekking in Nyungwe Forest National Park and further game-viewing experiences in Akagera National Park.
When to Visit
The drier months are the best time to go gorilla trekking between December and February, and from about June to mid-September. At present, travelers who spend a minimum of three nights in Akagera National Park or Nyungwe Forest National Park during the months of November to May are eligible for a 30% discount on their gorilla trek permit. This is a great way to see more of Rwanda and also receive a discounted permit price! I'm very excited for travelers to understand all that Rwanda has to offer for themselves!