The Okavango Delta, affectionately known as "the Delta," is one of my favorite places on earth. It's vast, diverse, and rich in both flora and fauna.
What I love most about the Delta is that you can visit any time of year and are guaranteed to have an exceptional experience. The Delta has two primary seasons: The Dry Season (winter) and The Green Season (summer) with transitional seasons in between. From baby animals and prolific bird life in the Green Season to abundant water activities in the Delta's channels during the Dry Season, there is something for everyone.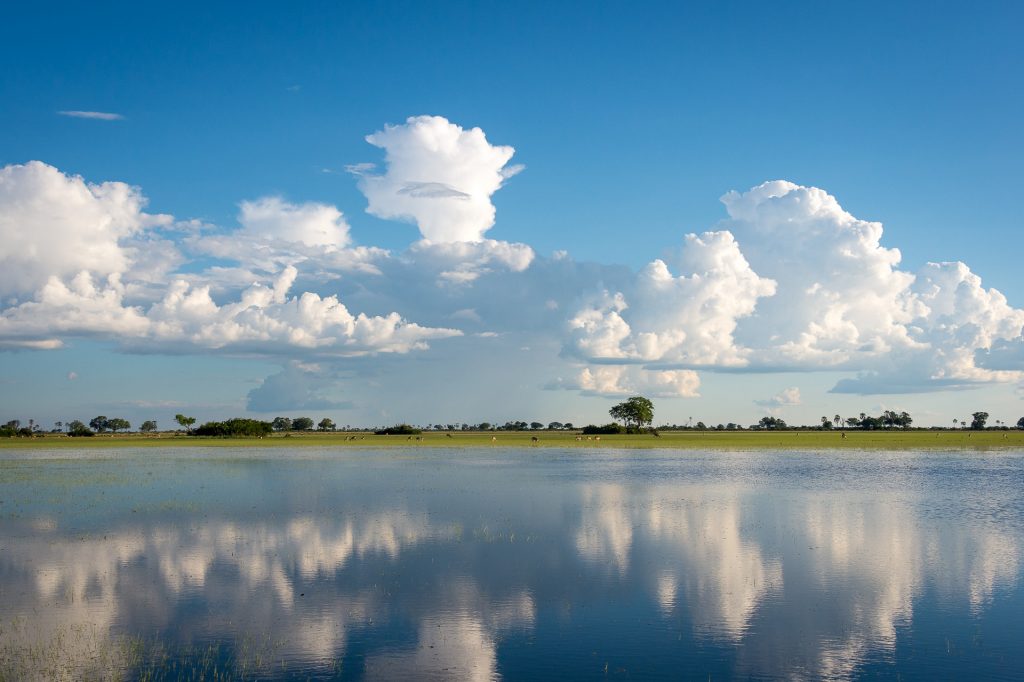 The Dry Season
June through the end of September is known as the Dry Season or Flood Season. Based on historical norms, there is almost no rain and skies are likely to be clear. The mild to warm temperatures prove quite comfortable for most. But expect the evenings and early mornings to be brisk in June as it is Botswana's winter. It's common for travelers to wear a fleece, gloves and a light hat in the mornings and shed their layers as the day warms up.
What's interesting about the Dry Season is while there will likely be no rainfall, there is still plenty of water! The region is fed by earlier rains in Angola (and locally) that then flow south, arriving in the Delta's floodplains around April. The waterways continue to fill until September, with flood levels generally peaking between June and August. From this point onward the floods start to recede, but the exact timing varies from year to year depending on rainfall.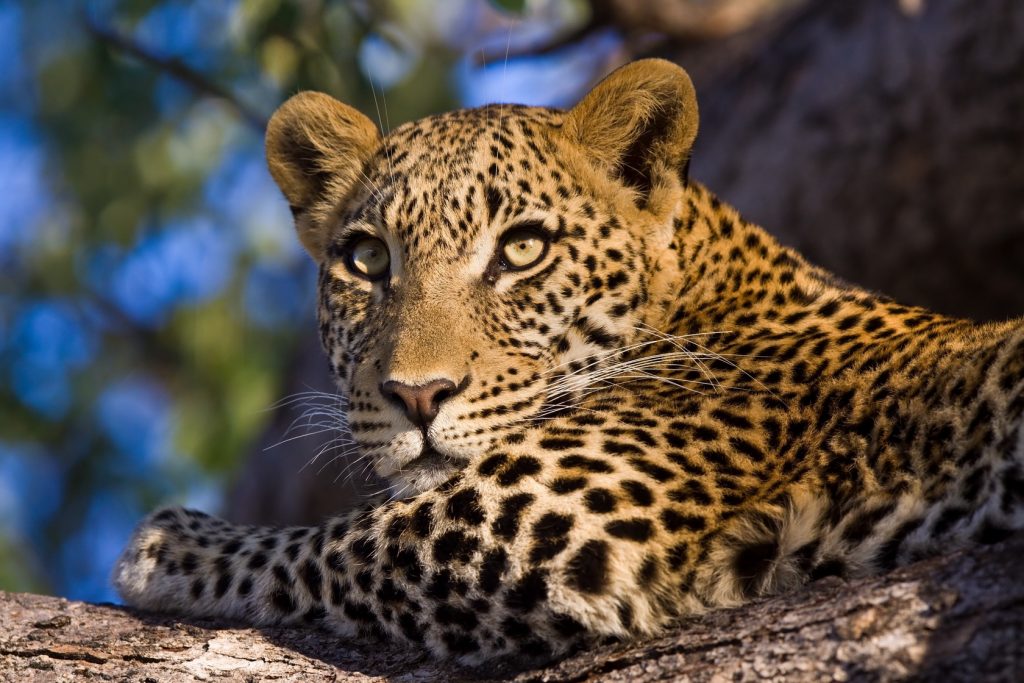 When the floods are in, it's a fantastic time to take advantage of some activities that aren't always available in other game viewing areas.
Mokoro: This is a traditional dug-out canoe used by the local people to navigate the waters of the Delta and also used by travelers to gain a different perspective of the region and its wildlife. In a Mokoro you'll stick to narrow, more shallow waterways and enjoy looking for smaller species like birds, frogs, flora, and more. You may also spot larger animals at a distance, but these encounters are not the focus of this activity.
Boating: Motor boating is a fun way to explore the Delta either with more speed or in wider/larger waterways.
Please note that some camps do offer water activities year-round! It's best to check with your Travel Consultant to make sure the activities that interest you most are likely to be on offer during your dates of travel.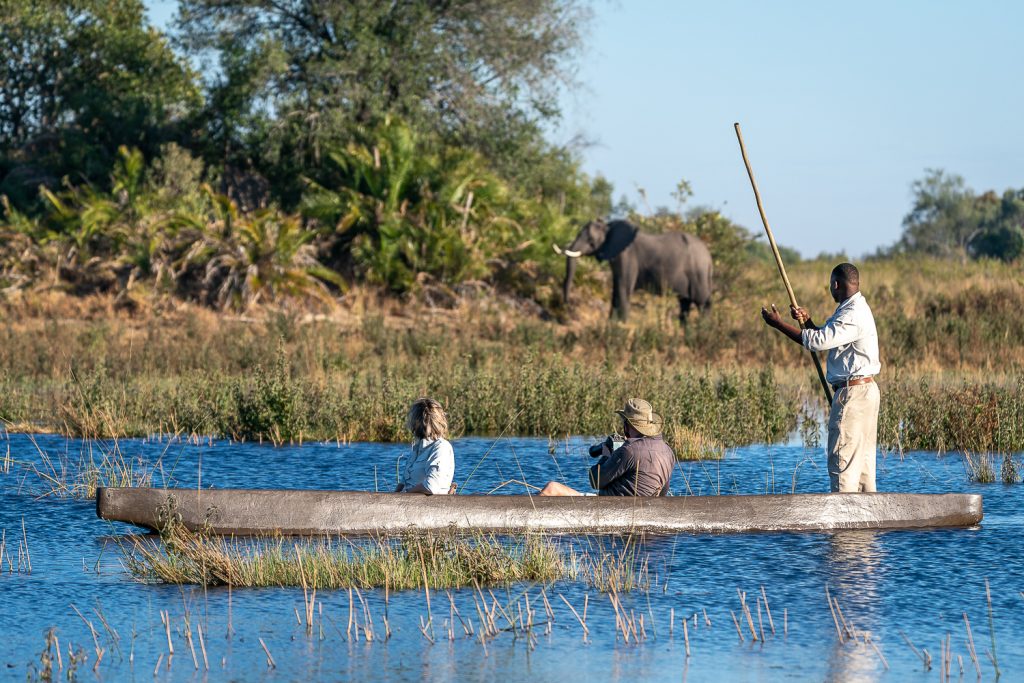 October is still part of the Dry Season but considered to be more of a transitional period. The first rains could come any time although they usually hold off until the end of the month or into November.  October is when the floods recede and temperatures start to get very, very hot in preparation for summer. It is actually one of the hottest months in Botswana.
The foliage starts to die, waterholes dry up and animals have less access to water, making the game viewing increasingly productive in some areas. Visibility for game viewing is at its best during this time because of the dying grasses and trees shedding their leaves. In some parts of the Delta, animals will leave in search of greener pastures such as the Makgadikgadi Pans and Nxai Pan.
Unless you are prepared for the heat (think highs around 110 F), then I suggest either visiting the Delta during a different time of year or staying at one of the few properties that offer in-room air conditioning or plunge pools! Thankfully the humidity is generally quite low, which helps balance out the high temperatures.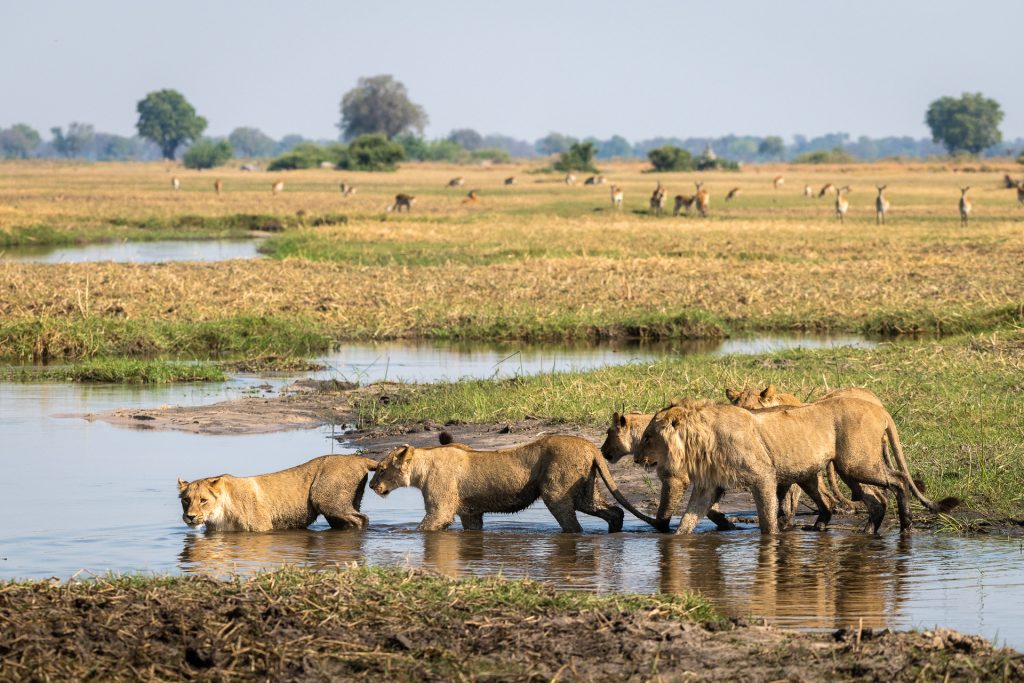 Rates for Dry Season
July through September is the most expensive time to visit the Delta because it is considered the best for animal viewing. Since there is almost no rain, many of the grasses outside the flood plains will be dry or dead making it easier to spot even the most well camouflaged creatures. What's more, the arriving floods reduce the land available to predators, making them easier to track.
With some exceptions, a stay on private land in the Delta starts at about $1,000-$2,000+ per person per night in 2021. For the luxury and premier brands, pricing is closer to $2,000-4,000+ per person per night. There are many camps in-between and a variety of reasons for the price differentials.
For those who want a more authentic, tented camp, you'll likely encounter pricing on the lower end of the scale, especially if you choose one located in a National Park or in an area that's limited to water activities only (no Land Rover game drives or alternative activities). Luxury camps offer a wide variety of amenities and various levels of both service and privacy depending on your preference. Whether you'd like to enjoy communal dining and shared vehicles or private dining and a private game drive, there is something available for you!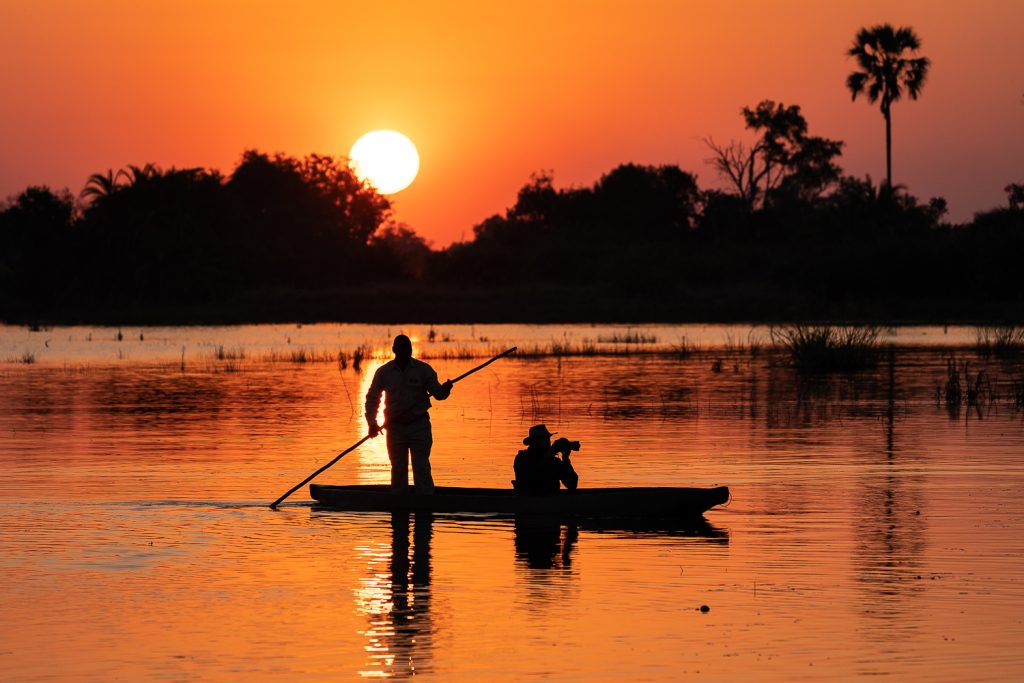 November – Botswana's "Spring"
November is a distinct shoulder season between the Dry Season and the Green Season. While it is considered part of summer, I often refer to it as "spring- like" because this is when the first rains are likely to fall. Temperatures will still be quite high, but the impending rains do ease the tension in the atmosphere. You can literally feel the people, animals, and the landscape sigh in relief when the first drops fall.
It is also an ideal time to spot baby impala, as the antelope wait to give birth until the first rains. This ensures that food will be more plentiful and that the grasses are high enough to provide places for the impala to hide their young. A herd will keep all their babies together in what is known as a nursery which the adults work together to protect.
You will also notice that the grasses, leaves and other foliage grow quickly during this time. I love witnessing the first rains in Botswana for this very reason. It's as if the grass goes from buried in the sand to fully grown overnight. The transition is so quick, you can easily experience Dry Season game viewing and the start of the Green Season during one trip.
The Green Season
The Green Season is also know as Botswana's summer. From November through March, the Delta continues to experience sporadic rainfall, which usually comes in short bursts. These showers, often in the afternoon, leave the grass lush, the trees green, and the landscape stunning, making it an amazing time to be on safari. Plus, the value for your money is fantastic!
This season is well-known for birding, as migrant birds flock to this area to breed and show off their colorful plumage. Also, all the animals in the Delta tend to have a "healthier" look to them because there is plenty of water and food available. Many of our clients travel during this time and never miss a game drive. That being said, you do need to come prepared for rain – add a light rain jacket to your packing list!
It's important when planning a trip to Botswana during the Green Season, that you ensure the lodges offer water activities year-round and strong animal viewing overall. So long as you know the right places to visit, and where water activities are available all year (or at least during your travel dates), you'll have an amazing time.
The Green Season is also a fabulous time to consider pairing your Delta stay with the neighboring ecosystems such as the Central Kalahari Game Reserve, Nxai Pan, and the Makgadikgadi Pans. These provide fantastic game viewing, bushman experiences, and the chance to see the world's second largest zebra migration.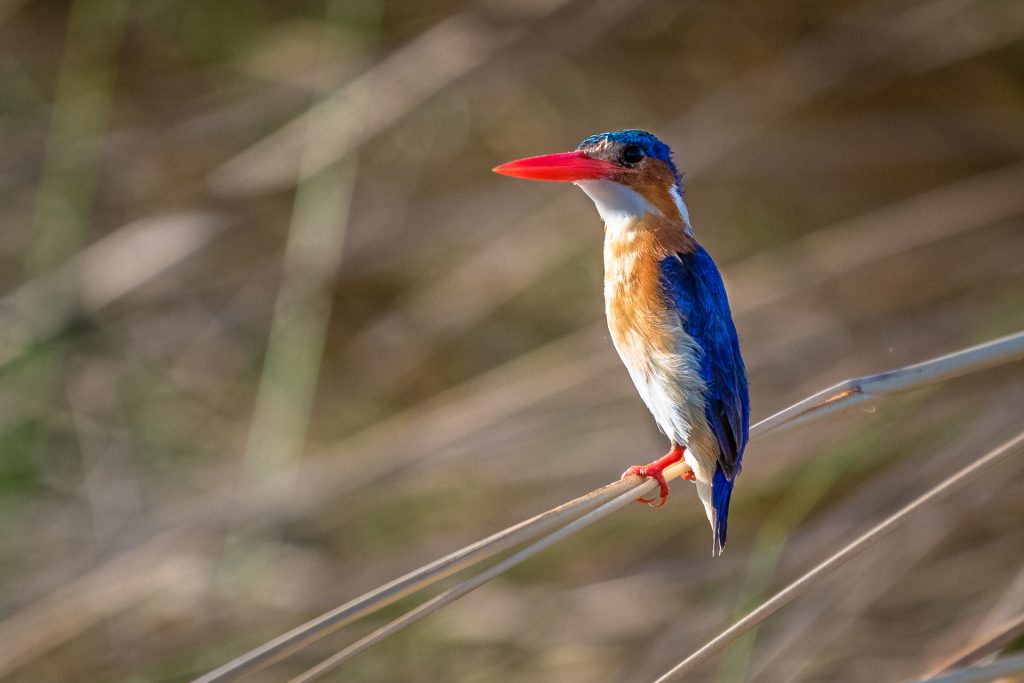 April – May: Botswana's "Autumn"
During these two months, you'll see another transition in Botswana's seasons. The summer rains start to taper off and the foliage will slowly dry up. The earlier part of April is likely to be greener, while the end of May is very close to the start of the dry season. In the places where there was lots of local rain during the previous months, you'll begin to see growing pools of water. Other channels will remain dry until more of the floods pour in from the north.
I enjoy this season because similar to November, you can have the best of both worlds: really great value for money, fantastic game viewing, and a landscape in transition.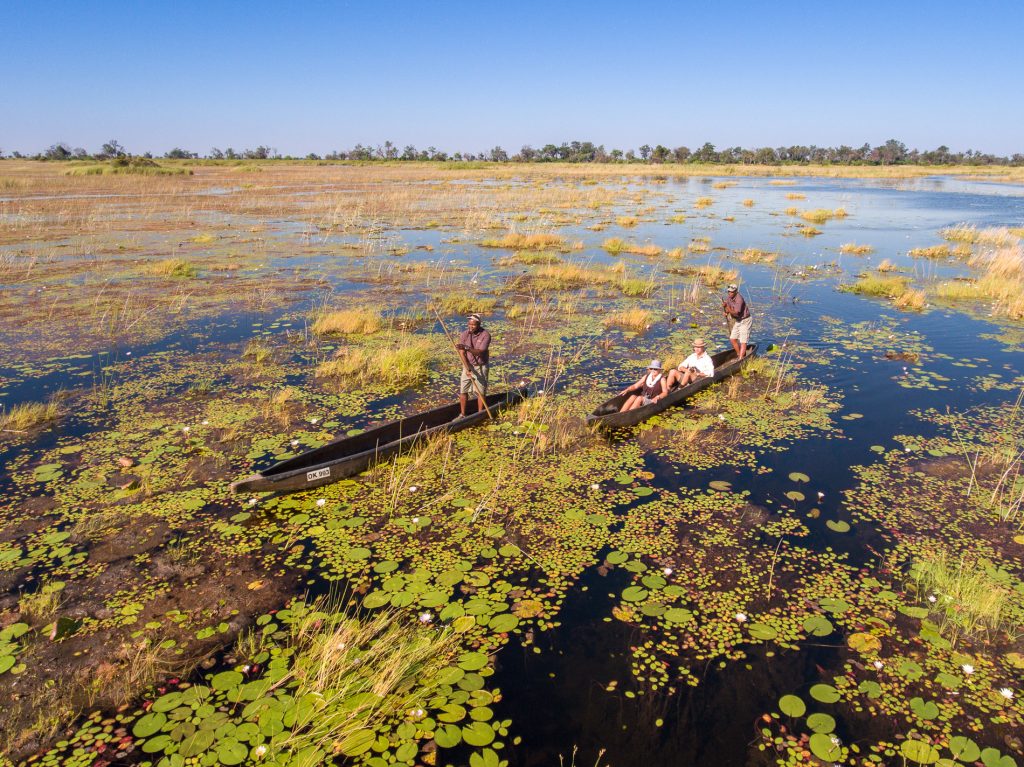 The Okavango Delta is a magical place and offers something for everyone at every time of year!
Please note that with weather patterns changing globally, these seasons aren't as clear cut as they might have been in the past. We've seen record breaking droughts as well as record breaking rains, so keep in mind with every adventure to Africa that Mother Nature sometimes has a mind of her own.