Approaching the Okavango Delta from a bird's eye view, I knew this was a special place. As we flew over this vast open space, seeing nothing but the gorgeous landscape and wildlife, a feeling of serenity washed over me. We had arrived in the soul of Africa.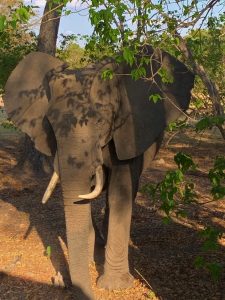 After we disembarked our light aircraft flight, we were off into the wilderness. I lost track of the number of elephants we saw just on our way to the lodge. As we pulled up to camp we were greeted by the staff whose smiles immediately made us feel right at home. We settled in and then headed out on our afternoon game drive. As luck would have it, our guide Nas was also a very skilled tracker. While not something with which I was super familiar, I was immediately fascinated. There is an adrenaline rush that comes from tracing tracks that lead to the discovery of a pride of lions, a leopard perched in a tree, or a parade of elephants on their way to a watering hole. Almost every time we came upon a sighting, we were the only ones there. This feeling, of exclusiveness, is one of the many special things about the Delta.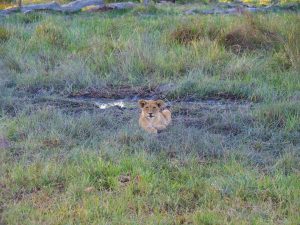 Another feature of the Delta is its water, which offers a unique way for visitors to experience the landscape. The mokoro, the most traditional form of transportation, is a dugout canoe used in the Okavango Delta and is not only exclusive to that area of Botswana but an ideal means to see wildlife.
One evening, as we were moving through the water at sunset, our Mokoro paddler pointed out a small frog on a reed. On our way back to shore we saw a herd of elephants crossing the waterway just as the sun dipped below the horizon. That is something I will never forget. Seeing one of the smallest creatures in the water, then looking up to see one of the largest – it brought everything full circle.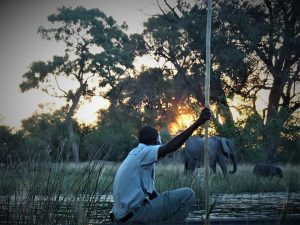 Beyond game viewing and landscapes, there are the people. I thought I understood the meaning of hospitality, but I did not know what it truly meant until Botswana. Every time we drove up to a camp, the staff was there to welcome us home. Just watching them interact with each other, you could feel a kinship and their genuine desire to make every guest feel part of that family. I had never experienced such warmth before. Even during my time in the hotel business, there was never that feeling of sincerity – instead the hotel was strictly viewed as a business and guests viewed as customers. That's when I realized the difference between corporate hospitality and real hospitality.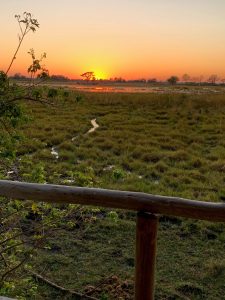 There is something truly magical about Botswana. A place that combines excitement with serenity, a new adventure that still feels like home with boundless breathtaking views. It's hard to describe all that this country has to offer. The best way to know is to experience it yourself. There is so much more than wildlife when it comes to safari and Botswana really showcases what the experience is all about. My home away from home truly is Botswana, the soul of Africa.
Pula! ("rain" in Setswana – used when saying 'cheers' in Botswana)