I am regularly asked about celebrating special occasions while on safari. Trips are often planned around honeymoons, anniversaries, milestone birthdays or other significant life events. Whether you want to celebrate with a quiet glass of champagne or a full-blown party, Africa always delivers a unique and memorable experience!
Since I am the person who is typically helping travelers plan special celebrations during their trip, I thought it would be fun to share how I personally experienced a surprise life event while on safari.
It happened on a recent trip to South Africa, alongside my (then) boyfriend. It was Derek's first visit, and I couldn't wait to share my love of safari with him. I planned to take Derek to Cape Town, the Winelands and on safari in three different ecosystems to give him a very well-rounded experience. I asked for his input on many aspects of the planning, but for the most part, he just said, "surprise me!" As it turned out, I was the one who was going to be surprised!
The Surprise
We decided to travel in April over both my birthday and my 10-year Travel Beyond work anniversary, so we made lots of plans to celebrate. Unbeknownst to me, Derek had contacted Travel Beyond owners Craig and Kay Beal as well as my colleague Melanie Reger to plan a surprise proposal while on safari; and it was truly one of the most magical experiences of my life.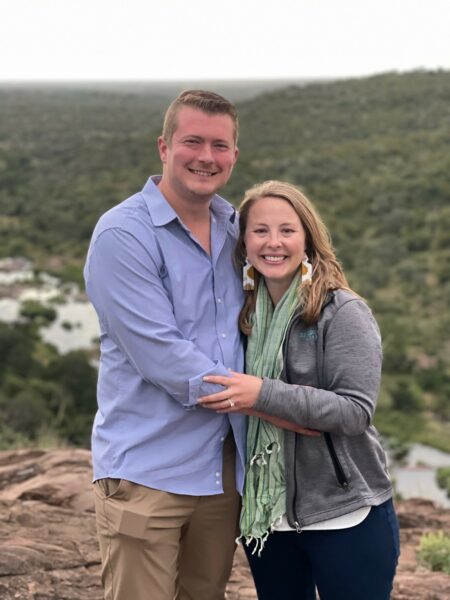 The Plans
First, Derek sought input from the Travel Beyond team about the best place to propose along the way. Looking at our itinerary, they all agreed that Singita Lebombo, located on private land in the heart of the Kruger National Park, would be the perfect spot. I had already arranged to stay at Singita Lebombo for my birthday simply because it was a luxurious property with a stunning setting. What better way to celebrate, I thought? This played into their plans perfectly.
Derek and the Travel Beyond team then worked with Singita to finalize all the details. Together, they arranged for our guide and tracker, Garry and Solly, to take us to one of the most beautiful spots in the Lebombo area during our afternoon safari. As it was also my birthday, it seemed a fitting way to celebrate, so I was all for it!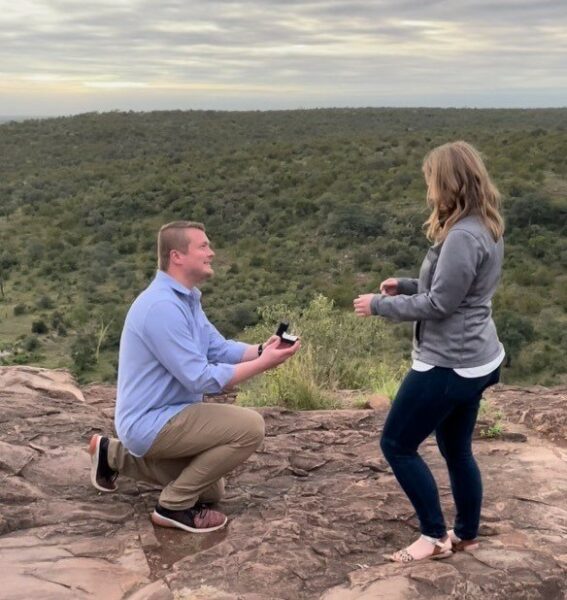 The Big Day
We had two other guests in our vehicle that day and Garry was on a mission to get the four of us to the designated location in time for sunset and sundowners (a safari tradition where we step out of the vehicle to watch the colorful African sunset with a cocktail in hand). Everyone in the vehicle knew about Derek's plan to propose that day, except me.
When we made it to "the spot," it was well worth the drive – as it was truly stunning! You could see into Mozambique from this cliffside in South Africa. The view was lush and beautiful, overlooking a river that seemed to wind endlessly into the distance. Derek and I enjoyed a quiet moment just taking it all in, with the others hanging back. I remember thinking it was sweet of them to give us a private moment to ourselves, entirely unaware that this was all part of the plan.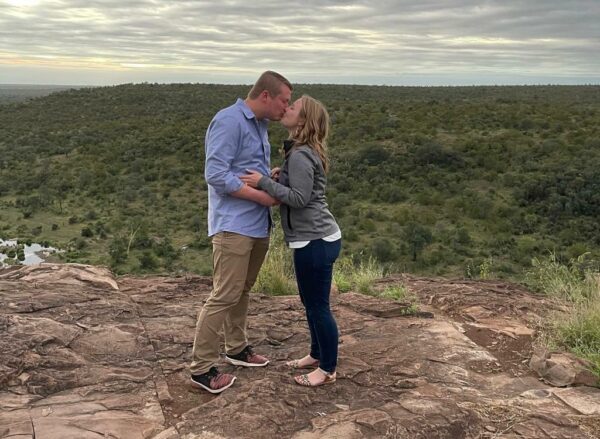 Derek then, nervously, got down on one knee and asked me to marry him. He was so focused on not dropping the ring off the cliff that he completely forgot his love-filled speech. Instead of sharing that when he's with me he feels most at home, he simply said, "please don't drop this, but will you marry me?" I burst into tears and of course said, "YES!"
We shared a private moment of excitement, affection, tears, and just pure loving bliss before turning towards our vehicle crew to celebrate together. Everyone cheered and Garry popped a bottle of champagne. Our jeep-mates showed us all the photos and videos they had taken. We love having the keepsake of this special moment. It was the happiest surprise of my life and one we will always treasure.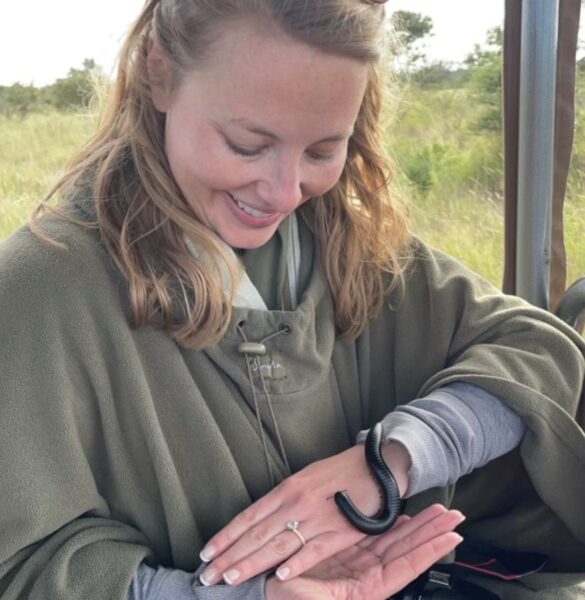 The Celebration Continues…
What's more, later that night Singita planned a special romantic dinner for the two of us. During the meal, what seemed like the entire staff surrounded us to sing traditional celebratory songs. Their voices were so powerful and joyous, it brought tears to my eyes again. We continued to celebrate with more champagne, cake, delicious wine, and a full night of being spoiled by their staff. It was truly a once-in-a-lifetime celebration.
It's impossible to put into words how special it was to be in my favorite place on Earth, with my favorite person, and share such an incredible experience. Derek clearly fell in love with Africa, and we are already planning our next visit. We have promised each other that we will return to Singita Lebombo before our 5th wedding anniversary to commemorate this life-changing adventure.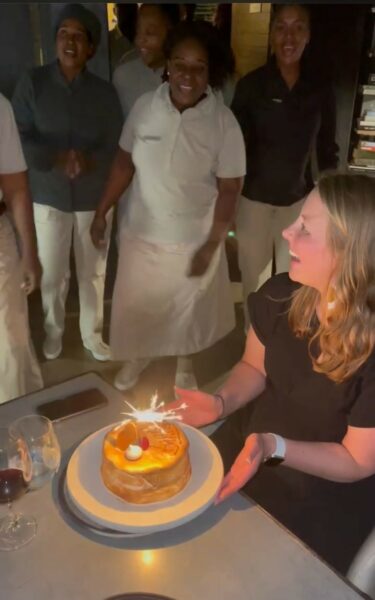 Our wedding is set for next September and we still have lots of ideas that we are considering for our honeymoon some of which include the Seychelles or the Maldives, Kenya, or Madagascar!
Planning a Surprise of Your Own
Our engagement was both a romantic occasion and a sweet celebration that was perfect for us. If you want to plan your own surprise engagement – or celebrate a birthday, anniversary, graduation, or other special milestone – please reach out to Travel Beyond to help! We have great ideas, based on our own years of experience, and our partners LOVE to help plan and execute these events. We can surely help you turn an incredible safari into a fantastic celebration!