Visiting the beautiful country of Mozambique was the perfect ending to my most recent trip to Southern Africa. After the more tightly scheduled itinerary and early-morning wake up calls experienced while on safari, it was a welcome change to simply relax and try out some of the many activities on offer at the Mozambique properties we visited.
We tried a wide variety, each of which added to our overall experience, and many of which were weather and/or tide dependent. To ensure we got the most out of our stay, we'd meet with either the host manager or activities host the day prior to discuss our options and finalize arrangements. It was the ideal way to wind down our adventure.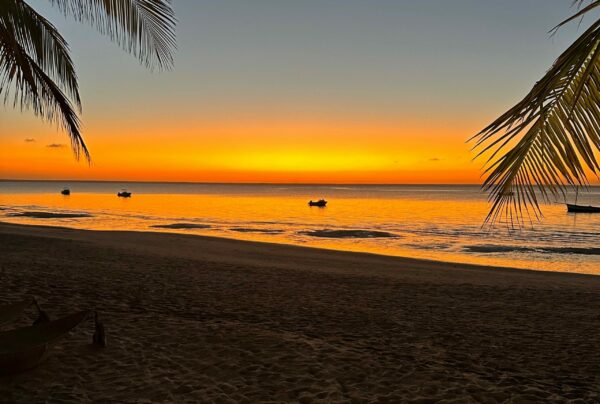 Santorini
Our first stop was Santorini, located on the mainland and roughly 25-minutes from the Vilanculos Airport.  Perched high on the coastal edge, the breathtaking views of the ocean and the Bazaruto Archipelago are one of the first things you will notice as you enter the courtyard.
Water-Based Activities
The coastal waters are shallow here and low tides make it optimal for swimming, kayaking, and paddle boarding. It also means that mainland Mozambique does not have coral reefs. So, activities such as snorkeling require venturing to nearby islands, the closest of which is Magaruque. Thankfully, Santorini offers guests who stay three or more nights an inclusive private boat, allowing visitors to take day trips to explore and snorkel. The full-day island excursion aboard the Aphrodite is one of the most popular activities when visiting Santorini.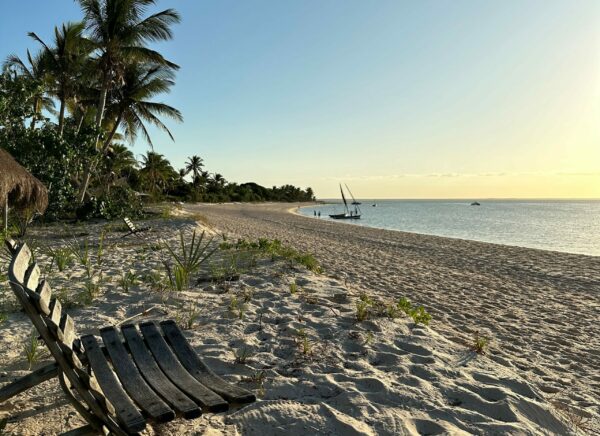 Sunset Dhow Cruise
Another popular activity is the Sunset Dhow Cruise.  While this is not included in your stay at Santorini (the current cost is $50 per person for a shared cruise), it is an excursion not to be missed and was one of my favorites. At about 3:30pm you board a Dhow, or traditional wooden boat. Furnished with comfortable cushions and pillows, you simply sit back and relax. Sailing around the bay for around two hours, you watch a spectacular sunset while enjoying snacks and drinks. I almost didn't want the sun to actually set as it meant our cruise had to come to an end.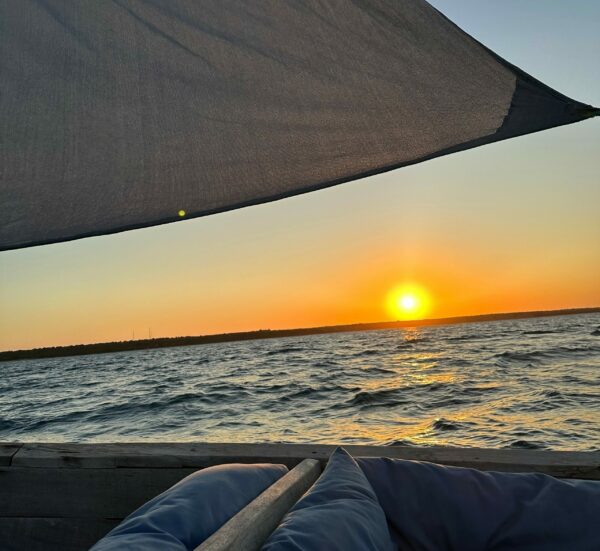 Additional Options
Other activities offered at Santorini include fishing excursions, horse safaris and kite surfing, all of which are available at an additional cost.  And, of course, if you want to forego being active, their spa offers many different treatments to enjoy in tranquility.
Azura Benguerra
After a few days at Santorini, enjoying the mainland and the property's many offerings, we hopped in a helicopter for a 7-minute ride to Benguerra Island. Venturing across gorgeous turquoise blue waters, our first stop on this magical island was Azura Benguerra, which offers two complimentary activities—the dhow sunset cruise and the Island Drive, the latter of which is a very unique experience.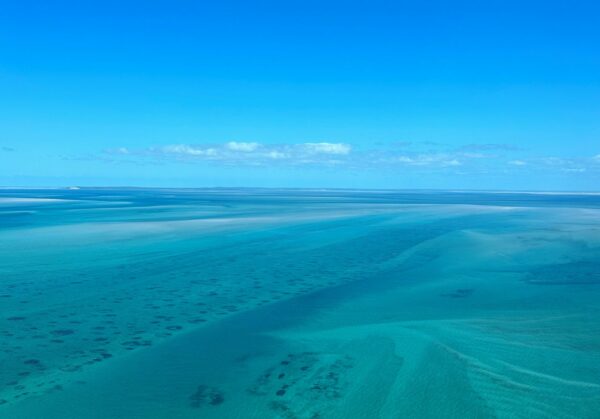 Island Drive
Lasting around two hours, this activity brings guests out into the island communities. There are opportunities to stop at a school and local health clinic. The clinic, established in 2018 and built by the Azura Rainbow Fund, is the first on-island health facility and provides essential treatments and medications to the locals. Guests also have the chance to climb the Benguerra Sand Dune and explore more of the island's flora and indigenous fauna.
Peri Peri Beach Club
Another special experience Azura offers is the Peri Peri Beach Club (currently $40 per person).  Located about a 10-minute walk down the beach from the main lodge, it boasts lounge chairs, cabanas, dining areas, a pool and bar, making it a get-away from your get-away. Open on Wednesdays and Saturdays, this is a great alternative location to enjoy lunch or spend the day in a sociable beach club setting.
Azura has a few other activities at an additional cost as well—including beach picnics, snorkeling at Two Mile Reef, fishing, horse safaris, and scuba diving.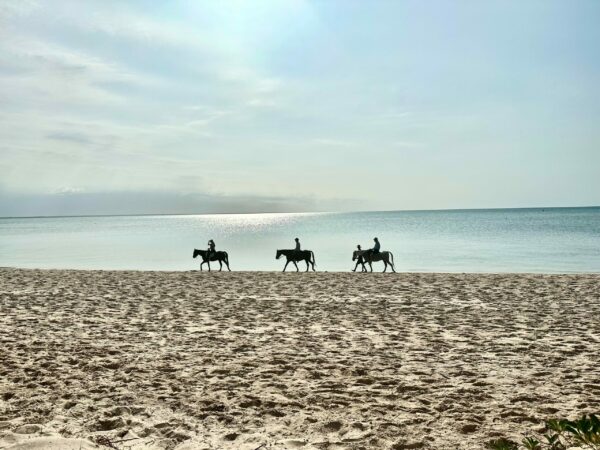 andBeyond Benguerra Island
After our time at Azura, we made our way to our final stop in Mozambique – andBeyond Benguerra Island. Upon arrival, we met with our activities host, Lorenzo, and decided we definitely wanted to try the castaway picnic and snorkeling. We also wanted to experience their dhow cruise. All were inclusive/complimentary for our first trip (for each additional trip thereafter, there is a cost).
Castaway Picnic
My favorite activity while at andBeyond was the Castaway Picnic. Boarding a catamaran, you are whisked away to a private beach. Here, below a canopy, they set up lounge cushions and a table and chairs.  Once settled with drinks, your private butler asks you when you'd like to have lunch. Once they know your preferred time, they depart by boat, leaving you to enjoy the beach in total solitude.  While here, we swam and simply relaxed until our butler returned about an hour later with lunch, which included kebabs and a variety of fresh salads. The food and the views were unparalleled. We lingered for about an hour after lunch and then returned back to the main lodge.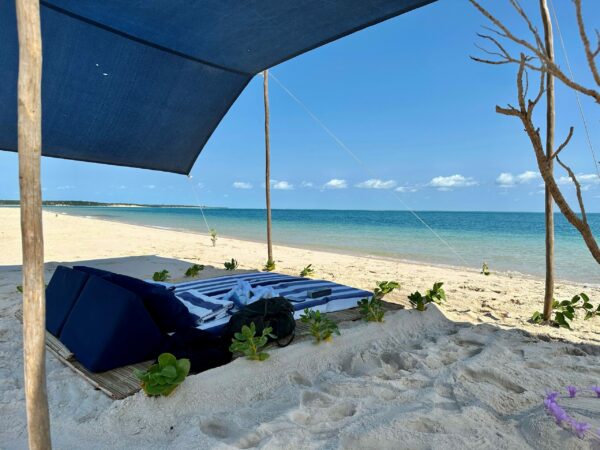 Dhow Sunset Cruise
In the late afternoon, you board a dhow for a sunset cruise.  Since andBeyond rents their boats from local fishermen, they are a bit more traditional and didn't have quite as cozy of a set up. But it is still very enjoyable. This cruise lasts about an hour, and you'll return in time to watch the various colors spread across the sky from the comfort of the property's Dhow beach bar.  It is a beautiful end to another perfect day in Mozambique.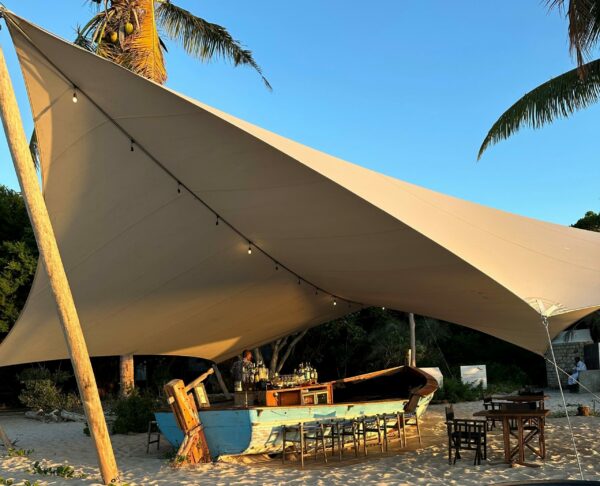 Snorkeling
A snorkeling adventure here is not to be missed. The morning starts at the dive center, where you'll grab fins and masks (wetsuits also available). You'll then hop onto a catamaran for a roughly 35-minute ride out to Two-Mile Reef.  Here, we enjoyed a 45-minute snorkel during which we could observe Mozambique's incredible underwater world.  It's definitely a "Finding Nemo" moment, seeing a variety of hard and soft corals and many schools of reef fish. Our notable sightings included octopus, a sting ray, crocodile fish and a sea turtle. At the end of our excursion, we returned by catamaran to the lodge for brunch.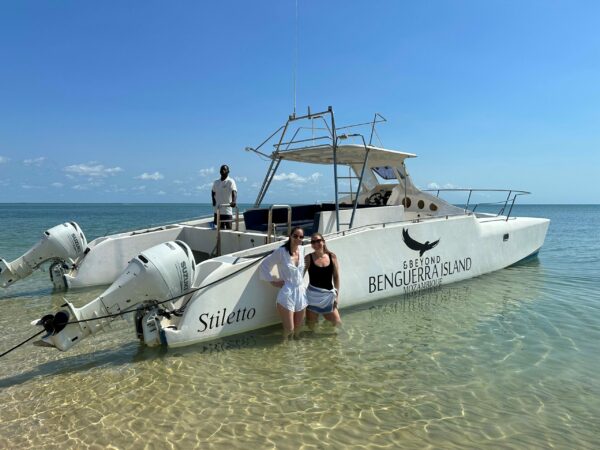 Additional Activities
While we wish we'd had more time at andBeyond Benguerra, we felt satisfied that we got to experience the most popular options during our stay.  Additional complimentary activities on offer include a community island drive(1st trip) as well as swimming with horses (1st trip) and scuba diving (one or two tank dives).  Other activities on offer at an additional cost include private boat charters, deep sea fishing, PADI diving courses, and scenic helicopter flights.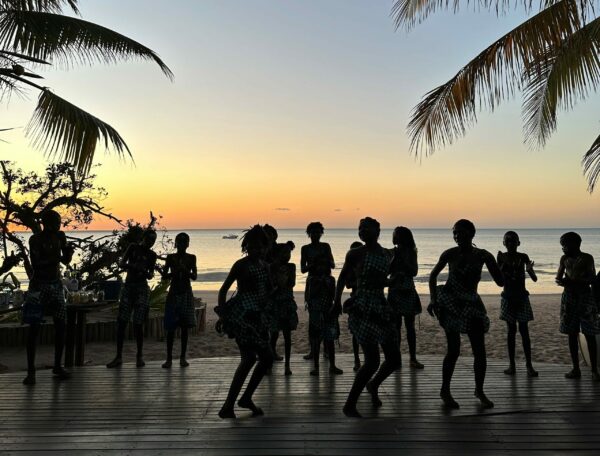 With its stunning water and breathtaking sunsets, Mozambique is the perfect location to partake in the activities of your choosing. Even if your activity is "no activity at all," you'd be hard pressed to find a more relaxing and rejuvenating way to top off your Southern Africa adventure.  You'll feel fully recharged before returning home.