This summer I brought my mom along on another adventure to Africa. This was her third trip in less than three years, so it's fair to say she is hooked!
On this trip, we went to Zimbabwe to visit places that were new to both of us. While I had been to Victoria Falls a few times before, I had never been on safari in any of the country's incredible ecosystems. Over the course of two weeks, we explored Mana Pools National Park, Lake Kariba, and Hwange National Park, before ending up at the Falls.
While there are numerous reasons why I'd recommend that everyone add a Zimbabwean safari to their travel wish list, I narrowed it down to the following three-
1. The Gorgeous & Diverse Landscapes
Each stop on this trip was entirely different from the last. I took many photos of the changing terrain, but they hardly captured how it felt to be immersed in the country's beautiful landscapes. We visited forests, rivers, the world's largest man-made lake, open plains and so much more.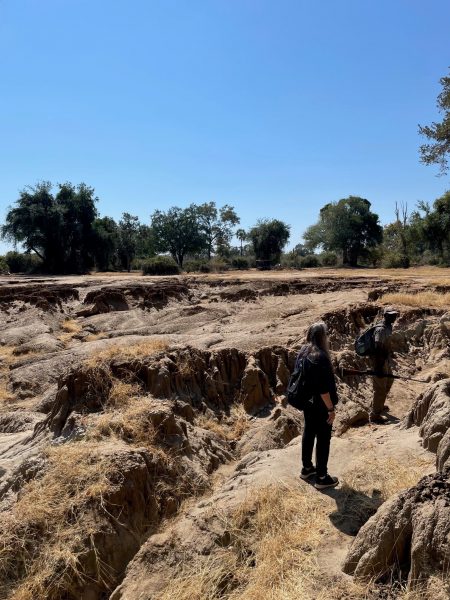 One of the most scenic stops on this trip was Mana Pools National Park. Located along the Zambezi River, this park is so picturesque and diverse. It offers thick mopane forests, open plains, moon-like craters where the soil has washed away leaving large holes in the earth, and unmatched access to the Zambezi River. I was amazed by the arboreal variety, my favorite of which were the strangler fig trees that look like something out of Jurassic Park. These trees attach to a host tree, growing around and eventually killing the host tree. In doing so, they become a behemoth structure within the forest. Looking down from the plane, the landscape is also dotted with Baobab trees, which can be anywhere from hundreds to thousands of years old. That, combined with the river and the mountains across the water in Zambia, known as the Zambezi Escarpment, creates an unforgettable vista. I couldn't believe how much I learned about vegetation, trees, and the river while there.

To fully experience the variety of landscapes in Mana Pools, I highly recommend staying in two different areas within this park for 2-3 nights at each camp. Kanga Camp, for example, is set deep in the forest, whereas Nyamatusi Camp is located on the river's edge near more open plains. It might seem like a lot to spend 4-6 nights in a single National Park, but you won't regret it!
2. The Variety of Experiences and Activities
Because of the diverse terrain within Zimbabwe, there is also a wide variety of activities in which to take part.
Mana Pools offers some of the best walking safaris I've experienced in my almost 10 years of going to Africa. The park is well-known for their talented walking guides, particularly their ability to approach big game on foot. We were able to get close to a wild dog den, elephants, a large hippo pod and a group of crocodile, known as a float. We also canoed along the Zambezi River. This gave us the opportunity to see the wildlife, including birds, hippo, and elephant, from an entirely different perspective. I loved this park!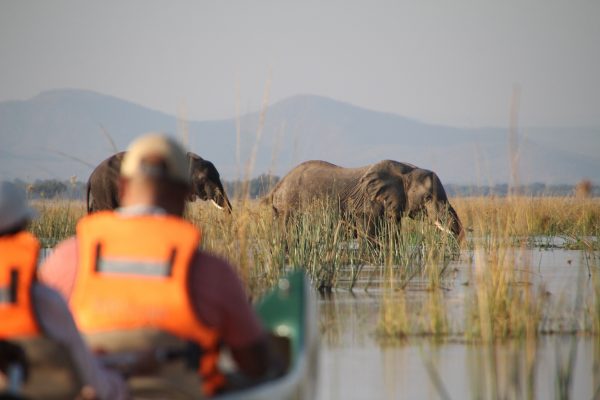 Another destination that provided a plethora of activities was Lake Kariba, one of the most unexpected stops of the trip. I thoroughly enjoyed the break from the typical morning and afternoon game drives. Here, we were able to mix it up a bit more and get out on the lake for fishing, sunset cruises, and animal viewing by water. The schedule was flexible and sleeping in every now and then was actually encouraged.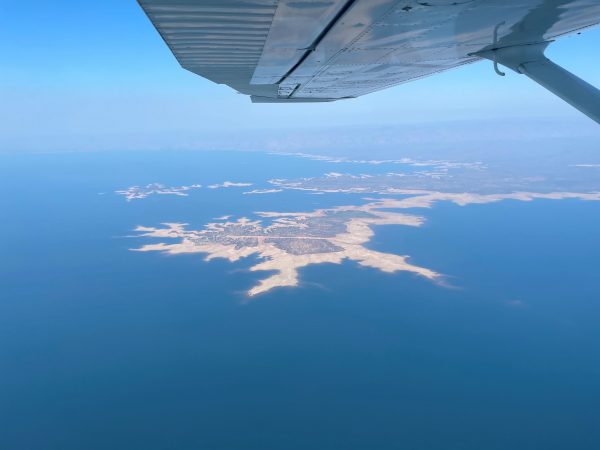 The lake itself is massive and absolutely beautiful. Lying on the border between Zambia and Zimbabwe, it's the world's largest man-made lake by volume, running over 130 miles long and 25 miles wide at its largest point.  It is home to a host of fish species and has become a premier location for catching tiger fish. It's also a birder's paradise and a great place to spot a herd of buffalo, antelope or elephant coming down to the water for a swim. Unfortunately, due to the large number of hippo and crocs in this lake, it is not swimmable for visitors.
Of course, we tried our hand at fishing and were lucky enough to catch a couple of small tiger fish – even the little ones put up a fight –  as well as many brim and a few catfish.
Our time at Lake Kariba provided the perfect break from safaris. Especially for travelers combining a longer stay in Mana Pools with a stop in Hwange National Park, the pause in game viewing is a must! I'd say that three nights is the ideal length of stay, if you've got the time!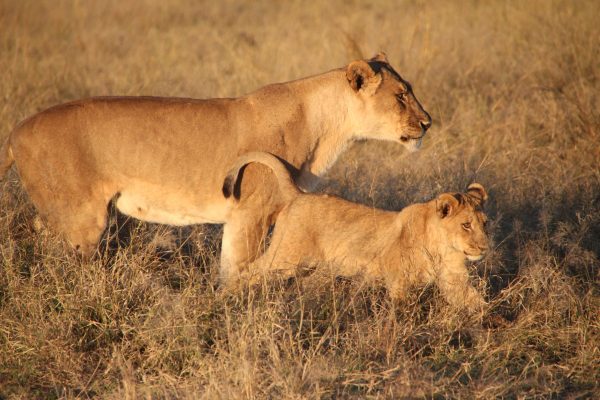 Finally, Hwange National Park offered the strongest game viewing of the trip. With large prides of lion and elephants galore, the park is a must on any Zimbabwean safari. Our favorite activity was simply enjoying the wildlife that came right up to the camp's watering hole – including my first ever sighting of a serval. I also loved waiting patiently in the camp's "hides" for a unique chance to view elephants up-close without them knowing we were there.
3. The People
The people in Zimbabwe are so incredibly kind. My mom and I made instant friends with our guides and the camps' staff. They made us belly laugh, were incredibly knowledgeable, and were attentive hosts.
I also thoroughly enjoyed learning about the Shona people, their culture, and especially the meanings behind their names. While traveling, we met a Cloud, Bread, Take Sure, and No Chance and eventually inquired as to how they'd come to have such unique names. We were told that every child is given a name in Shona (the most widely spoken language in Zimbabwe) that when directly translated into English becomes something quite literal like Obey or Member.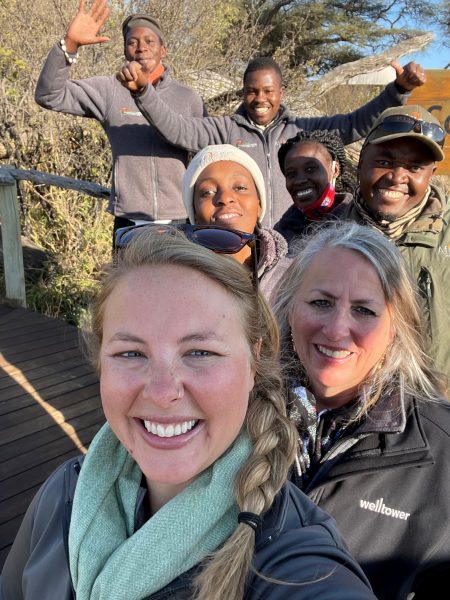 At one camp, Cloud shared the story behind his name with us. As one of seven siblings, his parents had had all girls and desperately wanted a boy, so they continued trying until they had him. Upon his birth, they named him Gore Dema in Shona, which means Dark Cloud.
At first, I wondered why they would name their child Dark Cloud when they had waited so long for his arrival. It didn't seem to fit. To me, a "Dark Cloud" represents a wet and gloomy day. Right?
But Cloud explained that in his culture a dark cloud signifies the long-awaited rains, which in turn bring life to the lands. For someone living a pastoral life, the arrival of rain is therefore an enormous relief. Giving the name Dark Cloud to their son thus made perfect sense. His birth was a blessing like rain after a long dry season. I loved the metaphor and this idea of new life and of hope—be it for abundant crops or a son.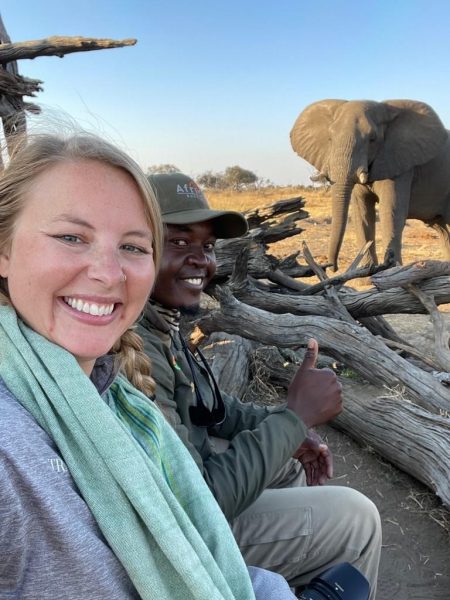 I have been in Southern Africa during that transition period, usually in November, when the first rains come. You can truly feel the magic in the air and the blessing that the rains bring. The land, people, and animals, all sigh a breath of relief when the rains finally arrive, and new life is reborn from the sandy earth.
My two weeks in Zimbabwe only scratched the surface of what makes the country a must-visit destination. The people I met, the landscapes I explored, and the wildlife I saw were incredible and I'm already counting the days until I can return!