If you are looking for a unique wildlife challenge, head to the Okavango Delta during its "green season." At this time of year, animals can be harder to find due to the tall grasses and foliage; but that just makes the process of tracking, and then finally spotting them, extra thrilling, and exhilarating. What's more, the landscape boasts a wonderful variety of greenery and the Delta's pristine beauty is unmatched. There is nothing like it anywhere else in the world! And, thankfully, there are a few tricks you can use to help find the more elusive wildlife.
Footprints
As you head out on your game drive, you will notice the never-ending sands of the Kalahari Desert. What you might not realize is that this sand can be very useful to you and your guide when tracking down all types of animals. Often, when grass is tall, larger animals will travel on the roads, leaving their footprints behind. The morning is the best time to find those fresh tracks– each of which provides a clue as to what the animal was up to the night before and where they might have been heading next. Guides can follow these footprints and hopefully lead you toward a nice animal viewing surprise!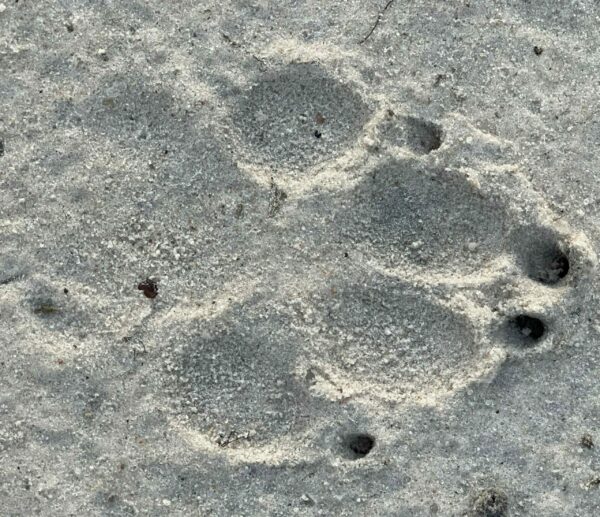 Sounds of other animals
My favorite part of a game drive is when the guide stops the vehicle and turns it off so we can listen to the vastness of the bush. One thing I learned on my most recent trip to Botswana is that these sounds can be useful in tracking other animals. For instance, if you hear a jackal loudly calling out, they are likely in the presence of a leopard or cheetah. Vultures circling in the air is a good indication that there is a carcass somewhere nearby. Birds and baboons will start loudly sounding the alarm when cats (lions, leopard, cheetah) are in close proximity. And if a group of impalas is staring at a specific spot in the bush and start brushing their feet against the ground, a predator is likely approaching, and you might be lucky enough to see the chase!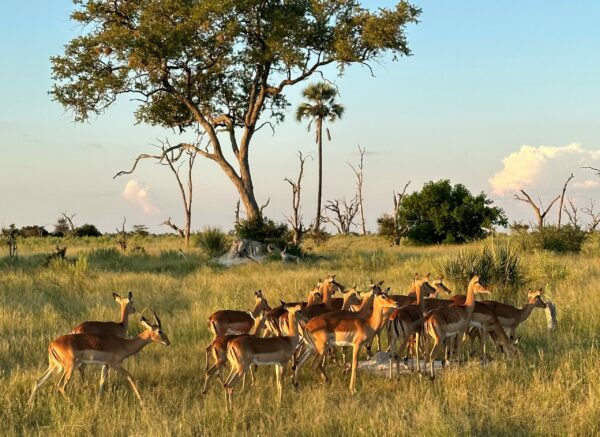 Light
By the time you finish your afternoon game drive, you will likely be returning to camp in the dark. That is when your guide and/or tracker will turn on his spotlight to help them spot nocturnal wildlife. As they scan, the red light might catch the reflection of eyes hiding in the bushes. The animals are so quick with their movements, you can barely follow along, and yet somehow, the guides are able to use this light to find those tricky, more elusive nighttime animals. The reward is even sweeter at night.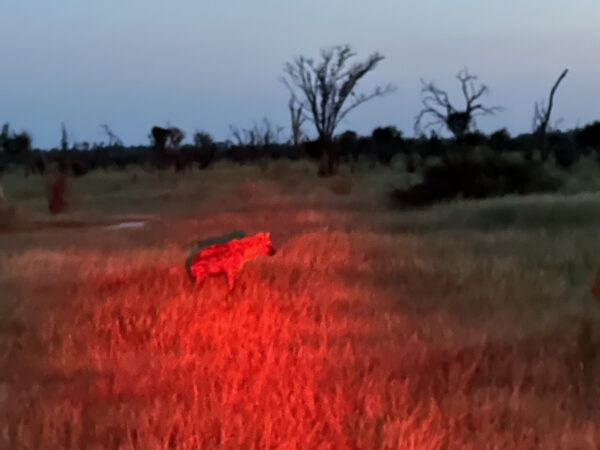 Water
During green season, grass can sometimes grow to be as tall as elephants themselves.  So, another great way to increase your chances of spotting these bigger animals is to cruise through the Delta on a boat. As you search for signs of wildlife, you might start to notice pieces of grass floating down the current. These act as clues that an elephant is munching just ahead of you. They often like to be near the water to eat the plants and drink water.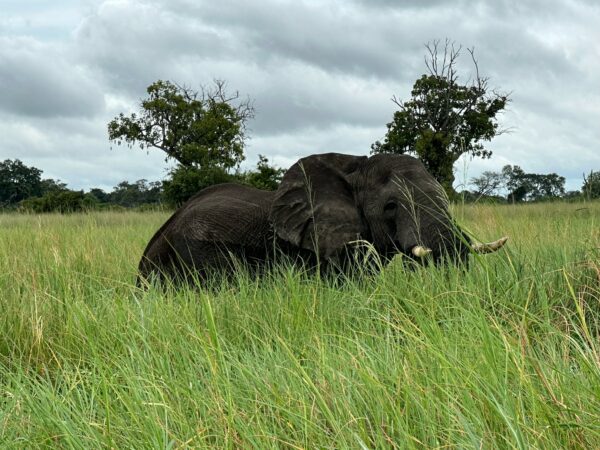 If you use any of these techniques, along with patience, you are guaranteed to view some spectacular sights. Here's to some fruitful green season game drives!