The Okavango Delta lies in the northwest corner of Botswana, and with its diverse ecosystem and remote location, there are many different forms of transportation used to access and explore it. No matter what, arriving at any camp in the Delta starts in Maun or Kasane. From there, travelers have many options, depending on where they are staying and what time of year they are visiting.
LIGHT AIRCRAFT FLIGHTS
The most common and time efficient way to reach the Okavango Delta is via a light aircraft flight. There are several airstrips strategically located throughout the Delta allowing for easier access to safari camps and lodges. These light aircraft flights typically cruise at an altitude of approximately 10,000 feet and can be as short as a few minutes or as long as a couple of hours. Most travelers book a shared plane, in which they fly alongside additional passengers and, as such, may stop at different airstrips along the way to refuel or pick up and drop off others. There is also the option, however, of chartering a private aircraft, for those who want a more direct and exclusive experience.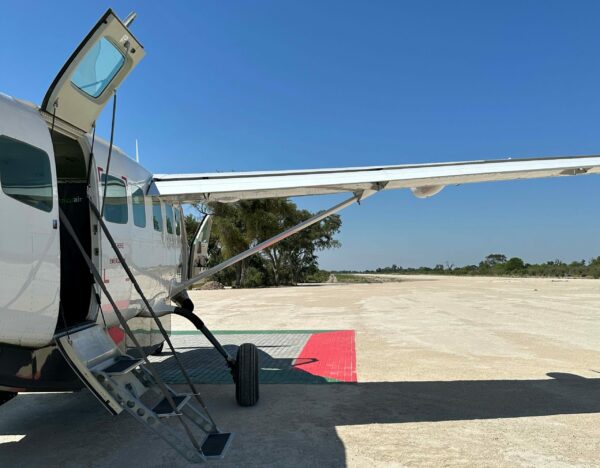 HELICOPTER FLIGHTS
An exciting way to travel to and throughout the Delta is via helicopter. Because they fly lower to the ground than a light aircraft, these flights offer stunning views of the landscape and the opportunity to view wildlife from above. Helicopter flights are also a great option for reaching remote and otherwise inaccessible locations, as they have more flexibility with their landing locations and can work around the many waterways, islands, and floodplains. In addition to operating as a mode of transportation, scenic and photography/filming flights can be booked as well.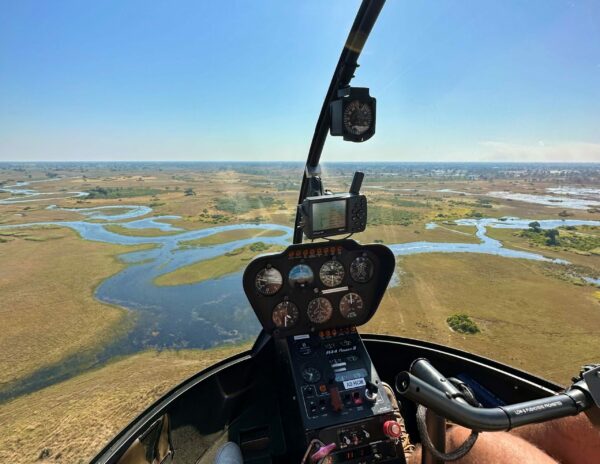 SAFARI VEHICLES
Once you have arrived via light air or helicopter, you will be met by a safari vehicle. These jeeps easily navigate the diverse terrain of the Delta and are therefore used to transport you to/from camp and to take you on game drives. The vehicles typically have open sides and may or may not have a covered roof, allowing for unobstructed views when encountering and photographing animals. As nature and wildlife can be unpredictable, you might find yourself stopping for an incredible animal sighting before you even make it to the safari camp/lodge!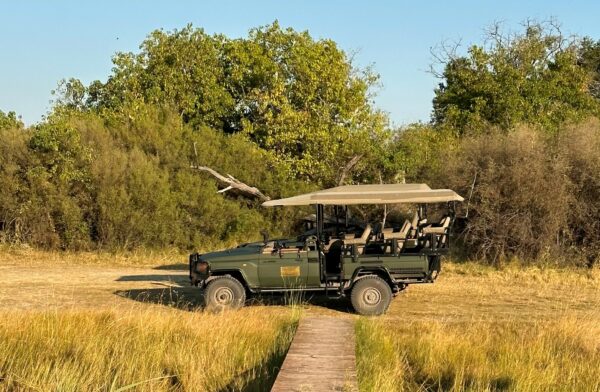 MOTORIZED BOAT/MOKORO
As the Okavango Delta is flooded for about six months of the year, transportation to your safari camp or lodge may require a boat. In this instance, your safari vehicle will drop you off at the water's edge where you and your luggage will then transfer to a motorized boat for a scenic ride through the channels of the Delta. Along the way, you're likely to spot hippos, crocodiles, birds, and other aquatic wildlife. Once at camp, you might also have the option to ride in a mokoro, or traditional dugout canoe. Done in shallow water, this is a relaxing way to navigate the narrow channels of the Delta.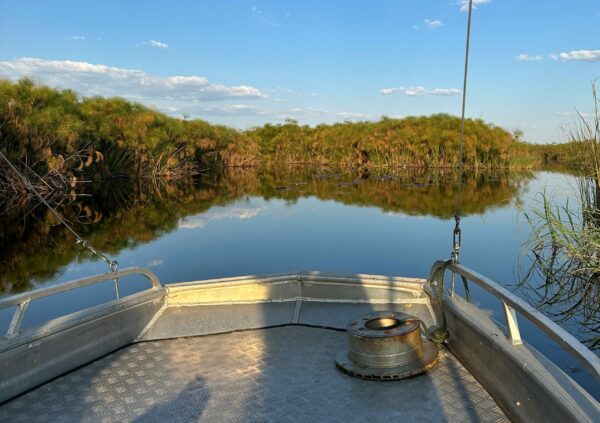 WALKING
Because of the Okavango Delta's unique landscape, floodplains, dense vegetation, and abundance of wildlife, walking between safari camps/lodges is not always practical. However, walking safaris are a popular activity that can be done at or near your accommodations. Alongside an experienced guide, walking safaris are one of the most pure and intimate experiences you can have. They offer the opportunity to practice tracking animal prints and let you get up close to the smaller details of the ecosystem.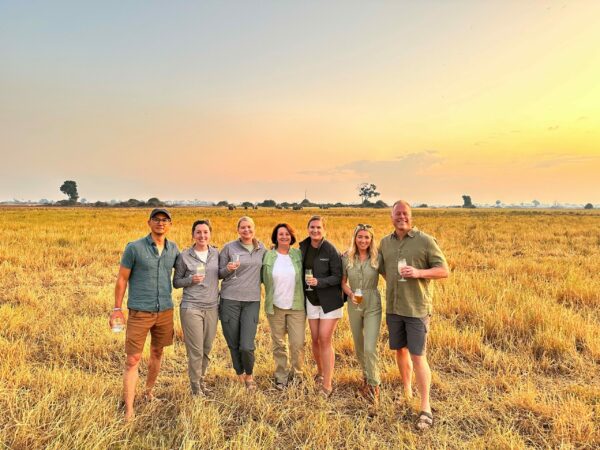 Whichever transportation method you use during your visit to the Okavango Delta, rest assured that it will be a unique experience. Each form of transportation offers magnificent views and the chance to gain a different perspective of the Delta.