Flowing between Zambia and Zimbabwe, the Zambezi River's Victoria Falls is one of the Seven Natural Wonders of the World. While neither the tallest or widest waterfall, Victoria Falls has a height and width that creates the largest sheet of falling water in the world. This waterfall is stunning and can be visited from both the Zambian and Zimbabwean side throughout the year. Depending on your specific preferences on time of year, safari destination, and more, your travel consultant can suggest which side would be the best for you to explore!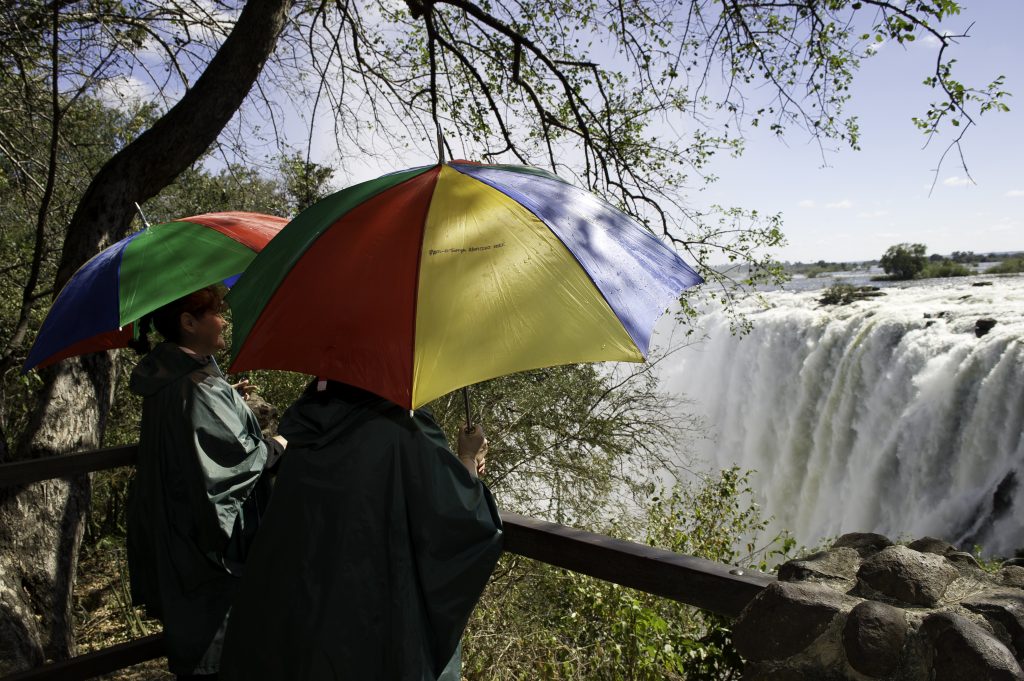 Accessibility
Accessing Victoria Falls is quite easy from various points throughout Southern Africa. Commercial flights operate into Victoria Falls, Zimbabwe or Livingstone, Zambia (depending on the route) from Cape Town, Johannesburg, and Nelspruit. When on safari in Botswana, Zambia, or Zimbabwe, you can take light aircraft flights into either city. This makes an add-on of Victoria Falls very convenient from a Southern Africa safari circuit.
From Kenya, there are commercial flights operating into both Livingstone and Victoria Falls as well, which means getting to Victoria Falls from an East African safari can be done with relative ease. For those interested in combining an East Africa safari with a Southern Africa safari, a stop in Victoria Falls can be the perfect point to connect these two regions effortlessly.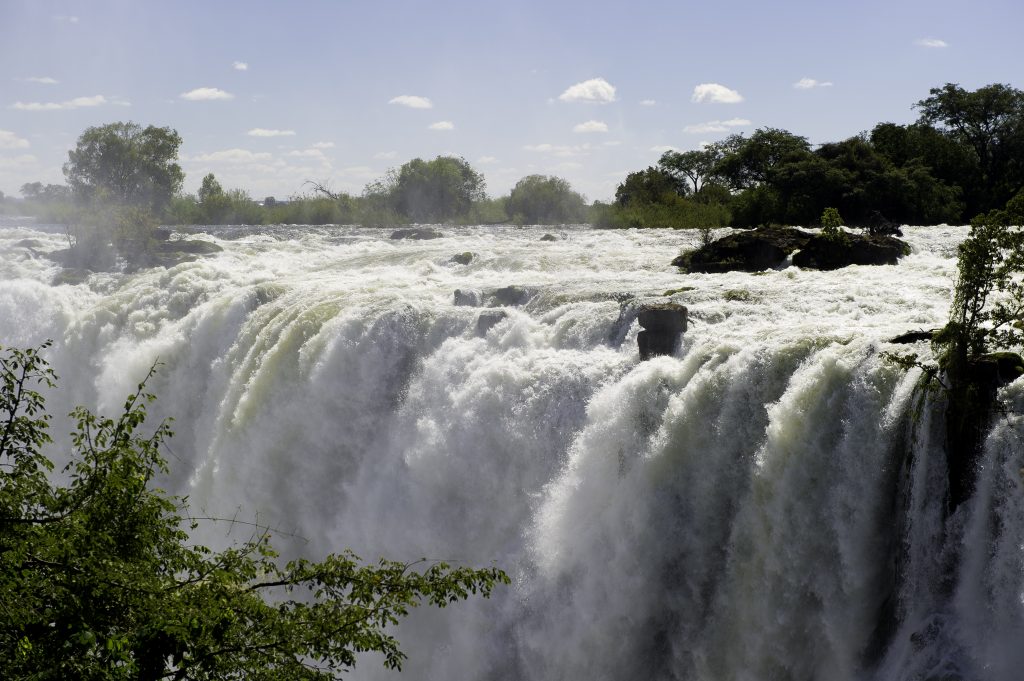 Seasonality
While Victoria Falls can be visited year-round, different times of year will offer different experiences. Victoria Falls is at its highest water flow around March-April. This high-intensity water often makes it difficult to see the entire breadth of the Falls, as there is much more water spray at this time. Visiting at this time of year offers an impressive waterfall experience, but be sure to grab a poncho and expect to get soaked!
After that, the water begins to taper off slightly, giving lovely viewing conditions with a still-impressive amount of water but less spray for visitors. Closer to November/December, the water volume reduces significantly, particularly on the Zambian side, which in low water years can almost entirely dry up. The Zimbabwean side will offer a water-flow year-round, however it might not be to the intensity that you're expecting at certain times of the year. In addition, the rainforest vegetation around the falls dies at this time of year, making a hot and unshaded viewing experience while walking along the viewing paths.
In addition to normal fluctuations between seasons, the volume of Victoria Falls also changes year to year. In 2019, international news sources published stories about the falls "drying up" due to a multi-year regional drought. While the drought greatly affected the volume of water, many news outlets did not take into account that seasonal changes often mean the falls are very low in November, regardless of that year's rainfall.
Here's a humorous picture of our own team members Molly and Megan at one dry section in the middle of the falls in late October 2019. Aware of the normal seasonal changes in flow (especially at this section of the falls) and the international news coverage, they sent a picture back home joking that the falls had dried up!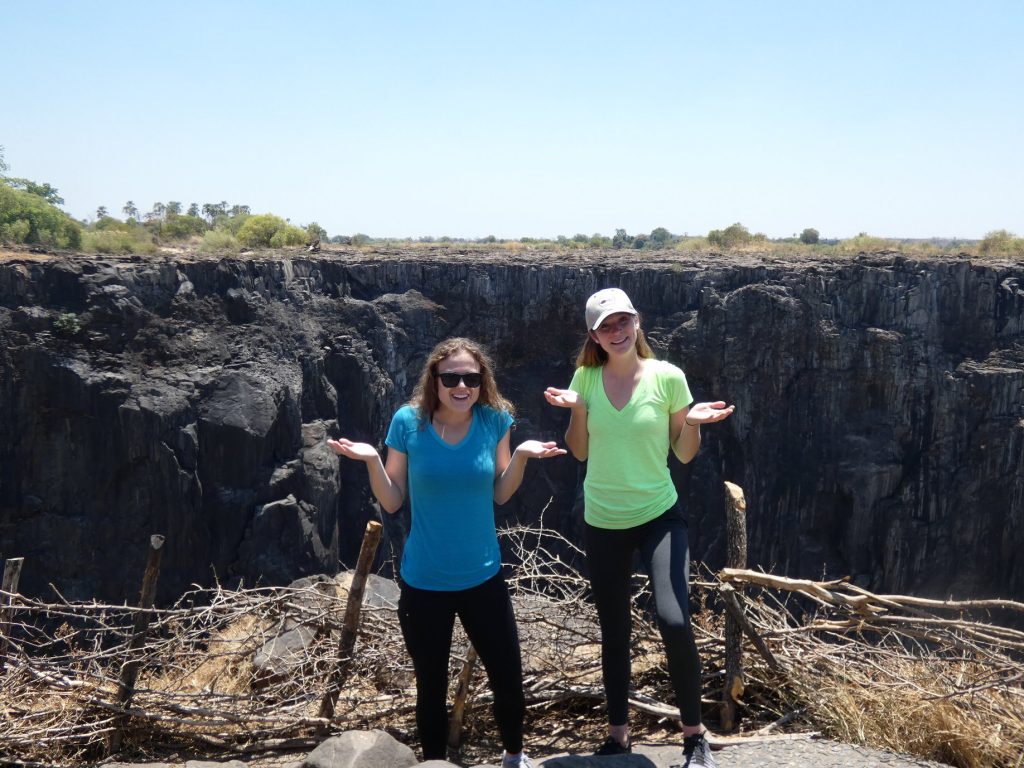 But here are two photos from the same day, showing sections of the falls that were still flowing strong: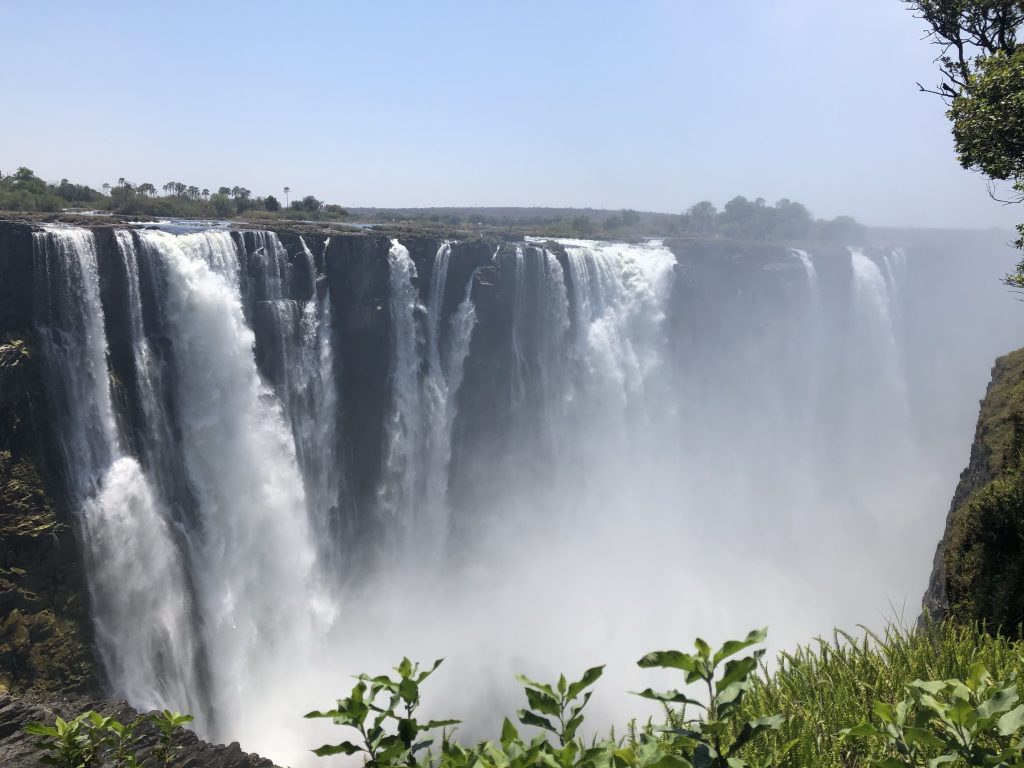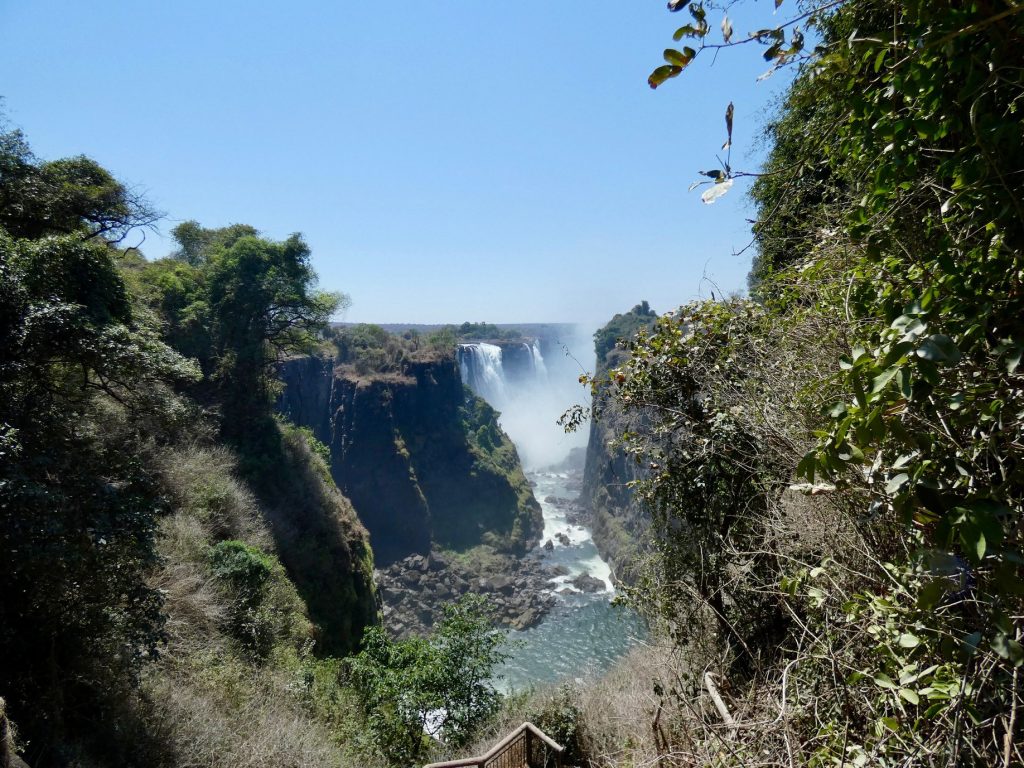 Finally, here's an aerial shot from March 2011, showing how robust the falls can be in peak flow of a wet year. In this season, it's often hard to see and photograph the falls from the ground, given the majestic spray: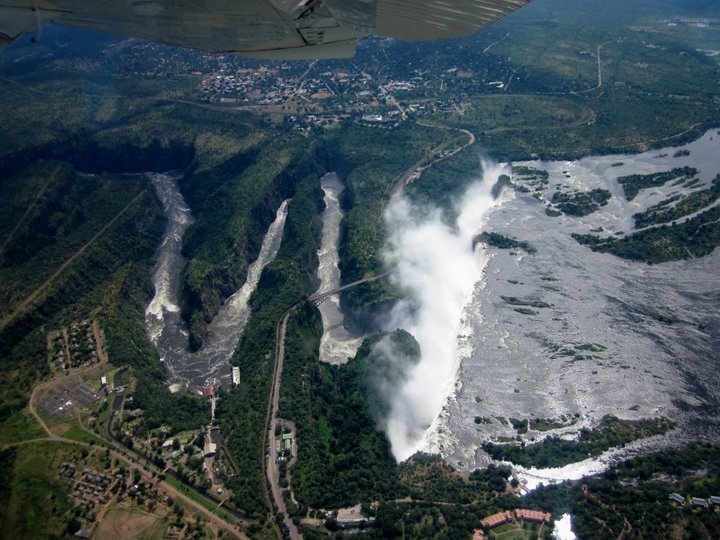 Fortunately, 2020 water flow indicates that annual rainfall has helped to increase the volume of water spilling over the majestic falls, ensuring future tourists will be provided with a rich viewing experience.
Types of Accommodation
There are a variety of accommodation options regardless if you're staying on the Zambian or Zimbabwean side of Victoria Falls. Even though the time of year may impact the "best" side to see the falls from, you truly can stay on either side. You can then do a tour of Victoria Falls on both sides to get a full view of the experience.
Traditional hotels and lodge-style accommodations are very popular – they are both great options and the one you choose depends on a few factors. Do you want a number of activities included in your stay? What is your price point? Do you want to be in town or do you want to still capture a safari-esque feel?
Activities
While most people only think of visiting the falls as part of a visit to the area, there are countless other activities in this area, including –
River cruises – leisurely boat rides down the Zambezi River.
Game drives – visit the nearby national parks for some animal viewing.
Visits into Victoria Falls or Livingstone town – explore various shops in town where you might find some crafts to bring home.
Active options – if you're looking for something a little more thrilling, you can book activities from white water rafting to zip lining to a visit to Devil's Pool.
Whether you choose to visit the Zambian or Zimbabwean side, know that a visit to Victoria Falls is a wonderful extension to a safari experience!