I was told that in the Kalahari Desert, I would have a high chance of seeing meerkats. I, therefore, arrived thinking I'd likely see a few from our safari vehicle. What I wasn't expecting was to go on an evening walk and have a wonderful close encounter with them. To my surprise, it would be one of my favorite safari experiences.
Soon after arriving at Tswalu in the Kalahari Game Reserve in South Africa, it was time to go on our first afternoon safari drive. We were informed that the first animal we would try and find were the meerkats. We drove for awhile before our guide stopped and said we were going to walk for a bit. I just figured it was for exercise and to learn about tracking meerkats.
Our guide led us in one direction at a good pace for a few minutes, stopping once in awhile so he could listen to his radio. We'd then go another direction for a few more minutes, stop, listen to the radio and walk some more, in another direction yet again. We began giggling, thinking our guide was just having fun with us, waiting to see when we would ask if we were lost.
But then, he started to walk faster. Not wanting to be left behind, we did our best to keep up with his pace. And before we knew it, our guide instructed us to watch our step as we approached a meerkat family.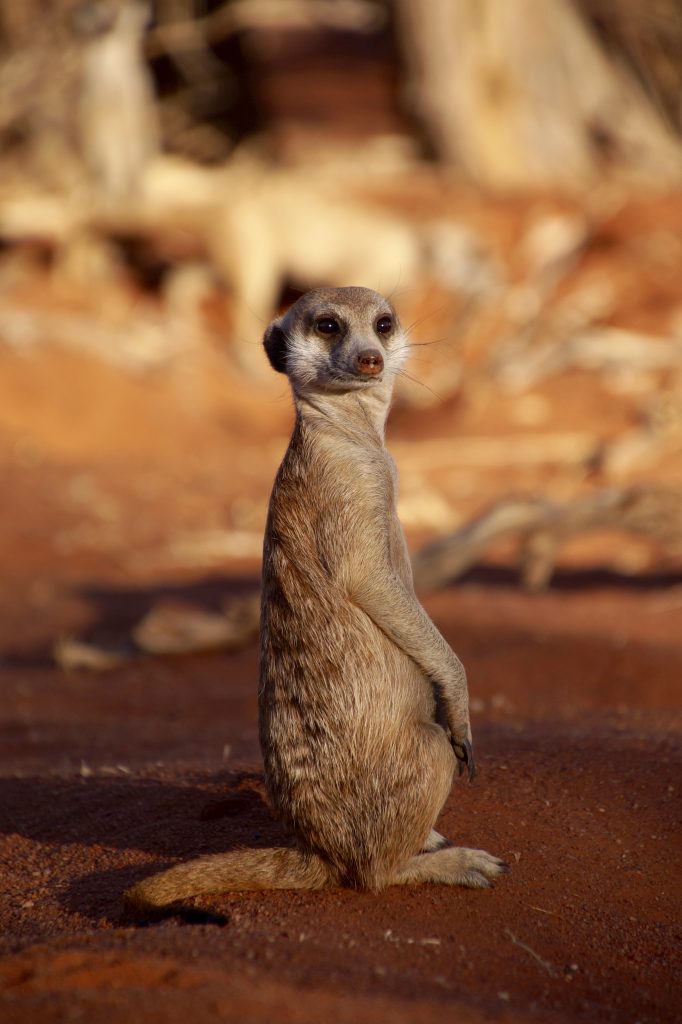 Our only instructions were to keep our shadows away from the meerkats (they will run if the sun isn't shining on them) and avoid sudden movements. Otherwise, we were free to walk with the family as they scurried along in the sunshine hunting for insects and wove around each of us to catch up to the others. I never would have thought I would spend an evening strolling with meerkats, but here I was in the Kalahari Desert enjoying every second of it.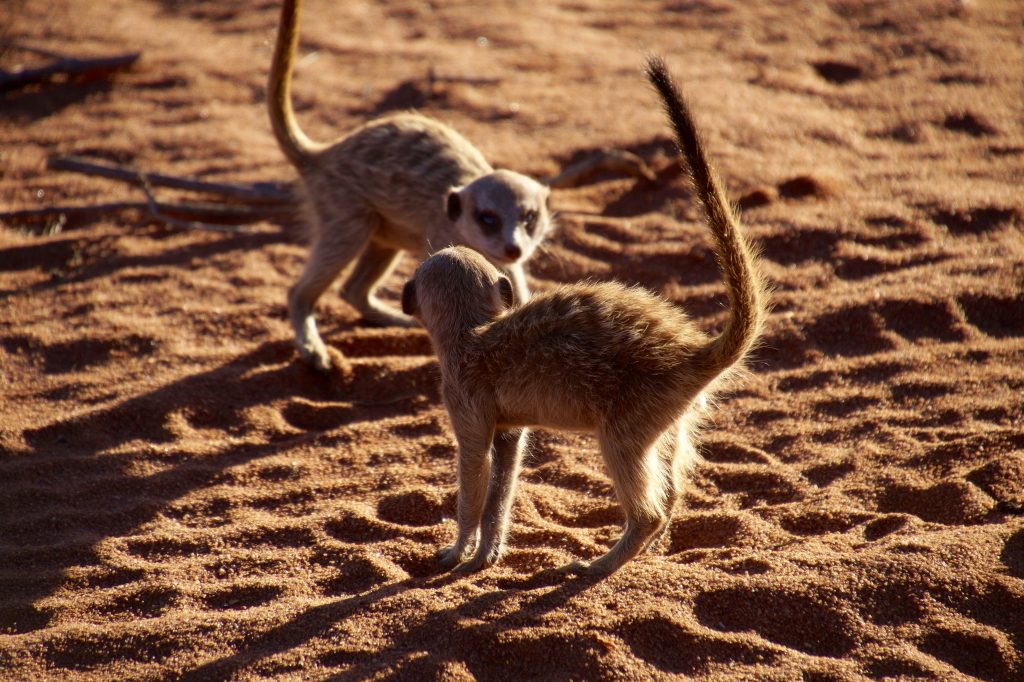 At one point, I bent down on one knee to take a picture and our guide nearby told me, "don't move." As I lowered my camera, I saw him pointing under his shoe and then back at me. To my surprise, I turned ever so slightly to find a baby meerkat sitting underneath the heel of my foot. After what felt like minutes of trying to hold still, but was probably only seconds, the baby meerkat ran along to the rest of the family.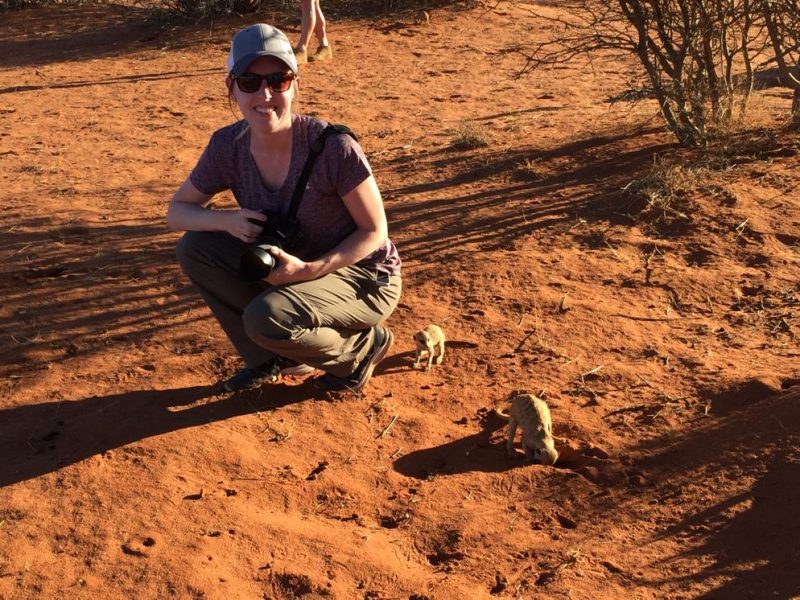 We continued to walk with the family, stopping every once in awhile to hang out with them and take pictures. The adults would find scorpions, worms and other insects along the way to feed the adorable babies who, for their part, were making a lot of noise to alert the family of their hunger. One meerkat actually came up to my shoe and started scratching on my toes. Once it realized there were no insects, it continued on.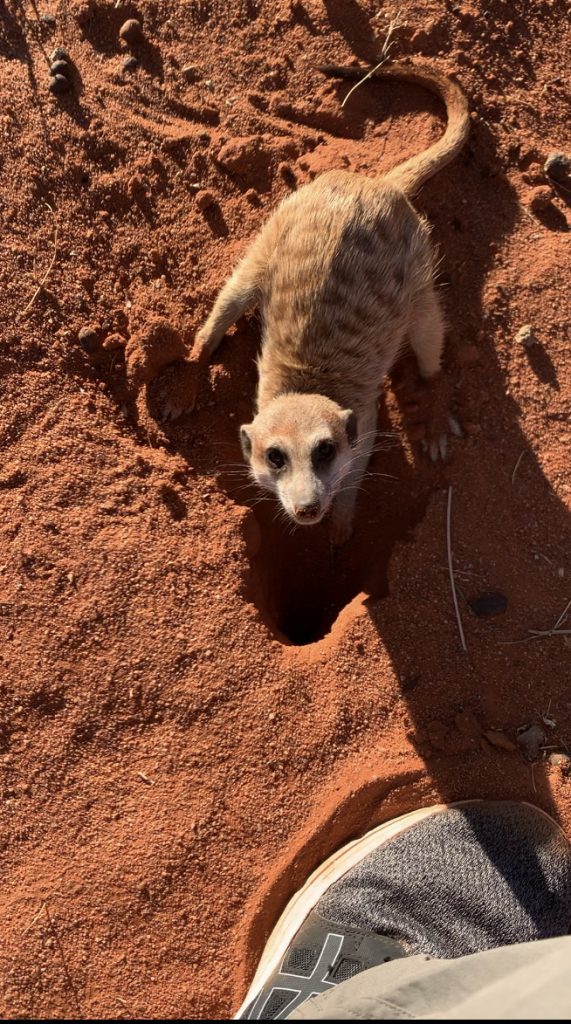 We walked with the meerkats until they got to their den for the night. Here, we received a final direction from our guide. He told us to lay on the ground, flat on our stomachs, to see if the meerkats would approach us for an up-close picture. Without delay, I did just that, bursting with excitement! Inquisitive by nature, a couple of them got pretty close to our cameras. We laid there on the warm red sand, watching them interact and dig for insects until it was time to say our goodbyes and head back to the lodge for our own dinner. It was incredibly fascinating to observe them in close proximity.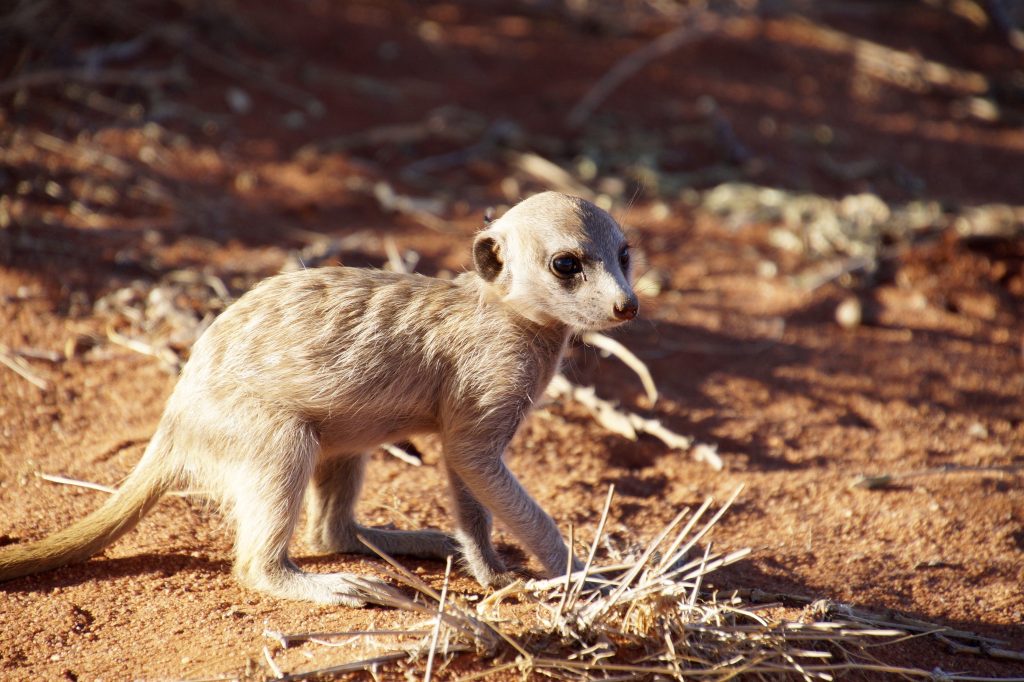 For those looking for an up-close encounter with one of Africa's most adorable creatures, then the Tswalu Kalahari Game Reserve is a can't miss.