By the Experts at Travel Beyond
When people set off to explore a certain part of the world, they often want to fully immerse themselves during their visit; travelers are excited to learn key phrases in the language, taste the local cuisine, and see all the most important sights. For many that also includes sampling the region's wine.
As luck would have it, there are properties across all of Travel Beyond's areas of specialty that provide visitors with incredible wine experiences. From impressive caverns underground to cellars that offer multi-course pairings, our consultants have complied a list of their favorite places to enjoy a glass of wine.
Southeast Asia
Six Senses Ninh Van Bay, Vietnam
This incredible beachfront property in Vietnam is home to The Wine Cave, a full-fledged cavern housing their wine collection. Upon arrival you feel as though you've stepped into an underground world, from where you can enjoy not only sampling their varietals but also splurge on a gourmet meal. It's a truly spectacular and quite intimate setting.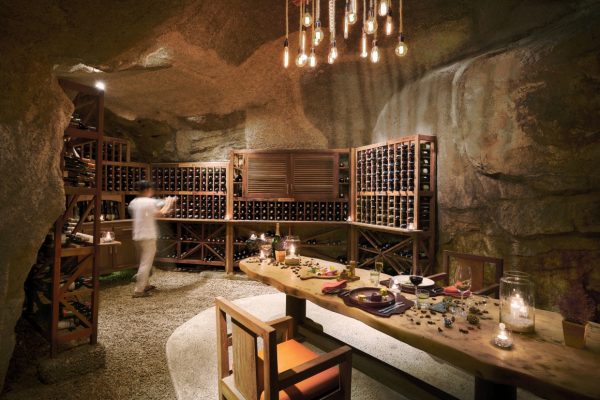 Four Seasons Tented Camp Golden Triangle, Thailand
Located in the hills of Chiang Rai, this property's wine cellar is a twist on the classic cave, utilizing thatched roofing in place of stone. From within,  guests have the opportunity to partake in daily wine tasting sessions as well as private wine-pairing dinners. Both are a perfect follow up to a day spent exploring the countryside.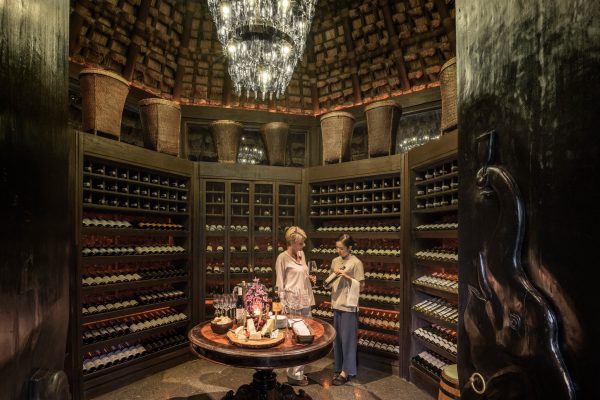 Soneva Kiri, Thailand
At Soneva, the wine is not only housed in a climate-controlled cave, but the shelves are actually built into the rock. This, along with the strategically placed lighting, adds another dimension to the experience. With more than 350 labels available, the property's master sommelier holds regular wine tastings with canapes and chocolates. Your taste buds are bound to be satisfied.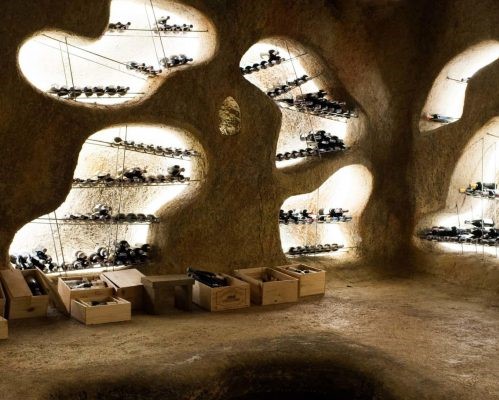 Viceroy Ubud, Bali
This resort is home to Apertif Bali, a wine cellar that offers one of the largest selections of wine in Bali. Curated by the property's master sommelier, Apertif offers over 220 varietals, including from New Zealand, Australia, France, South Africa, and wines that date as far back as 1855. When visiting, you can choose between a variety of wine pairing experiences, depending on your preferences and level of hunger!

Africa
MalaMala Camp, South Africa
Here, at one of the continent's oldest safari lodges, guests can enjoy some of South Africa's finest wine following an inevitably epic afternoon game drive. The cellar's glass walls allow you to both appreciate the collection while at the bar, as well as enjoy people watching from within the cellar itself.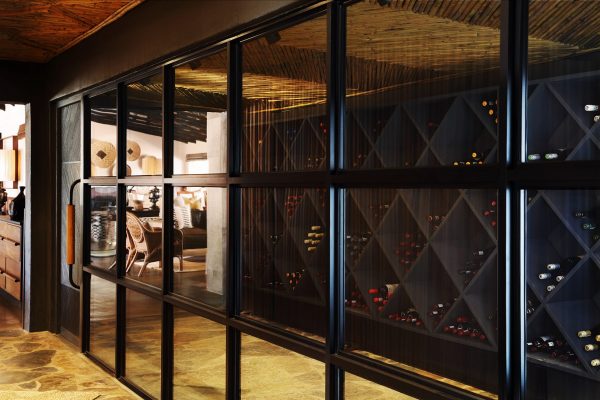 Singita, Southern & East Africa
Regardless of which Singita property you visit (Sweni, Sasakwa or Faru Faru to name a few), you are guaranteed a perfectly curated wine experience. Boasting the largest collection of South African wine in the southern hemisphere, you'll never be at a loss for new and interesting varietals. Plus, the Singita team makes note of your preferences, so when you visit another of their camps, the expert sommeliers already know where they should start their pairings.
But if you're wanting the most memorable cellar? Singita Boulders takes the cake. Not only does it have the most wines onsite of any property, but the cellar has been built around multiple massive boulders (the camp's namesake). These rocks certainly add to the exclusive and unique ambiance.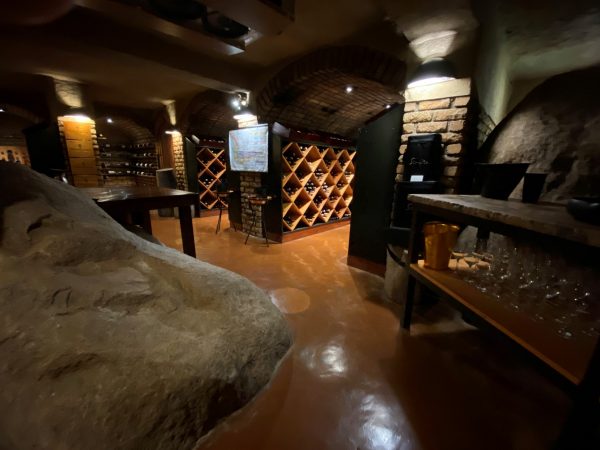 Duba Plains (Botswana) and Mara Plains (Kenya)
Both Duba and Mara Plains are part of the Great Plains Conservation family, so it is no surprise the company's classic décor extends to their wine cellars. The copper detailing, candelabras, and comfortable furniture transport you back to the era of Hemingway and Teddy Roosevelt. Here you can sip incredible wine from plush leather chairs and feel like early explorers recounting their days of adventure. Duba and Mara, along with all other Great Plains camps also boast homemade gin, distilled in South Africa, called Ra Di Tau, which means 'father of lions.'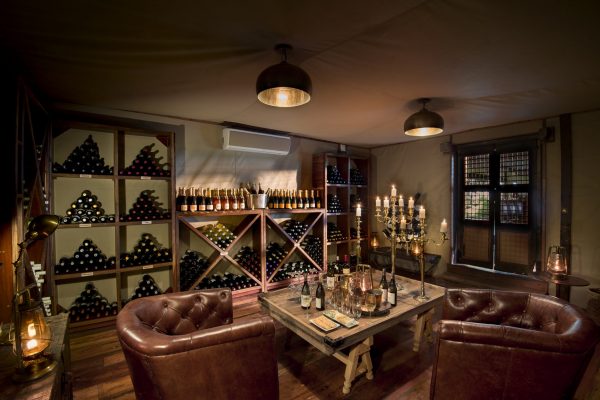 Segera Retreat, Kenya
Built within a stand-alone cement tower, Segera Retreat's wine cellar is certainly unique! Filled with an incredible selection, you're guaranteed to find a bottle that strikes your fancy. Plus, the space is kept at the appropriate temperatures using a system of solar panels, making it an environmentally friendly experience, to boot.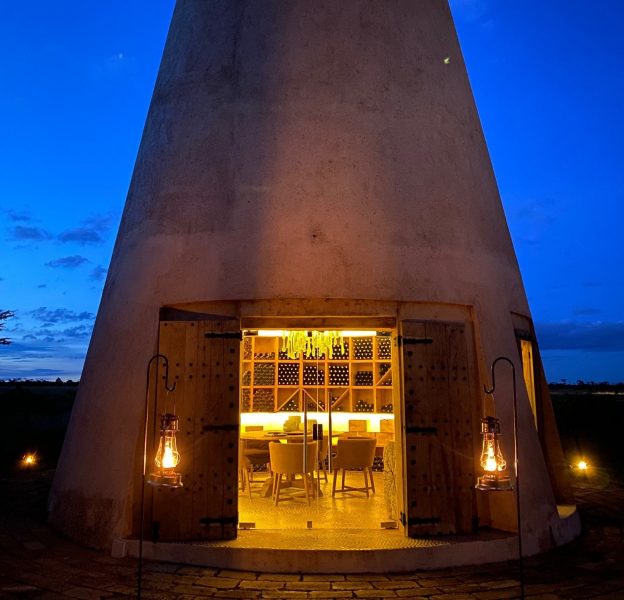 Kambaku River Sands, South Africa
At Kambaku River Sands, the wine cellar is actually situated underneath the property's main deck. And while this description might inspire images of a windowless cavern, here, it is anything but. One side of the space is entirely open to the outdoors, bringing with it fresh air and great views out over the dry riverbed. Any animal that arrives for a drink will be well within view, making this cellar the perfect combination of wine and wildlife.

Latin America
Sol y Luna, Peru
Nestled in Peru's Sacred Valley, between Cusco and Machu Picchu, Sol y Luna boasts a quaint yet comprehensive wine cellar. Take a tour or opt for a gourmet dinner complete with wine pairings curated by the property's sommelier. The antique table, set with hand embroidered linens, can seat fourteen and is the perfect place to unwind following a day of exploring.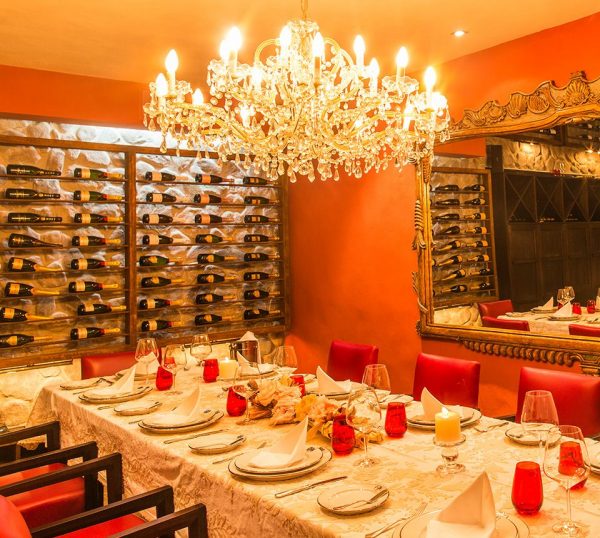 Inkaterra Machu Picchu Pueblo and Hacienda Urubamba, Peru
Both of these Peruvian properties offer visitors an unforgettable wine experience. Inkaterra's Machu Picchu hotel houses more than 90 different wine labels, including many from Chile and Argentina. Guests can enjoy a sampling session, during which the sommelier introduces guests to various wine smells and flavors or partake in a Chef's Table dining experience. Hacienda Urubamba has a similar wine tasting program, offering bottles from within three main categories: South America, Exotic Strains, and Premium.
Vina Vik, Chile
Vina Vik is a full-fledged Chilean winery, so there's no doubt that the property has an incredible collection of wine. Its cellar is state of the art, environmentally friendly, and provides you an inside look into the wine making process. Tastings take place in a separate room, whose walls are a combination of wood and an abstract stone mosaic. Here, you can sample all of the vineyard's varietals, and when you find your favorite, send a crate home for future enjoyment.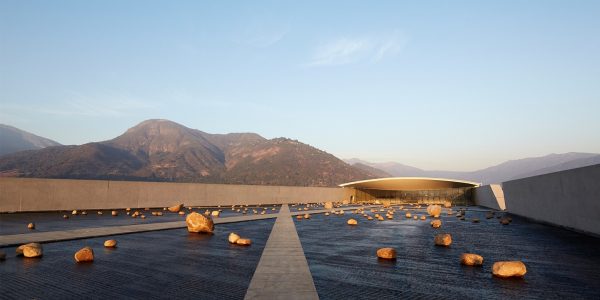 Cavas Wine Lodge, Argentina
Considered one of Mendoza's best vineyards, Cavas Wine Lodge sits at the base of the beautiful Andes Mountains. Following a day of adventuring—be it on horseback or on foot—you can sit back, relax and enjoy the property's own wine reserves. Serious aficionados can also visit nearby wineries, to ensure you leave Mendoza having tasted all the fantastic wine that the region has to offer!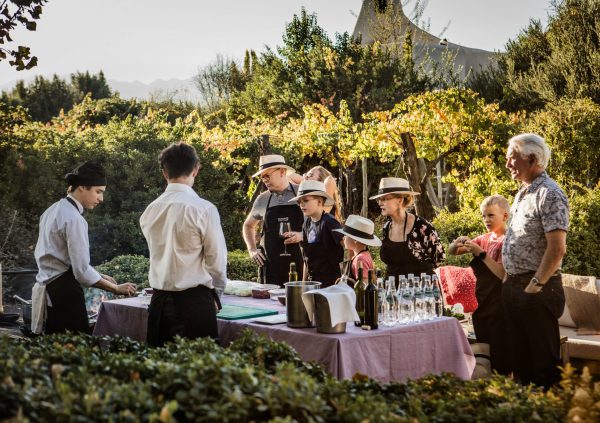 No matter which of our core destinations you plan to visit, there is a wine experience for you!