It's hard to put into words how meaningful it was to return to Africa after almost two years away from the bush. About once a year for over a decade, I've been lucky enough to explore many incredible destinations throughout southern and east Africa. But what made this trip even more special was this time around my adventure wasn't for work, but instead to bring my husband, Kevin, to my favorite place on earth for the first time and for our honeymoon! While I'd never fantasized about my wedding, I had always dreamed of this- celebrating my marriage with a trip to Africa.
As had happened of many plans last year, our honeymoon was delayed, which, while frustrating at first, made finally getting there all the sweeter. I also, as a seasoned visitor to the continent, loved seeing the trip through Kevin's eyes. Of course, I'd spent years talking to him about all things Africa, but now he finally got to learn that you can't fully understand how incredible the experience is until you're actually there.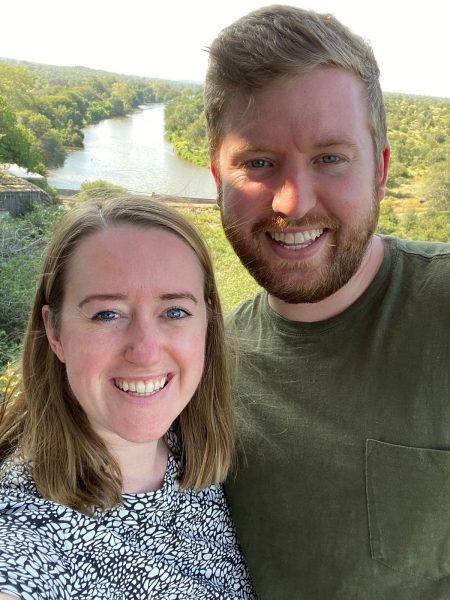 Our trip began with what should have been an overnight in Johannesburg, but instead  was just a few short hours of early-morning rest due to a last-minute flight change. Knowing that travel right now requires a bit of flexibility, we leaned in, ready to embrace each adventure. So, after a far briefer pause than planned, we jetted off to Maun, Botswana to begin our safari.
Our first stop was Jack's Camp in the Magkadikgadi Salt Pans- a truly breathtaking property that officially reopened only a few weeks before our trip. The tents here are stunning with a private plunge pool, outdoor shower, and so much space! We had three unforgettable experiences while here, the first being the lesser-known mini migration of zebras which occurs in this area at this time of year. We witnessed thousands of zebras all in one place (something that I had to tell Kevin he won't see elsewhere on this trip!). While I've had similar encounters in Tanzania & Kenya during the Great Migration, I loved seeing this occurrence in a totally different landscape.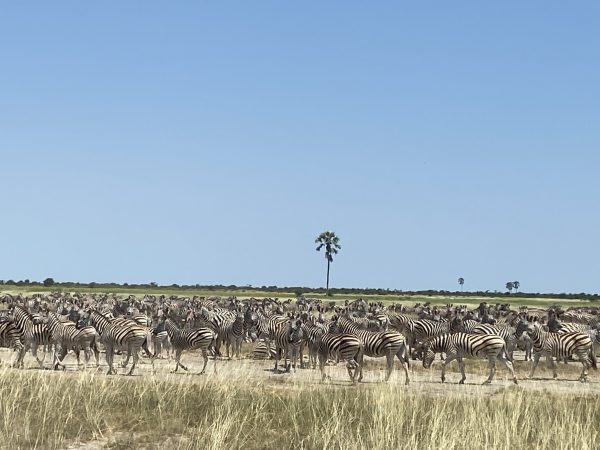 Spending time with the meerkats was another highlight. These little creatures are incredibly fun to watch as they play, fight, and search the area. One of them spent some time casually lounging on my leg as his pals wrestled right next to us. So cute and fun!
We also really loved the cultural walk we had with a bushman named Cobra. He has such vast knowledge of the area, the plants, the animals, and more. The walk can be as short as about 1.5 hours, but we ended up exploring for almost 3 hours, wandering the land with Cobra. At one point, we stopped at a scorpion hole and he started to dig into it in order to show us the creature. It took a while because the scorpion had burrowed so deep, but eventually it was spotted, and we learned all about the arachnid.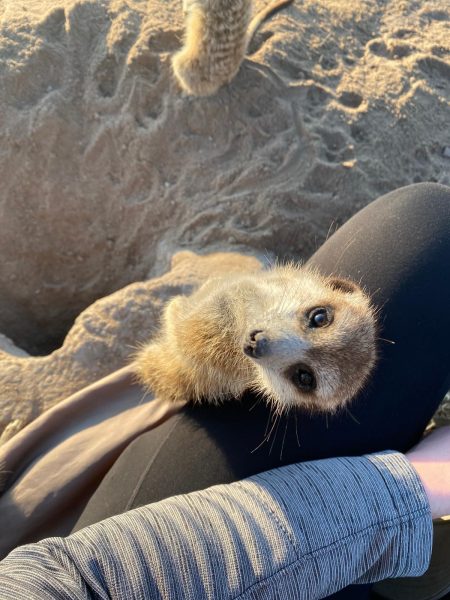 From here, we flew north to the Moremi Game Reserve for three nights at Mombo Camp. Our guide, Zee, was a definite highlight, his knowledge enhancing every aspect of our explorations of Chief's Island. One morning we had an absolutely epic thunderstorm, which I loved, finding such storms so peaceful when I'm on safari. Kevin and I also had some really great cat sightings, including tracking a leopard and finding lions with ten cubs. They were so playful and one was definitely showing off for us as he tried to exert his "dominance" (so sweet!). We also loved using the Olympus camera that is available in every guest room at Mombo.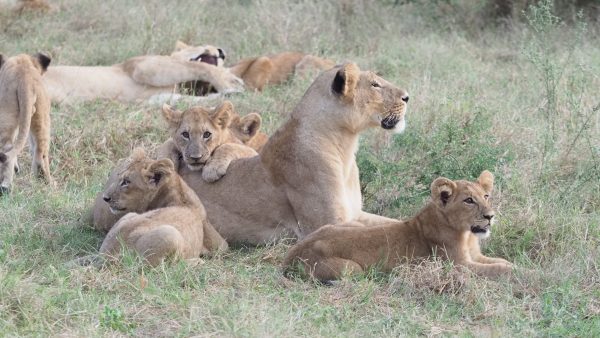 Kevin experienced many "firsts" on this trip, but one of his favorites was the scenic doors-off helicopter ride we took while at Mombo. Our pilot was really knowledgeable and showed us so much wildlife from a totally different perspective. Flying with the doors off feels like such an adventure and is a special moment I recommend adding to your trip, if possible!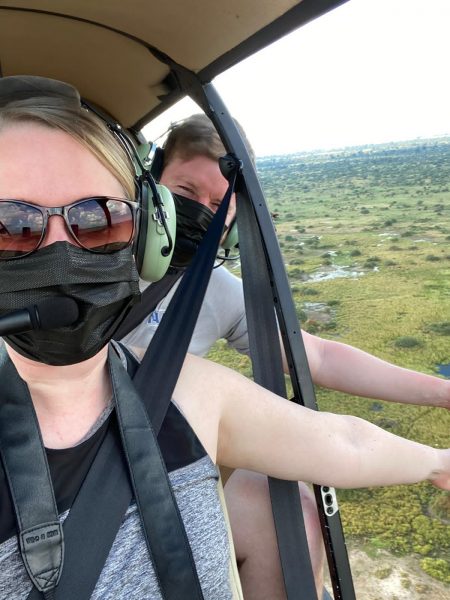 We then flew back into South Africa and continued our safari at Singita Lebombo in the Kruger National Park. All I can say is, WOW. Between the amazing animal viewing, stunning landscapes, beautiful room, and incredible team of people, I think it's safe to say we both left a bit of our hearts here. The experience was truly epic and it's nearly impossible to identify just one favorite moment. But if we had to, I think we'd both agree it was when we were taken to a special spot on property for our last sundowner. The views were astonishing, and it was the most peaceful experience. We had a great time reminiscing about our travels and chatting with our guide and tracker about their lives and the impact of this past year. It reminded me of something I often say to clients – we usually go to Africa for the wildlife but return for the people.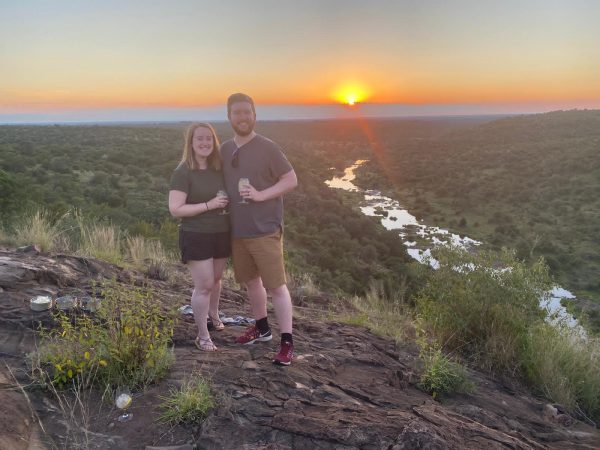 Our final safari stop was Singita Ebony, just a short flight away, located in the Sabi Sand. I really loved combining both regions of Singita South Africa, as they feel very different from one another. Elephants are my favorite animal and quickly became Kevin's as we sat and spent time with these stunning creatures. From old bulls to tiny babies, we got to watch them interact and particularly enjoyed seeing two teenagers play fight with each other.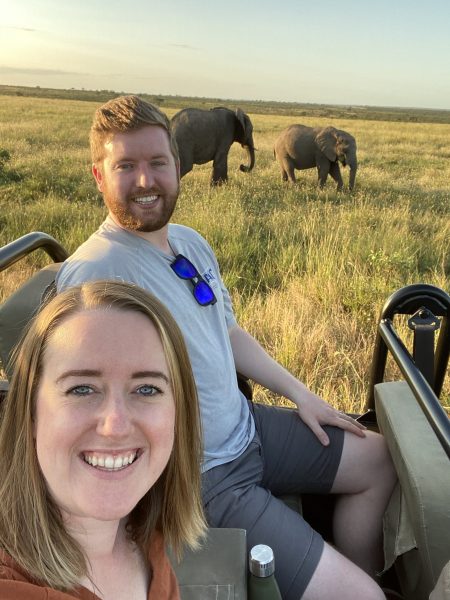 We also had a few very special dining moments throughout the trip to celebrate our honeymoon, but I'll leave those as surprises for future travelers!  We are so happy that we finally got to go on our honeymoon, and we will forever remember this incredible adventure. The wide, open spaces of these safari destinations were the perfect way to get out and explore again.