Wide open spaces. Plains as far as the eye can see.
By day, more animals than you are likely able to count…and by night, more stars than you may have ever seen.
This is one of Africa's hidden gems: Zambia's Liuwa Plain National Park.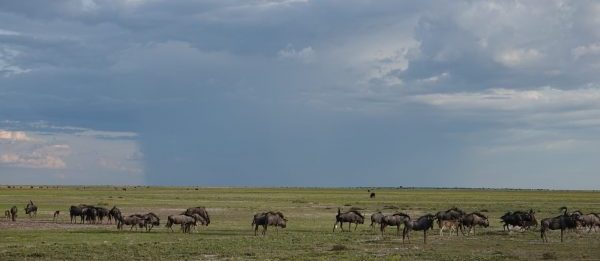 Located in the western part of Zambia, Liuwa Plain is a relatively unknown paradise, and its remote location sees far fewer visitors than the country's other more well-known parks. With 1,400 square miles and just ONE luxury lodge (with only six beautiful tents!), you will find that the park is, quite literally, all yours. There is a population of approximately 10,000 people living within its borders, however, because of the vast expanse of land, the locals are rarely seen. The plains stretch for so many miles, you feel convinced you are seeing the curvature of the earth, with trees seemingly rising out of the horizon as you approach.
Managed By African Parks
Liuwa Plain National Park has been managed by African Parks since 2003. African Parks is a nonprofit conservation organization carefully overseeing many national parks and protected areas within 11 African countries. African Parks protects, conserves, and builds wildlife populations while also focusing on economic development in local communities to ensure long-term sustainability. At Liuwa Plain, the organization's oversight has led to great regrowth in the population of wildebeest and zebra (and other species noted below) and to the implementation of community land-use plans protecting the grasslands.
Africa's "Other" Migration
When people hear the word migration, they often picture the classic image of huge herds of wildebeest, bravely crossing crocodile-infested waters in East Africa. This "Great Migration" in Kenya and Tanzania is indeed an incredible spectacle – boasting a migratory population of more than a million animals. And as such, brings with it, thousands of spectators each year.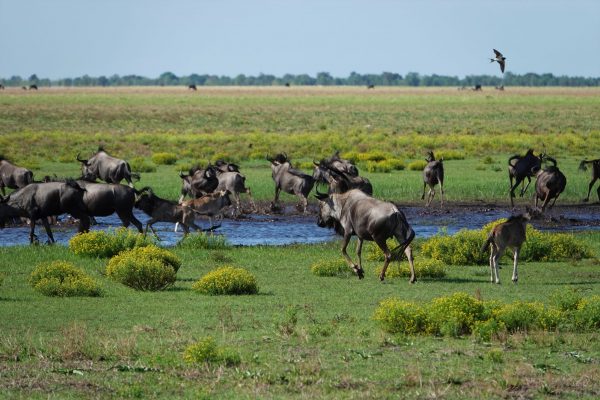 But the continent is also home to another exceptional wildebeest migration, this one in Southern Africa and across the vast open spaces of Liuwa Plain National Park. The annual migration includes approximately 30,000 migrating animals – and of course the lions who follow suit! This is a great place to experience a migration in a more intimate setting than you may have in East Africa – and with no crowds.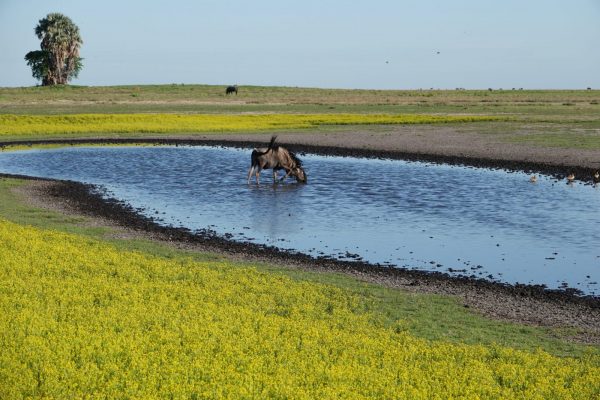 WHEN TO VISIT
The path of the wildebeest migration is driven by weather. As the rains arrive to Liuwa Plain in November, so do the massive herds. And when the rain begins to pool into floods during the month of February through May, the wildlife concentrates on higher grounds. The process is very much like the Okavango Delta in Botswana, with the added bonus of a lower density of visitors! For this reason, the best time to visit is between November and April.
KEY WILDLIFE SPECIES
The sense of space in the park is absolutely immense and yet, on my visit, we spent the vast majority of our time with at least one animal in our line of sight – and many times, it was animals by the hundreds.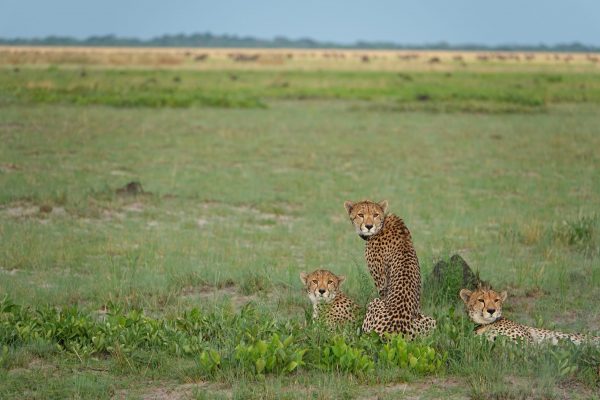 In addition to the herds of wildebeest and plains zebra (which number in the thousands), you are apt to see cheetah and spotted hyena living on the plains. African Parks has reintroduced many other species as well, including wild dog, lion, buffalo, eland and more.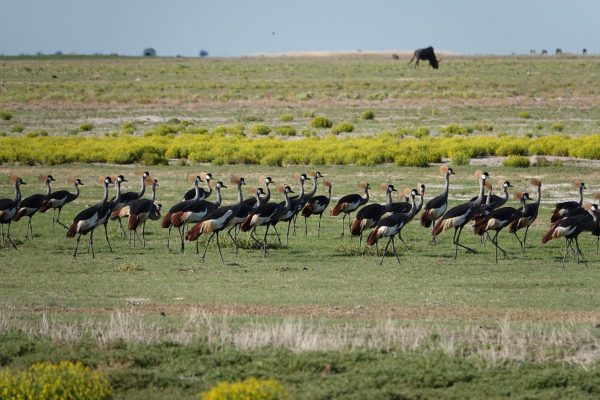 The park is a paradise for birders, with large flocks of wattled crane, crown crane, and over 350 additional species that can be spotted throughout the park. This is also the perfect place to search for the eastern clapper and pink billed larks, which are endemic to Liuwa.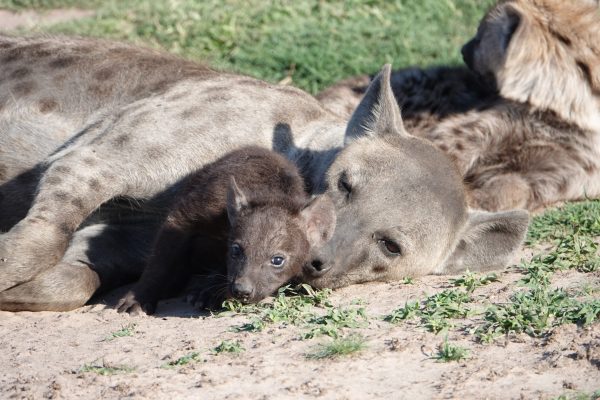 While you will not see rhinos, elephant or giraffe here (yet!), each of your game activities is likely to produce something unique and exceptional. Our sightings were easy, consistent, and numerous. It was a mesmerizing ecosystem and a top safari experience.
KING LEWANIKA CAMP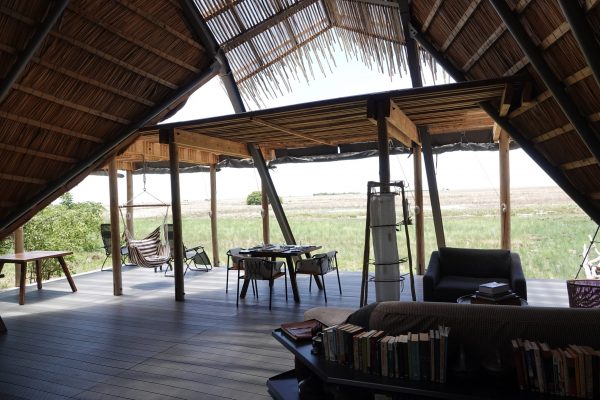 The only permanent camp in the park is named after King Lewanika of the Lozi people. In the early 1880s, he proclaimed Liuwa Plain a protected area, making it one of the earliest national parks in Africa. King Lewanika Camp is open from mid-October to mid-July and with flight schedules, guests can choose to stay for three, four, or seven nights.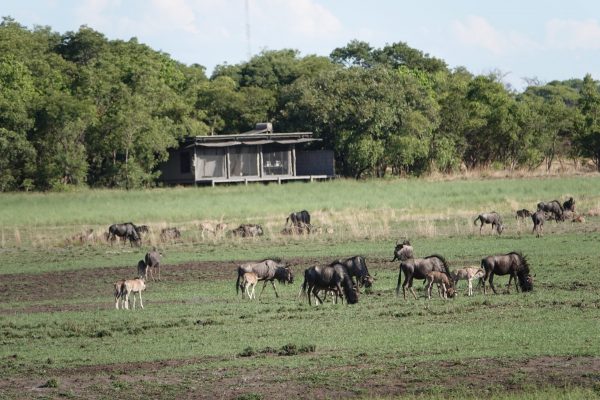 The camp has five standard safari tents and one family tent, which has two bedrooms and two bathrooms. Due to its remote location, the camp truly gives you "luxury of experience," with lovely, comfortable accommodations, fantastic food, and phenomenal guiding.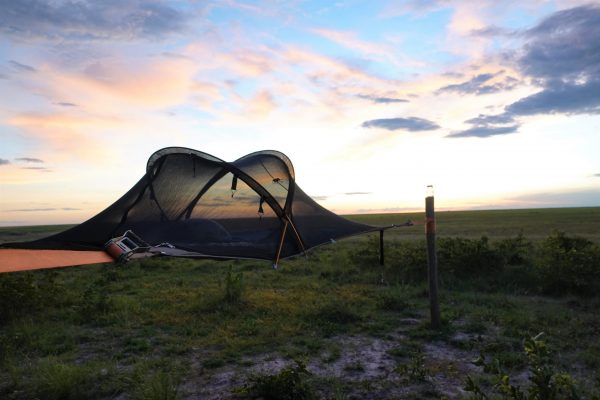 While in camp, be sure to take advantage of their unique sleepout experience! Situated out in the vast plains, your tent is suspended by poles and when you climb in, you have spectacular views of the night sky. Plus, the comfortable bedding makes you feel like you've been wrapped up in a cocoon. Your tracker and guide will be there to patrol all night to ensure your safety. Tip: Don't save your sleepout for your last night in camp. You want to ensure you can enjoy the sunrise from your cozy beds, and departure day is often quite early in the morning.
In addition to the sleepout, other activities available at King Lewanika include game drives, walking safaris, Lozi cultural interactions, and seasonal canoe safaris.
A HIDDEN GEM
Liuwa Plain National Park is truly one of the best kept secrets in Zambia and, arguably, all of Southern Africa. Incredible wildlife, top-notch accommodations, and nothing but the beauty of Africa, as far as you can see. If you love being the first of your travel friends to experience something new and completely unique, put this national park on your list!