There is a Chilean expression 'Buena Onda,' which means good vibe in English. It is used to convey a mood, style, or attitude that one feels while out experiencing the world. I knew when setting off with Kayla to the country this past June, I was in for a good time. But it was during my time at a handful of Chile's wineries that I came to fully appreciate the meaning of these two words.
Nothing said Buena Onda quite like the complimentary bottle of Carmenere wine we received upon arrival at Hotel Casa Real, a boutique property nestled within the famous Santa Rita winery. Located in the Maipo Valley, just 45 minutes from Santiago, the 98-acre estate includes not just award-winning wines, but also the Dona Paula Restaurant, declared a National Historic Monument by the Chilean government.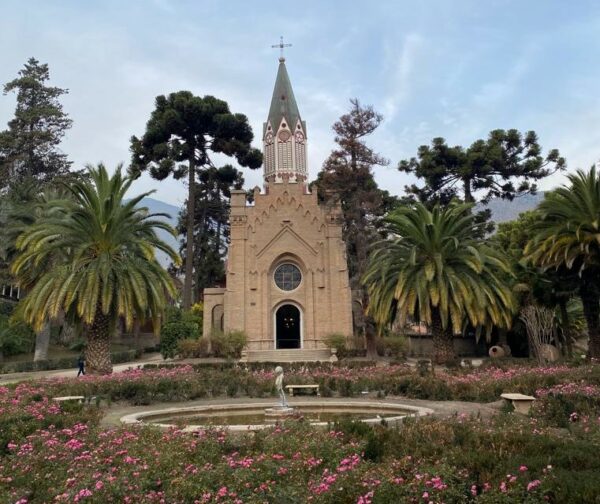 The delicious Dona Paula Restaurant was where we first sampled Carmenere, a Bordeaux variety thought to have been extinct until the 1980s when a Chilean wine expert discovered the grape hidden among some Merlot vines. The Carmenere grape thrives in warm temperatures and the wine has a soft yet spicy aroma, smooth body, and tannins. While at Dona Paula, we enjoyed it paired with our tuna tartar, fillet carpaccio, fresh fish of the day, ossobuco and a side of manjar (a caramel-like sweet heavenly substance), which was either drizzled over artisan ice cream or taken straight up, like a shot!
Chile has a rich diversity of foods, and many stand up to the bold flavors of Carmenere. It is an excellent choice to accompany spicy dishes and the ever-popular empanadas de pino (Chilean beef, onion, egg, olive & sometimes raisin empanadas) paired perfectly. Be sure to buy the empanadas from a bakery as they will be the most fresh and delicious! This was a tip from our fabulous husband & wife duo (driver/guide).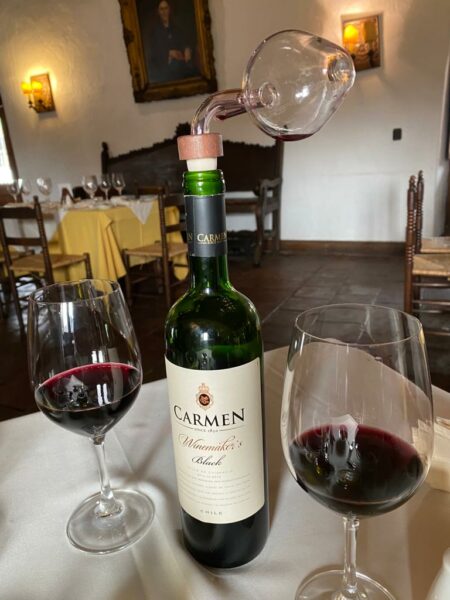 Another beautiful winery we visited was La Casona at Matetic Vineyards in the Rosario Valley. Situated near the coast, this countryside had incredibly unique geography, which, in turn, leads to incredibly unique wine. Matetic cultivates the vineyards according to organic and biodynamic principles – an approach that emphasizes nature as an integrated, active participant. Their wines are produced in a sustainable and environmentally friendly manner and within picturesque surroundings.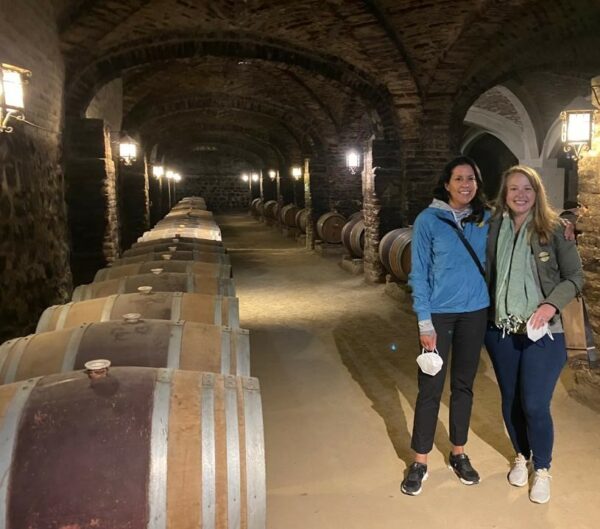 Upon arrival at Matetic, we were introduced to a range of wines during a 5-course paired lunch at its award-winning restaurant Equilibrio. Every dish was exceptional, and we savored each bite; but the tortellini filled with braised sweet potato was a favorite. This fresh homemade pasta was stuffed with succulently braised sweet potato, blue cheese, and rosemary and topped with a delicate rosé and herb sauce. When paired with Corralillo Carmenere D.O. wine, it certainly stood out! The tender lamb shank braised in Syrah, with creamy wheat berries and fresh sauteed vegetables, and served with roasted avocado was also divine! Pairing it with EQ Syrah D.O. San Antonio wine made it even better. The professional staff, attention to detail, and dedication to their craft made this dining experience the most memorable meal of the trip.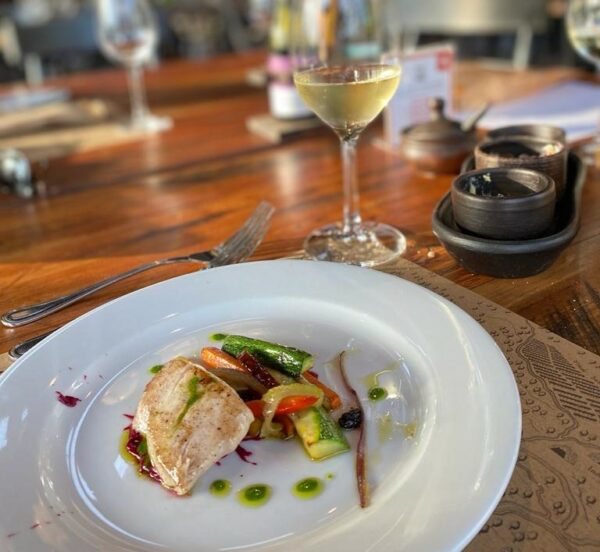 Side note: Avocados are one of the country's prime and renowned crops. The majority of those imported into the United States actually come from Chile.
There are also a handful of great activities available while at Matetic Vineyards. Winery, hiking, and biking tours are offered and are an enjoyable way to offset the numerous decadent calories consumed; and do not skip the exclusive "Chocolate and Wine Shots" at the El Emporio Wine Shop. During this experience you enjoy a flight of wine, with the final sample served in chocolate shot glass. Between the cuisine, the wine, and the activities, Matetic Vineyards is a must see stop and experience while in Chile!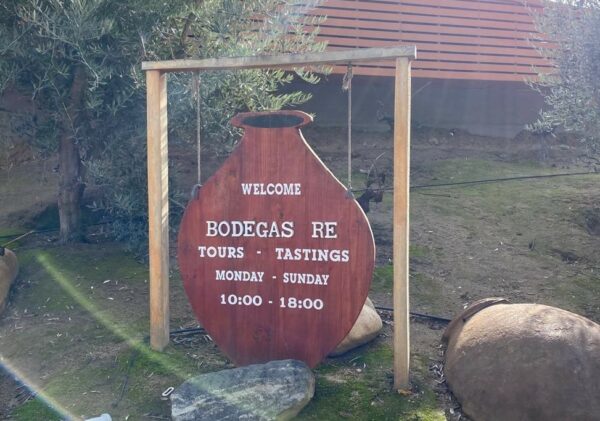 Our final winery, and another must stop, was Bodegas RE. The RE stands for REcreating, REinventing and REvealing. This applies first and foremost to their wines, each of which is unique and kept in clay jars. A few of their more notable combination wines are the Chardonnoir (Chardonnay & Pinot Noir), Red Chardonnoir, Syranoir (Syrah & Pinot Noir) and Cabergnan (Cabernet Sauvignon & Carignan). These were delightful varieties and enjoyed with the ubiquitous charcuterie board, which is always a welcome sight.
Buena Onda, Chile. Buena Onda! Until we meet again!