I am writing this on August 22, 2020, and I just got back from Africa! On July 2, with no advanced warning, Kenya opened their borders to American tourists with an effective date of August 1. The next day, I began planning my first trip to Africa since November 2019. Since leaving the military in 2005, this nine month stretch was the longest I had gone without stepping foot on African soil. It was time to get back to Africa.
Weighing heavily on my mind since the start of the COVID-19 pandemic was the understanding that the people and wildlife in Africa that are sustained by tourism had been void of tourism dollars for far, far too long. The pandemic has been devastating to tourism, and nobody is feeling it more than the safari economy in Africa.
My team at Travel Beyond, our clients and our partners in Africa had much to gain from this trip: knowledge about COVID19 travel rules and regulations, a general understanding of the logistical impact on travel to/from Africa, and the firsthand experience we pride ourselves on having in order to plan the best possible trips for our clients.
The Planning Stage
I started my planning by contacting several of our top suppliers in Kenya to see (1) if they were open and (2) if they could accommodate me on short notice. July through October is the peak of peak season for travel to East Africa, and it's also the time to witness the famed river crossings of the Great Migration. This is an epic wildlife experience that is difficult to enjoy in privacy. I wanted to see wildebeest and zebra crossing the Mara River with no vehicles in the background of my photos.
Arguably the most sold-out in advance place in the realm of eco-tourism is Giraffe Manor in Nairobi. Although usually sold out two years in advance, they had availability, and I built my trip plan around a return to this iconic hotel. For the safari portion, I often plan trips for clients that avoid stays in the Masai Mara National Reserve. Choose the wrong lodge and this area can have a very high tourist density in August and September, but it's the only place in Kenya to see river crossings. Looking at online availability, I noted almost all lodges were "wide open," so I set my sights on Serian Nkorombo. We have sent many of our top clients to stay at this rustic, tented camp on the banks of the Mara River in the heart of the Reserve. I wanted a tent so I could hear the river and the animals at night. I originally chose a few other destinations within Kenya for this trip, but as you'll find out, I soon had to adjust my itinerary!
Once I had my accommodations in place, I purchased a SkyTeam ticket to Nairobi on Delta/Kenya Airways/KLM. I highly recommend making Delta the ticketing carrier; they have been amazing throughout the pandemic. The original flight plan was to fly Minneapolis to Atlanta to London to Nairobi with the last leg being a code share flight on Delta's partner, Kenya Airways. At the moment, Minneapolis (MSP) is not a designated reentry airport, so it is not possible to fly international from my hometown. Normally, a trip to Africa takes me 21 hours door to door. This one took 33 hours with an 11-hour layover in London. Luckily, business class tickets were only $800 more than coach, so I opted to upgrade myself given the rigors of my mission. I should be able to retain Diamond status through 2022!
Health Safety Requirements and Logistical Challenges
Note: Many of the challenges I mention below about flights, borders and testing requirements were due to so many unknowns surrounding the August 1 reopening date. Like "opening day" for theatrical performances or restaurants, there are often logistical challenges to iron out. I'm confident that many of these challenges have already been remedied, and restrictions with testing timelines are improving.
After my flights and safaris were booked, I set my sights on health and administrative requirements. In their July 2 announcement, Kenya stated a requirement for a negative PCR COVID test as a condition of entry but did not state any timing requirement for this test. I have had a yellow fever inoculation certificate since my first Kenya safari in 1976, so I dug that out of my files. Although not required for a Kenya-only trip, I brought it along in case my flight was diverted to a country not on the original plan. I also decided to get a visa from the Kenya embassy in Washington DC instead of getting one on arrival or getting an e-visa. I knew two other people in the industry that were also planning trips for August, and we agreed to each apply for our visas differently and compare notes. My passport only had three blank pages left, so I had to be mindful of this as well.
I got my first COVID PCR test through the Allina health network on July 24, and I received the results back on July 26. I used these results to get my Kenya visa from their embassy using an expedited process with Dukes Visa Service. They are wonderful. On July 27, Kenya changed their entry requirements and stated that Americans needed a test with results returned within 96 hours of departure. I was leaving on August 1, the day the borders opened, so I had to get another test. Allina only offers one test per person unless you have a doctor's "order," so my physician ordered a second test for me. My second test was conducted on July 30, and I got the results back on August 3. This date turned out to not be problematic, as my original August 1 departure date also changed!
I was going to travel to Kenya with my good friend Chris Liebenberg from California. On the morning of July 31, I work up at 4am to a torrent of emails from folks in Kenya letting me know that Kenya had reversed course and was banning Americans from entering the next day. This was quickly followed by an official notification on government letterhead. Two hours later, the Kenyan government updated their policy to state that only Texans, Californians and Floridians were banned. I was "in" and Chris was "out." Within an hour, Kenya Airways and KLM cancelled their respective flights from London to Nairobi and Amsterdam to Nairobi. I was originally scheduled on the London flight, and Chris was on the Amsterdam flight.
By noon on July 31, after 8 hours of manic travel planning, we had a new plan in place. Instead of leaving on August 1, I would go to Kenya on my own, departing on August 3. Chris and I would meet in Arusha, Tanzania on August 9. Tanzania has been open to Americans since July 1 with no medical requirements. Delta was again awesome, changing both of our tickets with little change in cost. My new flight plan was again Minneapolis to Atlanta to London to Nairobi with a return from Kilimanjaro to Amsterdam to Detroit to Minneapolis. Chris flew from San Diego to Seattle to Amsterdam to Kilimanjaro and he flew the same way home.
Later in the day, still on July 31, Tanzania announced a ban on all flights from Kenya. So, I had to arrange a road transfer from Nairobi to Arusha, Tanzania on August 9 so that I could meet Chris and begin my Tanzania safari. To add more challenges, they also announced that anyone entering Tanzania from Kenya had to have a COVID test taken within 96 hours of arrival. Since I was going to be in Kenya from August 5-9, there is no way I could meet this requirement by getting tested in the US. I planned a third COVID test at the AMREF medical facility in Nairobi.
The Trip Begins: Nairobi and the Masai Mara
Although I had flown twice domestically since April, I was pleasantly surprised at how easy it is to navigate airports here and abroad. It took me ten minutes to get from my car, through the bag check station and past security at Minneapolis (MSP). Atlanta (ATL) was a breeze with almost no travelers in the airport or in the lounge. I was pleased to find the new Delta lounge in the international departure concourse has an outdoor sitting area. Only two terminals are open in London and one is reserved for One World. The other is for all other airlines. I did have a long layover but got a Star Alliance pass from American Express to pass my time in the Lufthansa lounge. Landing in Kenya was a breeze. The countries in Africa where we send our guests have always taken health screening more seriously than we have in the US. I landed, was met by my expedite service, went through a thermal body scan and then immigrations. They did not ask for my COVID test results most likely because I had a visa. I collected my bags and was on the road less than 30 minutes after the aircraft doors had opened.
After I landed in Kenya, I visited the AMREF medical facility that's adjacent to the domestic airport for my third COVID test. After the test, I was transferred to the domestic airport and boarded my flight to the Masai Mara. As I mentioned before, I am happy to report that Kenya has a firm grasp on sanitation and COVID mitigation strategies when compared with Minnesota and Georgia, the two states I have been in since March. From the moment I landed, I noted that almost the entire population of the country was wearing masks. There are distancing stickers on the floor everywhere I went, reminding people to remain 2 meters apart. Plastic shields, hand sanitizer and warning/informational signs about COVID were abundant. It was quite different from home in this regard.
At the domestic airport, I had my bags sprayed with a disinfectant and I had to walk through a shower where they misted my body with a clear chemical that supposedly disinfected me. The airport was "masked up" and everyone was socially distanced. The flight was uneventful. On the topic of safety, the co-pilot turned around during the flight and asked one of the passengers to keep their mask over their nose. You can't maintain distancing on a small plane but there is high volumetric flow rate of fresh air on a non-pressurized plane.
After a 45-minute flight, I luckily got off at the first stop in the Masai Mara National Reserve: the Musiara air strip. The drive to camp was uneventful, but some of the road networks through the grass plains of the Mara had almost disappeared from a lack of tourism. I saw no other vehicles on the drive to Serian Nkorombo.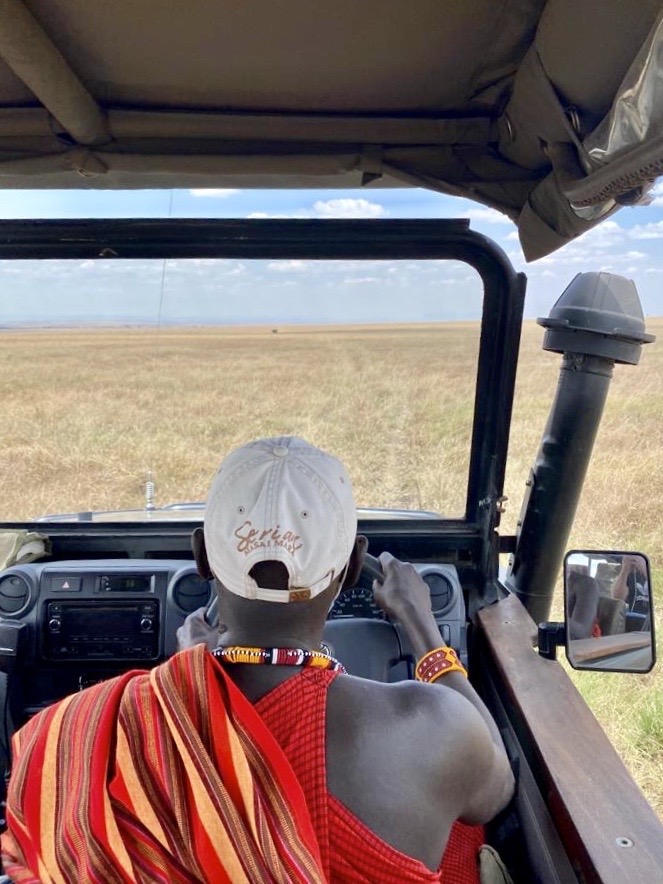 Upon arrival at camp, I was greeted warmly. I was the only guest in camp for my three night stay. The camp is located on the banks of the Mara River, and the fire pit at the main lounge is 10 feet from a bend in the river with a resident hippo pod. My tent was 20 feet from the river, near a short run of rapids that created the most peaceful sleep I have enjoyed in recent memory.
My mission on August 6 was to see wildebeest and zebra crossing the Mara River, a spectacle that has eluded me for 49 years. The day did not disappoint! John, Dennis (my Masai guide and driver) and I went on a full day safari to the southern part of the reserve near Lookout. After following some big herds, seeing general plains game, and watching a small crossing of about 25 wildebeest, we decided to stop for our packed picnic lunch. The timing could not have been better! No sooner had we served our plates and opened a bottle of soda than we noted a massive dust cloud shooting skyward about a mile south of our position. It looked like a tornado funnel. We shoveled our food in our mouths and drove at best speed to the Mara River, where we watched about 25,000 wildebeest and zebra cross the Mara River for 90 minutes. We only saw 12 other safari vehicles!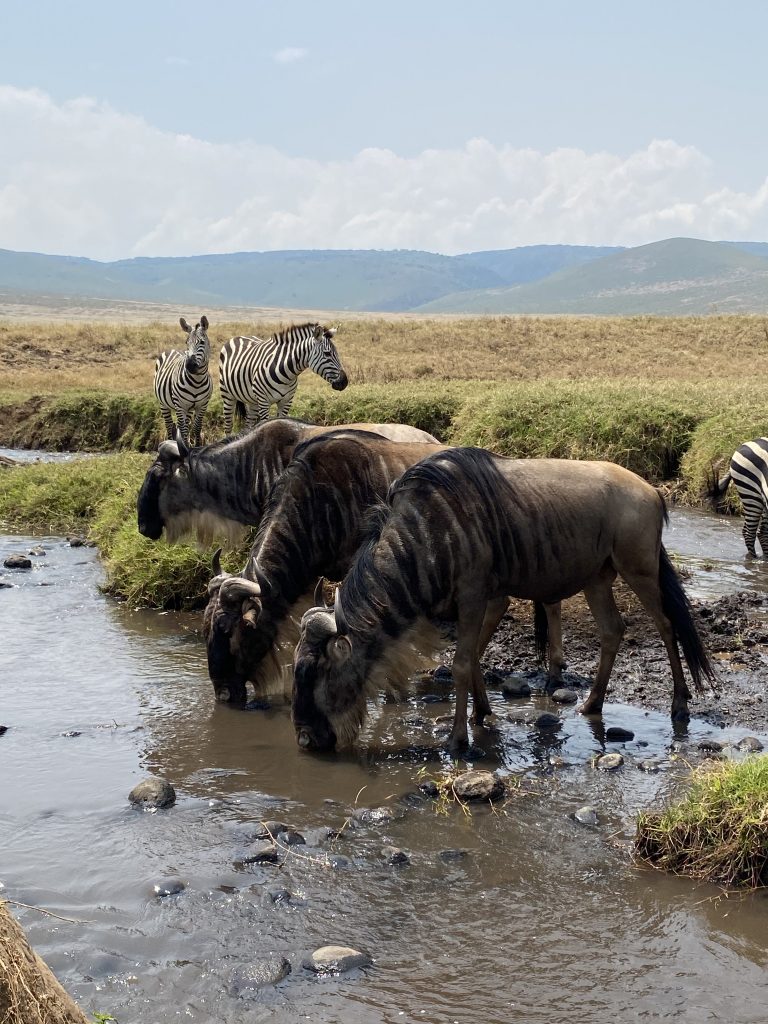 After the crossings ended, we drove downstream to a sharp bend where we found more than 50 vultures feasting on the roughly 25 wildebeest that had broken their legs and drowned, been killed by crocodiles or otherwise failed to make it across to the other side. It was not the nicest site, but part of the circle of life I reckoned. It was now 3:45pm, so we decided to drive the 2 hours back to camp. Along the way, we saw Scar, who is believed to be the oldest lion in the Mara. We also saw his son mating. This is the only scene that was disrupted by another vehicle. I also received word this day that my prior day's COVID-19 test result was negative.
I spent the next day on morning and afternoon game drives in the northern sections of the Masai Mara National Reserve. I had a good day seeing lions, leopards, a serval cat and many other antelopes, giraffes and elephants. In the evening, Adrian Alan joined me in camp for dinner. He runs Serian in Kenya for Alex Walker. Adrian has guided many Travel Beyond clients over the years, and it was nice to get to know him better. During my three days in the Masai Mara National Reserve, I saw 41 other safari vehicles in total.
After three days in the Mara, I flew back to Nairobi, where I spent one night at Giraffe Manor. Based on its chronic availability issues (lucky them), I did not think I would ever be able to plan a personal trip far enough in advance to visit Giraffe Manor again. I had been once before in 2014. COVID changed that, and I was able to stay in the Karen Blixen Suite. With COVID precautions in place, dinner was outside, and breakfast has been split into two locations in the main and garden manor. Over the past six years, Giraffe Manor has seriously upped their game and their service matches some of the finest hotels and restaurants I have visited in recent years. And, I got to enjoy tea and breakfast with the giraffe.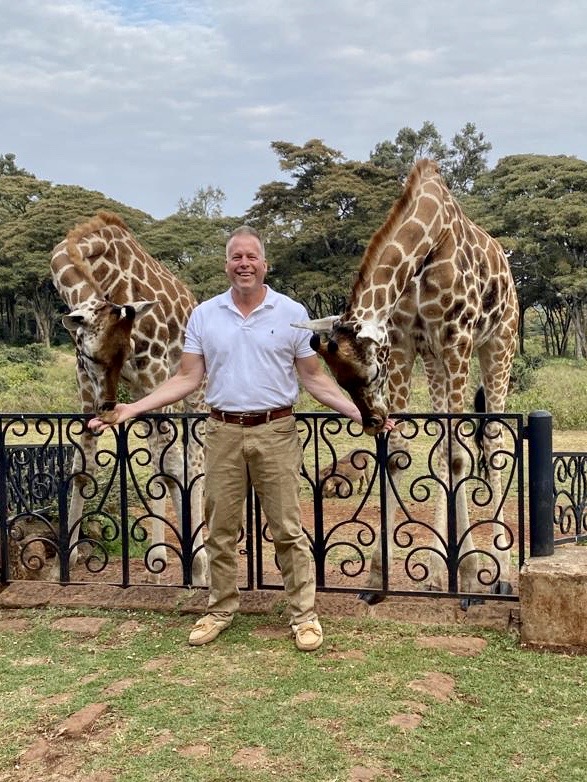 Tanzania: Arusha and the Lamai Wedge
On the morning of August 9, I was collected by my driver Charles and transferred by road three hours to the Namangwa border crossing between Kenya and Tanzania. The two countries house their immigrations, customs and health officials in the same building, so it was pretty slick and seamless. At the Tanzania health kiosk, I withheld all my "paperwork" to see what they would ask from me. First, they asked for my passport and a health screening form, which I had already filled out at home. Next, I was asked for my yellow fever card. Finally, I was asked for my COVID test results. I presented my test from July 24 as a test and was told it was too old. So, I gave them my test from August 5, and they passed me through. I bought my visa, and nobody was at the customs desks. I said goodbye to my Kenyan driver and left for Arusha with Chediel "Chedi" Mnzava, my new guide and driver from Tanzania. You have to change cars and drivers at the border, as they can't cross the border.
After a two-hour drive through Masai land, I arrived at Legendary Lodge. I had visited Legendary in November 2016 and, like Giraffe Manor, they have seriously upped their game. Food, service, accommodations and the spa all exceeded my expectations. Legendary is the ideal spot if you have two nights to spend on arrival in Tanzania before starting a safari. The lodge is also less than 15 minutes from the Arusha domestic airport. My friend Chris arrived late this evening on KLM after I had gone to bed, and we were the only guests at Legendary. We met the next morning, had breakfast and departed for the Arusha airport.
We flew to the northern Serengeti and stopped briefly at the Kogatende air strip to drop-off and pick-up more guests. By amazing coincidence, a couple that was on a safari booked by Travel Beyond boarded the plane, so it was nice to meet them. They were the first Americans to arrive on KLM since March and were finishing their safari and on their way to Zanzibar. We chatted briefly on the ten-minute flight to the Lamai Wedge where our safari lodge was located.
The Lamai Wedge is the far NW corner of the Serengeti. The escarpment, the Kenya border and the Mara River form the three boundaries. Keep in mind that there is no visible border between Serengeti, Tanzania and Masai Mara, Kenya. The landscape is seamless, but the guides just know where the border is located and don't cross it. Normally, the Lamai Wedge would be busy with tourists as Sanctuary, Singita, and other companies all have tented camps in the Wedge. The only camp currently open in the Lamai Wedge is Serian Lamai, and we were again the only guests in camp. Since the bridge between Kogatende and Lamai is not in service, the only access is by air, so we had the Lamai Wedge to ourselves. This is a true luxury that I don't believe will ever be repeated in my lifetime. On our third night a Dutch family arrived, so we had another set of eyes looking for animals. We had an epic three days of animal viewing, saw massive herds of wildebeest and enjoyed exceptional food and service in their rustic, tented camp.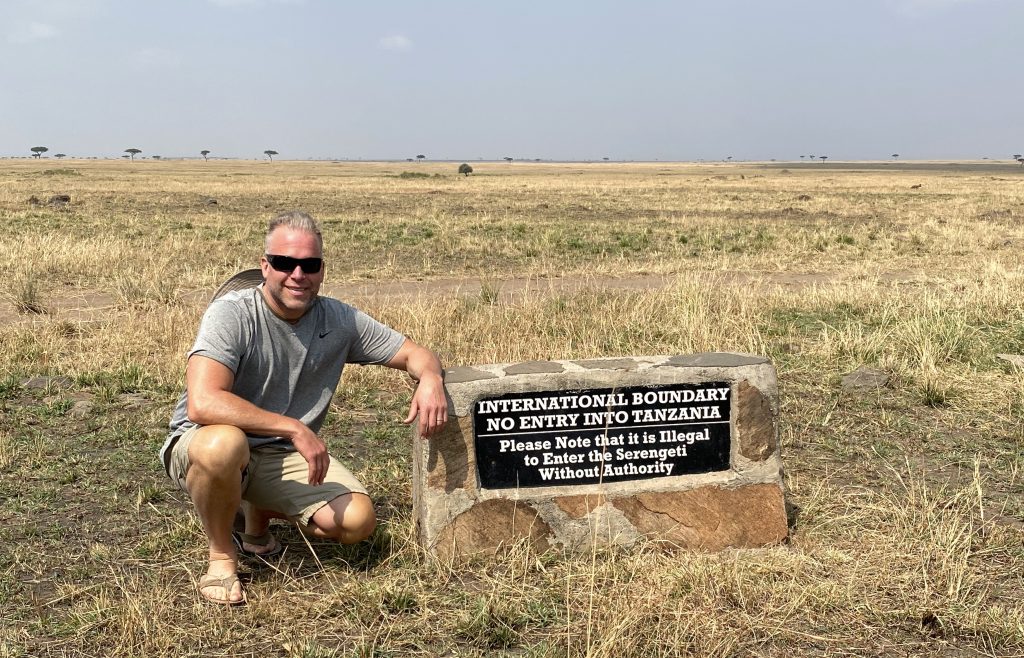 Tanzania: Ngorongoro Crater
After three days in the Serengeti, we took a quick flight to Lake Manyara airport where our guide Chedi collected us and drove us to Entamanu Private. He is one of Nomad's most senior guides and was the same person that drove me from the border to Arusha on August 9th. Entamanu Private is the newest lodge owned by Nomad Tanzania, and it is located on the rim of the Ngorongoro Crater inside the Conservation area. The views are absolutely stunning, and we had a great dinner while we anticipated what was waiting for us the next day. At this time of year, the rim of the Crater can be very cold with morning temperatures just above freezing. Our rooms had large gas furnaces and things were quite toasty during the night!
At 6am, we left camp and descended into the Crater. On the way, I was able record to video of two male giraffe fighting in the morning mist. The Caldera of the Crater is often called safari Africa's Garden of Eden. The roughly 63,000 acres are usually packed with vehicles in August. We had the place almost to ourselves and counted 15 other safari vehicles over our entire 10-hour game drive and picnic. This is the same vehicle count as MalaMala Game Reserve in South Africa but with twice the area! The private safari continued, and we saw an impressive biomass of fauna on this day. The highlights for me were black backed jackals, a large combined herd of zerba and wildebeest, and thousands of frogs. You have to appreciate the little things! After a full day in the Crater, we returned to Entamanu.
Tanzania: Tarangire National Park
We left the next morning at 6am for a long drive to Tarangire National Park. With so few tourists, park entry formalities were quick, and we made haste to Nomad Kuro Tarangire deep inside the Park. We had lunch and a long nap before striking out for our afternoon game drive. For me, Tarangire seems like the place you would envision in your mind as Africa if you had never been. Dry riverbeds, flowing rivers, a swamp, giant baobabs, varied terrain and heaps of wildlife make it an iconic stop for any safari aficionado. Tarangire has the largest herds of elephants in northern Tanzania. That afternoon, I witnessed buffalo mating for the first time! We headed back to camp for a conservation presentation and drinks. We had a refresher on all the wonderful things Nomad does in Tanzania for communities and wildlife, which reaffirmed my desire to get travelers back to Africa as soon as possible. After a great meal, we spent our final night in Africa.
The last day was a long morning game drive through the park including a drive along the edge of the Silale swamp, a featured landmark in the Park. We left via the main gate and took the tarmac road to Arusha where we spent the afternoon at James & Leanne Haigh's new Hammerkop House. Built on a golf course, this new, 3-bedroom villa is going to be ideal for quick overnights near Kilimanjaro International Airport. While it opened on March 15, they have not had many guests but are now hoping to become quite busy as travel resumes. After a gourmet dinner, Chedi took us to Kilimanjaro for our Delta/KLM flight home.
The Flight Home
Flying home was just as easy as flying to Africa and, thankfully, a lot quicker. Delta had reissued my ticket to come home through Amsterdam and Detroit. Other than a temperature scan, going through Amsterdam was just like the many other times I have passed through except there were 90% less people. I used the shower in the lounge, had a nice meal and went to my gate for my flight to Detroit. Landing in Detroit was easy and the only added step was a health screening and temperature check by CDC employees after immigrations and before baggage claim. From the time the aircraft doors opened, it was 32 minutes until I was in the Delta lounge waiting for my flight home.
Going Forward
The COVID pandemic has been an emotional rollercoaster for everyone at Travel Beyond and all our partners in Africa. Kay and I have put our heart and soul into Travel Beyond for 15 years and we have had some of our darkest days since March. This trip left me invigorated, rested and ready to see things through to the other side. If you are healthy enough to travel and have a little flexibility in your schedule for the unknowns, I strongly encourage you to consider a trip to East Africa in the next few weeks. The camps are starting with wide-open inventory and bookings are trickling in. Therefore, prices have been reduced at most camps to incentivize last minute business. The itineraries in our August 23rd newsletter reflect this lower price on all six trips. Your tourism dollars are desperately needed by the people, businesses and the animals in Africa to kick start the economies. Once you get there, you can take a much needed mental break from everything happening here at home. I also encourage you to research risks associated with airline travel. You may be pleasantly surprised what you find! I certainly hope I never again in my lifetime see so few tourists in Africa.