The year was quickly coming to a close, and I had not yet ventured out on my annual safari; so, I decided to plan a quick December adventure to South Africa with my husband! For this short and sweet trip, I focused on just the Greater Kruger ecosystem because I wanted to maximize our wildlife sightings and minimize time spent traveling from place to place.
This time of year, it is the start of the green season in the Greater Kruger, so the bush is usually fresh and green following some much needed rains. The region encompasses numerous private game reserves, and we enjoyed amazing safaris in each of those that we visited Although it rained once or twice during our trip, rains were brief and didn't impact enjoyment of our game drives.
Kapama Private Game Reserve
Our first stop was the wonderful Jabulani Safari Lodge, located in the 37,000-acre Kapama Private Game Reserve. This property is best known for its rescued herd of abandoned and orphaned elephants. Guests here can fully immerse in an ethical and educational interactive experience with these elephants and their long-term dedicated handlers. And when you are not enjoying the elephants, there are game drives that bring you throughout the reserve and reveal many other wildlife species, including all of the big five.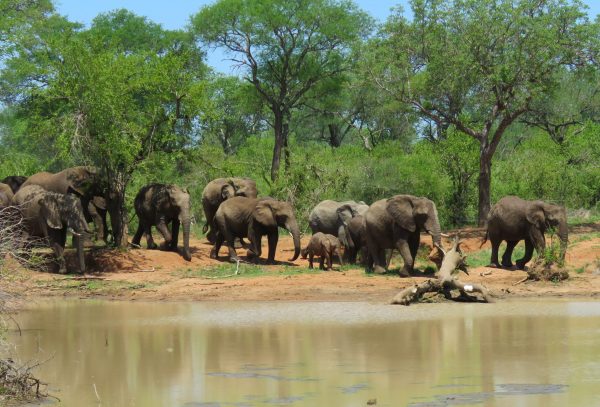 One of our favorite moments while here happened at an evening sundowner, one of Africa's best traditions. Excited to toast the expansive sunset at an undoubtedly prime location, imagine our surprise when we pulled up to the watering hole and found that a lone rhino and a pride of lions had gotten there first! The scene was quite peaceful for a while. But as it grew darker, the rhino, an animal with notoriously poor eyesight, practically walked right into a sleeping lion. Rather than carrying on his way, the rhino appeared to initially want to face off with the lion. He then quickly came to his senses when the rest of the lion pride rose from their slumber and started circling around to see what all of the fuss was about. Having a front row seat to observe animal interactions is one of the magical moments that make the safari experience so very special to me.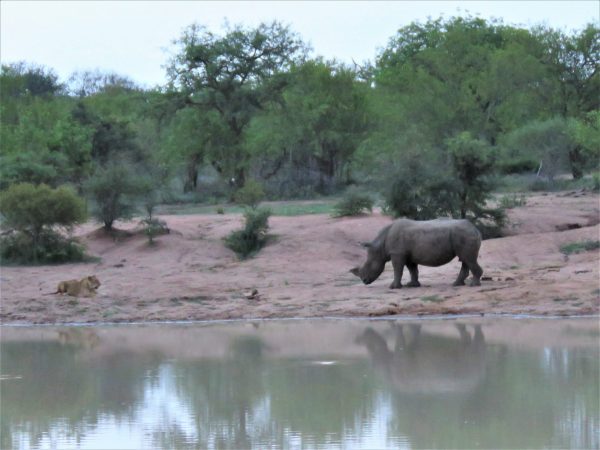 Timbavati Reserve
Our next stop was the incredible Timbavati Reserve, spanning 131,000 acres of excellent wildlife habitat and sharing an unfenced border with Kruger National Park. While here, we stayed at one of my favorite boutique properties, Kambaku River Sands. It is a family-owned lodge which often finds owners Bryce & Nicola on site; the couple prides themselves on their keen attention to detail, and, as a special touch, each suite has been individually decorated.
Many of the game rangers have been with the property for years, and their expert knowledge was on full display on every one of our safari drives. During our stay, we  were surprised and also lucky to see all of the Big Five – lion, leopard, elephant, rhino, and buffalo –on one single game drive!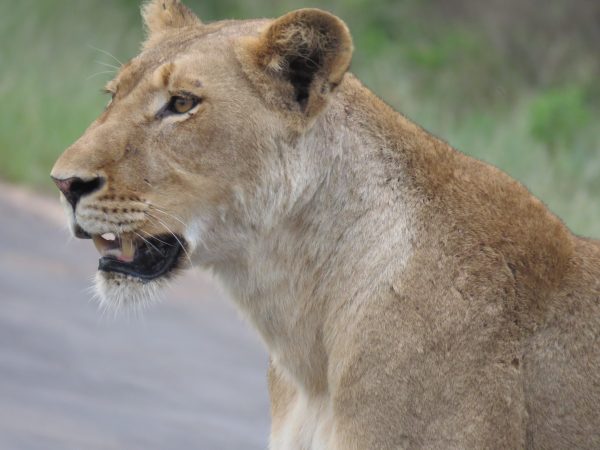 Another morning, a call came in that there had been a very special sighting of wild dogs on the far edges of the reserve. When asked if we wanted to try and make it all the way there, our answer was a resounding yes! Wild dogs are a rare treat in this region, and we felt truly blessed to arrive in time to see them before they quickly disappeared in the thick bush. Flexibility and a sense of adventure on safari will often lead to many memorable sightings!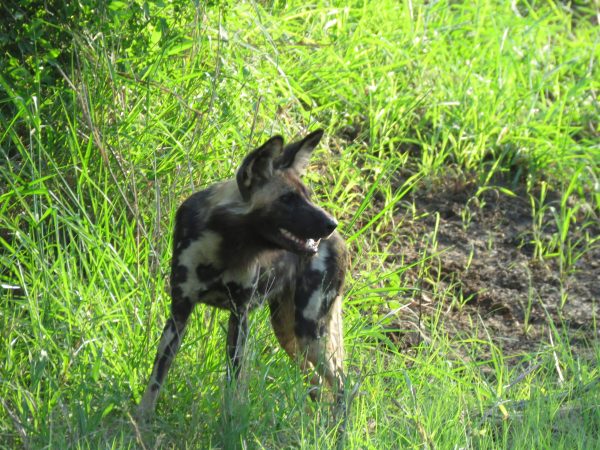 Lion Sands Game Reserve
We then headed to Lion Sands Narina Lodge located along the very southern edge of the Kruger, just a short 3-hour road transfer away. The stunning property, dramatically perched on stilts along the banks of the Sabie River, sits on a 12,000-acre private concession within the famed Kruger National Park. While here, guests can also explore another 12,000-acres at their private sister concession in the Sabi Sands.
With access to all of this land, there was plenty to see and do during our stay, and we were rewarded with many exciting sightings, including some stellar rhino encounters. We found a mother and baby and witnessed two males chasing one another!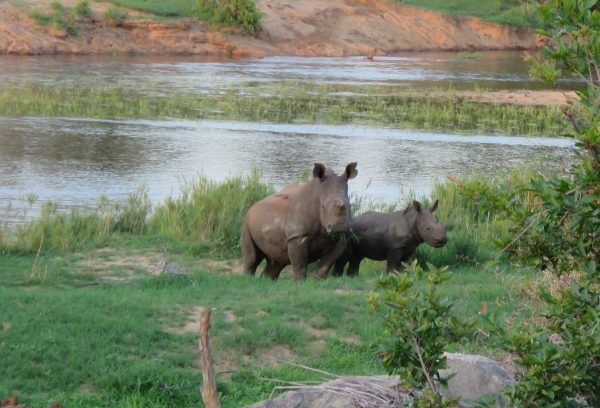 Our guide was a graduate of the special Field Guide College operated by the MORE group, and his knowledge and professionalism were on display daily as he led us on both drives and walks. While on safari it is always nice to get out of the vehicle and explore the bush on foot when you can. We enjoyed an excellent morning walk to the river, where we spotted a hippo pod . We were then, upon returning to our vehicle, surprised to find breakfast awaiting us!
Sabi Sand Game Reserve
Our final safari stop was in the renowned Sabi Sand. Adjacent to Kruger National Park, the reserve is known for its excellent population of big cats, most notably leopard. And I must say that it definitely lived up to this reputation!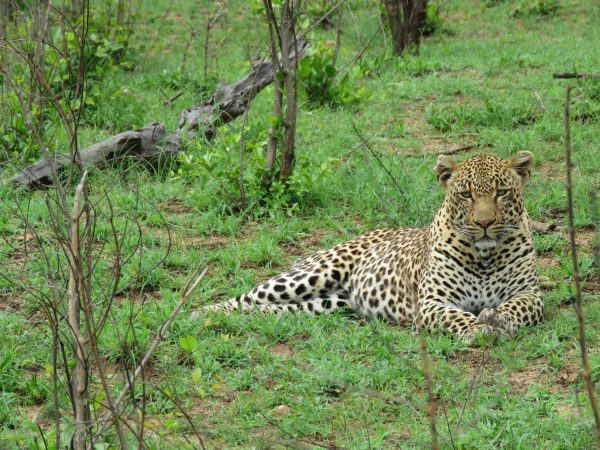 We stayed at Singita Ebony Lodge, rich with history as it is the very first of the Singita properties to open. The rooms are expansive, with traditional décor that is warm and welcoming. Situated on the banks of the Sand River, it boasts an ideal location and affords stunning views of the 45,000-acre private game reserve.
On our first afternoon game drive, we were "wowed" to have our very first sighting within just minutes of leaving camp – a beautiful pregnant female leopard who was expected to be giving birth at any moment. What a wonderful and very special way to start!
Throughout our stay, our extraordinary guide and tracker were able to locate an incredible five different leopards in just two days, which was truly amazing. There was a beautiful and active male with whom we spent a good bit of time, a somewhat skittish male that didn't much like the attention, and another young male who apparently needed to sharpen his hunting skills as he was easily seen and "outed" by the nearby impala herd, thus ruining any chance of success. Our final sighting was identified as the Hosana male leopard, thought to be the largest male in the region and who has a worldwide following on YouTube!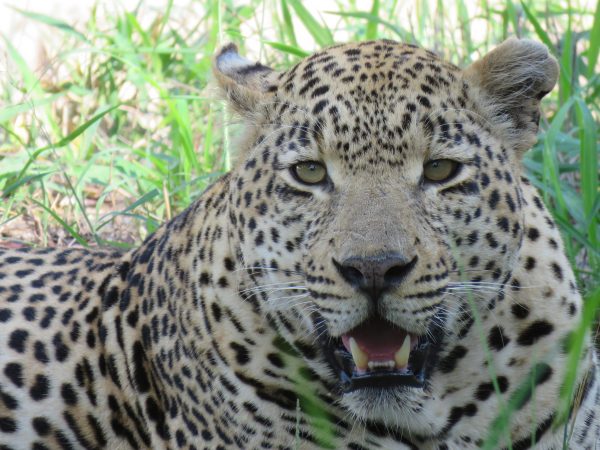 In between all of this great leopard action we were also treated to plenty of other excellent wildlife action, including a huge buffalo herd, many elephant sightings, a magnificent pride of lion, and so much more.
I returned from this safari feeling refreshed and renewed, as I always do whenever I have had the opportunity to immerse myself in the wonders of the African bush.