When I am asked what my favorite African country is, Kenya is always one of the few I name. (Yes, I have a couple of favorites and cannot narrow down my choice to just one country!) Why? I first saw Kenya on the big screen, in the movie Out of Africa, and it shaped my early ideas about what Africa would be like. After visiting Southern Africa several times, I was excited to visit East Africa – specifically Kenya – for the first time, and when I did, I remember saying to myself, "Now, THIS is Africa!"
Imagine it: the landscape featuring a backdrop of Mt. Kilimanjaro and/or Mt. Kenya, the escarpments in Samburu land, the iconic acacia trees, the culture, the people, the safari, and varied experiences available such as hot air ballooning, camel-back safari and more. To put it simply, Kenya IS Africa.
This past January, I embarked on my third visit to Kenya. I was fortunate to travel with my Travel Beyond colleague, Alexis, and my best friend since childhood, Liz. This was their first visit to Kenya and it was fun for me to experience it through their eyes. They were blown away!
Nairobi
We arrived in Nairobi at night and were transferred Emokoko Lodge in the Nairobi National Park. We saw a lioness, giraffe and a servel cat, all before we arrived our lodge!  We spent a few days here to take in the highlights of city. I visited the David Sheldrick Wildlife Trust for the third time. Each year I foster a baby elephant for my son and I am passionate about their work. I recommend the experience to all Nairobi visitors.
Laikipia Area
After Nairobi, we headed north to the Laikipia area where we spent three nights at two different camps. I loved my time at Sabuk, where, along with traditional game drives, visitors can take a bush walk, fabulous camel rides, and try your hand at fishing – and I caught three fish!
Next, we drove to Loisaba Tented Camp, which sits on private land, owned partly by The Nature Conservancy. We had game drives amid hundreds of elephants, reticulated giraffe, grevy zebras, hippos, and more. We also walked, did some mountain biking and were treated to surprise bush breakfasts. Truly a special place. Visitors can stay in Loisaba's beautiful tented camp, but the more adventurous traveler can opt for a stay in their Star Beds. Here, your beds are designed to roll out from your room to a platform so you can sleep under the stars! The beds are very comfortable, with special netting around to keep the bugs out. This was one of the most special things I have ever done! We were at an elevation of just over 4,000 feet and in a remote location untarnished by light pollution. When I woke at 3:00 am to see the clear sky, it took my breath away. I felt as though could pluck the stars right out of the sky!
The Masai Mara
After all the biking, walking, cultural visits, fishing – and with some game drives mixed in – we were ready to head to the Masai Mara. The flight was about 75 minutes, and we touched down in Kichwa Tembo Camp / Bateleur Camp, right in the heart of the Mara and the famous Mara Triangle. Out of Africa was filmed in this area! We were greeted with hot towels (a norm anytime you arrive at an airstrip/property) and in true style, our hosts from &Beyond offered us nibbles and cold drinks. What a welcome! Our guide took us on a game drive to the camp and along the way we saw many animals. Our favorite experience was sitting with a troop of baboons for a good 45 minutes. We were so entertained by their antics! Our game drives in the Mara Triangle and on their private land were not disappointing. Highlights were the black rhinos and the pride of 16 lions – they climbed trees four at a time so they were able to have a better vantage point for food!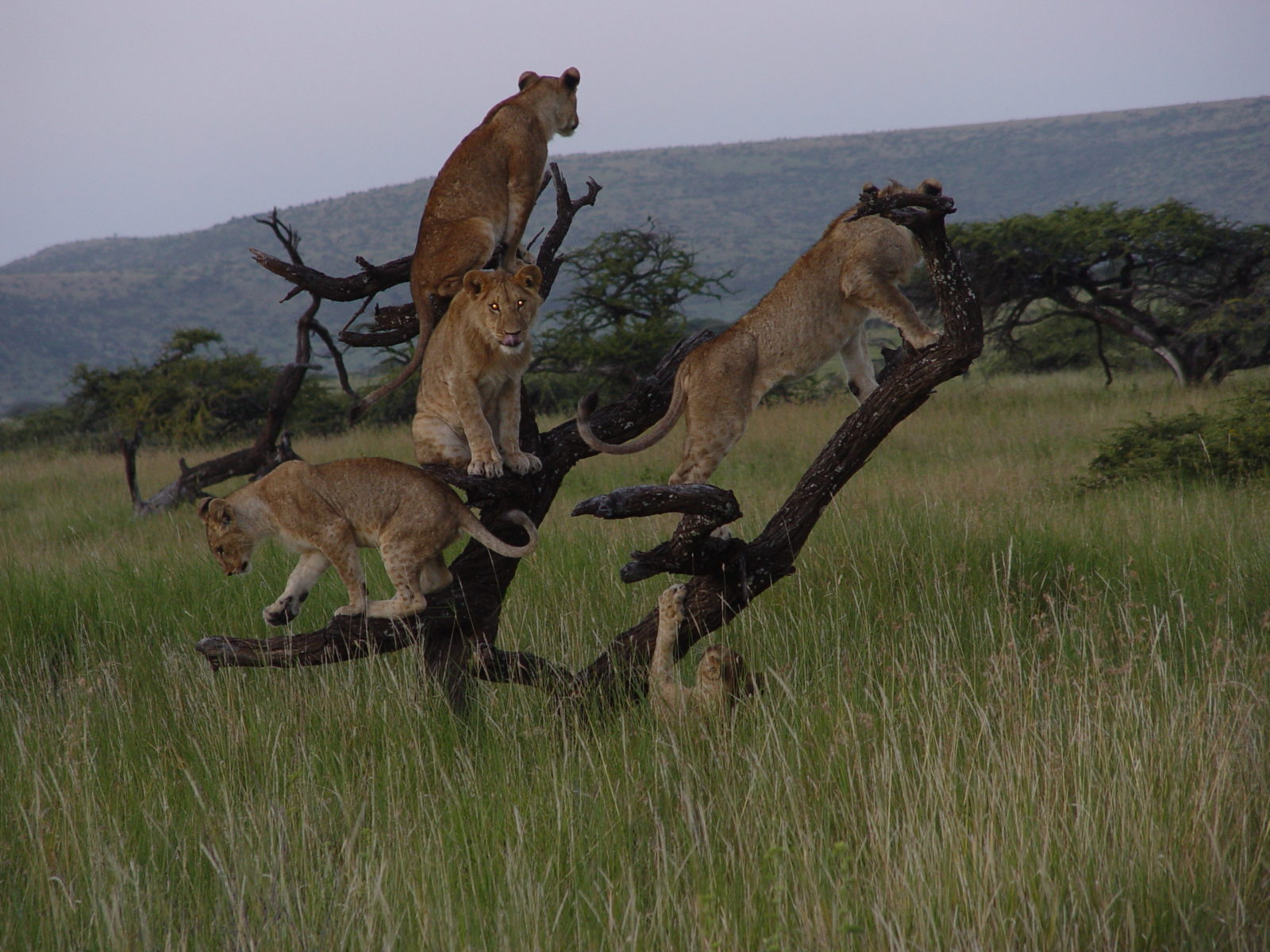 Little Governors was next and is still one of my favorites. Governors owns three camps: Governors, Little Governors and their flagship, Il Moran, perched above the Mara River. Governors was the first permanent camp in the Mara and each of their camps are in phenomenal locations. Our game drives were great but seeing the game IN CAMP was unreal! Warthogs, elephants, and hyena visited the camp around dinner time and once the camp was quiet, the buffalo and hippos would come out to graze. You can watch them from your tent!
Outside the Masai Mara National Park
The Masai Mara National Park is remarkable. Set aside in 1961 to protect the native wildlife, there are no fences between the national parks and local communities. In years' past, local communities have leased land to camps for safari, which opened many hectares of private conservancies bordering the national park. We headed out of the national park to some of these private concessions to visit many more camps. After being in the park, it was great to visit camps in the private concessions, where there was less visitors on game drives.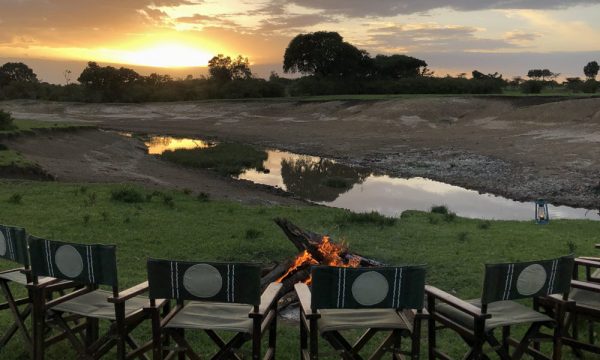 We stayed at Tangulia, Serian Ngare, Richards Camp and ended at Naboisho. These camps are all small and the "biggest" of them accommodated only 22 people. Since these camps are on private concessions, visitors have the flexibility to participate in game drives, cultural visits, evening game drives, and walking. Some of the camps even offer sleep outs in treehouses! These camps definitely feel more remote, especially during the high season (migration season) when many vehicles are in the park.
We said goodbye to safari and flew back to Nairobi where we had a day room at the famous Giraffe Manor! We were able to have high tea with the giraffes as we fed them, hugged them and even kissed them – if we were brave enough! Since our flight departed that evening, we were unable to experience breakfast with the giraffes, but we all left happy nonetheless.
The old adage tells us the "third time is a charm," but I disagree – ALL of my trips to Africa have been charmed!
"Giraffe hugs are the best!"