When you hear the word glacier, what comes to mind? I immediately think of extreme, unhospitable cold. Antarctica also pops into my mind because most of the world's glaciers are located there. While I do hope to make that voyage one day, I was fortunate enough to visit a far more accessible glacier during my recent trip to Argentina– Perito Moreno.  It's not only incredibly famous, but with average temperatures ranging from 30 to 70 degrees, there's no need for thermal long johns or puffy parkas!
Located in Los Glaciares National Park, the Perito Moreno glacier is just an hour and half car ride from El Calafate, the biggest city in the region and home to several four and five star accommodations. You can also stay at the stunning, EOLO, a Relais & Chateaux property, en route to the park. This will save you roughly 30 minutes travel time to Perito Moreno.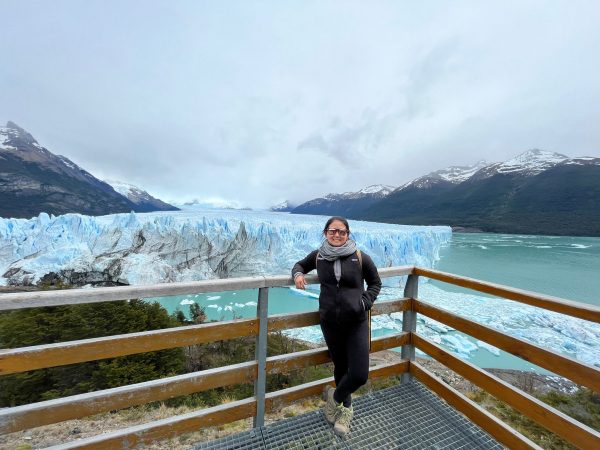 Now that you've found a place to stay, you may ask yourself, "What do I do when I get to Perito Moreno?" Visitors can meander along the metal catwalks to view the glacier from different vantage points. My colleague, Kayla Torgerson, and I did just that, and enjoyed a picnic lunch with a magnificent view. It's eerily quiet. But, I suppose that's to be expected, because you're out in the middle of nowhere, amongst the beauty of Lake Argentino and most areas of the catwalks are distanced from other visitors. Then…crack– a mini rupture here…and then there! You search for the ripples in the lake to see where the glacier has fallen apart. It's exhilarating and LOUD. It's crashing, crumbling, and waves colliding along the shore and back up the glacier. It's a waiting game of when and where the next action will happen.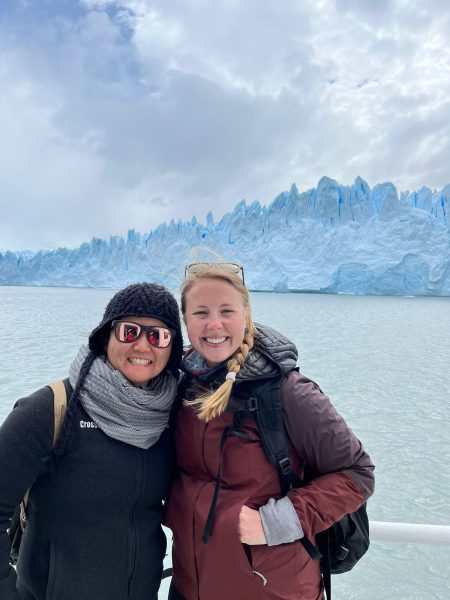 While viewing Perito Moreno from the catwalks is lovely, it's even more enjoyable to mini-trek ON the glacier or hop in a kayak to experience your surroundings from the water.
The mini-trekking adventure begins at Bajo de Las Sombras Port from where you board a ferry to traverse Brazo Rico Lake. It takes about 20 minutes to get across the lake to where you meet your guide. The boat ride was scenic, no doubt, and it was the first time we were able to grab up, close and personal views and photos of Perito Moreno. Over and over, I was in awe of just how massive the glacier is! Upon arrival, the knowledgeable guides present short lectures as you walk (approximately 20 minutes) to the spot where your equipment awaits.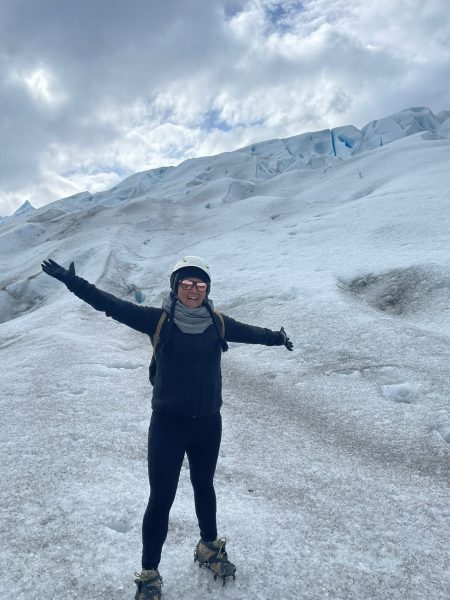 Once the crampons are strapped to your footwear, you climb your way up the glacier. While it is certainly strange to walk in these metal vices, the crampons are essential to gain any traction. Your guides provide instructional tips and tricks, and you and your group learn together. In trickier spots, the guides position themselves to lend a hand and there are some ropes to grab hold of for extra stability. I was surprised at how vertical some of the paths were, but then again the sharp slopes do contribute to making the terrain so beautiful. By the end of the 90 minutes of trekking on the glacier, walking in crampons becomes almost second nature and you wish you had another hour and a half to explore the enormous Perito Moreno.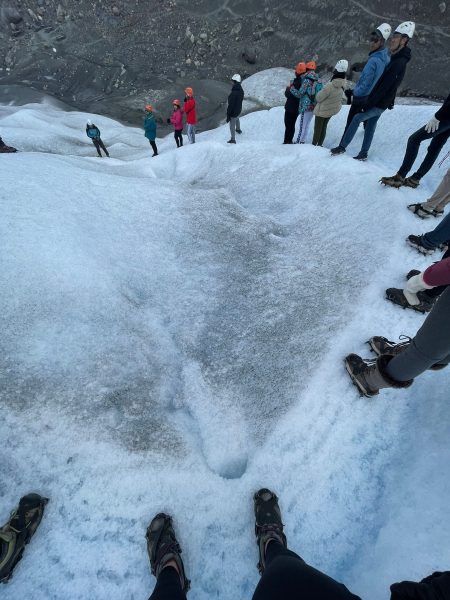 The next day, Kayla and I were back for more exploration! This time, we met on the northern side of the glacier to do some kayaking on Lake Argentino. We received a thorough explanation of the equipment and all the gear was provided (Gore-Tex dry suit, thermal suit, boots, and life jacket). Part of what made the experience so memorable was getting prepped for the activity. Squeezing into the dry suit prompted many giggles.
All jokes aside, safety was of the utmost importance, and once out on the water, everything was well worth it. The guide launched each kayak duo off one-by-one and we began to paddle toward Perito Moreno. Small and large icebergs, from the glacier itself, bobbed up and down sporadically in the frigid lake. Luck was on our side once again this day, as it was clear, sunny, and thankfully not too windy.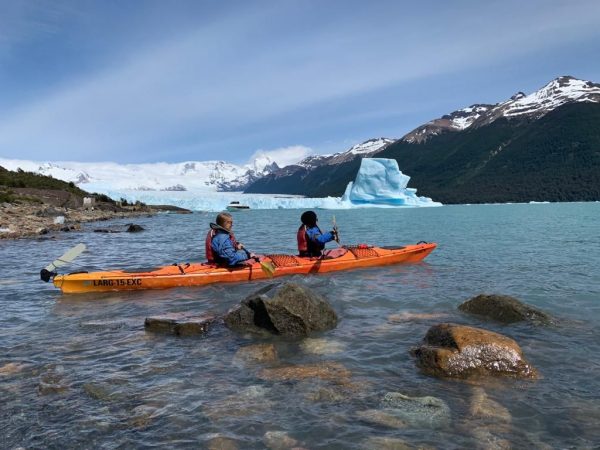 We stopped a few times to connect our group's four kayaks together so our guide could tell us more about Perito Moreno. We learned, among many things, that the glacier is special in four distinct ways: 1) Every 3-5 years the glacier touches the land to create a dam, which subsequently ruptures. 2) It's a stable glacier, in that it doesn't recede like most others. 3) It is easily accessible, so visitors don't have to take a boat or set off on a hike to view it. 4) Located near sea level, you don't have to be at a high altitude (where many glaciers/ice fields form).
However you choose to visit Perito Moreno, you can't go wrong. Each vantage point and activity allows you to experience this special place in a different and exciting way.