In the month of October, I traveled to the incredible and inspiring country of Rwanda with my colleague Megan Huntoon. Prior to my journey, I knew to expect great primate trekking and excitedly prepared for my up-close encounter with the endangered mountain gorillas. Rwanda in fact, houses one-third of the world's remaining population of this primate and I had no doubt that seeing them in their natural habitat would be nothing short of life-changing.
My visit with the gorillas and golden monkeys in Volcanoes National Park proved to be just as magical as I'd hoped and will remain a highlight of my safari experiences. However, I was equally amazed at all the other activities and experiences available in Rwanda. So many highlights await visitors to this special country that at least a week could be spent exploring (and even then, you would depart Rwanda wishing as I did, to return again).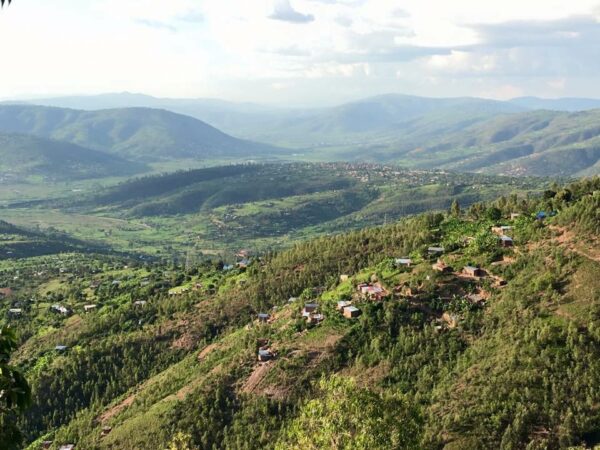 For starters, there is the capital city of Kigali, which is the entry point of any visit to Rwanda and well worth a visit. Known as The Land of a Thousand Hills, travelers can get a taste of the country's lush landscape by wandering its many parks and gardens. It's also one of Africa's cleanest cities, thanks in part to the governmental initiative of "Umuganda," which translates to "coming together in common purpose." It is a country-wide cleanup that takes place on the last Saturday of every month from 8AM – 11AM. Projects can range from picking up litter to building a community hospital and visitors will not only notice but feel the communality of Kigali as they explore. If the timing works, you can also participate!
An absolute must-visit site while in Kigali is the Genocide Memorial. Beyond educating visitors on the atrocities that occurred during the 1994 genocide (during which approximately 800,000 people were killed over a span of just three months), the Memorial is also the final resting-place for over 250,000 victims. Family members of the departed come here to pay their respects, walk the peaceful gardens, and reflect. The Memorial has even developed a "peace education" program that is now built into the country's national school curriculum.  As a visitor, you are given an audio guide headset to wear. This provides background context and historical commentary as you walk around the various exhibits. The Memorial Center also continues to provide support to orphans and widows and plays an important role in Rwanda's extraordinary journey towards healing and reconstruction. Quite an emotional and moving experience, the hour or two that one spends here is a small way in which to pay tribute to and honor the victims. Entry is free of charge and donations are encouraged.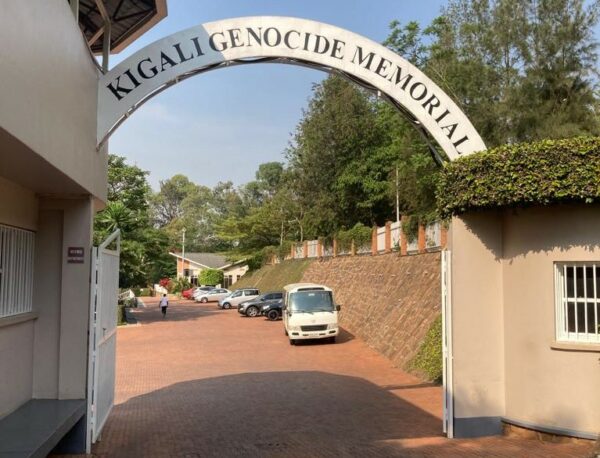 Another meaningful activity in Kigali is visiting an Azizi Life Experience Project, a Rwandan cooperative that supports local businesses throughout the country. One option is spending time with a lady's group, where you can join the artisan hostesses in their village for a morning of family chores, a simple home-cooked lunch, and an afternoon of learning how to craft. It's an incredible way to learn about one another as you share conversation and laughter with the artisans and their families.
For bird lovers, there is the Umusambi Village, which sits just an hour outside the city. The area is a restored wetland area and a sanctuary for over 50 endangered Grey Crowned Cranes (rescued from the illegal pet trade and unable to otherwise be returned to the wild). The village is a lovely place to walk and enjoy nature while admiring these stunning creatures.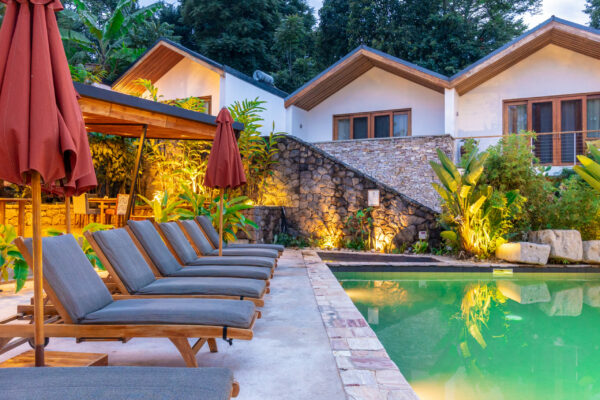 While in Kigali, I stayed at The Retreat by Heaven, an independently owned boutique hotel just outside of the city center. All of its rooms (including its new pool villas) have names such as 'Praise,' 'Equality,' and 'Compassion' and public areas are decorated with Rwandan crafts and photographs of daily life. The hillside setting itself is so peaceful and would make for a perfect yoga retreat. Allowing oneself time to enjoy the grounds, swimming pool, spa, and its intimate Fusion restaurant (offering local farm-to-table cuisine), are reason alone to extend a day or two on each end of your gorilla trek.
From Kigali, having explored its many cafes, art galleries and markets, everyone inevitably makes their way to Volcanoes National Park. Of course, it is from here that you visit the mountain gorillas and golden monkeys. But since these operate as morning excursions, you have the afternoon to visit and learn about other parts of the region.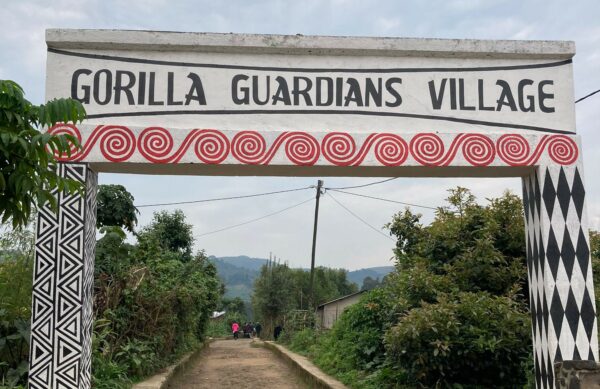 One such place you may enjoy visiting is the Gorilla Guardian Cultural Village, home to former poachers who now work to protect the mountain gorilla population. At this cultural center you learn about their traditional music and healing practices, take archery lessons, and try your hand at local food preparation – such as banana beer which you can also purchase. It is an experience the entire family would love.  Is it a little touristy?  Sure.  But your visit supports a great cause—that of transforming poachers into guardians and showing them another way to earn a meaningful living.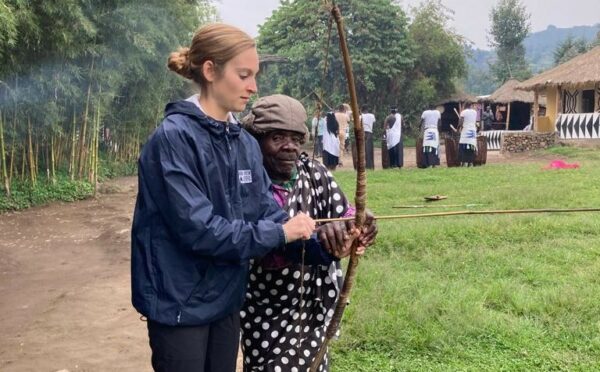 Another ideal afternoon activity near Volcanoes National Park is a visit to the Ellen DeGeneres Campus of the Dian Fossey Gorilla Fund. Anyone who has seen the movie Gorillas in the Mist (required watching if you are planning a trip to Rwanda) would be somewhat familiar with the incredible legacy of Dian Fossey and her work with the mountain gorillas. This facility is a fun yet educational place to visit and houses never-before-seen artifacts from Dian Fossey's time living with the gorillas (even an exact replica of her cabin). It also screens a humorous 8-minute movie (in a 360-degree immersive theater) about a day in the life of a gorilla family and offers other interactive exhibits (really ideal for children but adults will enjoy it as well). Overall, a visit to this Center is an excellent way to learn more about the gorillas and the efforts in place to protect them.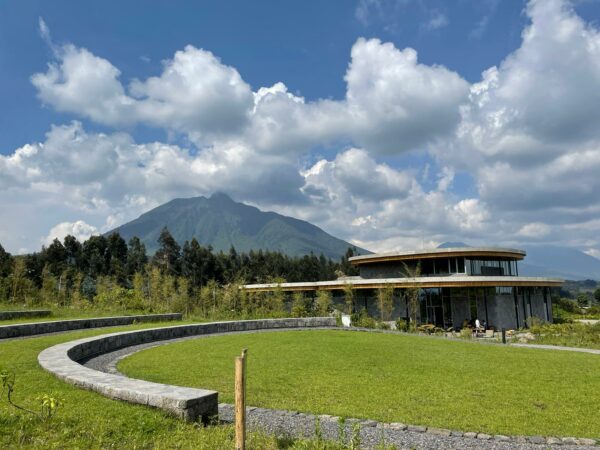 Lastly, if time allows, you can spend a night or two up by the Twin Lakes (about one hour from Volcanoes National Park) at Virunga Lodge. Situated high on a ridge with breathtaking views of the Twin Lakes, the Virunga Volcanoes, and the Musanze Valley, the dramatic landscape is reason enough to visit.  While here, guests can hike to a local community or volcano, do some bird watching or enjoy the spa treatments on offer. I especially loved the singing butlers who awaken you each day with songs and morning coffee!  It is a wonderful way to end a stay in this enchanting and very special country.
From city to forest – and all of the places in between – Rwanda offers diversity, beauty and culture! This inviting country is not to be missed!