If you are new to travel, you may think you couldn't possibly go on a safari without having a certain amount of travel expertise under your belt, but I can say from experience – you can do it! I had never traveled internationally before my recent safari and while it was a bit intimidating at first, it was extremely worthwhile. The following are some of my favorite moments from my trip to Botswana and Zimbabwe with a few tips sprinkled in to hopefully help you when you're on your own safari adventure!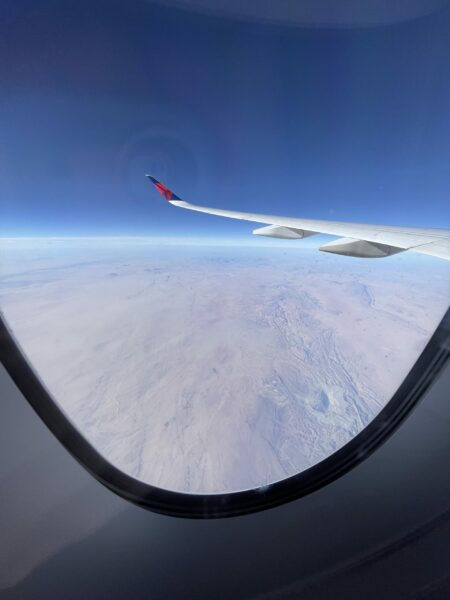 Flights
Even the most seasoned traveler would likely agree that getting to your destination is one of the greater challenges of any trip, especially for a safari. Some airports may be stricter in how they operate than others, but my advice is to prepare for the strictest requirements and (hopefully) be pleasantly surprised if they are more relaxed at your airport. For example, I wore comfortable shoes that were easy to refasten in case my airport required shoe removal during security scans. I also packed my bags using packing cubes and ensured items the TSA would likely want removed for scanning, like batteries and liquids, were all in one bag and could easily be repacked. Trust me, packing cubes and luggage with several compartments are worth the purchase and will keep you sane and organized throughout the whole trip. I would also highly suggest using a duffle with a built-in shoe compartment because nobody wants their dirty safari shoes alongside the rest of their clean items after walking around on safari!
My international flight was 16 hours from the U.S. East Coast to Johannesburg, South Africa, but the long haul was well worth the wait. As gruelingly as it may seem, it's best to limit the number of items you pack for entertainment while on your flight (and in general). I made the mistake of packing too many things and ended up just watching the in-flight movies anyway. Lesson learned.
Arriving at any international airport can feel overwhelming, especially after such a long flight, which is why I also highly suggest adding airport assistance services to your itinerary to ease a great deal of your stress and save you time. Whether you are a new or frequent traveler, being assisted through an unknown airport is helpful to get you  where you need to go in the most efficient way. It certainly made a huge difference on my trip.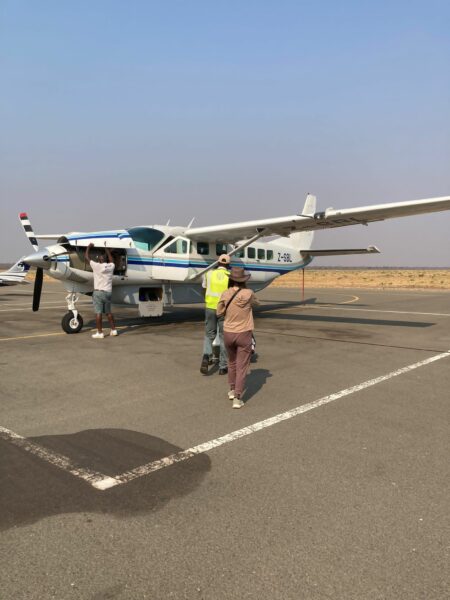 Light Aircrafts
Travelers may also need to hop on a light aircraft flight to reach their safari camps. When taking these flights, you will need to consider the company's luggage restrictions and follow them closely due to the limited space of a small plane. With that said, packing your bag with purpose and leaving out any excess is essential, and you will also be happier to have a lighter load to carry for the entirety of your travels. I packed my bag with these requirements in mind but also chose luggage that followed the carry-on restrictions for my international flights to avoid dealing with bag check or the potential baggage delays.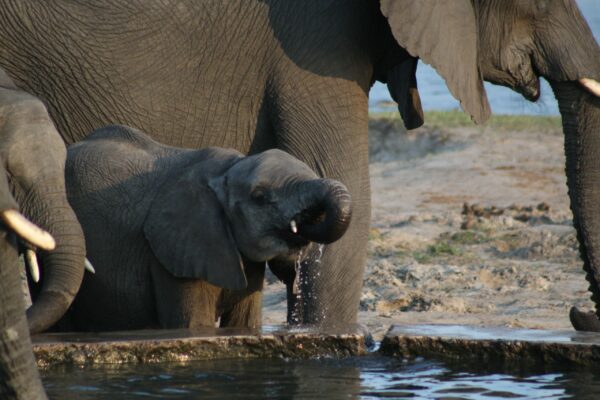 On Safari!
When my light aircraft landed at the airstrip, I realized the true depth of my seclusion. There were no buildings in sight except a bathroom tent and a carport where I could see our safari guide and vehicle waiting. From the airstrip, travelers will usually do a game drive on their way into camp like we did. I saw so many animals on my way into each of the camps including a migration of Ostriches, countless elephants, baboons, giraffes, and even a group of 19 lionesses sleeping in the shade with their cubs! Make sure your camera is ready to go any time you are in a game drive vehicle or you could miss an amazing snapshot!
Upon arrival at each safari camp during our trip, we were warmly greeted with a cold beverage and a tray of refreshing towels infused with essential oils. We were then escorted to the main tent where the camp manager would share everything we needed to know during our stay: their schedule, meals, safety, etc. Afterward, we were given a tour of the main areas and our tent.
Following some down time, or "siesta," camps will have daily high tea where guests can mingle and have a small bite to eat prior to their next activity. During our evening game drives, our guide would also try to find a picturesque location where we could enjoy a drink of our choice and snacks as we took in the sunset. There is something indescribable about African sunsets and these stops were some of my highlights on my trip.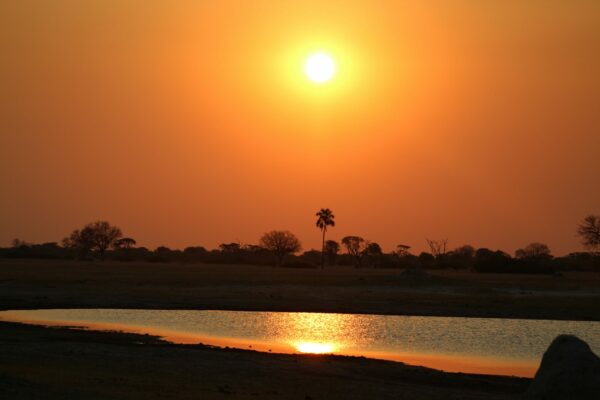 Activities
Aside from game drives, camps may have other activities included as well. I was excited to visit the meerkats at Jack's Camp on the Makgadikgadi Salt Pans of Botswana! I love animals and interacting with them, so spending time with the meerkats was an unforgettable experience for me. Guests of the camp can sit inches away and take photos as they observe the meerkats – they may even climb on you! It is important to note that while these animals are habituated, they are still very small and skittish wild animals and require guests to be gentle and considerate in their interactions. These adorable meerkats ended up being one of my favorite animals I encountered while in Africa and witnessing their behavior up close was amazing.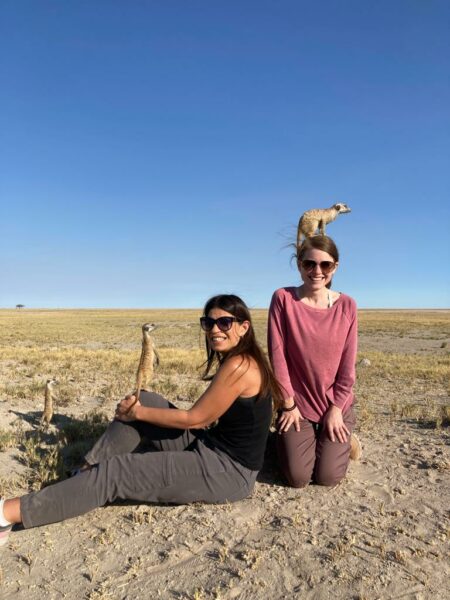 There were other activities, including walking with bushmen in the salt pans and birding in the Okavango Delta. It was intriguing to hear the bushmen language and learn about the amazing ways they interact with the land. Cultural experiences like this are invaluable and you just learn something about yourself along the way too!
I also am not usually a "bird person" but found them particularly interesting in Africa. While I saw birds all throughout my safari journey, I saw the greatest variety while floating along the channels of the Okavango Delta in Botswana. The vivid colors and unique calls of each bird made me turn my head and attempt to capture a clear photo of every single one. You may also return from Africa with a newfound love for them, as well.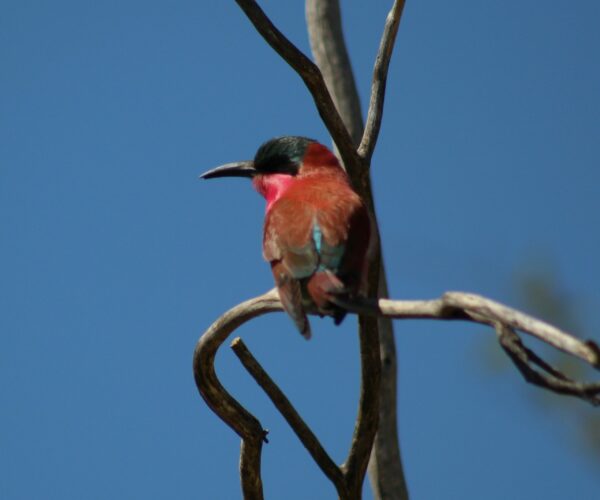 By the end of my journey, along with the things I was already looking forward to (game drives, animal interactions, etc.) I had also experienced a myriad of things I never knew I would enjoy as much as I did. It goes to show you that having an open mind and trying new things can certainly pay off. I cannot wait to return soon, but in the meantime, I will happily recount my stories and can't wait to help others plan their dream safaris, too.